Alfawise FJ166A Cordless Handheld Stick Vacuum Cleaner Review
I have covered a couple of vacuum cleaners now, the exceptional Vorwerk Kobold VK200 which is also exceptionally expensive and the Eufy RoboVac 11 which is a superb affordable robot vacuum.
The Alfawise FJ166A is an extremely affordable battery powered handheld vacuum. Priced at just £92.60 this is a perfect option for smaller apartments or as a second vacuum to focus on awkward spots like the stairs etc. This is also a great cheaper alternative to the Dyson V6 or V7
Specification
Filtration System: Multiple cyclone with HEPA filtration
Power: 130W
Suction (pa): 7.0 kPa or more
Dust Box Capacity: 500ml
Power (W): 130W
Charging time: 4-5 hours
Working time: 20-40 minutes
Cleaning Area (sq.m.): up to 150 square meters
Product weight: 2.8000 kg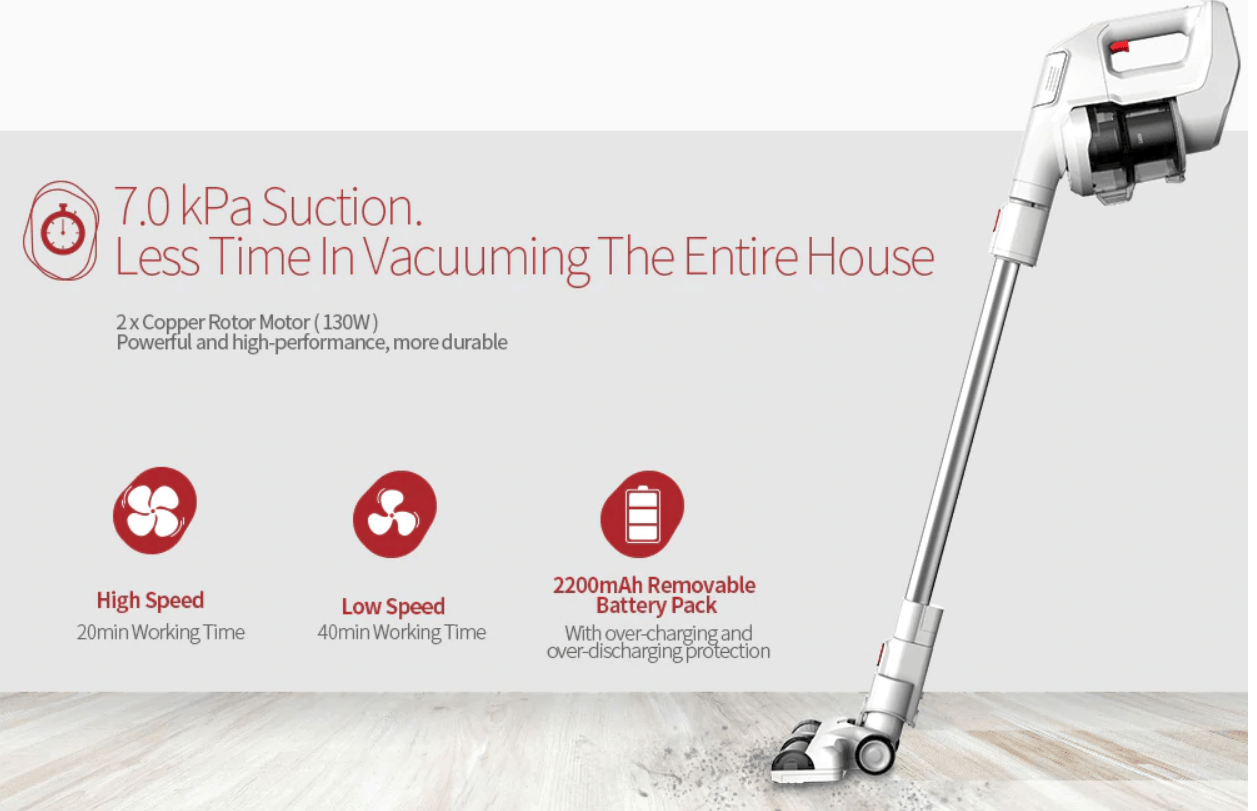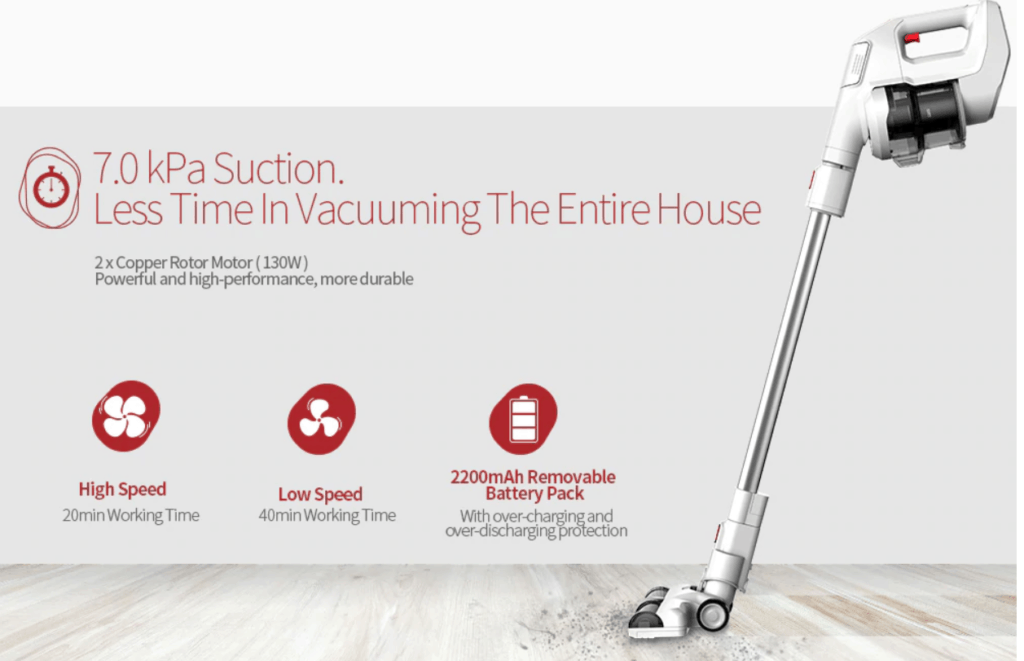 The Alfawise FJ166A is easy to assemble and comes with three different heads to suit all your needs. The main unit comes pre-assembled with the HEPA filter installed, there is a spare one included in the pack and it is advised to replace this every six months. You then just need to attach the aluminium tube and then end attachment you need to use.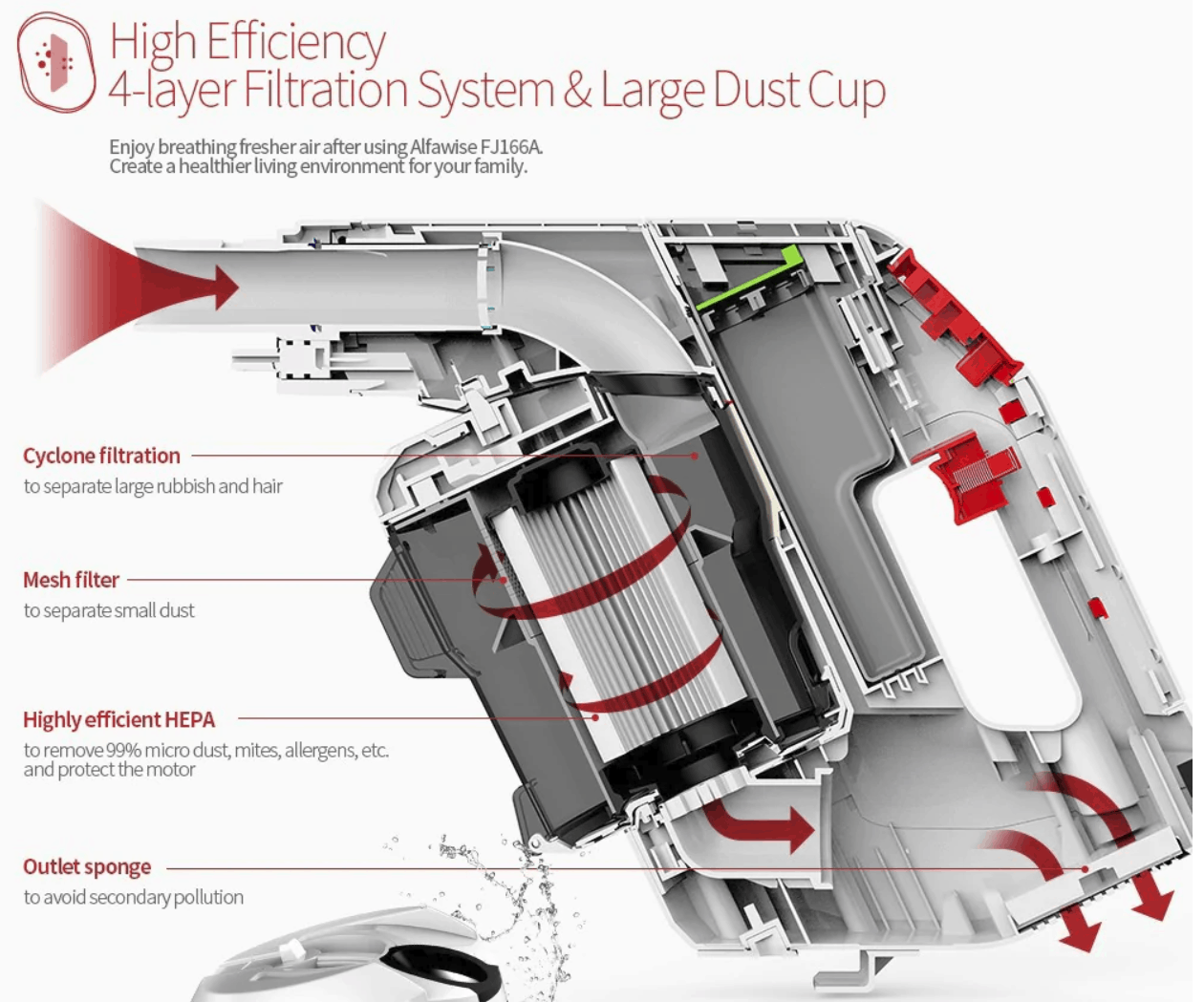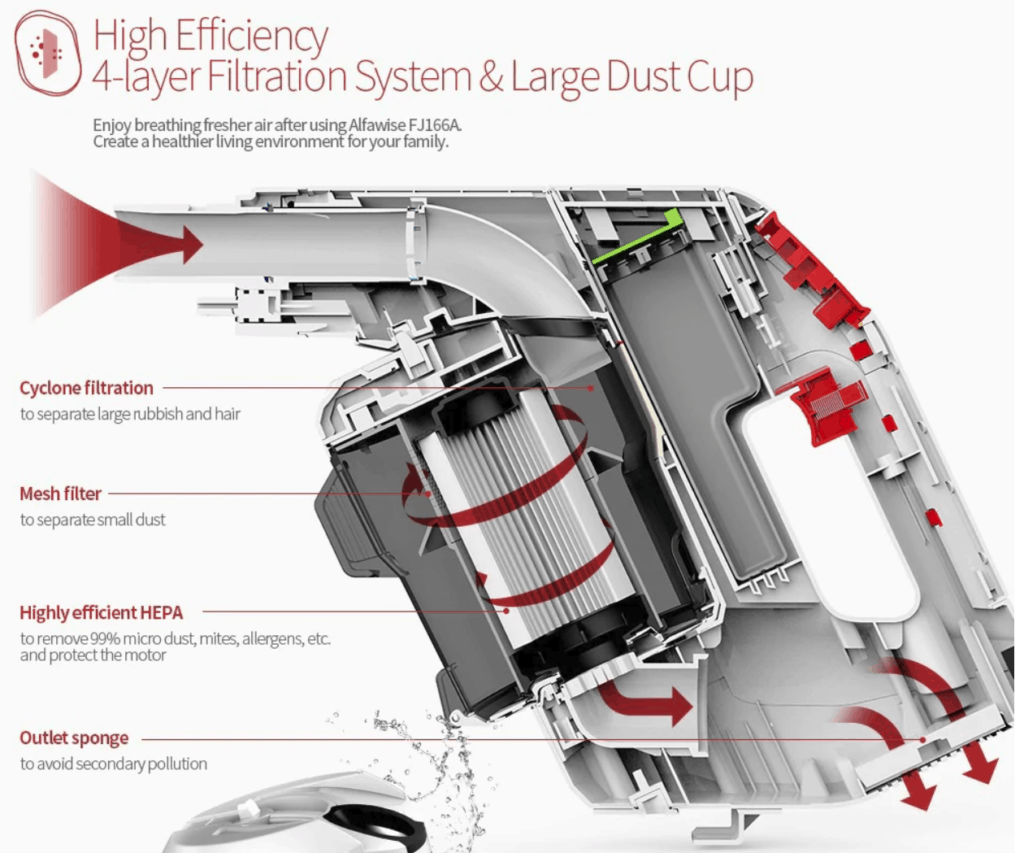 The included power adaptor is a two pin EU socket, so you will likely need to buy an adaptor, I left it on charge overnight so can't confirm how long it takes to charge fully. There is also a wall mount bracket allowing you to store it away conveniently.
The assembled vacuum is extremely lightweight, and it should pose as no problem when using it for its full run time.
Performance
The lightweight cordless nature of this device makes this an extremely versatile vacuum and much more convenient to use than my other options. While the Kobold is excellent, it is big and bulky so it can be a nuisance getting it out and plugging it in. So, for small jobs, it is far easier just to get this out of the cupboard and clean up any mess. The size of it means it is also far easier to store, and you could fit this inside a moderately sized cupboard.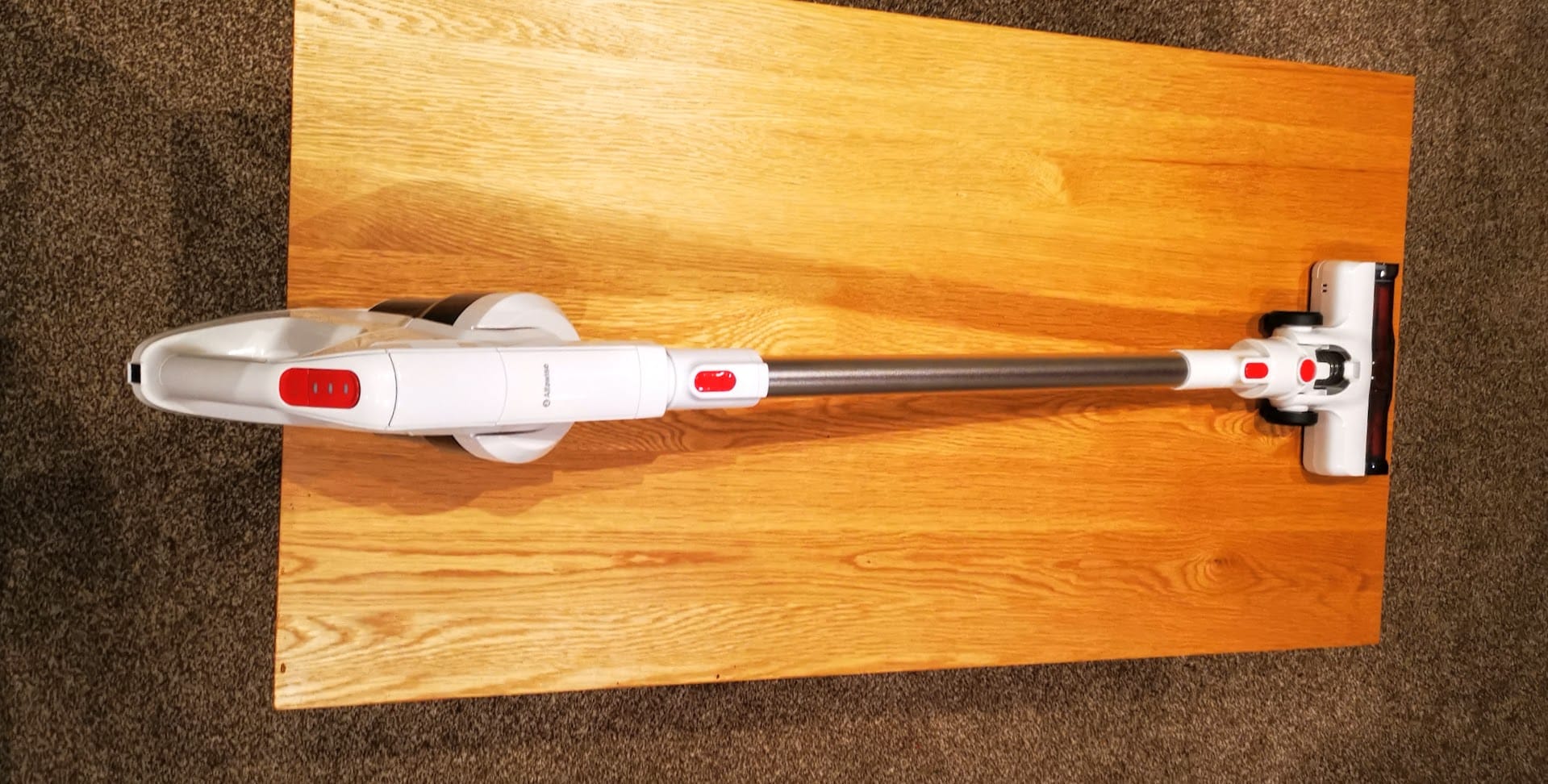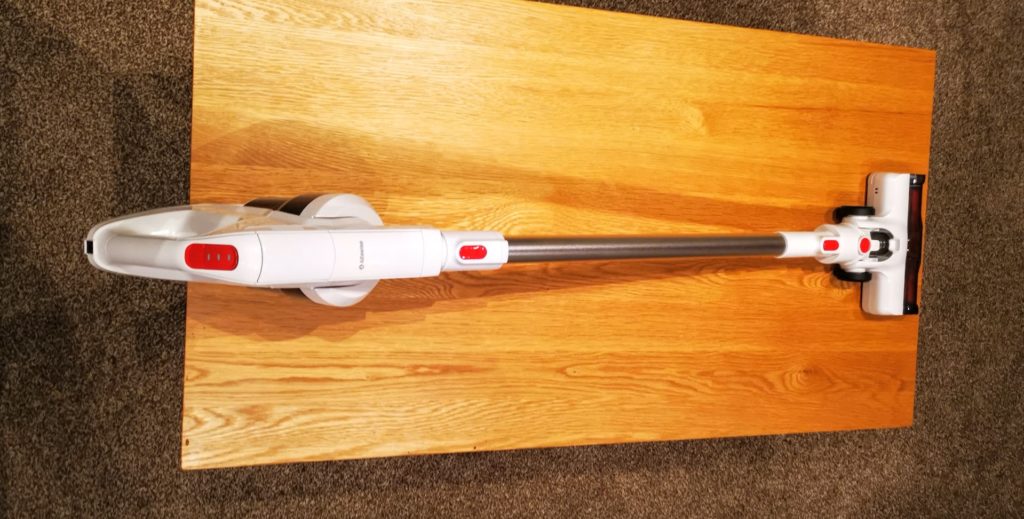 The vacuum cleaner is equipped with multiple additional brushes: 2-in-1 wide brush for curtain, furniture and sofa, 2-in-1 crevice tube for the car, corners and hard-to-reach place.
The Alfawise is excellent for all your little awkward jobs, cleaning the stairs no longer means you have to awkwardly balance a large vacuum as you move up and down. It is also fantastic for cleaning the dust on top of skirting boards rather than having to unplug and plug in wired options constantly.
Similarly, this is fantastic for cleaning things like curtains and blinds, or vacuuming up spider webs on the ceilings.
As you don't have to plug it in this is also ideal for when you need to clean your car.
For larger properties it is perhaps not the best vacuum for your day to day work, it has a small head and the suction isn't quite as powerful as the Kobold. The dust chamber will also fill up quite fast, though it is easy enough to empty.
The HEPA filter should remove 99% of micro dust, mites, allergens while also protecting the motor, I can say how effective this is, overall I am very happy with the performance.
Overall
This is a superb little vacuum at a great price it is perfect for small flats or as a secondary vacuum to do all the small inconvenient jobs. I don't own a dog or cat but I would say this is perfect for cleaning up animal hair on chairs and other items.
The obvious comparison is the popular Dyson range of vacuums and the V6 currently costs £199 while the V7 is £249. The V6 has a 20min run time and the V7 has 30 minutes of run time.
The Alfawise is currently available for just £92.60 and you can use the coupon code GBJAN1001 to bring that down to just £85.82 including shipping.
Coupon Code for £12.80 off : GBJAN1001