Qualcomm has just announced the new flagship system on chip at their Tech Summit event in Maui, Hawaii. This is the chip that will power nearly all the flagship phones on the market that don't come from Huawei or Apple.
It also means we now have information on all the main SoCs that will be used in Android phones next year, and we have a basic run down on how each of them stack up against each other, with a summary table at the bottom of the post.
Similar to both Samsung and Huawei/HiSilicon , Qualcomm have shrunk the fabrication process of the new chip down to 7nm and at the heart of this chip is Arm's new Cortex-A76 CPUs similar to the Kirin 980.
Arm A76 CPU layout
This year we have seen a departure from the 4×4 layout of the processors with both Samsung and HiSilicon opting to go for a 2x2x4 approach. Qualcomm have taken a different path and layed out the processors as 1x3x4.
As previously reported this new tri-cluster design uses a single prime core Kryo 485 Gold (A76) running at 2.84GHz with 1x512KB cache then three performance cores Kryo 485 Gold (A76) running at 2.42GHz with 256KB cache each. Lastly the four efficiency cores using the Kryo 485 Silver (A55) running at 1.80GHz each with 128KB cache.
Qualcomm's 2.84GHz clock is 9.2% higher than HiSilicon 2.6GHz frequency but on a single core compared to two.
Qualcomm have actually adapted the A76 design to suit their own needs with the reference design using a 128 instruction buffer, whereas Qualcomm's modified A76 has been increased to an undisclosed size. It is likely Samsung do something similar with their custom CPU built around the A76. How much difference this makes to real world performance will be hard to tell.
Qualcomm claims of up to at 45% increase over the Snapdragon 845 but exactly what that represents is currently unknown.
Adreno 640 GPU
Qualcomm are a little coy about specifics with their new GPU technology each year so there is no direct comparisons to be made with the HiSilicon Kirin 980 or Exynos 9820.
Qualcomm state that there should be a 20% increased performance from the previous generation. Qualcomm did highlight a lot of new graphical features. with the Adreno 640. Here we saw claims that the Adreno 640 graphics in the SD855 will enable true HDR gaming, as well games built around Physically Based Rendering (more on that in a bit). The graphics pipeline will support 10-bit color depth and the Rec 2020 gamut to enable HDR, as well as enabling SD855 devices to support the HDR10+ and Dolby Vision formats, which Qualcomm states is a world's first. With the Adreno 640, along with the display IP, devices can support 120fps gaming as well as smooth 8K 360-degree video playback.
Hexagon 690 DSP
Qualcomm don't use the term NPU but with the new Snapdragon 855 features the Hexagon 690 DSP which acts as the heart of the AI technology. There are a lot of technical terms on how the DSP has been improved but the highlights include:
Doubles the HVX vector pipelines compared to the Hexagon 680
New Tenso Xccelerator which could be Qualcomm's first generation dedicated ML inferencing engine (NPU as HiSilicon branded it)
A new Voice Assistant AI module, designed to accelerate processing for common AI assistants – Qualcomm specifically states Baidu and Google in this case
Spectra 380 ISP
The image signalling processor has been upgraded to the Spectra 380 the specifics of the upgrades are beyond my technical understanding but the end result is :
4x power for image object classification, object segmentation, depth sensing (at 60 FPS), augmented reality body tracking, and image stabilisation.
4K HDR at 60 FPS with both portrait mode enhancements and depth sensing for live bokeh.
Power consumption for 4K HDR capture will be 30% lower than the Snapdragon 845.
HEIF files instead of JPEG offering 50% smaller file size, HDR Support for multiple color spaces, RAW data, Depth Map support and more
The HEIF files sound quite interesting, due to all the extra data it stores you can store a photo from every camera: a telephoto, a wide angle photo, and a super-wide angle photo for example. This allows of post processing such as bokeh adjustment, object segmentation, quality adjustments, and to a certain extent even basic 3D modelling.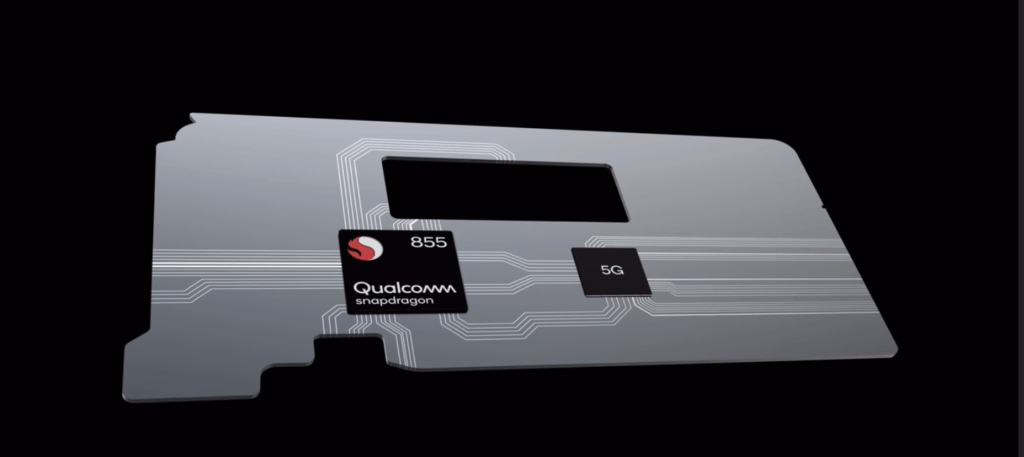 Connectivity
This was always going to be a big talking point from Qualcomm, 5G is just about to be launched so the new chip was guaranteed to have support for it. However as was already suspected the SoC doesn't support it out of the box, it needs to be paired with a X50 modem.
Built into the chip is the Snapdragon X24 modem, which offers LTE Category 20 class download speeds good for up to 2 Gbps on supported devices and networks. The increased speeds is achieved by up to 7x carrier aggregation with 4×4 MIMO and 256QAM. On the upload side, the new SoC modem now also for the first time supports 256QAM, able to double the peak upload rate to up to 300Mbps with 3xCA.
The Snapdragon 855 is a platform, and among one of the new platform, capabilities is the support of the new WiFi 6 standard (802.11ax) as well as the new 60GHz "Wi-Gig" 802.11ay standard, enabled by an external WiFi combo chipset.
Qualcomm Snapdragon 855 Vs HiSilicon Kirin 980 vs Exynos 9820
Snapdragon 855
Snapdragon 855+
HiSilicon Kirin 980
Exynos 9820
Process
7nm (N7)
7nm (N7)
7nm
8 nm LPP (Low Power Plus) FinFET
CPU Cores
Octa-Core, 64-bit
Octa-Core, 64-bit
Octa-Core, 64-bit
Octa-Core, 64-bit
CPU
1x Kryo 485 Gold (A76 derivative)
@ 2.84GHz 1x512KB pL2

3x Kryo 485 Gold (A76 derivative)
@ 2.42GHz 3x256KB pL2

4x Kryo 485 Silver (A55 derivative)
@ 1.80GHz 4x128KB pL2

2MB sL3
1x Kryo 485 Gold (A76 derivative)
@ 2.96GHz 1x512KB pL2

3x Kryo 485 Gold (A76 derivative)
@ 2.42GHz 3x256KB pL2

4x Kryo 485 Silver (A55 derivative)
@ 1.80GHz 4x128KB pL2

2MB sL3
2x Cortex-A76 @ 2.6GHz
2x Cortex-A76 @ 1.92GHz
4x Cortex-A55 @ 1.8GHz
(4MB shared L3 cache)
2x Custom CPU
2x Cortex-A75
4x Cortex-A55
GPU
Adreno 640 @ 585MHz
Adreno 640 @ ~672MHz
Mali-G76 MP10 - 720 MHz
ARM Mali G76 MP12
NPU
Yes (Hexagon 690 DSP)
Yes
Dual NPU
Yes
RAM
4x 16-bit CH @ 2133MHz
LPDDR4x
34.1GB/s

3MB system level cache
4x 16-bit CH @ 2133MHz
LPDDR4x
34.1GB/s

3MB system level cache
LPDDR4X @ 2133MHz
LPDDR4x
ISP
Dual 14-bit Spectra 380 ISP
1x 48MP or 2x 22MP
Dual 14-bit Spectra 380 ISP
1x 48MP or 2x 22MP
Dual ISP
Dual ISP
Video Playback & Codecs
2160p60 10-bit H.265
HDR10, HDR10+, HLG
720p480
2160p60 10-bit H.265
HDR10, HDR10+, HLG
720p480
4K @ 30fps - capture
4K @ 60fps playback
2160p60 HEVC & H.264 Decode
2160p30 Encode
HDR10
Modem
Snapdragon X24 LTE
(Category 20)

DL = 2000Mbps
7x20MHz CA, 256-QAM, 4x4

UL = 316Mbps
3x20MHz CA, 256-QAM
Snapdragon X24 LTE
(Category 20)

DL = 2000Mbps
7x20MHz CA, 256-QAM, 4x4

UL = 316Mbps
3x20MHz CA, 256-QAM
LTE Cat 21
1.4Gbps down / 200Mbps up
LTE-A Cat.20 8CA (2Gbps download)
Cat.20 3CA (316Mbps upload)
Wi-Fi
Support for WiFi 6 standard (802.11ax) as well as the new 60GHz "Wi-Gig" 802.11ay, enabled by an external WiFi combo chipset.
Support for WiFi 6 standard (802.11ax) as well as the new 60GHz "Wi-Gig" 802.11ay, enabled by an external WiFi combo chipset.
Hi1103 WiFi chip supports 1732Mbps with Wi-Fi and, Multi-gigabit Wi-Fi ac/b/g/n with MU-MIMO
Wi-Fi 802.11 a/b/g/n/ac
Charging
Quick Charge 4+ (USB PD Compatible)
Quick Charge 4+ (USB PD Compatible)
SuperCharge 4.5V / 5A low-voltage fast charging
Samsung Adaptive Fast Charge, Fast Wireless Charging (Qi & PMA)