RAVPower 5000mAh 7.5 Magnetic Wireless Power Bank Review Rating
Summary
The RAVPower magnetic power bank is an affordable alternative to the Apple MagSafe Battery Pack  while offering superior charge capacity and faster charge speeds
Pros
Cheap
Decent capacity
faster charge speed than Apple
Cons
Charge speeds are still slow compared to PD power banks
The official Apple MagSafe Battery Pack launched with mixed reviews. The first problem was that it costs £99. Then MagSafe Battery Pack charges an ‌iPhone 12‌ model at 5W when out and about. Finally, the MagSafe Battery Pack has a 7.62V, 11.13Wh battery inside with 1360mAh worth of juice.
Inevitably, other brands that have been producing power banks have jumped onto this and made their own MagSafe Battery Pack.
RAVPower is one such brand, and their new magnetic charger beat the Apple option with much of its specification. For example, the Magsafe wireless charging goes up to 7.5W, the capacity is 5000 mAh, and finally, the price is almost a quarter of the Apple model at £26.57.
Specification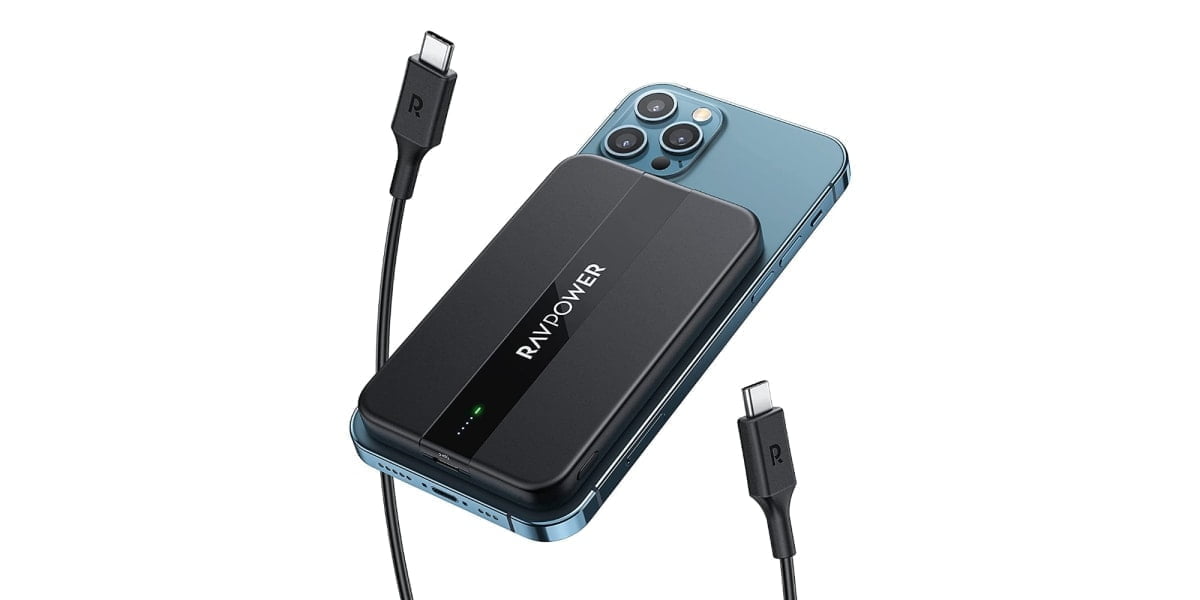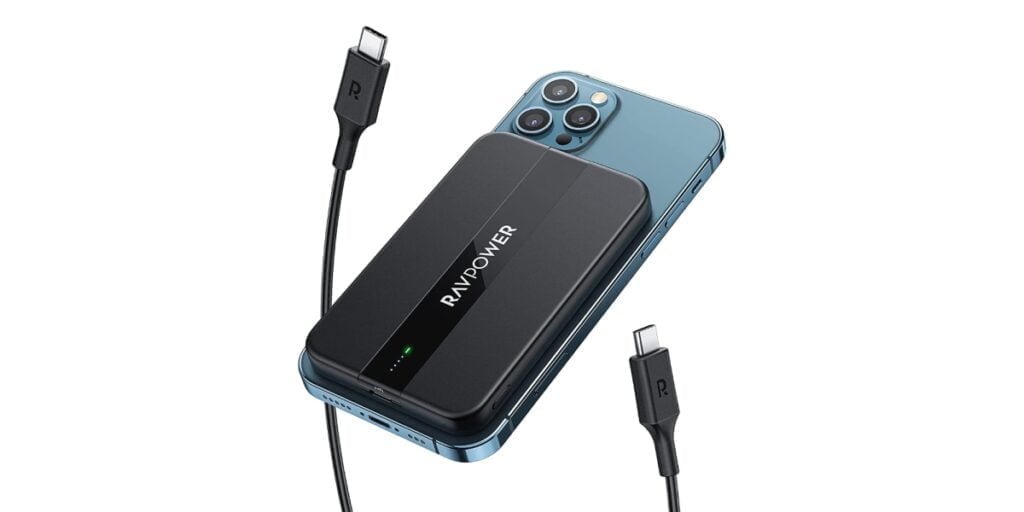 Dimensions [H x W x D]:11.2 x 6.9 x 1.3 cm (4.4 x 2.7 x 0.5 in)
Weight:138.8 grams
Battery Capacity: 5000 mAh
Charge Output: Up to 10W
Wireless Charging: Up to 7.5W
USB ports: USB Type-C
In Use / Charge Speeds
The RAVPower charges devices at the correct speed they advertise.
Using a USB-C power meter, I was able to charge both Android and Apple phones at the full speed of 10W. This is quite slow, but it is enough to keep you going when out and about.
Similarly, wireless charging works at 7.5W. However, charging does now start automatically, and you need to press the button on the side. I also tried this with different phones such as the Huawei P40 Pro, and the wireless charging works here, too, just without the magnetic connection.
Charging works through cases, but this will obviously depend on the case.
Price and Alternative Options
The RAVPower 5000mAh magnetic wireless bank has an RRP of $35.99 bought directly from RAVPower. This works out as £26.57.
Belkin has a similar-looking device for £29.99, but it is only 2500mAh, and they make no mention of the charge speed via USB.
Anker has the PowerCore Magnetic 5K Wireless for around £45, but the magnetic charge is only rated for 5W.
The official Apple MagSafe Battery Pack is £99.
Overall
Considering the price of this compared to the official Apple MagSafe Battery Pack, you can't really complain. It also offers a superior specification for the money than many of the other brands offering competing products out there.
Overall, if you want an affordable MagSafe Battery Pack, this is an excellent option.