OnePlus have seen tremendous growth over the last four years since their launch, and 2019 sounds like it will be their best year yet with them being the first company to launch a Snapdragon 855 based phone, taking that achievement away from Samsung.
The OnePlus 6T was launched last month and follows the usual release cycle from OnePlus, similar to previous generations it retains the core components but brings impressive upgrades elsewhere.
With this iteration there have been some significant changes, the screen is now a 6.41″ AMOLED with a much smaller teardrop style notch compared to the last model. The screen now has a fingerprint sensor embedded underneath it similar to the Mate 20 Pro and other phones launched recently.
The battery has also had a moderate upgrade from 3300mAh to 3700mAh, and the base storage has been upgraded to 128 GB.
Sadly, they have omitted the 3.5mm audio jack on this model but considering all the other upgrades I will let them off.
Overall, they have taken a good, albeit slightly boring phone, and made it much more stand out in terms of features compared to other flagships.
They have done all this while retaining their affordable nature, with OnePlus 6T starting at £499, which is quite a difference from the £899.99 commanded by the Huawei Mate 20 Pro.
Alternatively, with its low SIM-free price, it means you can pick up some fantastic contract deals, with Vodafone selling the phone on contract for £42 with £29 up front including 16GB of data, unlimited minutes and texts. This works out as £1037 in total making the monthly data and call plan £22.
Alternatively, if you use Spotify or want access to Prime Video or Sky sports the 32GB Red Entertainment package offers tremendous value at £49 with Spotify, 32GB of data and unlimited texts/calls + 500 international minutes.
Buy the OnePlus 6T from Vodafone
Specification Overview
Dimensions:5 x 74.8 x 8.2 mm
Weight:185 grams
Screen:41-inch, 19.5:9, Optic AMOLED, 2,340 x 1,080
CPU:Qualcomm Snapdragon 845 (octa-core, 1nm, 2.8GHz)
GPU:Adreno 630
RAM:8GB
Storage:128GB
Rear cameras:16MP (OIS, EIS, f/1.7) / 20MP (f/1.7)
Front camera:16MP (EIS, f/2.0)
Battery:3,700 mAh
OS:Android 9.0 Pie
UI:OxygenOS
Design and Build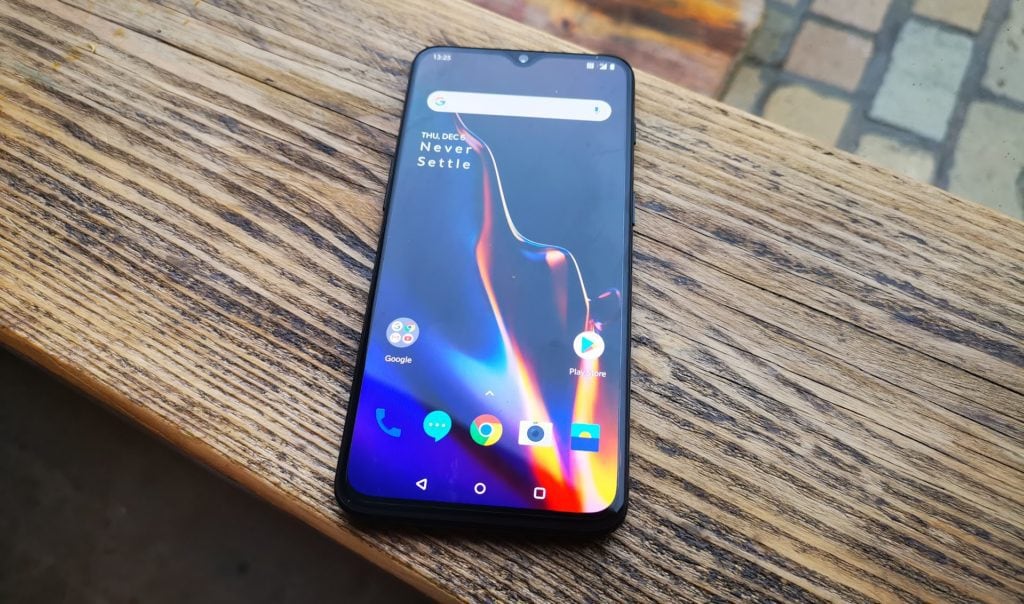 Due to the larger display, the phone is fractionally bigger than the original OnePlus 6, but the overall shape and feel of the phone remain the same.
It uses a curved 3D glass the sits comfortably against your palm, but I find it can feel a little slippy. There is still no wireless charging the glass is purely for aesthetics.
The colour options are a little bland, especially when you compare them to the twilight and green colours of the Mate 20 Pro. Here you get black or black, one being shiny one being matte. I have the shiny/mirrored version and I think I would prefer the matte version, I also feel like it will be less slippy. While not the most exciting of colours Black always looks smart, and let's face it, with its glass back you need to put a case on it anyway.
On the right of the phone are the power button and a mute switch similar to what you find on iPhones. It is a small but welcome feature that I wish more companies would adopt.
On the left is the volume plus the sim tray. You will notice no 3.5mm jack which is a strange U-turn follows Pete Lau's statements last year saying that the 3.5mm headphone jack was an essential part of offering the "best flagship experience possible" in regards to the OnePlus 5T. However, OnePLus have justified this removal by it freeing up space inside the phone, and it has allowed them to improve the battery from 3300 to 3700mAH. So, in this case, I suppose it is forgivable.
OnePlus includes a 3.5mm to USB-C adapter in the box so you can still plug in your wired headphones.