Black Shark 2 Review
Product Name: Black Shark 2
Offer price: 479
Currency: GBP
Availability: InStock
Summary
For the price, there is little to fault about this phone, it is worth buying whether you are a gamer or not. If you are a gamer, then it is the best option on the market right now.
Black Shark is a relatively new phone company that was established with the help of Xiaomi back in 2017. Similar to Xiaomi they saw excellent success in the native country and now want to replicate it in the UK.
The Black Shark 2 maybe aimed towards gamers but I think it is a phone that deserves some attention from a far greater audience. First and foremost, it is currently the cheapest Qualcomm Snapdragon 855 based phone on the market priced at just £479, and it even undercuts the official UK pricing of the Xiaomi Mi 9 which is £499.
For the sake of comparison, that's almost half the price of the exceptional Huawei P30 Pro (£899) or the Samsung Galaxy S10+ (£899 also).
Granted, the above phones have a lot of bells and whistles to justify their cost, but for many, this phone will provide all the performance and functionality you could want.
Specification Overview
Display – 6.39-inch AMOLED, 19.5:9, 1080 x 2340 – no notch, with bezels
SoC – Qualcomm Snapdragon 855
RAM – 8GB and 12GB options
Storage – 128GB or 256GB
Rear Camera – 48MP f/1.8 camera and 12 MP, f/2.2 telephoto providing 2x optical zoom
Front Camera – 20 MP f/2.0
Battery – 4000 mAh with 27w quick charging
No NFC, 3.5mm or wireless charging
Design and Features
Being gamer-centric this eschews all modern design principles for smartphones, and that is not necessarily a bad thing. This is positively chunky in comparison to my P30 Pro, and the bezels look massive for 2019. But at the end of the day, you still have a 6.4-inch AMOLED screen running at 1080 x 2340 pixels which is the same as the Mi 9 and a little bit smaller than the P30 Pro. While it is physically larger and thicker, I never found it to be difficult carrying around, I wear slim not skinny jeans, and it fits comfortably inside them. One handed use is perhaps a little more difficult, but most 6+inch phones are a little troublesome with one hand anyway.
The chunky design allows Black Shark to adopt a more striking look than standard phones, you get angular lines and glowing LEDs to satisfy your stereotypical PC gamer. You can switch the lighting effects off if you choose, the overall design is not offensive regardless of your gaming tastes, and a little variety in phone design is always welcome.
There are three notable omissions with this phone, it lacks both 3.5mm and wireless charging, which is not uncommon, but it also lacks NFC which I have become more reliant on in recent years, with nearly all my instore purchases done via my phone.
The phone comes with a pre-applied plastic screen protector, this quickly gets scratches and marks, but it provides a decent level of protection until you get something. There is also a decent quality clear plastic case provided, and I would say it is good enough that you don't have to worry about replacing it.
Display & Fingerprint
The 6.39-inch AMOLED display runs at 1080 x 2340 giving it an aspect ratio of 19.5:9 which is the same aspect ratio as the P30 Pro and Mi 9, but because it has a thin bezel at the top of the phone, you don't get part of the display blocked by a notch.
Other gaming phones have a higher than normal refresh rate to give a smoother gaming experience, this does not, you get the standard 60Hz. It does claim to be the most responsive, with a 240Hz touch report rate, and a 43.5ms response time.
The overall quality of the screen is good, the AMOLED panel provides good colour accuracy, and the phone is able to do Video HDR which upscales standard dynamic range video content, as well as a Super Cinema mode. This boosts frame rates and optimises video playback quality.
Performance and Benchmarks
The thing about gaming phones is that they are not that much different from their non-gaming brethren. A few software tweaks may optimise things, but a Qualcomm Snapdragon 855 is going to perform similarly compared to other devices using the same chip.
For the sake of comparison, this scores 367,949 in Antutu while the P30 Pro gets 311,912 and currently at the top of the Antutu rankings is the Mi 9 with 371,423. In real life situations, the performance difference will be negligible, though this may get a few extra FPS over those Kirin 980 based devices while gaming.
To give it an edge over other phones, Black Shark has implemented a cooling system that covers every component of the chipset, too, ensuring efficient dissipation of heat. You can boost the performance in gaming by enabling Ludicrous mode which has a similar effect to gaming modes on Huawei phones and others.
Gaming
The internal hardware of this phone is similar to most other flagship devices, but Black Shark has tweaked various things to make this more gaming specific.
On the side of the phone is the Shark Key, switching the phone into a gaming mode and launching a game launcher. Within this mode, certain background processes are disabled and the screen orientation switches to landscape.
This mode also allows you can customise various parts of the phone including the L/R screen area for game controls and the pressure sensitivity of the display.
Then when in a game, with a swipe down from the upper left corner you open up the gamer studio which allows you to do things like block calls, hang up on a caller, and disable the keypad.
I am not a huge gamer anymore, and even less so on mobile, but for the sake of reviewing I downloaded several games and used them for a recent press trip to Zurich. Everything ran perfectly well, and I have to admit I was getting slightly addicted to Asphalt 9 by the end of my testing. The FPS counter never showed the phone dipping below usable levels and everything was always perfectly smooth even after long periods, so the cooling solution appears to do well at avoiding thermal throttling.
Controllers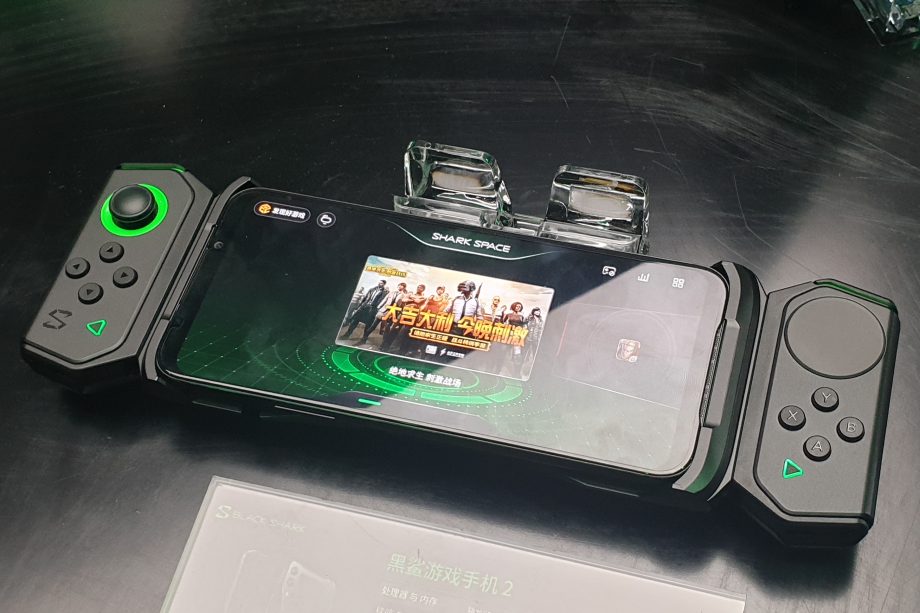 It wouldn't be a gaming phone without dedicated controllers; sadly I have not used these. While the phone is excellent value, Black Shark want £80 for the two-sided Pro Kit, or £34.90 for the one-sided Rookie Kit which I feel is a bit steep. The controllers do look excellent though, and if you are a big gamer on Android and have this phone, they are an inevitable purchase.
Battery
With a 4,000mAh battery, this has more juice than the majority of phones on the market, though manufacturers are finally coming around to fitting larger capacities, so 4,000mAh isn't rare anymore.
The SD855 has been proven to be an excellent chipset for power management, many people have complained how the Exynos Samsung S10 has shocking battery life compared to its SD855 counterpart, which is available in the US.
Assuming you don't spend all day playing intensive games, this will happily last you a day without getting too stressed about charging your battery.
There is no wireless charging, and to be honest, if it saves some money on the phone, I don't care. It is a nice feature to have but not something that makes or breaks a phone for me.
Software
As you would expect for a flagship phone in 2019, this runs Android 9 which has been left largely untouched. The launcher took some time to get used to after so long with Huawei, at first, I thought there was no app drawer which led me to switch to Nova Prime. However, to access all your apps your swipe up once for multitasking then again for the apps. I am still on the fence how I feel about this, but it is not the worst UI decision in the world.
Beyond the launcher, you have almost a stock Android experience which is always welcome, this makes everything slick and quick to respond, plus you don't have to spend ages finding settings that have been hidden away.
Camera
While this won't dethrone the Huawei P30 Pro as the best camera phone on the market, I was pleasantly surprised at just how good it was. The rear has two cameras, one a 48 MP f/1.75 and the second 12 MP f/2.2, the 48MP uses pixel binning to create 12MP images with effectively a large sensor size.
The secondary camera provides 2x optical zoom which is the part of the camera I had the most significant issues with. Not that it is bad, but I didn't realise how frequently I used the zoom of the P30 Pro, if you have never had a high zoom option, you won't miss it.
In good daylight, the shots on from the rear camera are superb and bright, though perhaps not the most accurate for natural tones. Low light shots suffer a little, but again my judgement is skewed from using the P30 Pro as my main phone.
Similar to other SD855 phones, this has AI scene detection to optimise your shots, you can switch it on or off easily on the main screen.
The portrait mode can be used for any object, whereas the P30 Pro has portrait or aperture. With this, it can take a little time for it to recognise an object, and it may say you are too close, but when the AI has worked everything out the bokeh effects are excellent. I would say the object detect produces more consistent results than aperture of the P30 Pro, but the P30 Pro is quicker and has more customisability with the shot.
The 20MP selfie camera is more than good enough, with shots coming out clear and crisp.
The Black Magic 2 is also capable of Full HD and 4K video shooting at 30fps, which again, is better than expected for a gaming focussed phone at this price point.
Pricing
The base model is currently priced at £479 which makes this the cheapest SD855 phone in the UK (technically). The Mi 9 will officially set you back £499, but you can buy it from Amazon Spain for just £386. They are not like for like though, the Mi 9 has less RAM and Storage at that price, but it does have a better camera.
There is no denying that this phone is exceptionally well priced it is the cheapest SD855 option on the UK market at the time of writing, and for that reason alone, it is one of the best options for anyone looking at a new phone now.
Conclusions
If you are after an affordable flagship phone, even if you are not a gamer, then this is worth considering. Considering its price, there is very little to fault about it, the only thing that would irk me if I kept this as my daily phone, would be the lack of NFC for payments.
This may not offer the features the Galaxy S10 or P30 Pro, but it is £400 less, and some compromises need to be made, for £479 you are getting a phone with exceptional performance.