POLAR Oh1 Heart Rate Sensor Review
Product Name: POLAR Oh1 Heart Rate Sensor
Offer price: 62.40
Currency: GBP
Availability: InStock
Summary
Now that this has Ant+ I would say it is the best heart rate tracker on the market
Ease of Use -

100%

Accuracy -

98%

Price -

90%
Originally posted May 2018 – Updated on 02/05/2019
The Polar OH1 has now had a new firmware rolled out enabling Ant+. It was a great device to start with and now, after a year of using it, I think it is probably the best heart rate tracker on the market. 
Polar have recently overhauled their popular V650 GPS bike computer to include Strava Live Segments, GPS-based gradient, Advanced Power Metrics and improved Power Sensor compatibility.
As part of the update, you can now buy the V650 bundled with the Polar OH1 optical heart rate sensor which was launched towards the end of last year. Polar has kindly sent me the bundled package to review, but I am reviewing them as 2 separate devices.
I have recently covered my suggestions for heart rate monitors, which recommended the OH1, and I have reviewed the budget RunAR HRM which was OK for the price. So how does the OH1 do compared to wrist-based or the RunAR?
No products found.
The OH1 is basically the same sensor you find in the Polar M430 which some people regard as one of the most accurate wrist-based options on the market. So, having the sensor moved to the upper arm or forearm should improve accuracy further.
The sensor itself is much smaller than the RunAR I have previously used, and it comes in 3 parts, the sensor, a strap you mount it in, and a USB dock you mound it in.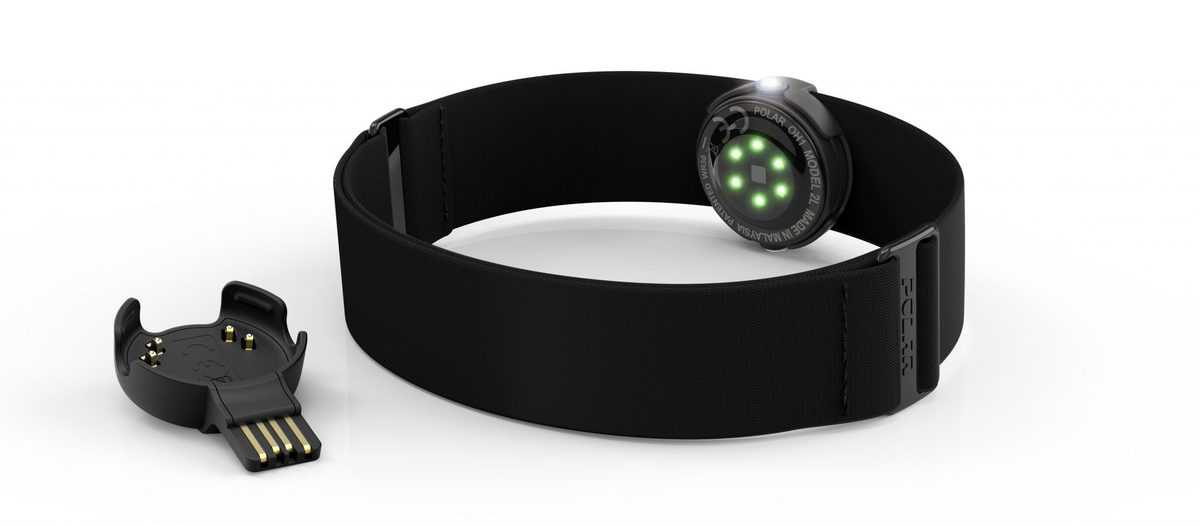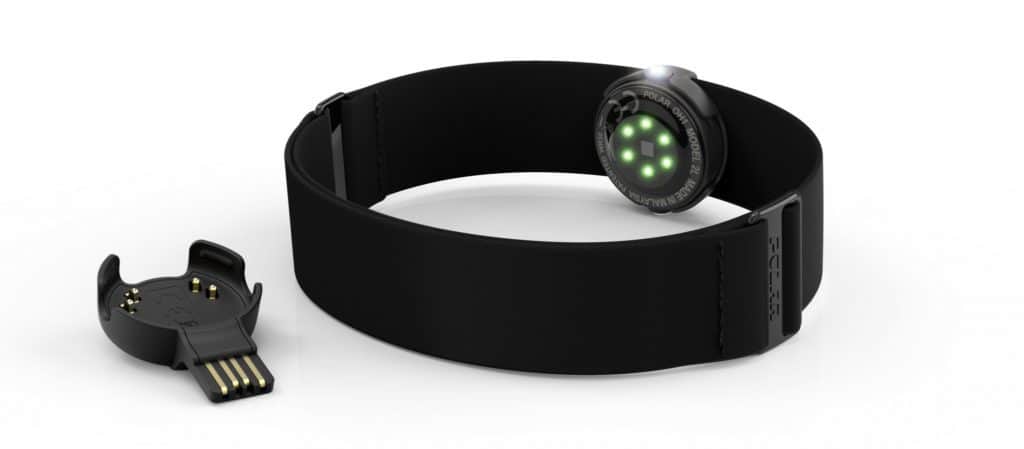 The device can run up to 12 hours of training time which should be enough for any endurance event apart from some niche cases.
It also has a built-in memory that can store up to 200 hours of training data. You can sync your data to Polar Flow with both the Polar Flow app and web service.
The major omission that will put some people off is the lack of Ant+ which potentially limits what devices it will work with, but in general, everything has Bluetooth nowadays.
The device will technically work on any area with blood flow, I have read reports of people using it on their forehead inside a swim cap when swimming – though this isn't something you need to do as it has 30m water resistance.
In general, your upper arm or upper forearm are the best places, they are nice and meaty, so there is less chance of it moving around and losing connection. I opted for my upper arm as my forearms are quite hairy and I assumed less hair would be better for accuracy.
Set-up and Pairing
Once you have the Polar Flow software installed you just plug it in, and it will automatically sync, just the same as with Garmin devices. If it is the first time using it you will be given some set-up options, and from then it is all automatic. I have experienced no issues at all with syncing with my main Windows PC.
One of the clever things about this device is the ability to use it by itself. Once you power it up, if you double press the button again it will record your heart rate until you power down. My most recent test of the unit was during a 12+ mile walk where I was using my phone for GPS, I used the OH1 by itself, so I wasn't wasting battery life unnecessarily. I have read reports of a lot of people using this during sleep and through general use throughout the day to identify heart rate patterns.
Most people will want to pair it with a device; I had 4 options at my disposal, the Garmin 520, Polar V650, Garmin 235 watch, and my phone. Everything but my Garmin 235 paired up fine. For some reason, I have struggled to pair it up with that, even though I have previously used a Bluetooth HRM on it before. I think it could be user error more than anything.
Performance
Overall, this did exactly what I wanted to with minimal errors. I wasn't able to test it against a chest strap, but the most important thing to me was to have an HRM that didn't randomly show 200bpm followed by 80bpm a few minutes later. These erratic results are something the Garmin Forerunner 235 is prone to doing, and in general something all wrist-based heart rate monitors will do.
My most recent walk was a perfect example of the inaccuracies you find with wrist-based devices, at one point the Garmin spiked from around 95bpm to 190bpm and back down to 95bpm in the space of 2 minutes. I think Garmin auto correct these issues in their Connect software, because that walk showed a 99bpm average in Garmin, while DC Rainmaker shows 107. The Polar shows 93 average, but that included a lunch break, and I paused the Garmin for that.
The day before had similar issues, I went for a long bike ride covering 65miles, in this test I used the OH1 with the V650 and the Garmin 520 with the RunAR. In this case, Garmin had a peak of 183bpm with an average of 126bpm while the OH1 paired with the V650 showed a peak of 163bpm with an average of 127 bpm. The RunAR suffered from some bad dropouts whereas the OH1 is much smoother. In Garmin's defence, they do well at getting an accurate average with only 1bpm difference. The graph shows some weird results at around mile 16 as I ran over a big rock and blew my inner.
The previous weekend I went on a moderate length run for 9 miles and used the Garmin 235 with the RunAR and my phone using the Polar Beats app paired with the OH1. In this case, both devices performed well, the Polar has a much lower minimum heart rate, but this is due to the time it took me to start the app then try and get my phone into my running belt.
One of my first tests used the OH1 with Endomodo, which used to be my main fitness app before I got a sports watch, and then the Garmin with the RunAR. Again, the RunAR had some large dips, but not huge ones, while the Polar had a much smoother graph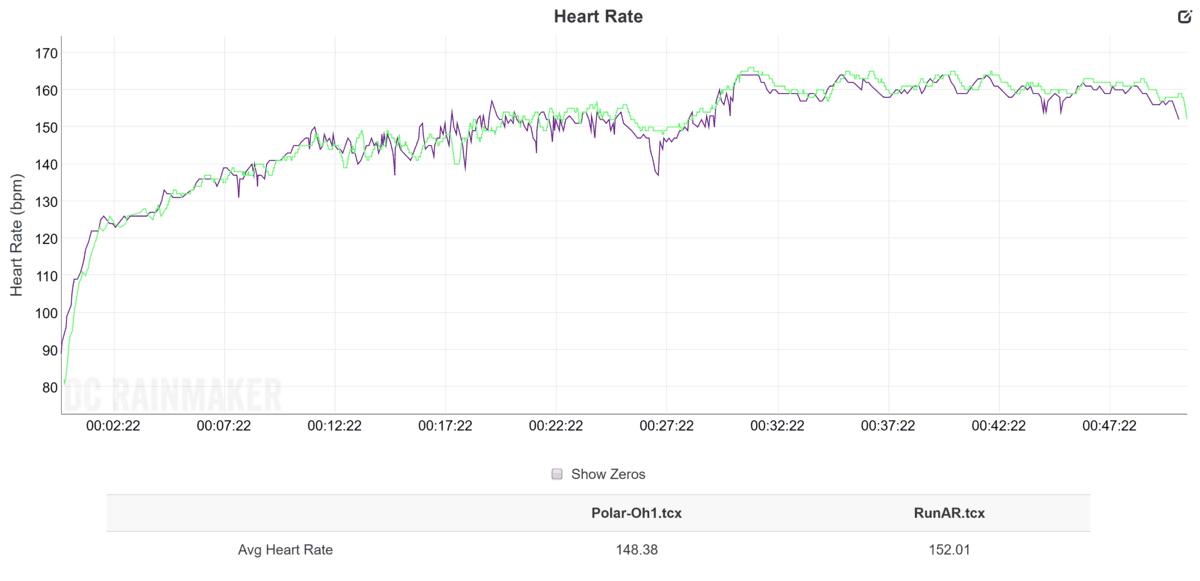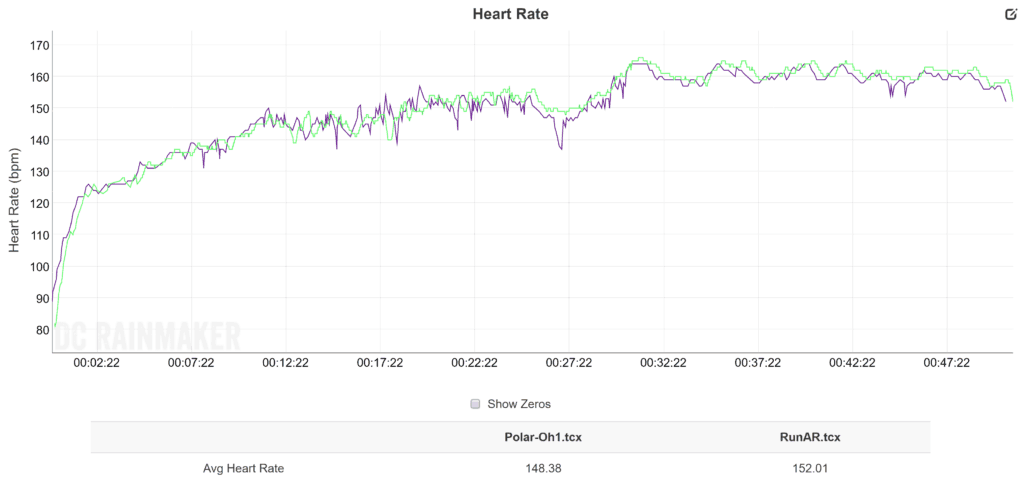 The last main comparison I have done is a 37mile bike ride where I used the V650 with the OH1, Garmin 520 with RunAR, and the Garmin 235 using the built-in wrist HRM. In this case, the arm-based monitors performed almost the same, while the Garmin 235 started to heavily under-report towards the end. There is a large dip with all three devices around 1h15 with the Polar having the smallest dip. I think that was a toilet break and I manually paused the Polar, hence the straight line.
I have used the Polar daily for all my gym sessions, and all the results match up with the above, so there is little point in breaking down each one. In every case, from what I can tell, it is more accurate than both the wrist-based HRM of the Garmin 235 and the cheap RunAR arm monitor.
I also found the Polar Beats app to be great for use in the gym, for outdoor activities it could do with a countdown timer, giving you chance to put your phone in your belt/bag. The Polar Flow web interface and app are also excellent, from my limited experience it is easy to navigate and analyse your data. I haven't used it as extensively as Garmin Connect, so a like for like comparison is hard, but I think most people will be happy with it. It also syncs with Strava and other apps which is what most people use anyway.
Overall
The Polar OH1 out-performed both the devices I tested it against in every test; it is easy to use and far more convenient than a chest-based model. In my case, I find chest-based devices break very easily, I think it could be related to my heavy sweating, and this should hopefully avoid that problem.
With 12-hour battery life, and the ability to use it independently from any other device this is has a better specification than competing models from Wahoo and Scosche while being priced marginally cheaper.
The only downside is the lack of Ant+, while this is annoying I can't see it being a deal breaker for most people. I think all sports watches and smart turbo trainers use Bluetooth, so it should work on all your devices.
*Update*
The above criticism of the lack of Ant+ is now not applicable, the OH1 now plays nicely with both Bluetooth and Ant+.
Since buying the Tacx Flux S I found the Bluetooth quite annoying because it required me to use my phone when in Zwift, and the connection could be temperamental. Now with Ant+ I no longer have to worry about loading the companion app up on my phone.
Furthermore, I have used this for a year now with no issues at all, all the previous chest based HR monitors died within a year (probably due to how much I sweat). So this has proven to be the best heart rate monitor I have tested by a considerable margin.
It is also worth noting that there are now two versions of this, the old one, and the OH1+, they are now technically the same, both with Ant+, however, the OH1+ comes with a swimming goggle clip, but costs a little bit more.
No products found.
Last update on 2022-05-16 / Affiliate links / Images from Amazon Product Advertising API