RunAR Upper Arm Optical HR Sensor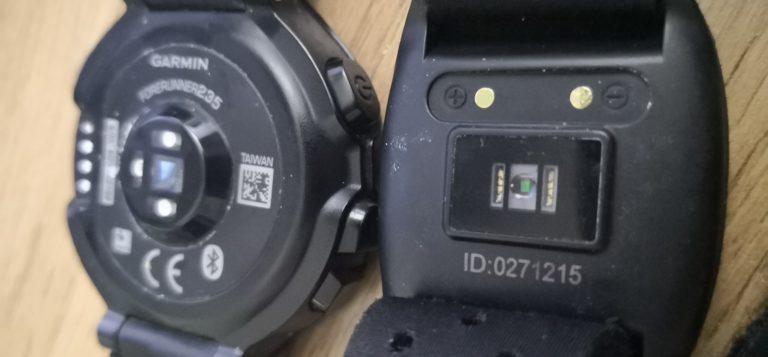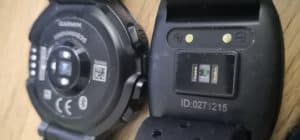 Product Name: RunAR Upper Arm Optical HR Sensor
Offer price: 34.99
Currency: GBP
Availability: InStock
Price -

80%

Ease of Use -

80%

Accuracy -

50%
As a geek that love fitness, I love looking at data from my various sessions from running, cycling or the various cardio machines in the gym. Most fitness fanatics will have noticed irregular readings with wrist-based HRM; the problem occurs across brands and product ranges, it doesn't matter if you have a Fitbit Charge 2 or Garmin Fenix 5X. The issue is that wrist placement really isn't good for an HRM, there is a large amount of movement around that part of your body and for some a lot of hair. They are very convenient, and in general, the average heart rate for a session will be quite accurate, so there is no need to dismiss the results completely.
However, if you want to up the accuracy you need to think about either a chest-based heart rate monitor or one of the new upper arm straps. With the chest HRM, the sensor picks up the electrical pulse from your heart. With the arm-based ones, they work exactly the same as the wrist-based option but in a more static hair free location. Some also have a larger sensor allows more accurate readings.
During my research of HRMs I came across a budget Amazon brand RunAR offering an arm-based tracker for just £35 which is about £30 cheaper than the POLAR and Wahoo alternatives. I love a bargain, so I bit the bullet and bought one.
The 3 main branded competing products are the Polar OH1, Scosche Rhythm+ and the Wahoo TICKR FIT. With these 3 products, they each have a unique optical sensor layout, with all of them appearing to be much larger than the sensor you might find on your wrist. The Polar has 6 LEDs circling the sensor, and the Scosche has 3 large LEDs circling its sensor and it uses both green and yellow LEDs for higher accuracies across skin colour.
[button link="https://amzn.to/2KNbWBM"] Buy the Polar Oh1 from Amazon[/button] [button link="https://amzn.to/2FZLW2A"] Buy the Wahoo TICKR Heart Rate Monitor (Chest)[/button] [button link="https://amzn.to/2I9apEr"] Buy the RunAR from Amazon[/button]
With the RunAR you get a far small sensor with 2 tiny green LEDs. This is a much smaller layout than the Garmin 235, which is just a low-mid range unit itself. Better fitness watches will have a much superior layout.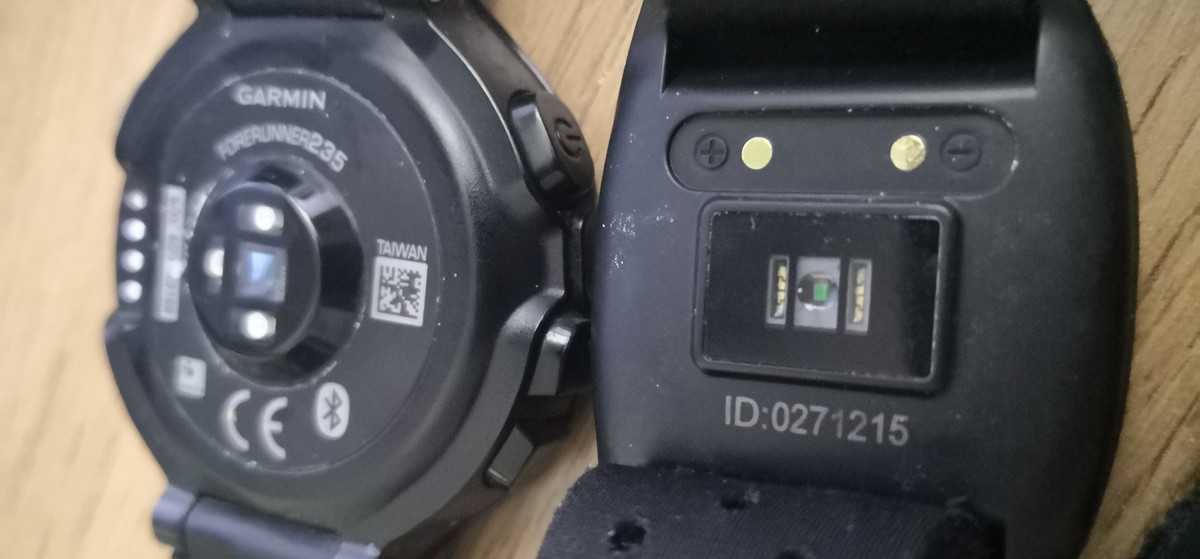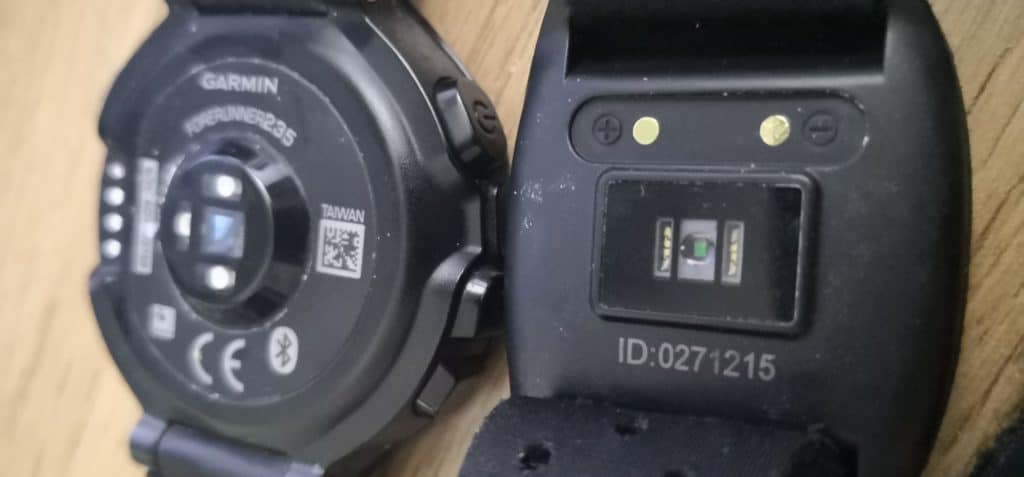 Setting up the RunAR is very simple, you just charge it, power it up then connect it. I have paired it with my phone and Garmin 235. The Garmin, in particular, seemed very easy to do, one I had paired it, it would connect as an external sensor within a couple of seconds of going to start an activity.
Performance
I was particularly interested in this style of HRM for gym use and cycling. I find the Garmin 235 to be quite good for when I go out on runs but using the bike machine in the gym it is useless. It even suffers on the treadmill and cross trainer.
My first day's test was on the cross trainer – I like this equipment as I suffer from various running injuries and seems to keep me running fit while not actually running. During a 42-minute session where I gradually increase the resistance until I can't be bothered anymore (scientific I know) the RunAR did surprisingly well. The Garmin and Strava graphs produced were reasonably smooth with no huge drops or peaks in my HR. I find it particularly annoying when my Garmin randomly records 180+ for no reason.


The second day I used the treadmill. Due to shin splints, I like to do 15% incline walks for 30mins followed by a slow incline run for 30m with me increasing the incline to increase effort rather than speed. I find running on an incline makes running outside much easier while reducing the impact on my shins. With this exercise things looked much less accurate the first 25mins had a nice smooth, accurate graph with no irregular bumps at all, my HR dropped as I reduced the incline in prep for running, and then when I started running things went a bit wonky. Towards the start I saw one sharp increase from about 140bpm to 158bpm within 20 seconds, this then reduced back down a few seconds. At around the 35min mark, there is a lot of movement on the graph the HRM appears to drop and gain 5bpm consistently every few seconds. The overall trend of the graph is probably accurate as my effort increased, so I would say the average BPM is OK, but this shows similar issues to the wrist-based HRM.


Lastly, I tried the bike machine; this is something my Garmin seems to struggle badly with, at the start of rides it will often refuse to get an accurate signal, and then later in the ride dependant on my effort and how I am holding onto the handles it will mess up again. The RunAR picked up an accurate heart rate immediately and performed well for the first 20 minutes. During my intensive bursts, accuracy dropped off, with a sharp decline in BPM from 158 to 138 over the course over 90 seconds then towards the end of the ride very erratic results with a peak of 170bpm, which I am pretty sure I didn't get. While the result was disappointing, looking at a recent Garmin result, it compared much better. The Garmin ride had an immediate drop from 165 to around 115, and a similar drop later in the ride, it then had to irregular peaks recording nearly 200bpm. So, the RunAR was more accurate overall.


I am going to continue trialling the unit the next few days, but due to the relatively poor performance I am leaning towards buying the Polar Oh1 or the Scosche Rhythm+
During my testing of the new Polar Oh1 I have been running the 2 devices side by side and using DC Rainmaker Analyse tool to compare. I don't have much data yet, but it does OK perhaps better than my initial sessions suggested, this has been wearing it on my forearm rather than my upper arm. The RunAR is clearly more erratic, with a few notable drops, but its not terrible, peaks and troughs are maybe 10-20BPM rather than 50bpm+ a wrist-based device might do. The average HR of the Polar is 4 bpm lower, which may seem significant, but I was using it with my phone and the Polar app, so had to start the exercise then cram it into my running belt, so wasted a good 30 seconds before I even started to run.  Also, not I got my colours mixed up when doing the graph, the Polar is the green line, not blue.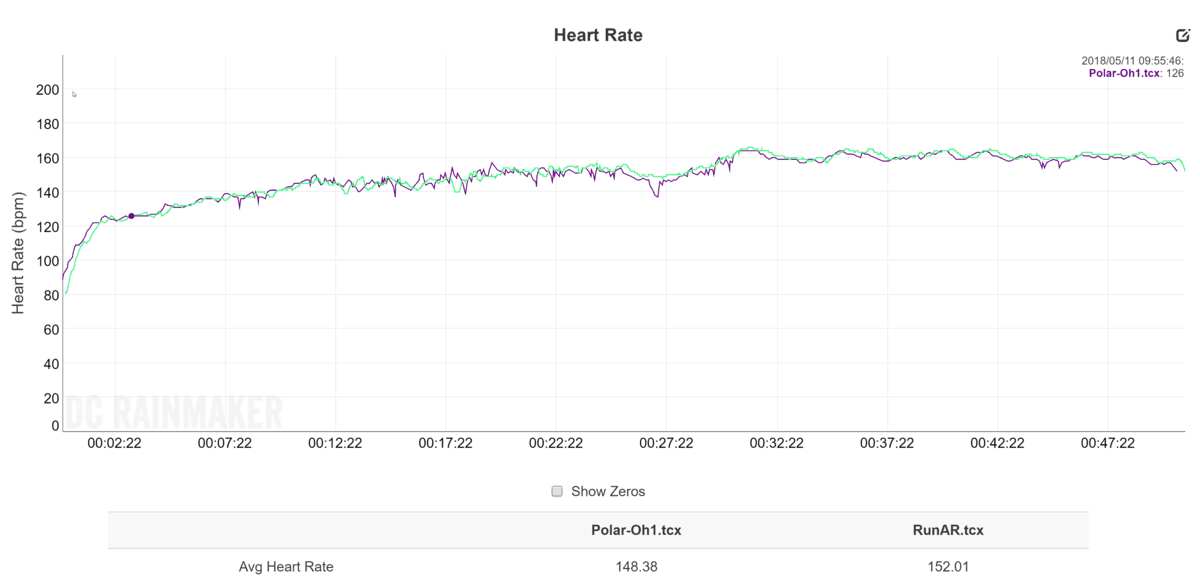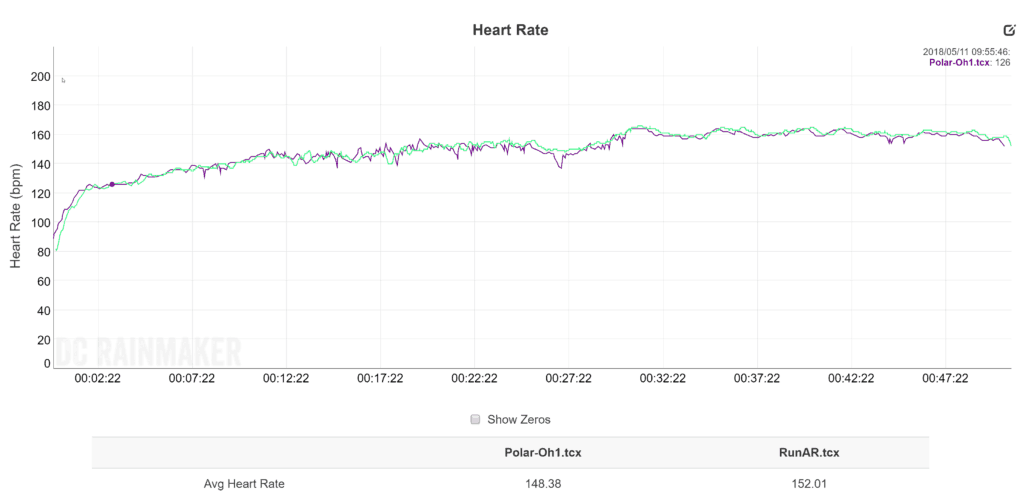 Overall
I guess it performed as expected for a budget unit, it is better than the wrist in certain conditions, it is a decent cheap option if you cycle and don't want to wear a chest strap. However, if you want to save money I would recommend just going for a chest option like the Wahoo TICKR or spend a little extra from the Polar or Scosche
[button link="https://amzn.to/2KNbWBM"] Buy the Polar Oh1 from Amazon[/button] [button link="https://amzn.to/2FZLW2A"] Buy the Wahoo TICKR Heart Rate Monitor (Chest)[/button] [button link="https://amzn.to/2I9apEr"] Buy the RunAR from Amazon[/button]