Bkool Smart Pro 2 Turbo Trainer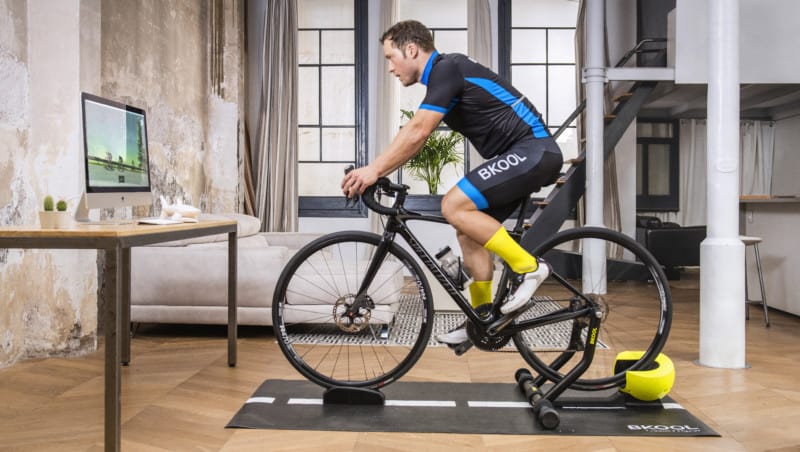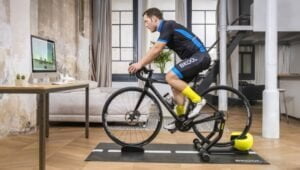 Product Name: Bkool Smart Pro 2 Turbo Trainer
Offer price: 350
Currency: GBP
Availability: InStock
Features -

90%

Build -

85%

Performance -

75%

Price -

80%
Being based in Blackpool, cycling conditions are not ideal very often, especially at the start of the year with things like beast from the east ruining any chance of going outside.
So as someone wanting to push my cycling distance beyond 100m I need to up my training a little, and a turbo trainer is a perfect solution. Prices typically range from £100 to over a £1000, and in recent years there has been a surge of smart trainers, which connect to a computer or phone and can synchronise with virtual training videos providing variable resistance depending on the incline of the hill.
The Bkool Smart Pro 2 sits somewhere in the middle ground of pricing, costing around £350 online, but with a RRP of £499 and uses a magnetic resistance roller that the rear wheel sits on. The other main option for a turbo trainer is a direct drive system where you remove the wheel and have the bike attached to a cassette on the turbo itself, these are often superior to the magnetic drive options but cost a lot more. They are also considerably cheaper than a good quality indoor bike such as the Wattbike Atom.

Set-up
Out of the box, the Bkool looked a little intimidating to set up, and the instructions provided are shocking. There are 4 pictures that tell you what to do and barely any written instructions. Thankfully, with a little bit of common sense, it isn't that hard to set up and after about 10 minutes I was all done.
The main things you need to do are attach the roller to the frame, then swap out your quick release skewers for the Bkool ones, and then use line them up with the frames bolts and tighten it up.
The legs also extend out, which I didn't realise at first, and fell off the bike the first time I used it (this is my first time using a turbo trainer)
Once you have physically set up the bike, you need to choose how you want to connect. It should be possible to use your phone or tablet, and there is also a windows option which I used. Downloading and installing the software is quite simple, you will then need to log in. I signed up for a free trial of the software which then gives you access to multiplayer live rides, real weather.
There is also a second Android app called Bkool control which allows you to control the simulator remotely. This is useful if you have your laptop plugged into a big TV and it is out of reach during your ride.
Once all the software was installed, you need to pair it with the bike, this is another area I had issues with, and it was partly my fault. At first, I use the Bluetooth dongle I use for regular connections, and it just wouldn't connect at all. Shortly after I realised the Bkool include their own, and once I attached this I was able to pair up.
Performance
Once you are all linked up, you can search for bike rides, either live events or just find one that suits you. There are plenty of rides to choose from, and you can filter by difficulty level and distance.
There is more functionality setting everything up via the browser before loading up the software. If you don't want to ride with real people you can set up a ride with bots that will virtually ride with you. I quite like this feature, but I am not sure why it isn't in the main software
I mistakenly chose a moderate one at 20 miles to start, which had a particularly long hill towards the start. It has been a few months since I have been on my bike and after 45 minutes I had to come off I was that tired. So I would suggest starting off slowly.
When you do start, there is a short warm-up period that you can cancel by braking, the ride then starts. The video moves based on your virtual speed and all the ride stats are shown at the bottom of the screen. This includes distance, speed, time, time left, incline percentage and wattage.
As you would expect, when the incline increases so does the resistance, and the overall effect is impressive, it quickly showed me how bad I am at hills.
On declines, when you speed up a lot, the unit does become very loud, and I believe this is a common problem with turbo trainers, though this one is rated at being quieter than many.
As I have never used a device like this before I found the power reporting very useful. I ignored it when I first started, but after that, I realised if I wanted to complete a ride I needed to stay within a certain number of watts, which for me was 220-260. When I move above 260 fatigue would settle in on my legs quickly, and too far below 220 felt too easy. Keeping an eye on this allowed me to adjust by gears on inclines with more intelligence, and doing longer rides became much easier, while at the same time maintaining a reasonable level of effort. This is all well known among frequent cyclist, but as I have never had a way of measuring it before I have always ignored it, and I can genuinely see how monitoring you power can help with training now.
The Bkool Smart Pro 2 is quoted as having a maximum resistance of 1200W which is above and beyond what most people can achieve. During my rides, when I tried a bit harder, I struggled to go beyond 700 for more than a few seconds.
The trainer is also capable of going up to 20% incline and looking online there are not any other devices at this price point that can do this. I never got anywhere need 20%, but I did go over 7% quite a bit, and the similarly priced Tacx Vortex maxes out at 7%, so for any serious hill climber, this could be the ideal/only option for a moderately priced trainer.
Things did not always go very smoothly. Apart from falling off the first time, one major issue appears to be the strength of the Bluetooth connection. The second time I rode the device completely cut out after 15 minutes, requiring me to get off, cancel the ride and spend 20+ minutes troubleshooting. The laptop was less than 2 metres away from the main unit on the device so at first, it seemed silly it could be a signal strength issue, but after moving the laptop to within 1 metre, everything worked again. This isn't ideal for me, as it meant the laptop was perilously close to the bike, so if I accidentally fell off to the left, I would smash my laptop.
There are some issues with laggyness of the video too. Sometimes the video would just stop and then take a while before it jumps back into the same place. It was particularly bad for this if I had to abruptly stop to do something then restart. The laptop was within close range of the router, and it the GTX1050 GPU should mean things run smoothly.
I had issues getting the trainer to work with Zwift, and when I researched the issue later on you need to update it to the ANT+ FE-C protocol before you can use it with Zwift. So my testing was carried out exclusively on the Bkool software.
Update: I had one more go of the Bkool and followed the above instructions to get it to work with Zwift. Once switched over to ANT+ FE-C Zwift was able to identify the trainer straight away. Signal strength also appeared to be stronger in this mode, though this could have been the laptop placement, during 3 rides on Zwift I have had no issues with signal.
Overall
This is the first turbo trainer I have used, so I have no frame of reference for my final opinion. However, I have enjoyed using the trainer; it is far more fun than I was expecting and I and using a trainer to monitor your power output looks like a great way to improve performance.
There are few issues, and the main one is the connection between your PC and the trainer. This problem is avoidable if you get get a decent placement of your computer and the trainer itself. The issue also appears to be resolved by switching to the ANT+ FE-C protocol.
Overall, the looking at the other available devices online, not many can compete with the specification of this and therefore if you are looking for a turbo trainer the Bkool Smart Pro 2 is a worthy contender.