In the past year, I have used both the Garmin 235 and Suunto Spartan Trainer on a regular basis. The Garmin was bought in the Black Friday sales 2016 for £170, and you can pick up the Spartan Trainer for about £200.
At the time I would have loved to buy a Fenix 3 but it is costly and massive, and with me mainly running or cycling the 235 seemed to fit the bill. It is a good watch, but I have found it has quite a few quirks that annoy me about it. One of the common complaints is the accuracy of the wrist-based HRM. All wrist-based heart rate monitoring is prone to inaccuracies, but I found the Garmin to be particularly poor under certain situations, gym work was bad, and cycling was worse.
The Suunto, on the other hand, has the Valencell's optical HR sensor, and this is apparently far more accurate than the Garmin one.
I mainly tested the 2 watches on outdoor runs, but also on the treadmill, and indoor bike.
[button link="https://amzn.to/2KIvx5g"] Buy the Garmin from Amazon[/button] [button link="https://amzn.to/2GFTTdw"] Buy the Suunto from Amazon[/button]
Hear Rate Comparisons
Both devices suffer from some very suspicious peaks and toughs, which is the problem area of wrist-based heart rate monitors. The constant movement causes the sensor to lose a reliable connection and get inaccurate results.
With the Suunto, these peaks and troughs seem less severe. In one of my recent runs at the 5-minute mark, I had a heart rate of 170bpm dropping to 146bpm just 90 seconds later and back up to 167 less than 60 seconds after that.

With the Garmin in one of my last runs at the 1h38m mark, it recorded 150bpm then up to 180 at 1h40 and down to 148bpm less than 30 seconds later. During this run, I counted 7 significant drops in heart rate and 9 sharp jumps in it.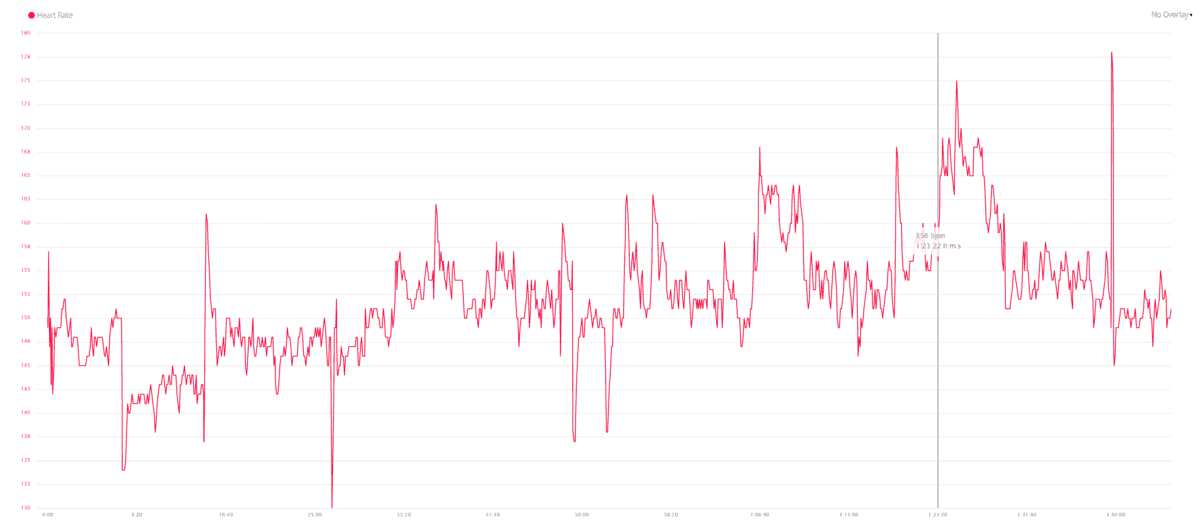 During that same run, the most significant peak with the Suunto was 174, there were less apparent drops in heart rate, but around 6 clear peaks.
The average heart rate for this run was 153bpm with the Suunto and 152bpm with the Garmin. So the result is mostly the same. Interestingly the calories counting was entirely different, with the Garmin reading 1,545 calories and the Suunto 1885 calories. I would be more inclined to believe the calories burned from Garmin here.
I can't upload the same activity to Strava as it detects it is the same but looking at 2 different runs with both watches clearly shows the Garmin's tendency to record inaccurate heart rate data.
Unfortunately, both were unreliable using the indoor bike machine, though I would say Garmin was worse, especially if you set it to Other. Using it in Cycle mode strangely appears to improve accuracy.
The Suunto HRM is completely useless during outdoor exercise, it basically doesn't register my heart rate at all, and yes I have tried various wrist positions.


The Garmin also struggled to maintain a good heart rate reading, but it at least managed something, a far better result than the Suunto.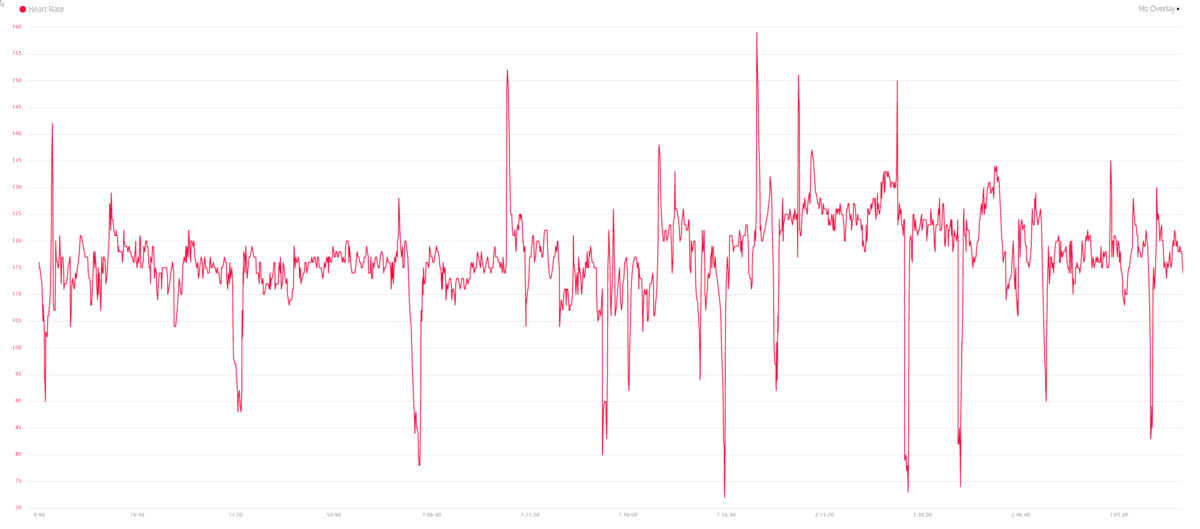 Overall, the Suunto is a bit better but not by a lot, I was expecting it to be the clear winner, but this just isn't the case. Both have issues with accuracy, and this is just a typical issue with wrist-based HRM. They both seem to do an excellent job at providing an average BPM, and this is the main thing I use it for. If you want reliability, you just have to use a chest strap.
[button link="https://amzn.to/2KIvx5g"] Buy the Garmin from Amazon[/button] [button link="https://amzn.to/2GFTTdw"] Buy the Suunto from Amazon[/button]
GPS connection
One unexpected observation during this test was that Garmin struggled to acquire a GPS signal more than the Suunto. Neither are perfect, in bad weather than can both struggle. In one case, when it was raining after the Gym I decided just to run home, I had a watch on each are. The Garmin took 2 minutes before the watch vibrated confirming the connection, while the Suunto connected immediately.
However, both watches still managed to record the same distance of 1.5m. With the Garmin saying 173 calories and 147 bpm, with the Suunto saying 199 calories and 148bpm.
Other comparisons
The Suunto is technically a superior watch regarding features; it is a proper multi-sports watch so I can track running, cycling, swimming, and then anything from golf to volleyball. With the Garmin, you have 3 options, running, cycling and other. For most people it is not a huge issue, I lived with the other setting for months with no problems, but if you do a lot of activities and want to track your performance between each one, then the Suunto is a better choice.
The Movescout software that the Suunto use both on the phone and mobile app are much nicer looking than the Garmin equivalent, but if I am honest, I am not very fond of it. For looking at your individual activities it is excellent, you get lots of data to obsess over, but for day to day activity, it is almost useless. You can't view each days heart rate or steps, and the online site doesn't give you any resting heart rate date. Many people won't care about this, but as a former user of the Fitbit Charge, I quite like keeping track of my steps and resting heart rate. In terms of steps, the Suunto won't track a single step when cycling, technically this is correct, but if you are moving from Fitbit or Garmin it will provide different results.
The Garmin app and more importantly their website is much easier to access your data, even if it is a bit ugly. Garmin also has some other considerable advantages, they have far more devices than Suunto, so if you use a cycle computer you can keep it all within the same ecosystem, Garmin even have smart scales that will integrate with the system. Garmin's running chest strap can also provide advanced running dynamics, but I am not sure how this compares with some of the extra data you get from Suunto. Garmin can sync with more third-party apps, the main one I found missing on Suunto is MyFitnessPal. Both sync to Strava with ease, which is the most critical aspect for most athletes at the moment.
Both watches can download "Apps", but neither of these use the same level of apps you would find on the phone. The Garmin ecosystem is far better for its apps though, in particular, the watch faces and data customisations you can have for sports. I also find the Garmin watch considerably easier to read during sport.
The build quality of the Suunto is far superior to the Garmin, it uses a metal casing and glass face, whereas the Garmin is all plastic, including a very plasticky feeling face.
[button link="https://amzn.to/2KIvx5g"] Buy the Garmin from Amazon[/button] [button link="https://amzn.to/2GFTTdw"] Buy the Suunto from Amazon[/button]
Overall
Both watches are great, and each one has its pros and cons. I started this test hoping to prove how inaccurate the Garmin was compared to the Suunto, and while it does have issues, it is not as bad as I was expecting, and the Suunto also has peaks and troughs with the heart rate results. The Suunto is also particularily bad during cycling.  So, neither should be regarded as highly accurate. The obvious fix to this is just to wear a heart rate strap any time you want more accuracy.
Regarding which one I would recommend, it is dependant on your usage. Personally, I would be inclined to go with the cheapest, which is nearly always the Garmin. I also much prefer the Garmin Connect software, and being able to keep all my data in one system. If you are a triathlete, or you just want to use the watch while swimming, the Suunto is the better option