D-Link DUB-E250 USB-C to 2.5G Ethernet Adapter Review Rating
Summary
The D-Link DUB-E250 USB-C to 2.5G Ethernet Adapter is an excellent option for anyone looking to upgrade their network easily and affordabley 
Pros
An affordable option for a big name brand
Idiot proof to use
Achieves full 2.5Gbps speeds
With 5G and Wi-Fi 6/6E offering over gigabit transfer speeds, the ageing gigabit wired networks need modernizing.
10 gigabit Ethernet has been around for years, but its adoption within the consumer market has been glacially slow. This has then meant that prices have remained exceptionally high.
For the past year or so, we have started to see more products launch with 2.5GbE; this includes routers and reasonably affordable switches. Then a lot of motherboards and even some laptops have adopted it. So it looks like 2.5GbE is going to be the consumer standard for the foreseeable future.
So if you have bought a router or switch that offers multi-gig performance, you will likely want to bring the rest of your devices up to speed. USB-C adapters are the most convenient way to do this, and for laptops, probably your only option.
I reviewed the TRENDnet USB-C 3.1 to 2.5GBASE-T adaptor back in 2019, I still use it today; while it is good, it was expensive at launch (£75), and is still relatively expensive now (£45).
Since then, many new options have come to the market, some of which are a lot more affordable. The D-Link DUB-E250 is one of those options.
It launched on Amazon for around £60 but has quickly dropped to £40 or below from various retailers.
Specification – A Realtek chipset
Sale
Based on Realtek
2.5G Ethernet Connectivity
USB-C / Thunderbolt 3 Connector
Auto Speed Detection
Supports Crossover Detection
Supports Full-Duplex Mode
Two LED indicators
No power adapter required
Bundled with a virtual CD for driver installation (for Windows)
Backwards compatible (10/100/1000 Mbps)
Setup
I wasn't expecting to need to write a setup section, but plugging in the USB-C adaptor loaded up windows dialogue asking what I should do with the attached device. The adopter then mounted as a CD drive (I obviously didn't read the above spec before testing this).
Clicking the drive, it asks if you want to install the driver, and when you click yes, it just closes down. It isn't immediately obvious, but it has installed.
Upon installation, it appeared to have connectivity issues, with the network connection going up and down repeatedly for a few minutes. However, it eventually settled down to a solid connection.
To check its reliability, I also rebooted my PC to makes sure it connected quickly and stayed connected.
Performance
Testing was done on my main work PC, which uses the AMD Ryzen 5800X and the MSI MEG X570 UNIFY motherboard, which has a built-in 2.5GbE.
My PC is connected to the QNAP QSW-1105-5T 2.5GbE switch, and I also checked it against the Zyxel XGS1010-12.
My server uses the ASUS XG-C100C 10GbE card, but this is restricted to 2.5GbE due to the switch.
iPerf3 & File Transfer Tests
iPerf3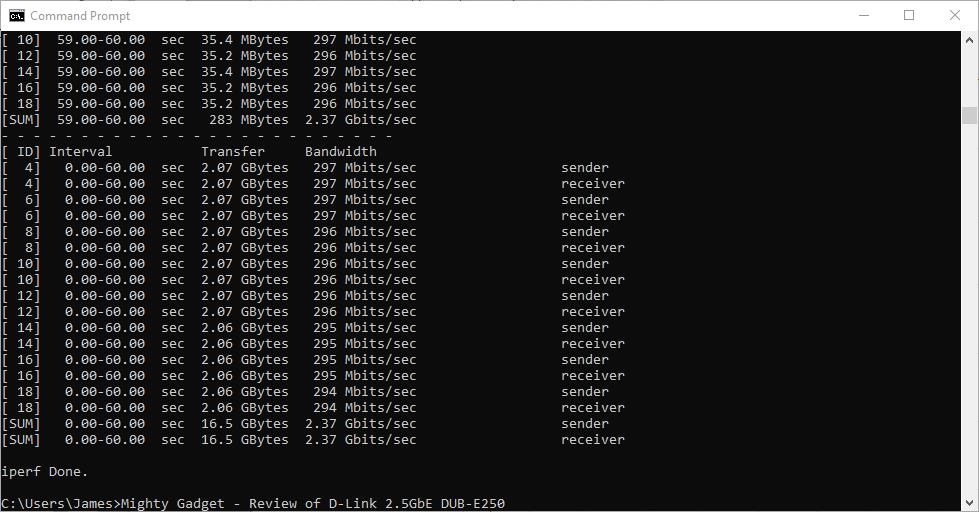 For iPerf3 the command I use for all Wi-Fi and networking testing is:
iperf3.exe -c 192.168.1.2 -P 8 -t 60
The results:
MSI X570 UNIFY – 2.36 Gbits/sec
D-Link DUB-E250 2.5GbE Adaptor – 2.37 Gbits/sec
File Transfer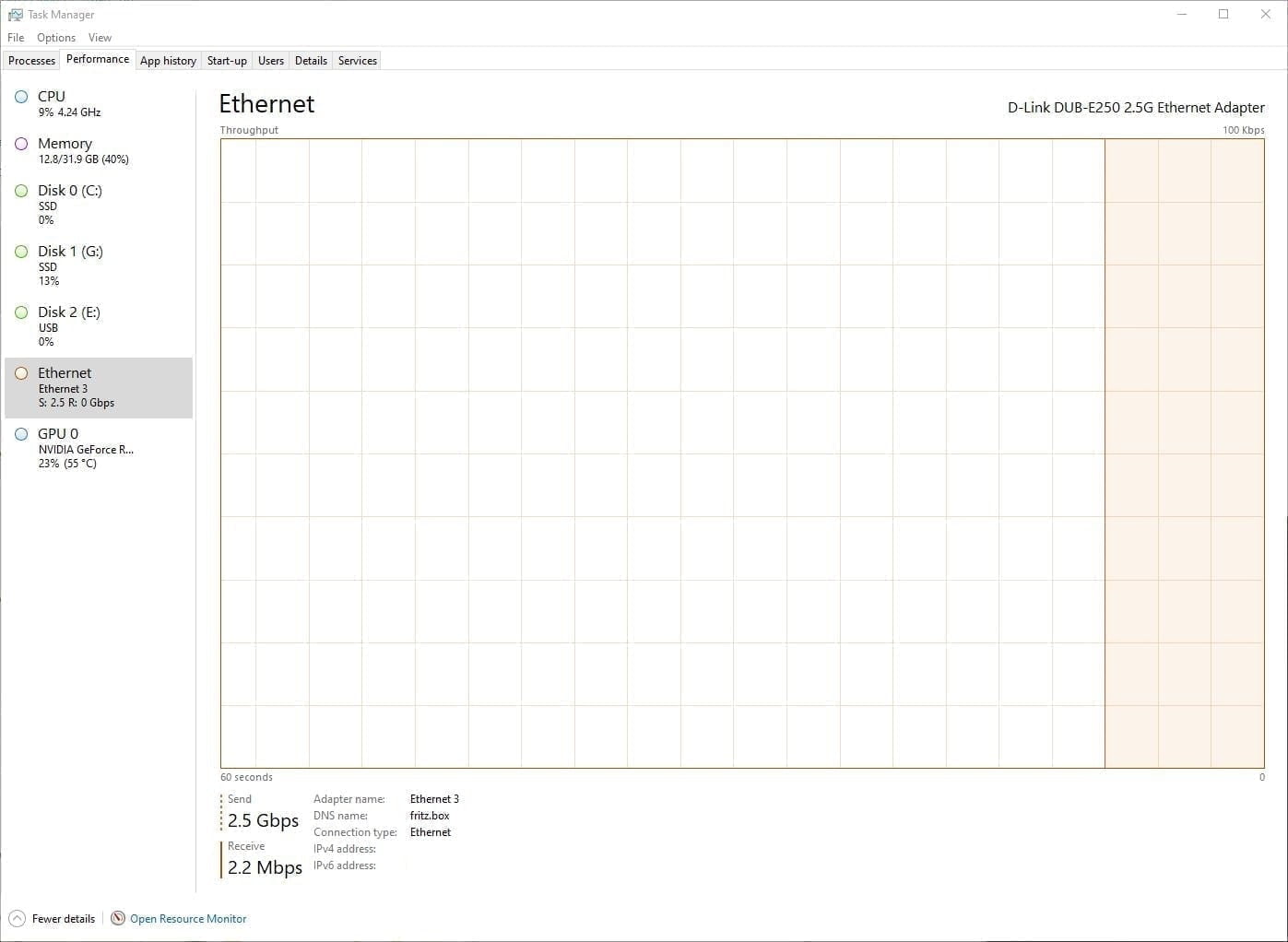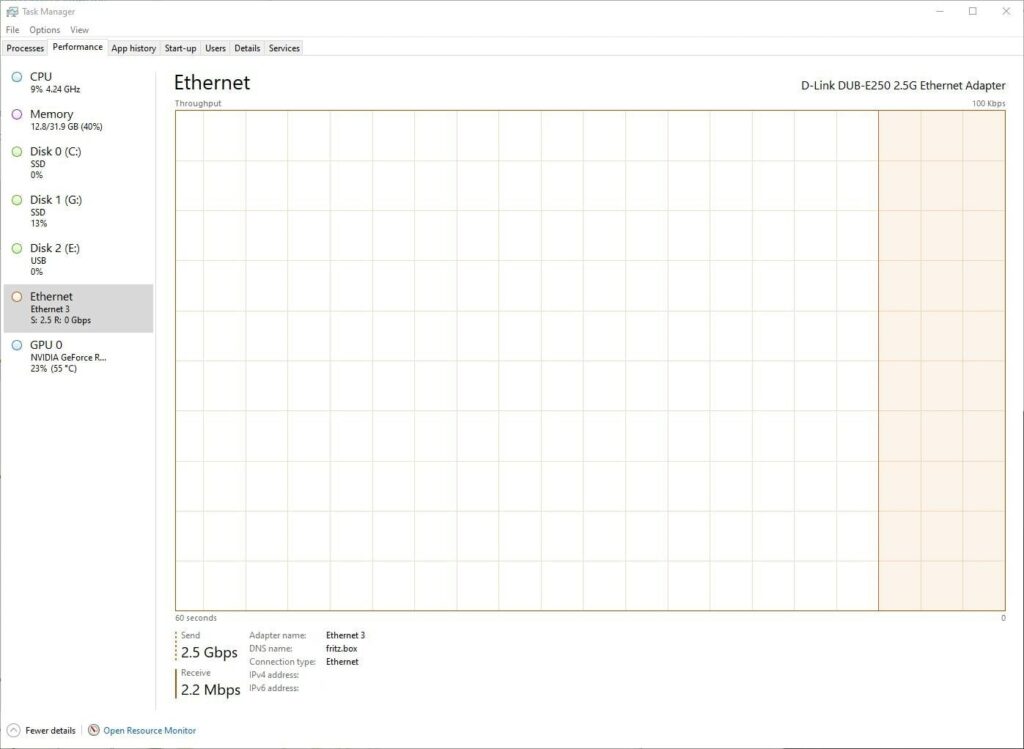 For file transfers, my main PC has a Kingston KC2500 1TB NVMe, while the server uses a slower
500GB Kingston A2000 NVMe. Both drives offer more than enough performance to saturate 2.5GbE and beyond.
As expected, the D-Link adaptor happily maxes out the connection with transfers sitting steady at 280MB/s and being reported as the full 2.5Gbps within Task Manager.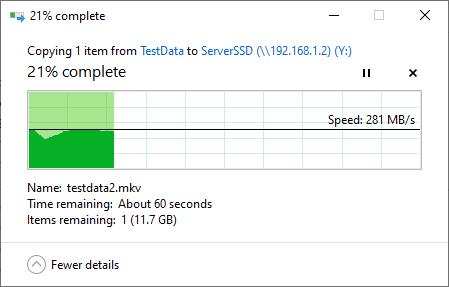 I have used the adaptor on my main PC for the past few days, and during this time, it has had no disconnections that I have noticed, nor does it seem to get excessively warm
Price and Alternatives
The D-Link USC-C to 2.5G Ethernet Adapter (DUB-E250) is around £40, depending on where you buy it from. The current £5 off voucher with Amazon will take it down to £38.99
That makes it a little more expensive than other options, but it has only just been launched and is from a reputable brand.
Alternative options include:
Cable Matters USB C to 2.5 Gigabit Ethernet Adapter – Around £35
Ugreen 2.5GbE adaptor– Around £35
Sabrant 2.5GbE adaptor– Around £33
StarTech 2.5GbE adaptor– Around £46
TRENDnet 2.5GbE adaptor – Around £45
If you plan to use this on a desktop, a 2.5GbE PCIe adoptor will be even cheaper; there are a lot of random brands offering sub-£30 options
Overall
The D-Link USC-C to 2.5G Ethernet Adapter may not be the cheapest option on the market, but it is the most reputable brand from the options I have listed, and I have found the performance to be reliable with no regular disconnections. For the sake of less than a fiver, I'd probably stick with D-Link if I was going to buy one of these.
Overall, this works well, 2.5GbE is becoming increasingly available on routers and other products, and the prices across products are quite affordable compared to the premium-priced 10GbE counterparts.
Last update on 2022-06-19 / Affiliate links / Images from Amazon Product Advertising API