Yesterday Huawei held a 5G event for some selected UK media demoing its collection of 5G devices, some of which, will be available next month.
The event was to discuss 5G in general, and at this point, most of the benefits have been covered, in my post from early last year you can swap out the Qualcomm bits and with Huawei. In general though, to start with, it is just about speed and capacity, but over the years this will improve all aspects of mobile communication.
Huawei Mate 20 X 5G
The Mate 20 X was launched last year alongside the Mate 20 and Mate 20 Pro, with the Mate 20 Pro being one of the best phones of last year and this.
Now Mate 20 X has now been given the 5G treatment which requires Huawei to add in their HiSilicon Balong 5G modem to enable the 5G. It is expected that the new Kirin 985 launching later this year will feature a built-in modem.
Most of the phone remains the same, which means it is an absolute unit with a 7.2-inch display with support for pen input. It also has the same Mate 20 Pro camera setup, comprising a 40-megapixel main sensor, 20-megapixel ultra-wide sensor, and an 8-megapixel telephoto camera.
However, to fit in the modem, Huawei has had to drop the battery capacity to 4,200mAh from 5000 mAh.
Unfortunately, if you want to be an early adopter of 5G then you are going to have to pay for it, the Mate 20 X 5G is available to pre-order this month for a launch in early June at a price of £999 SIM-free.
Huawei Mate X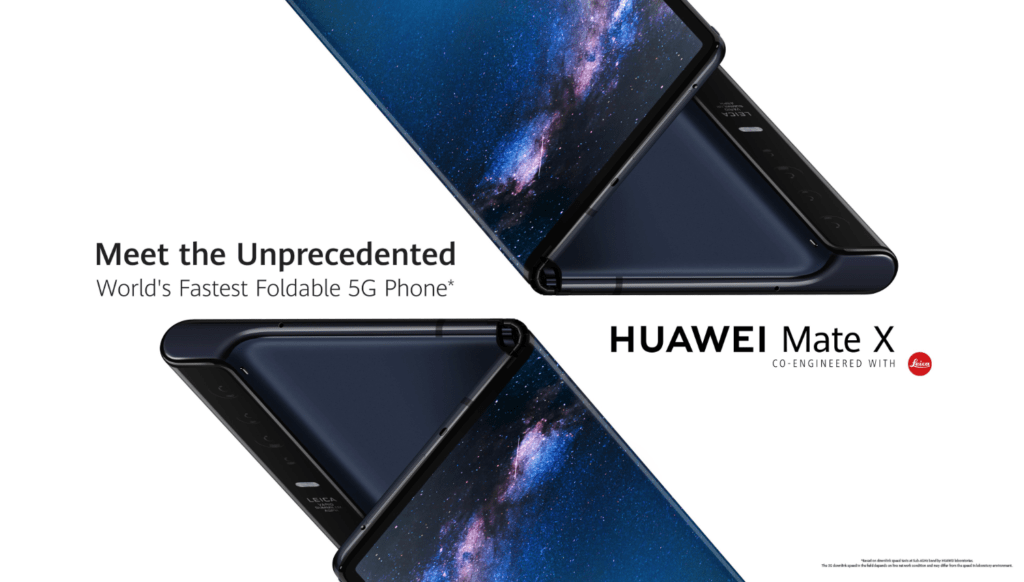 The Huawei Mate X stole the show at MWC this year, and cast a shadow over the Samsung Galaxy Fold. With the recent issues with Samsung, it will be interesting to see how well the rollout of the Huawei device will be.
Unfortunately, Huawei is still being coy about the final UK price and release date, other than it launching in Q3. I wouldn't be surprised if they are running some additional tests following the Samsung flop.
Huawei Wi-Fi 6 5G Router
With 5G a lot of people are hoping to be able to move away from the reliance of cabled networks at home. Rural users have a particularly bad time with broadband so a 5G router could alleviate all their woes.
The 5G CPE Pro is equipped with the latest Wi-Fi 6 technology which is the biggest thing to happen to Wi-Fi in years, and it will set you back £500. The biggest expense here will likely be running your entire homes internet connection over 5G
Vodafone has already announced a July 3rd launch date for its 5G network, while EE is rumoured to be launching even earlier – perhaps as soon as the first week of June. O2 and Three are yet to give dates but shouldn't be far behind.
For Vodafone specifically they have announced the following:
Vodafone FutureNet 5G will launch in seven UK cities on 3 July 2019. Find our 5G Vodafone network in Glasgow, London, Manchester, Liverpool, Birmingham, Cardiff and Bristol.


5G will then arrive in Birkenhead, Blackpool, Bournemouth, Guildford, Newbury, Portsmouth, Plymouth, Reading, Southampton, Stoke-on-Trent, Warrington and Wolverhampton later this year.