Rock Jaw T5 Ultra Connect Wireless Earphones Review
Summary
Jam-packed with features including the ability to adjust the sound profile and an impressive selection of ear tips, all for just £75
Rock Jaw is a UK based audio brand that I have covered twice before, with their Alfa Genus earphones back in 2014 then the V2 in 2018.
Rock Jaw is quite unique in that their earphones feature interchangeable filters allowing you to tweak the audio profile to your liking. The only other earphones I am aware of that does this is the more expensive RHA T10i.
[content-egg module=Amazon template=list]
Features
With the new T5 Ultra, Rock Jaw have taken all the good bits from the Alfa and made them Bluetooth while integrating the latest technologies you might find on earphones costing more than £76. This includes the interchangeable filters and one of the best selections of eartips I have had from a pair of earphones.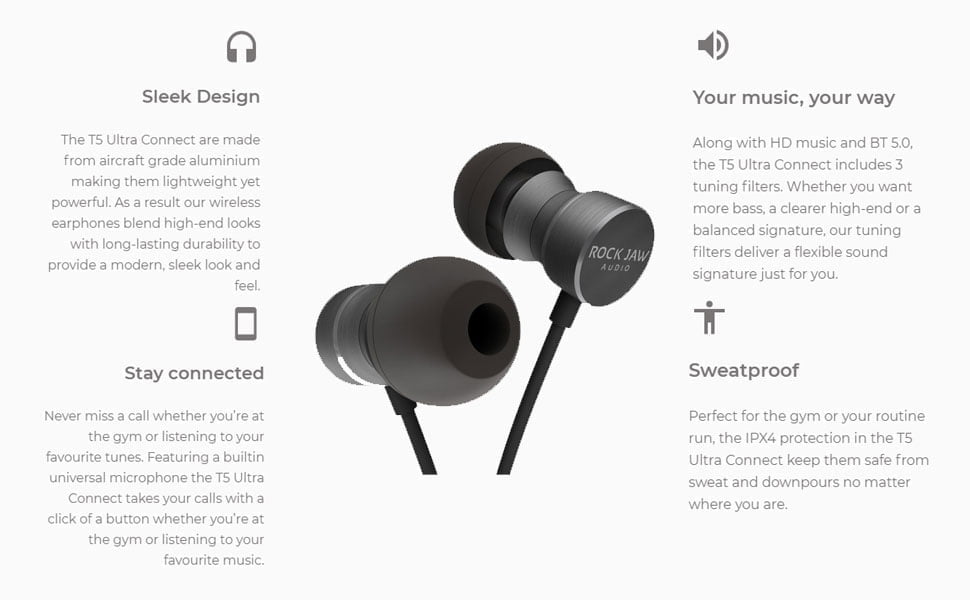 The new T5 Ultra uses the latest Bluetooth 5.0 technology, which a large number of earphones have started to adopt, this allows a superior connection to your phone and much better battery life. These also feature aptX if your phone supports it, offering superior audio quality.
However, unlike most earphones, Rock Jaw have adopted USB-C for charging. I have only reviewed the RHA MA750 in the past that has USB-C.
These are IPX5 rated, and the build quality seems to support this, everything is covered in a thick rubber with no signs of seams or weak spots. This includes the rubber stopper for the USB-C which seems to have a much more secure fit than its microUSB counterparts. While I have not had them long enough to confirm, I feel like this should be much more sweat proof than ever other wired Bluetooth earphones I have used for sports (they have all died from my sweat).
Design
The T5 Ultra ticks every single box I want except for design, this is purely subjective though. I am not overly fond of large controls and batteries dangling down from the earpiece unless the earpiece is anchored into place with a hook. These have quite a large control and battery, though thankfully the weight is distributed equally between left and right. However, unless you get a good fit, this will likely cause issues with the earpieces working loose.
The earphones themselves are well made with aluminium cases and magnetic backs that attach the earphones together when not in use.
The tuning filters are screwed into place and are quite challenging to remove, which is reassuring as I lost one of my filters from my V1 Alpha review.
Fit and Comfort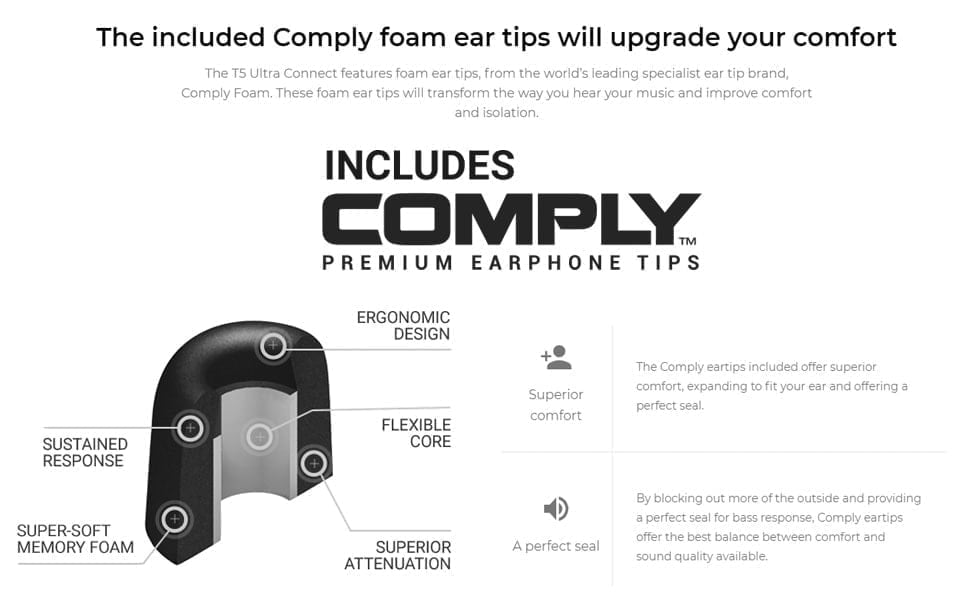 I think I have oddly shaped ears and struggle to find a good fit, even though these come with the widest range of ear tips I have had, I struggled to get a fit I love. The earphones are excellent when I am sat down, but walking or running combined with the design, causes them to work their way loose. This is purely subjective though, and I am particularly fussy, so I won't specifically mark them down for this, but it is something worth considering.
For your average person, I think you should be able to find a good fit, they come with Comply Foam ear tips which can significantly import fit and comfort.
Sound Quality and Performance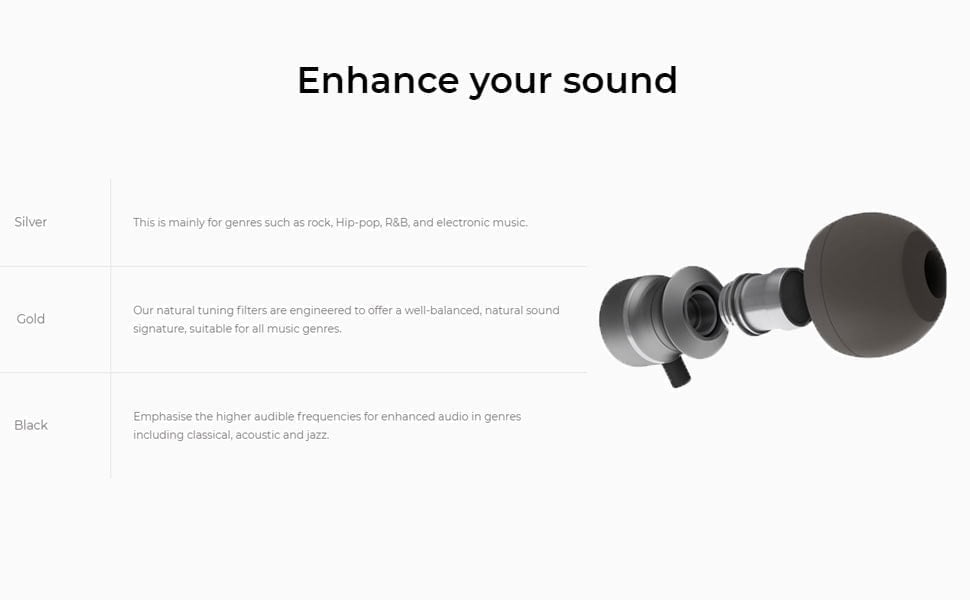 With a good fit, these do sound excellent, with the pre-installed gold filters are supported to provide a natural and balanced sound across all frequencies, while the Silver filters give you enhanced bass without losing any detail. Finally, the Black filters increase your music's treble, that offers a reduction in bass, whilst providing an increase in detail in the upper mids and treble.
I would be inclined to say that the gold is still quite bass dominant, or out from the crowd. perhaps that's just my preference of music, however, having the option to choose your audio profile makes these stand out from the crowd.
Admittedly, I didn't find a vast difference between Gold and Silver, but it should be enough to satisfy fussy types. The black filters do seem to have a small difference to the bass.
Mids and trebles are both bright and well represented, I didn't find any harshness to them, and the earphones performed very well across all genres that I tried. Overall, the audio quality may not be quite the best I have heard, I am still a fan of the 1MORE triple driver, but these cost almost double.
These have one of the highest rated batteries I have used for in-ear headphones with 11-hours, which is exceptional, and would make these the perfect pair of travel earphones.
Overall
There is a lot to like about the Rock Jaw Audio T5 Ultra, based on features and audio performance. I don't think there is much that can compete with them at this price point.
The changeable filters and a wide selection of ear tips give these earphones a much greater chance of suiting your personal preferences in both fit and audio profile.
While I personally struggled to find a fit that worked for me, possibly due to the weighted cables and my usage scenarios, the wide range of ear tips should ensure the vast majority of people are able to achieve a suitable fit.
They are available via Amazon for £74.95 but you can get them a little cheaper at the moment direct from Rock Jaw for just £67.45.