[Update 23rd of August 2019] Detailed product renders for the 6, 6S and 6X added.
[Update 25/08/2019] An eCommerce site in Uruguay has listed the fēnix 6 Pro for $804 with a launch date of September 6th 2019. Perhaps not the most trustworthy of sources, it could be an SEO tactic, but the 6th is the first official day of IFA, and many companies make their announcements on the 4th and 5th. So this date makes more sense than the previous 29th of August release. Screenshot and link at the bottom of the page.
[Update 26/08/2019] GPSCity listed all the product range including the Venu and Vivoactive 4, confirming pricing.
A fresh round of leaks about the Garmin Fenix 6 has landed in the past day.
There has been nothing particularly groundbreaking reveals, but the images are better quality and it helps build up confidence with the previous information we already know.
[content-egg module=Amazon template=list]
23rd of August 2019 Update – New product renders for the Fenix 6, 6S and 6X
A large selection of product renders has now been released. Again, mostly confirming stuff we already know, including the battery mode options and the ELEVATE optical HR sensor.
Previous coverage:
Garmin Fenix 6
Garmin Fenix 6S
Garmin Fenix 6X
Appelmoessite has revealed the full product lineup plus a couple of images, the writer claimes to have 200 photos which will be launched soon.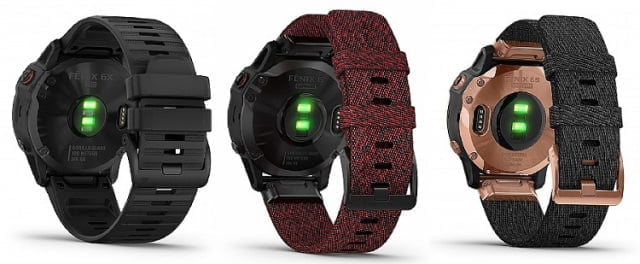 Even though it was a given that the new Fenix 6 would have its heart rate sensor upgraded to the new ELEVATE optical HR sensor that is found on the Forerunner 945, the above images appear to confirm this.
The product categories include:
Fenix 6S Sapphire – Alt/Baro
Fenix 6S – Gorilla Glass
Fenix 6S Pro – Gorilla Glass
Fenix 6 Sapphire – GPS/Multi-GNSS
Fenix 6 Pro – Gorilla Glass
Fenix 6X Sapphire – GPS/Multi-GNSS
Fenix 6X Pro – Gorilla Glass
Pricing:
| | 6 Series | 5 Plus |
| --- | --- | --- |
| 42mm S | £529.99 | N/A |
| 42mm S Pro | £599.99 | £599.99 |
| 42mm S Sapphire | £699.99 | £649.99 |
| 42mm S Sapphire Luxury Straps | £799.99 | £749 |
| 47mm | £529.99 | N/A |
| 47mm Pro | £599.99 | £599.99 |
| 47mm Sapphire | £699.99 | £649.99 |
| 47mm Sapphire Titanium | £899.99 | £749 |
| 51mm X Sapphire | £749.99 | £799.99 |
| 51mm X Titanium/Luxy band | £899.99 | £999.99 |
| 51mm X Solar | £999.99 - no Sapphire glass | N/A |
The pro is more expensive (+$100) compared to the "base" model and sapphire is more expensive compared to the Pro model (+$100)
Prices are reported in $ but we expect Euro parity, and with the state of GBP, it may not look good for us.
It is looking quite likely that the Pro models will include Wi-Fi and music storage.
In my comparison of prices, I have used current prices from the Garmin website. So when comparing pricings Garmin is basically adding $100 compared to the previous generation.
Currently, I suspect that the 6X pricing is wrong as it is cheaper than the 42mm S Sapphire.
Amazon Listing Images and Features
The previous Amazon leak listing was a bit low quality, but some of the product gallery images are now available at a much higher quality, therefore making it a bit more believable.
On another site, fitness-tracker-test.info they claim to have some accurate information about the specs, but don't confirm the exact source. Possibly the Amazon listing.
It has some interesting revelations, though I will take it with a pinch of salt.
For a start, the standard, none Pro models, will lack Wi-Fi and Music. This would be an odd decision considering the current Fenix 5 Plus has it by default. If the price is lower, I could get behind the decision.
There are also some pretty wild claims about battery life. With two new battery modes when not tracking exercise called economy and exposure, it is claimed that the watches can achieve 20+ days between charge.
With the 6X Sapphire Solar on economy mode, it is claimed that 120 days is possible, 80 days by default then up to 40 days additional from solar power. That's 4 months. If this is true it will be very interesting to see how much functionality is cut out from the watch.
| | Dimensions | Weight | Screen Size | Est. Price in $ |
| --- | --- | --- | --- | --- |
| Garmin Fenix 6S | 42 x 42 x 13.8 mm | 58 g | 1.2" | 599.99 |
| Garmin Fenix 6S Pro | 42 x 42 x 13.8 mm | 61 g | 1.2" | 699.99 |
| Garmin Fenix 6S Sapphire | 42 x 42 x 13.8 mm | 61 g | 1.2" | 799.99 |
| Garmin Fenix 6 | 47 x 47 x 14.7 mm | 80 g | 1.3" | 599.99 |
| Garmin Fenix 6 Pro | 47 x 47 x 14.7 mm | 83 g | 1.3" | 699.99 |
| Garmin Fenix 6 Sapphire | 47 x 47 x 14.7 mm | 83 g | 1.3" | 799.99 |
| Garmin Fenix 6X Pro | 51 x 51 x 14.9mm | 93 g | 1.4" | 749.99 |
| Garmin Fenix 6X Sapphire | 51 x 51 x 14.9mm | 93 g | 1.4" | 849.99 |
| Garmin Fenix 6X Solar Sapphire Titanium + Silicone wristband | 51 x 51 x 14.9 mm | 82 g | 1.4" | 999.99 |
| Garmin Fenix 6X Solar Sapphire Titanium + Titan wristband | 51 x 51 x 14.9 mm | 82 g | 1.4" | 1145.9 |
| | Standard | Pro | Sapphire | Sapphire Solar |
| --- | --- | --- | --- | --- |
| Maps (basic) | No | Yes | Yes | Yes |
| Maps (skiing) | No | Yes | Yes | Yes |
| Maps (golf) | No | Yes | Yes | Yes |
| Internal storage | 64 MB | 32 GB | 32 GB | 32 GB |
| Music player | No | Yes | Yes | Yes |
| Deezer / Spotify | No | Yes | Yes | Yes |
| Wi-Fi | No | Yes | Yes | Yes |
| Watch glass | Gorilla Glass | Gorilla Glass | Sapphire Glass | Sapphire Glass |
| Solar / Power Glass | No | No | No | Yes |
| | 6S Basic / Pro / Sapphire | 6 Basic / Pro / Sapphire | 6X Pro / Sapphire | 6X Sapphire Solar |
| --- | --- | --- | --- | --- |
| GPS | 25 h | 36 h | 60 h | 60 + 6 h |
| GPS + music | 6 h | 10 h | 15 h | 15 + 1 h |
| UltraTrac | 50 h | 72 h | 120 h | 120 + 28 h |
| Smartwatch mode | 9 days | 14 days | 21 days | 21 + 3 days |
| Exposure mode | 20 days | 28 days | 46 days | 46 + 10 days |
| Economy mode | 34 days | 48 days | 80 days | 80 + 40 days |
| Garmin Fenix | 5S | 5 | 5X | 5S Plus | 5 Plus | 5X Plus | 6S | 6 | 6X |
| --- | --- | --- | --- | --- | --- | --- | --- | --- | --- |
| Screen Size | 1.1" | 1.2" | 1.2" | 1.2" | 1.2" | 1.2" | 1.2" | 1.3" | 1.4" |
| Resolution | 218 x 218 | 240 x 240 | 240 x 240 | 240 x 240 | 240 x 240 | 240 x 240 | 240 x 240 | 260 x 260 | 280 x 280 |