The Nebra AnyBeam was recently successfully funded on Kickstarter and claims to be the worlds smallest pocket cinema projector. It comes in four options that include various integrations with Raspberry Pi.
The four projectors in the range include:
Nebra AnyBeam
Standalone device that you can plug your smartphone, Fire stick, chromecast into and stream your entertainment
Nebra AnyBeam Developers Kit
The same as Nebra AnyBeam but without the grey case. It's the 'barebones' version which allows makers and tinkerers to design their own casing for it etc
Nebra AnyBeam HAT
Projector board that goes on a Raspberry Pi
Nebra AnyBeam Monster Ball
This includes the AnyBeam HAT & Raspberry Pi Zero all in a sphere-shaped case.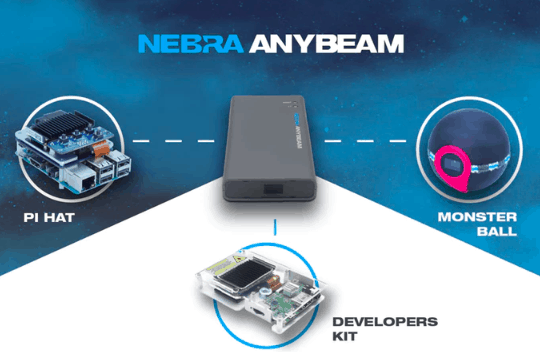 Measuring just 19 by 60 by 103mm, the 140g projector actually fits in your pocket. It is the first of its kind and size to hit the commercial market. And despite not being much bigger than a smartphone, this powerful device is fitted with a state-of-the art laser module with the power to project screens up to 150 inches and beyond.
Laser offers smaller, lower cost, more power efficient and better quality projections than Digital Light Processing (DLP) alternatives. Unlike DLP, you will never need to focus a laser. You can project onto curved or uneven surfaces.
On top of all this, the Nebra AnyBeam is completely fanless and you should never need to replace the bulb.
As someone that travels a lot for PR events, I have been curious to try out a device like this to use while away in hotel rooms. Rather than resorting to a small laptop screen, or trying to gain access to the rear of the TV.
Design and Build
The design of the model I was sent is basic and functional. The standard model is encased in a sturdy and quite weighty aluminium so it should be able to handle a few knocks when travelling. The glass on the front of the laser sits flush with the unit, so some caution may be advisable when transporting it.
On one side of the AnyBeam is the small window for the laser, then on the rear is microUSB for power, HDMI and 3.5mm out. To the side there is volume control.
Then on the bass is a standard /4-20 UNC tripod mount allowing you to use any camera mount you want. –
Performance
The Nebra AnyBeam projects a higher-resolution than others at HD (720p @ 60 Hz) and I tested it with both my laptop and my Huawei Mate 20 Pro.
With the phone, I had to use the StarTech.com USB-C Multiport Adapter to convert the USB-C to HDMI. The Mate 20 Pro will try and go into desktop mode, which could be handy if you want to get some work done if you paired it with a Bluetooth keyboard. Leaving it in the normal screen mirroring mode will project everything in portrait mode until you load up a video in Netflix or another media app, when it auto switches to landscape.
At 720p this is not going to compete with most TVs or full-sized projectors, up close there is quite a bit of graininess, and even with low ambient light it can look a bit washed out, so the darker the room, the better.
However, it does a perfectly good job for what it is. The flexibility to project media onto a wall or other surface without carrying around a large device is very appealing.
Price and Competition
There are a lot of mini projectors on the market, many around this price point, some being cheaper, some more expensive. Nearly all the competition at this price point has a resolution of 854 x 480 vs the 720p of this.
From what I can tell, the AnyBeam claim of being the smallest projector is true, the closest in size I can find in the SONY MP-CD1 Smart Mini Projector with measurements of 16 x 83 x 150 mm but that will set you back around £250 and uses DLP.
There is also the usual cheap Chinese options on Amazon, with the iXunGo Pico being similarly priced and not far off size wise either. However, it is 480p.
If you are not too fussed about the size, there are lots of options, but as I am often very limited what I can carry in hand luggage, the smaller the better.
Overall
I found this little projector to be surprisingly good, it worked flawlessly from my phone and laptop and is small enough for me to be able to carry around regardless of what size bag I have.
The quality was good for what it is, but this is never going to replace a TV or full-sized projector which limits its use a little.
With a price of £229.99 it is competitive with others, so not expensive in that regard, but that is still a lot of money for something that will only get used semi-frequently. Your usage will vary, I know a lot of business professionals that use small projectors to avoid the hassle of dealing with different setups each time they do a presentation, and for that scenario, this is absolutely perfect.