A13 Bionic Initial Impression
Summary
While I am not an Apple user, or a particular fan of the company, you can't deny they know how to make a good system-on-chip. Initial results show that the Bionic chip continues to dominate on synthetic benchmarks, though this obviously does not correlate directly to real-world usage.
Initial Impression -

90%
[Original 12-September-2019] [Updated 14-September-2019] Added new Antutu and Geekbench results
At IFA we saw the announcement of the new Huawei Kirin 990 5G, which for the time promising to be the best Android chipset, at least until the Snapdragon 865 SoC is launched.
Yesterday, Apple announced its latest and greatest chipset, the A13 Bionic, which will be featured in the latest iPhone 11 phones.
So how do all these chipsets compare and which is the best?
I will preface this comparison by saying its never a like for like comparison the chipsets are used on entirely different operating systems, so the comparison is largely moot, so technically it doesn't matter if the A13 is better than the Kirin 990 or vice versa. That being said, it is interesting to see how each company progresses in technology each year.
Specification Comparison Apple A13 Bionic vs A12 vs Kirin 990 5G vs Snapdragon 855 Plus
| | Apple A13 Bionic | Apple A12 Bionic | Kirin 990 5G | Snapdragon 855 Plus |
| --- | --- | --- | --- | --- |
| CPU | Dual-cluster hexa-core (2x Lightning cores @2.65 GHz | Dual-cluster hexa-core (2x Vortex cores @2.49 GHz | Tri-cluster octa-core (2 x Cortex-A76 cores @2.86GHz | Tri-cluster octa-core (1x Kryo 485 @2.96 GHz |
| | 4x Thunder efficiency cores) | 4x Tempest efficiency cores) | 2x Cortex-A76 cores @2.36GHz | 3x Kryo 485 (Cortex-A76) @2.42 GHz |
| | | | 4x Cortex-A55 cores @1.95GHz) | 4x Kryo 485 (Cortex-A55) @1.78 GHz) |
| GPU | Apple-designed quad-core | Apple-designed quad-core | Mali-G76MP16, 700MHz | Adreno 640, 700MHz |
| Process | TSMS 7nm+ | TSMS 7nm | TSMS 7NM+ EUV | TSMS 7nm |
| NPU | octa-core Neural Engine | octa-core Neural Engine | 2 + 1 Da Vinci (three cores) | Qualcomm Hexagon 690 |
| RAM | LPDDR4X | LPDDR4X | LPPDDR4X | LPDDR4X |
| Modem | LTE | LTE | Integrated Balong 5G | Snapdragon X50 external 5G |
| | | | D/L Speed 2.3 Gbps | D/L speed 2 Gbps |
| | | | U/L Speed 1.25 Gbps | U/L speed 316 Mbps |
| Transistor | 8.5 billion | 6.9 billion | 10.3 billion | N/A |
| Geekbench | Single-Core: 5,415 | Single-Core: 4,812 | N/A | Single-Core: 3,623 |
| | Multi-Core: 11,294 | Multi-Core: 11,280 | | Multi-Core: 11,365 |
| Antutu | N/A | 3,63,580 points | N/A | 4,97,179 point |
| ISP | Apple-designed ISP | Apple-designed ISP | ISP 5.0 | Spectra 380 dual-core ISP |
CPU & GPU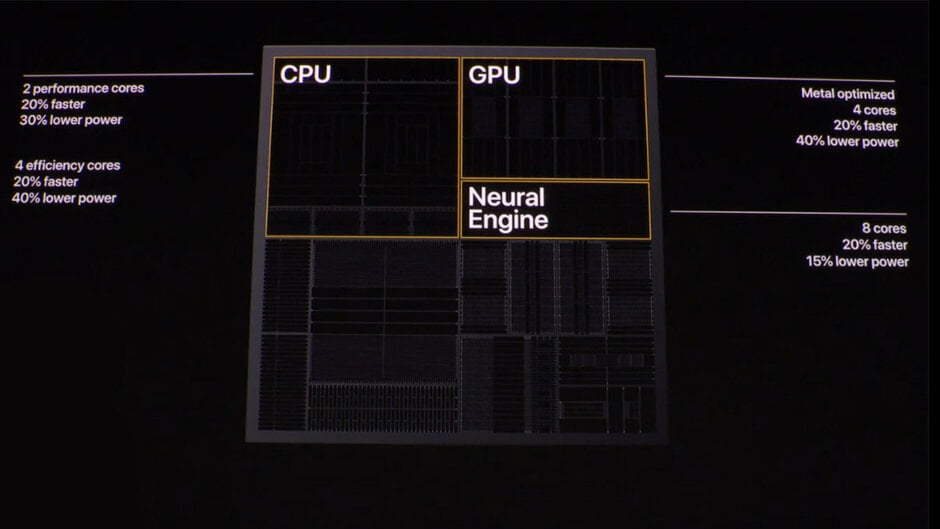 The new Apple A13 is fabricated on what we assume to be the EUV 7nm fabrication process, the same as used on the Kirin 990 5G and the Exynos 9825. The A12 was fabricated on the older 7nm process which is the same as used for the Snapdragon 855 Plus and Kirin 980.
The Apple A13 bionic uses Hexa-core CPU with two Lightning Performance cores running @2.65GHz, which is a 6% increase over last year and there are four efficiency cores called Thunder. In comparison, Apple A12 is also powered by the dual-cluster Hexa-core CPU, which arrives with 2x Vortex cores @2.49 GHz and 4x Tempest power efficiency cores. The company claims to deliver 20% faster CPU speed and 30% more power efficiency.
For the Thunder cores, these are claimed to be either 20% faster or operating at 40% lower power.
Apple doesn't reveal the specifics of their ARM design, we just know it is a 64-bit ARM-based system on a chip
On the other hands, Kirin 990 5G comes with tri-cluster octa-core CPU. Two Cortex-A76 cores clock @2.86GHz followed by another 2x Cortex-A76 cores @2.36GHz and 4x Cortex-A55 cores @1.95GHz. The Qualcomm Snapdragon 855 Plus has another tri-cluster CPU but with a different kind of architecture use. It has custom Kryo 485 (Cortex-A76) cores with one cluster clocked @2.96 GHz, other three (A76) arrive with 2.42 GHz clock speed, and 4x power efficient Kryo 485 (A55) cores remain @1.78 GHz.
Apple says the new A13 has 8.5 billion transistors while the previous generation has 6.9 billion. The Kirin 990 5G has 10.3 billion. These figures will have no direct relation to performance – all those transistors are spread across different parts of the chip, so they could be doing anything, but it does show how things are improving.
Moving to the GPU, the Apple A13 sticks to the own-designed quad-core GPU as we have seen on A12. Nothing specific has been revealed but Apple claims a lot of improvements over the A12 Bionic chip. If we believe in Apple's claim, it delivers 20% faster speed and 40% great power officially over the A12's GPU.
The Kirin 990 uses Mali-G76MP16, which is a 16 cores GPU. I was expected that they would use the Mali-G77 as well as the A77 CPU, it is claimed that they were not impressed with the optimisations of these architectures on the EUV 7nm process, so opted for higher frequencies on the previous generation.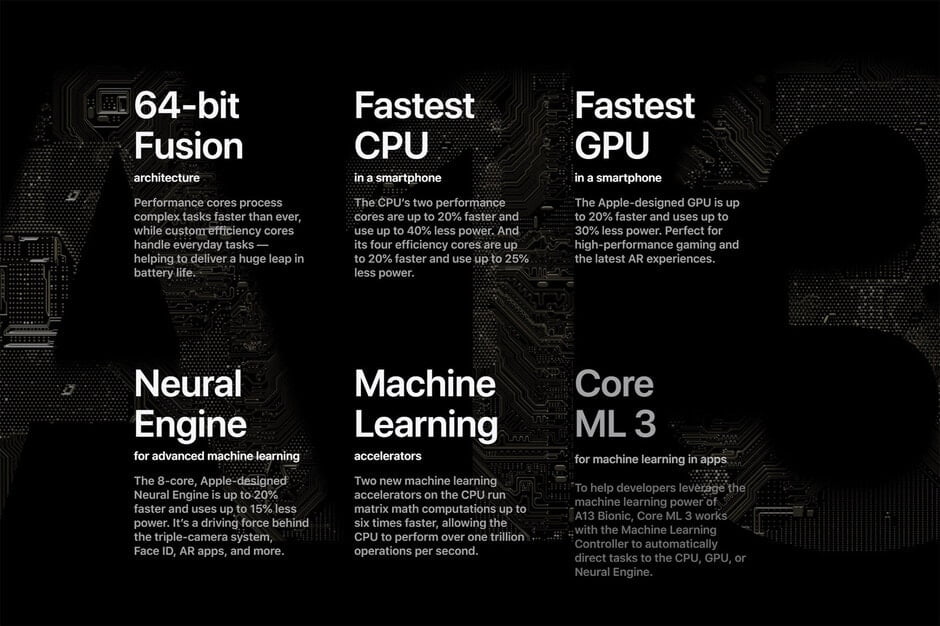 Artificial Intelligence
The A13 Bionic adds two machine learning accelerators to six CPU cores (two performance cores and four efficiency cores), enabling the chipset to perform six times faster matrix multiplication — the core operation for machine learning models — than its predecessor.
Both Apple A12 and A13 Bionic bring the octa-core Neural Engine to handle the AI tasks. The A13 is more advanced though, it is capable of performing up to a whopping 10 trillion tasks in 1 second, which also twice A12's 5 trillion tasks. Apple promises to deliver 20% faster speed and 15% more power efficiency.
The A13 Bionic is also behind the new "Deep Fusion" image processing feature, which uses machine learning to improve low to medium light photography. Enabled by the A13 Bionic's neural engine, Deep Fusion allows the smartphone to shoot four short images, four secondary images, and one long exposure image when users press the shutter button, assembling a final photo with enhanced details and noise reduction. Deep Fusion will launch this fall.
The Snapdragon 855+ has its own Hexagon 690 quad-core AI engine combined with a dedicated tensor accelerator. It is capable of performing 7 trillion AI operations per second, which are theoretically lower than the A13.
The Kirin 990 5G has three-cores Da Vinci NPU divided into 2 Big + 1 Tiny core. The bigger cores are present for demanding high power tasks, while, a tiny power efficiently core handles the small AI tasks. It can render real-time videos based on the new Real-Time Multi-Instance Segmentation.
Ai-benchmark is normally the easiest way to compare AI claims, the Kirin 990 5G currently dominates this benchmark, with more than double the Snapdragon 855 Plus. Unfortunately, the app is not available on the iPhone so a like for like comparison is not possible.
Antutu & Geekbench Benchmark Scores
Latest Geekbench Score
Early leaks show excellent single-core performance, and poor multi-core scores, which I have left below. Thankfully, that may not have been accurate and a new benchmark done on the 11th of September shows much more promising results.
The single-core performance remains almost identical at 5472 vs 5415 of the earlier result. This continues to leave iPhone way ahead of any other phone, with the A12 getting 4812 and the Snapdragon 855+ getting 3623.
The multi-core score has shot up from 11294 to 13769 – which takes the score from lagging behind the SD855+ to 22% ahead.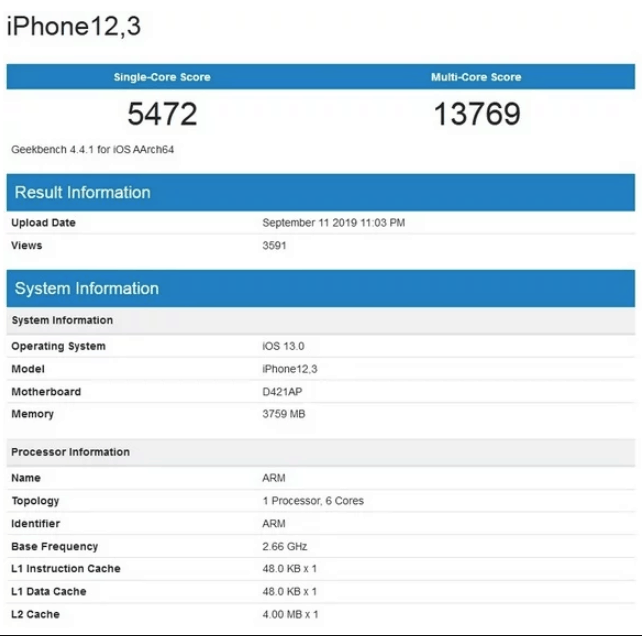 An early Kirin 990 benchmark has leaked, it is not known which variant it is, but the results look a little disappointing, similar to the early A13 result, it could be inaccurate.
The result showed 3842 for single core, and 11644 for multi. This compares to 3289 and 9817 for the Kirin 980 on the P30 Pro, so not a huge improvement if accurate.
Older Geekbench Score
Take this section with a pinch of salt for now. An early benchmark came out on the 2nd of September showing the A13 scoring 5,415 points in single-core and 11294 points in multi-core results on Geekbench. The A12 managed to score 4812 points for single-core and 11280 points in multi-core. The Snapdragon 855+ results in 3623 points in single-core and 1365 points in multi-core.
This gives the A13 a 12.5% improvement in the single-core results over the A12 and a 49.5% improvement over the SD855+. For the multi-core score, this is not so promising, a 0.12% lead over the A12 and -0.62 behind the SD855+. The poor multi-core results could be a good indication that these will not be accurate for the iPhone 11 when launched to the public.
Currently, there are no Kirin 990 5G benchmarks, but the Huawei Mate 30 gets launched next week, so I would expect them then.
Antutu benchmarks
Some new early Antutu benchmarks show the all models in the iPhone range scoring a bit over 45500 with the iPhone 11 Pro Max achieving 462098.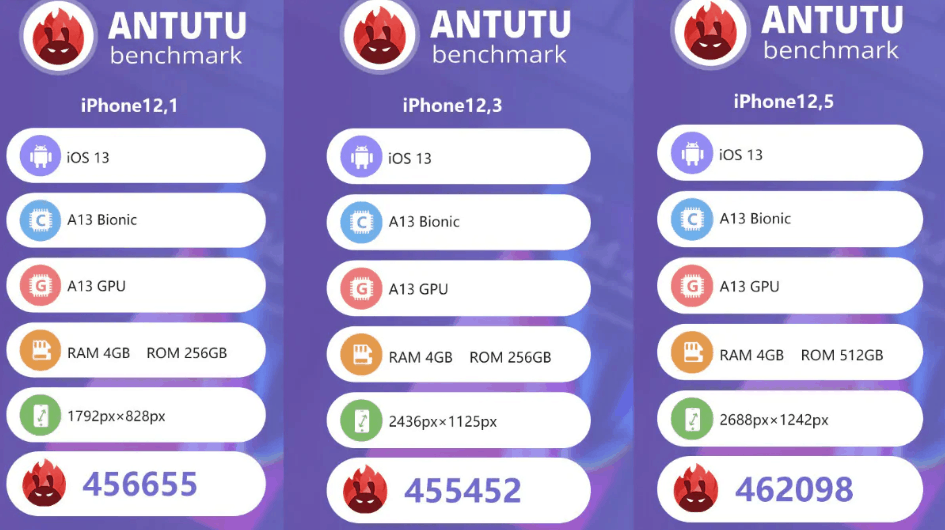 With Android, the current leader of the pack is the newly launched ROG Phone 2 with a Snapdragon 855+ this scores 396813, giving the iPhone a solid lead for now.

Using 3DMark the normal SD855 dominated over the A12 Bionic scoring 29597 in Ice Storm Unlimited Physics vs 27547. How this will play out with the A13 and the Kirin 990 5G remains to be seen.
Which one is best?
As previously stated, different platforms for different chipsets means it doesn't matter.
While there are no benchmarks for the Kirin 990 5G yet, it is likely the A13 will continue its dominance in single-core performance. Similarily the Kirin 990 5G will likely be superior in many other tests.
At the end of the day, it doesn't really matter, flagship chipsets are so good nowadays, I doubt your average Jo will notice the difference in performance, and each chipset is more than capable of doing everything you want from a phone.
Perhaps the one big caveat for Apple is the complete lack of a 5G option, I doubt many people will be too concerned about that this year, but if you are itching for 5G then you may have to switch sides and go Android.