AMD will hold their keynote speach in less than 24 hours and we will finally have full details of the latest Zen 2 AMD CPUs which could shake up the market as much as the origina Ryzen launch.
A new entry has popped up on Geekbench 4 which reveals that a 6 core, 12 thread part, which will very likely to be the company's new entry-level Ryzen 3000 CPU which is expected to be the Ryzen 3 3300.
This chip was previously leaked with prices back in March, and is expected to cost between $90-110 (£87, but more once you factor in VAT etc). This 6-core 12-thread chip has a base of 3.2Ghz and a boost of 4.0Ghz.
The Geekbench 4 reveals that this new chip performs better than the current flagship chip the Ryzen 7 2700X. Now Geekbench isn't representative of real-world performance so this achievement may not necessarily translate to it being a better chip than the Ryzen 7 2700X but it certainly looks promising.
The Ryzen 3 3300 managed to achieve a single-core score of 5061 and a multi-core score of 25481. In contrast, a Ryzen 7 2700X scores 4923 points and 25209 points respectively. This means that the 3300 with two fewer cores and significantly lower base and turbo clock speeds, has managed to outperform AMD's current 8 core AM4 flagship part.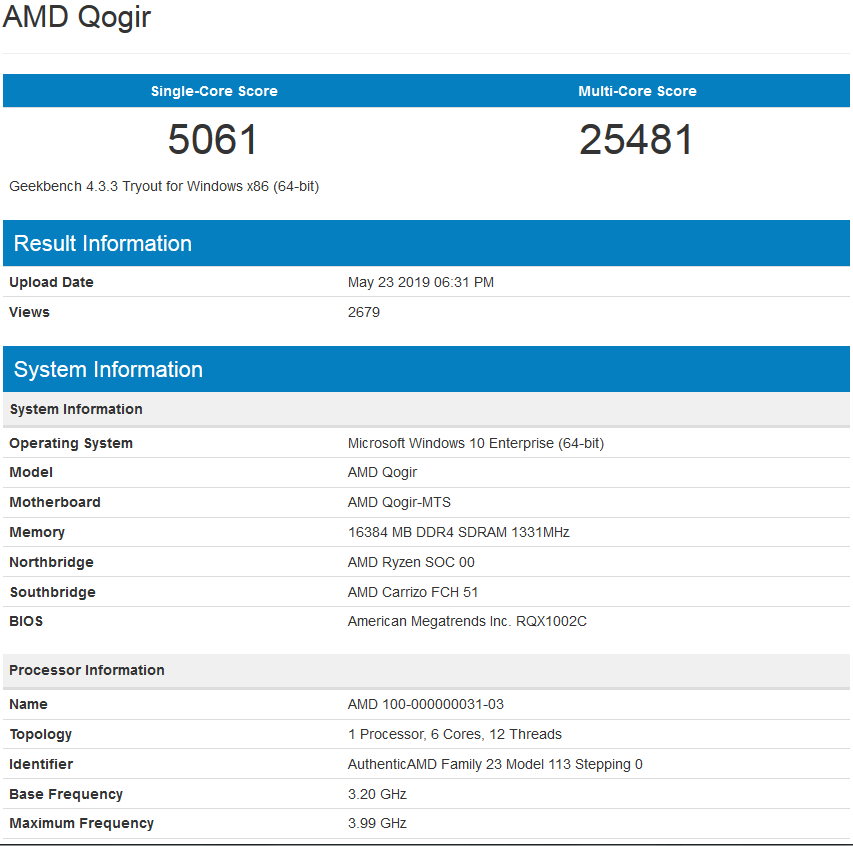 The AMD keynote will be held at 10 AM Monday, May 27, in Taipei, which works out as 3 AM here, and I will be doing a full report on the announcment first thing in the morning.