Eufy RoboVac G10 Hybrid Robot Vacuum Cleaner & Mop Review Rating
Summary
Another superb robotic vacuum from Anker, and this is the only one in their current line-up that has a built-in mopping function. For larger rooms, or properties where the RoboVac can easily move between rooms, the scheduling and auto charge and restart feature are fantastic.
Price -

80%

Performance -

95%
The Anker sub-brand eufy has a quickly growing line of robotic vacuums. I have reviewed two of them before with the Eufy RoboVac 11 and then the Eufy RoboVac 11s, functionally they were both the same but the S model slim lined the robotic vacuum and improved its vacuuming abilities. Neither were app controlled.
The RoboVac G10 is the latest model from eufy and one of the top models Ankey eufy offer. This is a hybrid vacuum, so will both mop and vacuum at the same time. It is specifically designed for hard flooring similar to the Ecovacs Deebot-M88.
I have recently had a kitchen extension, and we have used luxury vinyl so this was a perfect opportunity for me to test out the new eufy, and something I was quite excited about as I can't be bothered cleaning such a large floor frequently.
Features
Smart Dynamic Navigation: Advanced gyro-navigation technology allows for up to 2x the efficiency while cleaning. Complete a routine clean in half the time, when compared to a standard robotic vacuum.
Hybrid 2-in-1 Vacuum & Mop: Combine sweeping and mopping for a deeper clean that will leave your floors sparkling! Note: we have engineered this RoboVac to specialize in cleaning hard floors only.
Convenient Control: Give instructions by voice or using your phone via the EufyHome app, Amazon Alexa or the Google Assistant. Set detailed commands and receive voice reminders on how your RoboVac is performing.
Slim but Strong: With 2000Pa of suction power, RoboVac G10 Hybrid delivers our most powerful clean to date. The Super-Slim 2.85"/7.3cm body effortlessly glides under furniture and into hard to reach areas.
RoboVac is equipped with a HEPA-style filter that traps microscopic allergens such as dust mites, mould spores and pet dander, ensuring that expelled air is cleaner.
A low-profile design allows it to easily go under furniture and eliminate hard-to-reach dirt. It climbs over objects up to 15mm high, making it easy to sweep over rugs or cross over thresholds to the next room.
What You Get: RoboVac G10 Hybrid, charging base, AC power adapter, cleaning tool, water tank, washable mopping cloths (x2), waterproof pad, extra filter elements (x4), extra set of unibody filter, 4 side brushes, 5 cable ties, quick installation guide and manual, and our worry-free 12-month warranty.
Product Comparison
The below table shows the current Anker eufy RoboVac lineup. The pricing is a bit up and down as the prices are accurate at time of writing and several of them have vouchers that can be applied, including this model with £50 off, and the RoboVac 30C with £80 off.
| | RoboVac G10 Hybrid | RoboVac 30C | RoboVac 15C MAX | RoboVac 11S (Slim) | RoboVac 11S MAX |
| --- | --- | --- | --- | --- | --- |
| Price | £250 | £169.99 | £219.99 | £149.99 | £239.99 |
| Max Suction Power | 2000 Pa | 1500Pa | 2000Pa | 1300 Pa | 2000Pa |
| BoostIQ Technology | 2nd Gen | 2nd Gen | 2nd Gen | 2nd Gen | 2nd Gen |
| Dust Collector Capacity | 0.5 L | 0.6 L | 0.6 L | 0.6 L | 0.6 L |
| Decibels | 55dB | 55dB | 55dB | 55dB | 55dB |
| Product Height | 2.85 in | 2.85 in | 2.85 in | 2.85 in | 2.85 in |
| Climbing Threshold | 0.63 in | 0.63 in | 0.63 in | 0.63 in | 0.63 in |
| No-go Line | - | Boundary Strips (13.2ft) | - | - | - |
| Multi-Surface Cleaning | Hard Floors | Hard Floors to Medium-Pile Carpets | Hard Floors to Medium-Pile Carpets | Hard Floors to Medium-Pile Carpets | Hard Floors to Medium-Pile Carpets |
| Wi-Fi Connected | Yes | Yes | Yes | - | - |
| Works with Amazon Alexa | Yes | Yes | Yes | - | - |
Set up
My previous eufy reviews have been for lower-end models that lack any app control. This one has Wi-Fi and uses the eufy home app, so set-up is a little more involved.
First, you will need to download the eufy app and sign up, then you need to select your RoboVac and follow the procedure. Like many IoT devices, this will connect to the Wi-Fi of the RoboVac then pass over the Wi-Fi settings you provide. In my case, with the P30 Pro and its proactive way of handling data connections, it took a couple of goes, eventually having to disconnect from mobile data. Even with initial failure, I was all set up within 5 minutes.
Like most IoT devices, this uses the 2.4Ghz channel, so if you have a router broadcasting one SSID on both channels and have issues connecting, it is worth either temporarily disabling 5Ghz or setting up a dedicated 2.4Ghz channel.
The physical setup is simple as always, the RoboVac comes with its filters pre-installed, but you will need to attach its brushes. This model also has a mop function, which is a thin plastic reservoir with a cloth attached at the bottom, allowing water to soak into the cloth. So you will need to fill this up then attach it to the RoboVac, the reservoir isn't that big so you will need to fill it up semi-frequently.
App
The app is very basic in terms of functionality, apart from the scheduling you could probably live without it.
You basically can it to clean, the type of suction, spot cleaning, find the RoboVac, and send it back to recharge. Most of these features were available via the old fashion remote control that the other RoboVac models I have used have.
Performance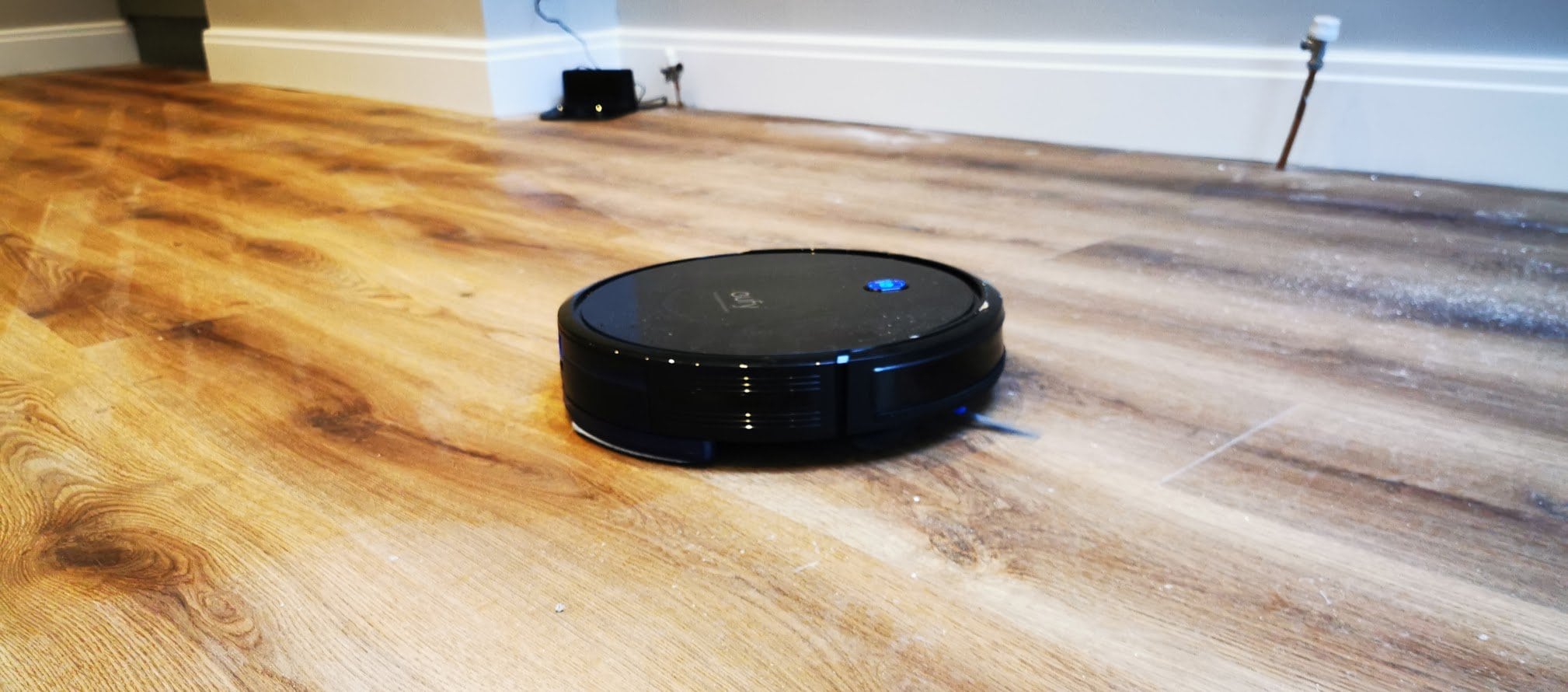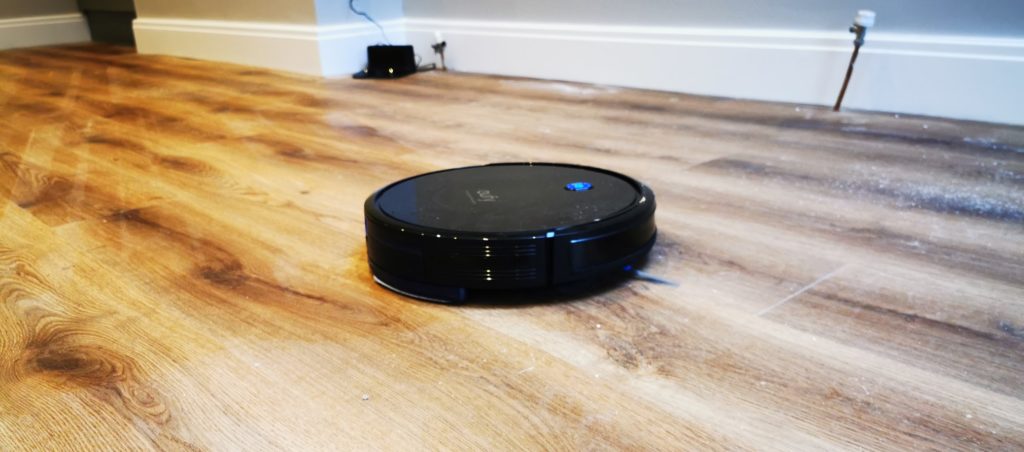 Like all the Anker RoboVacs I have been impressed with the RoboVac G10. It happily does its thing and rarely gets stuck. It helps that there is not much furniture in my kitchen at the moment, but it still doesn't get stuck in between chairs or on the door matt.
With it being a large kitchen, I enabled the auto-return cleaning, which allows the RoboVac to return to its charge station big clean, charge, then automatically go back to work.
Combining the above with the automatic schedules means I can keep my kitchen mess-free most of the time.
The automated features don't work particularly well with the mopping function, it only has a small reservoir so you will need to remember to fill it up frequently. It is also worth checking the dust tray frequently, as always RoboVacs don't have the largest storage capacity.
This has a dynamic navigation feature which is supposed to optimise the cleaning, it is not a mapping feature like you find on some very expensive competitors but instead, the RoboVac will follow long straight lines in an attempt to optimise its path. It does seem to do this quite well, and it is less haphazard than other robotic vacuums I have used, but I can't say if it is twice as efficient as them.
Suction is excellent, and I have found that the Robovac is able to get most if not all the bits off my floor. This has a suction of 2000pa which matches the RoboVac 11s Max and is better than the more affordable Eufy RoboVac 11.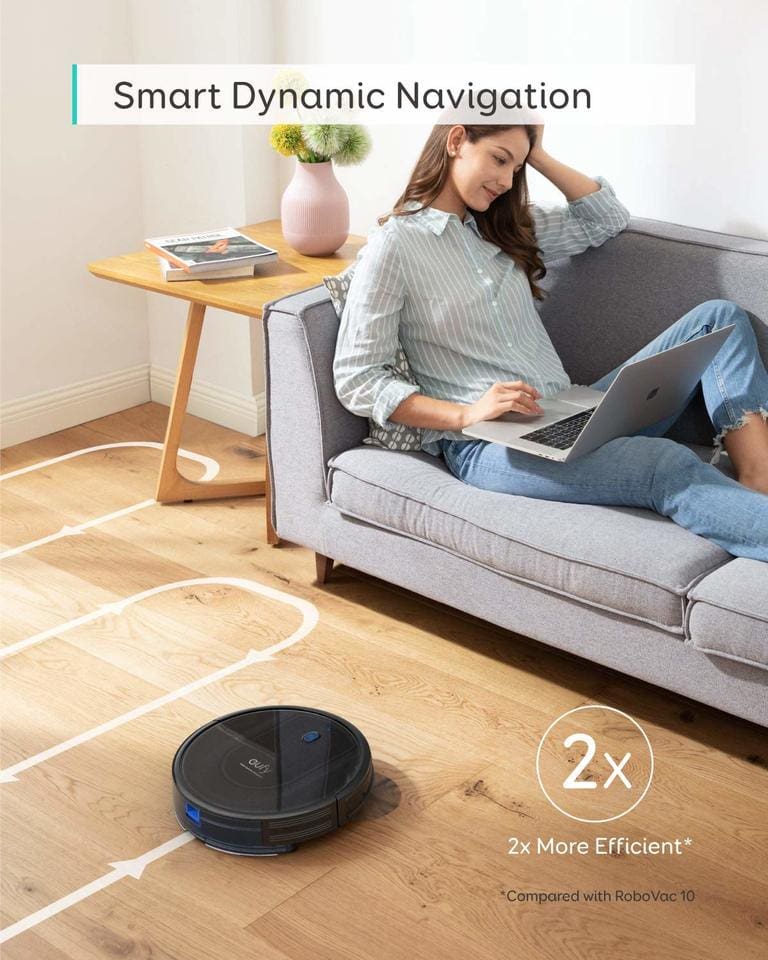 Overall
I have been impressed with the RoboVac G10, it has been particularly useful for our kitchen floor which is large without too much getting in its way.
The mopping function works as well as can be expected, but it won't compete with doing this manually. Excessive mopping will damage many hard floors it is probably for the best that this can't automatically thoroughly mop your floor every time.
I love the scheduling and the auto-recharge and restart function, with these two features enabled I haven't felt the need to vacuum the floor manually from time to time like I have done when using other robotic vacuums.
This has an RRP of £299 which is quite a bit more than the other two models I have tried, at the moment you can get £50 which makes it much more attractive, but it is still no cheap. The eufy 11s can currently be had for just £149.99, which is in the realm of an impulse purchase, though it has a lower suction power, and lacks the mop. In my case, because my kitchen is quite large, I am messy, and I am lazy, I think the price of the RoboVac G10 is well worth it.
Last update on 2022-05-18 / Affiliate links / Images from Amazon Product Advertising API