Images of a new AMD-made PCB have been revealed online which appears to be of the new Navi based GPU which is expected to launch in July. There is not a great deal of information to take from it, but every little bit fuels the excitement.
The PCB will likely be a reference design which will likely be used to create AMD's own Navi graphics cards as well as its workstation/enterprise variants.
The main information that has been taken away from the image is that it confirms AMD plans to utilise GDDR6 memory, with the PCB having space for eight modules, suggesting that this graphics card will offer 8GB of total VRAM over a 256-bit memory bus, making this GPU similar to an RX 580, albeit with GDDR6 memory.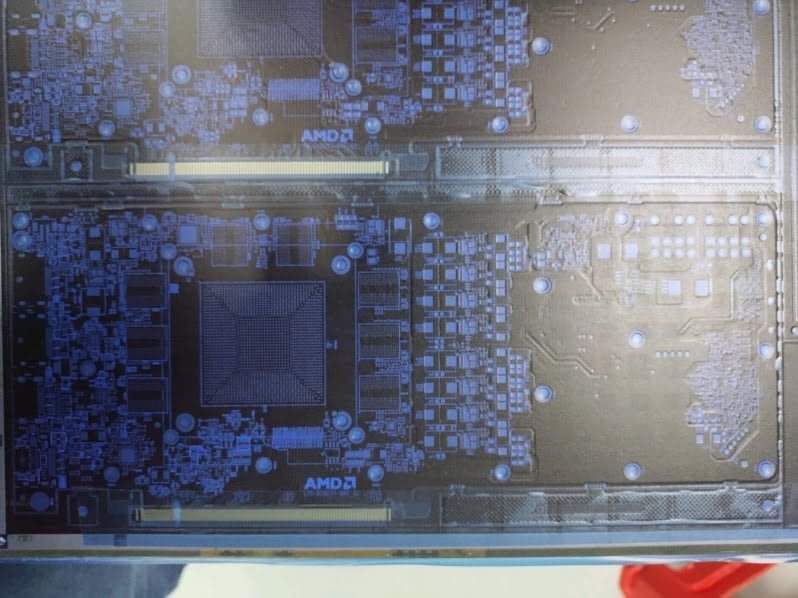 This would put them in line with the Nvidia RTX 2070 and RTX 2080 graphics cards.
The PCB also shows that there is space for dual 8-pin power connectors though both won't necessarily be used, but it will give them a maximum TDP of around 300W.
There are also some triangular holes which indicate that this PCB will use a blower style fan, though this is not unusual with reference PCBs and could be used for workstation models.
Not much more can be taken away from the image but there are several rumours about the memory. If it is the rumoured 12.8Gbps GDDR6 it will have exactly the same theoretical bandwidth as Vega56, if it's 14Gbps it has about 10% less than Vega64 and if it's upcoming 16Gbps it's about 10% more.
With the 12.8Gbps GDDR6, it'll be 20% more than the RTX2060 and this first Navi launch is targetting the mid-range market so this would make a promising start for Navi (dependant on pricing).