One deal that comes up every Black Friday is premium electric toothbrushes, with both Oral-B and Philips Sonicare offering some extraordinary discounts on the RRP.
This year you have the Oral-B Genius 9000 CrossAction Electric Toothbrush reduced from £299.99 down to just £78.99 giving you a saving £221.00  which is a 74% reduction!
The Philips Sonicare DiamondClean Electric Toothbrush has also had a massive discount but not quite as much going from £299.00 down to £99.00 for a sizable £200 saving or 67% off.
Amazing deals, right?
Well, maybe not quite. They are great deals no doubt, but the RRP is highly misleading.
Dubious Pricing
If we look at the Philips Sonicare DiamondClean on CamelCamelCamel we can see that it does sell for £299.00 for a chunk of the year, but from August through to October it was closer to its current sale price of £100.
The impressive 1000+ reviews for a 2019 toothbrush? The product listing dates back to 2016 at least, a and the lower price ever was £79.98 for Black Friday 2017. Each year they refresh the product page for the new model.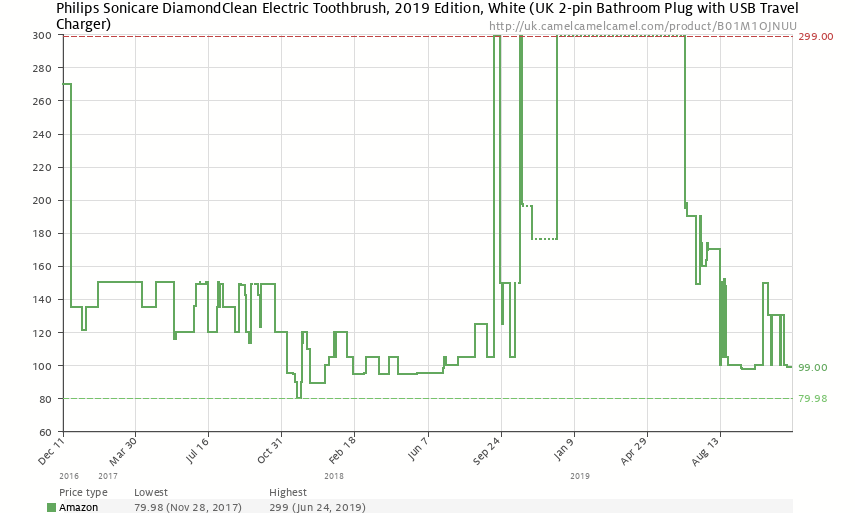 The Oral-B Genius 9000 arguably looks more impressive, apart from the fact it is cheaper its product page appears to only have been live since August 2018. However, the RRP is more damming here, from what I can tell, they sold the toothbrush for just 3 days at RRP before swiftly knocking 25% off and selling it for £150. It has been as low as £79.99 before, and throughout the year it seems to jump from £99.99 to £140.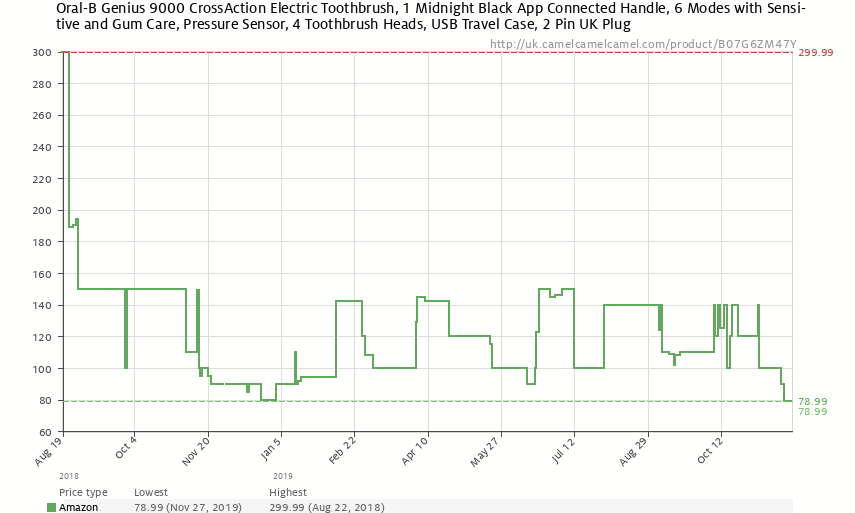 So with this toothbrush, at least you are definitely getting the cheapest price ever, albeit by £1 and the 74% discount they claim is closer to 22% if we assume you can buy it for £100 quite regularly.
Let's look at the Amazon Reviews
The Oral-B Genius 9000 CrossAction has way more reviews at 2345 with an average rating of 4.4 with just 7% of users giving it a 1-star review.
The Philips Sonicare DiamondClean Electric Toothbrush has 1018 reviews with an average score of 3.8. This model appears to have a disproportionate amount of 1-star reviews at 20% indicating there may be something wrong with it.
Looking at the reviews here there appears to be a lot of complaints about quality control issues with models failing.
Warranty
The Philips Sonicare DiamondClean has 2 years warranty and 28 days money-back guarantee
The Oral-B Genius 9000 CrossAction doesn't advertise the warranty unlike Philips but checking the Oral B page you get 2 years.
Condition of the Oral B warranty include:
The warranty does not cover cosmetic damage such as scratches, or damage caused by:
Normal wear and tear
Accident, misuse, dirt or water
The product being tampered with
Improper use
Repairs carried out by agents not authorized by Oral-B/Braun
Failure to take proper care of the product, including recharging
The product being altered or used for commercial purposes
What's different between each toothbrush
Ok, so they both brush your teeth, but the Oral B looks like the better product based on price and reviews. So what else is different?
The Sonicare DiamondClean uses sonic cleaning technology, whereas the Oral-B Genius 9000 uses oscillating-rotating-pulsating technology.
The Oral B Genius 9000 has 6 cleaning modes (Daily Clean, Gum Care, Sensitive, Whitening, Deep Clean and Tongue Clean) whilst the Sonicare DiamondClean comes with 5 (Clean, White+, Deep Clean+, Gum Health and Tongue Care).

The Sonicare DiamondClean also offers 3 brushing intensity settings.

You get 4 brush heads with each toothbrush, each with a slight different spec

The DiamondClean Smart comes with 1 x Premium Plaque Control, 1 x Premium Gum Care, 1 x Premium White and 1 x TongueCare+ tongue brush)

The Genius 9000 has to the 1 x CrossAction, 1 x FlossAction, 1 x Sensitive and 1 x 3D White with the Genius 9000.

The Philips Sonicare comes with a deluxe USB travel case doubles as a charger so you can stay topped up on the go. Place your toothbrush in the case and connect to your laptop or plug into a wall socket. Also includes a brush head holder for extra hygiene while travelling.
• The Genius 9000also has a USB travel case and the toothbrush can last lithium-ion battery that lasts more than 2 weeks with 1 full charge
The Genius 9000 has Bluetooth and a companion app with smart coaching. The toothbrush itself has position detection with a quadrant timer and visible pressure sensor
Which is the best Black Friday deal?
Overall the Oral-B Genius 9000 seems to be the better deal, it has more reviews, less negative reviews, is better priced and has superior features.
Tooth Brush Recommendation
Last update on 2022-05-19 / Affiliate links / Images from Amazon Product Advertising API