Abernic RetroGame RG350 Review Rating
Summary
A fun dedicated handheld emulator capable of playing most consoles from the past with the exception of the N64.
With Christmas approaching Amazon is a fantastic source of affordable tech presets. Quite often these are Chinese Whitelabel products rebranded toa specific name. Recently I bought the Anbernic RetroGame RG350 and this appears to be the same hardware you will find from other brands such as BitBoy and Goolsky.
Specification & Features
No products found.
The RetroGame RG350 is a handheld console running OpenDingus which is a Linux based OS with many emulators built-in with compatibility for the Game Boy, Game Boy Colour, Game Boy Advance, MAME, NES, SNES, Genesis, Neo Geo, PS1 and more.
Notable omissions include N64, PSP or Dreamcast games which appear to be a hardware limitation.
The hardware running those emulators is a JZ4770 CPU clocking in at 1Ghz, and 512MB RAM. With the JZ4770 apparently behind hundreds of new handheld gaming consoles all with different designs.
Interestingly the Ingenic JZ4770 SoC was launched back in 2011 and built on the 65nm fabrication process, so it is almost archaic when you compare it to modern phones with their octa-core CPUs running at 2+Ghz on the 7nm fabrication process.
The JZ4770 found in here is an upgrade from the previous RG300 which use a JZ4760B, so you will get performance with all the installed emulators.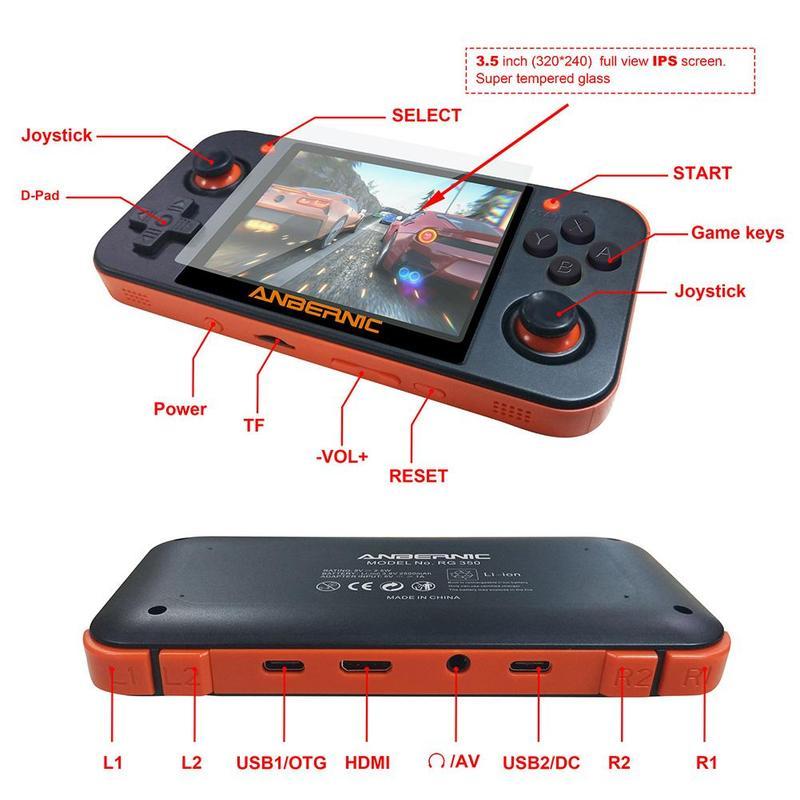 The screen is 3.5″ IPS Color Glass Panel running at just 320×240 and the device itself has 16GB of onboard storage and this is upgradeable via microSD. A 32GB card is included which should be enough for hundreds of games.
On the top of the console is 2x USB Type-C and Mini-HDMI plus a 3.5mm headphone jack.
The HDMI would indicate you can output to a TV, but currently the software is not currently in place to support it
For controls, this features a digital D-Pad, dual analogue controls, four front-facing game buttons, Start & Select, and four shoulder buttons. This means you can enjoy both older handhelds such as Gameboy, and newer consoles such as the PlayStation with any control method.
The hardware itself is pretty good, it is a long way away from modern handheld consoles, but the chunky plastic and controls are reminiscent of the devices this handheld console is designed to replicate. The chunky plastic also lends itself well for travelling. You can through this in your bang and no worry too much about it getting damaged.
Out of the box, you get all the emulators pre-installed you, plus several games including Quake, Doom, Zelda Navi's Quest and Open Sonic. These are all games that are free to distribute hence being pre-installed.
You will, of course, want to play your own games and this is done easily by transferring the ROMs to the including microSD card.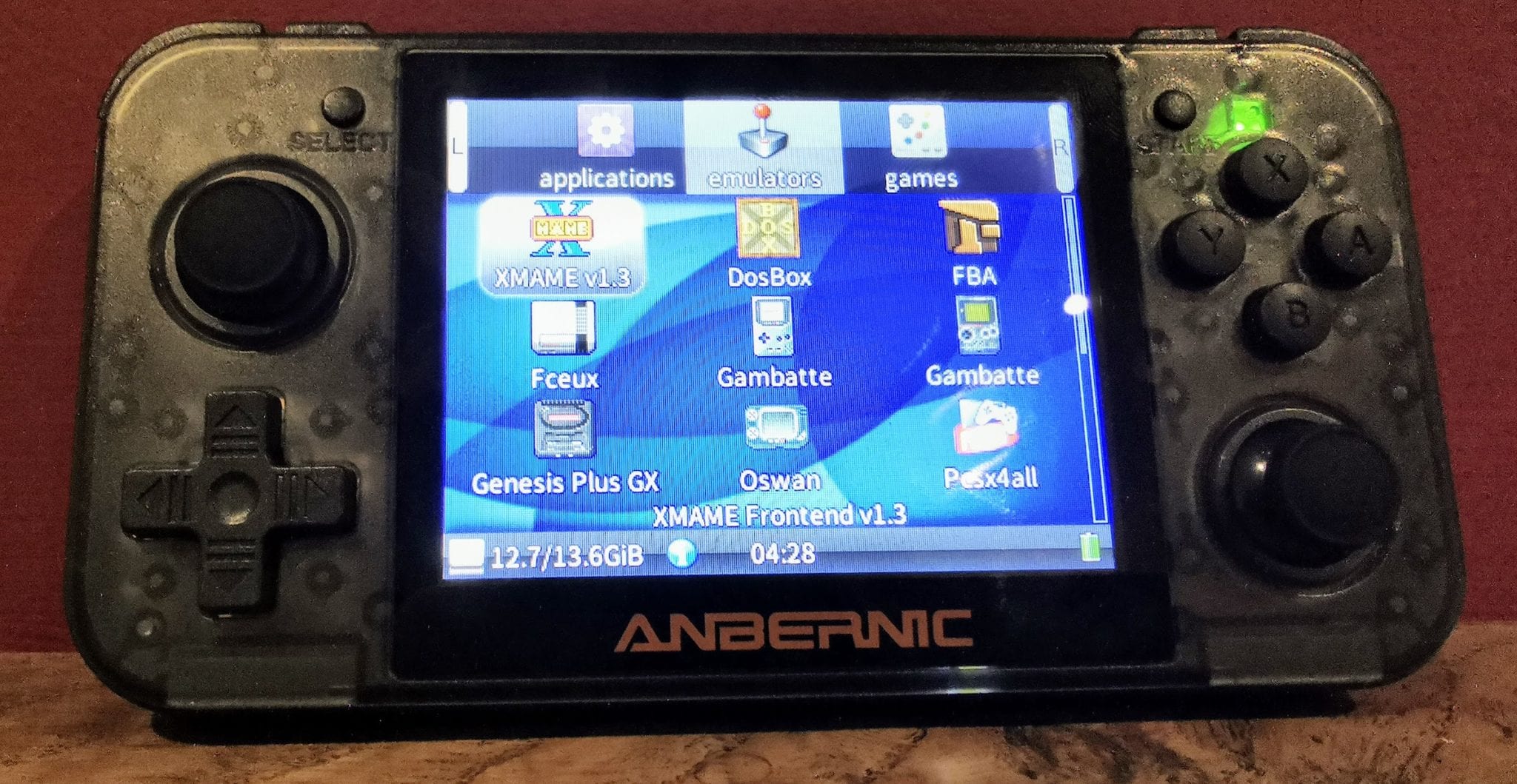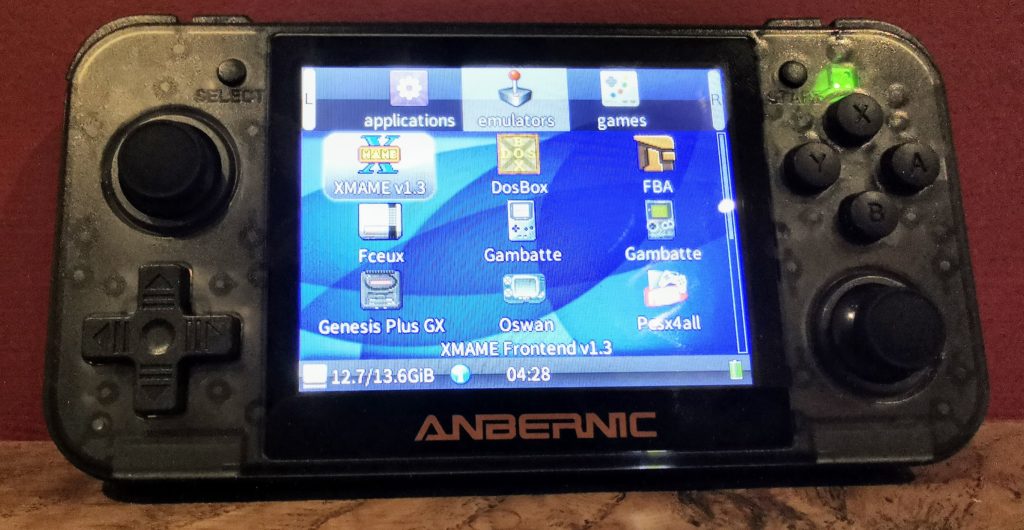 In us
Everything I have thrown at it so far works perfectly well. Most of the games I played were SNES and everything from Mario to Zelda worked perfectly well.
Playstation emulation works well too Diablo, Ridge Racer Type 4, Tony Hawks Pro Skater 2 and Gran Turismo. PS1 games can be a bit more demanding so you may not get perfect performance every time
The controls for the games work well, but with the large range of control options, things can get a bit cramped depending on the size of your hand. I also found the analogue stick directly below ABXY to be a little annoying.
I would estimate that the device has somewhere between 5 and 8 hours of battery life depending on the game and settings.
Overall
This is a fun handheld device with the ability to store and play hundreds if not thousands of games for many popular consoles.
At around £80 I think this is well priced and worth considering if you are a retro gaming fan.
The obvious more affordable alternative would be to buy a controller for your phone and install the emulators and ROMs on that, this was particularly good on the Black Shark 2 with its dedicated controller. However, I quite like having a dedicated device for retro gaming.
No products found.
Last update on 2022-07-24 / Affiliate links / Images from Amazon Product Advertising API