Black Shark 2 Pro Kit Review
Summary
Expensive, but these work well and provide the best gaming experience on the Black Shark 2
I have had the Black Shark 2 for a few months now, but recently the company sent out their Gamepad for me to check out.
The Black Shark 2 is one of the most affordable flagship phones on the market, and I was very impressed with it during my review. At £479.00, it is an absolute bargain. The Pro-Kit which includes a case and two controllers that latch onto the phone costs £79.90, which I feel is a bit pricey considering the cost of the phone.
On Amazon there are quite a lot of controller options, many of them have mediocre reviews and the decent ones can cost over £30. The Black Shark kit is over double the price, but unlike the third-party options, this is made specifically for the phone, they fit perfectly, pair up instantly, and are independently powered and can be charged via USB-C. So you are paying for a premium product in comparison to the third party options, and if you are an avid gamer that has committed to buying this gaming phone, let's face it, you are going to them.
Black Shark 2 Specification
As a quick reminder, the Black Shark 2 comes with an impressive specification for the money
Display – 6.39-inch AMOLED, 19.5:9, 1080 x 2340 – no notch, with bezels
SoC – Qualcomm Snapdragon 855
RAM – 8GB and 12GB options
Storage – 128GB or 256GB
Rear Camera – 48MP f/1.8 camera and 12 MP, f/2.2 telephoto providing 2x optical zoom
Front Camera – 20 MP f/2.0
Battery – 4000 mAh with 27w quick charging
No NFC, 3.5mm or wireless charging
While technically not much/any different than any other premium flagship, the phone comes with some advanced cooling features which helps reduce thermal throttling and has allowed it to remain in the top three spot on Antutu for some time now.
Furthermore, the whole design is gamer orientated, it is a bit more subtle than a lot of PC hardware, but various LED elements should keep gamers happy.
Lastly, there are various dedicated gamer features, which include a switch for a gaming mode which optimises the performance, a ludicrous mode to cut back on any limits the CPU may have. Then there is the display which has Master Touch — a customizable pressure-sensitive technology that lets you set a custom touch zone in games and trigger on-screen actions more easily.
Build and Design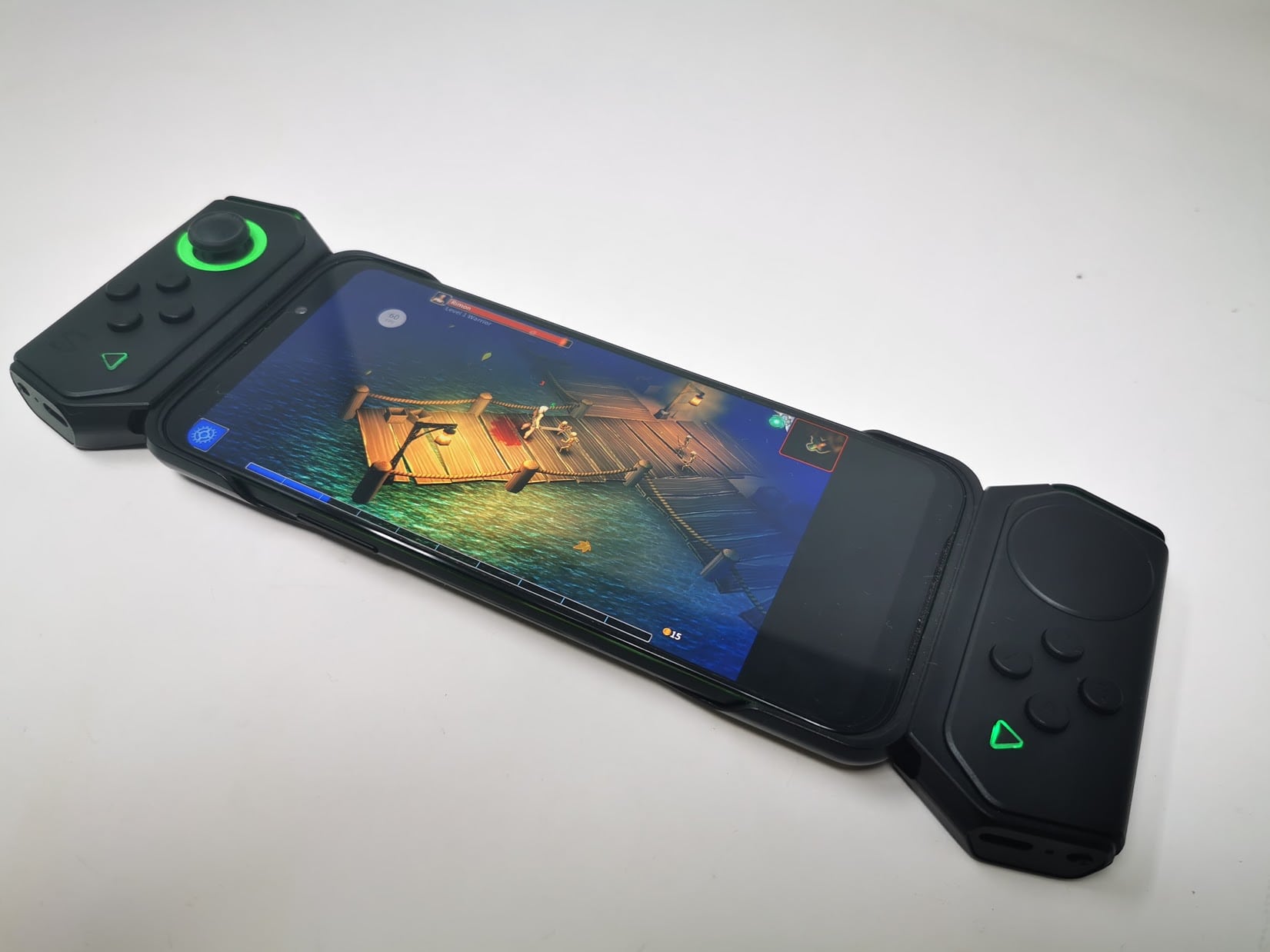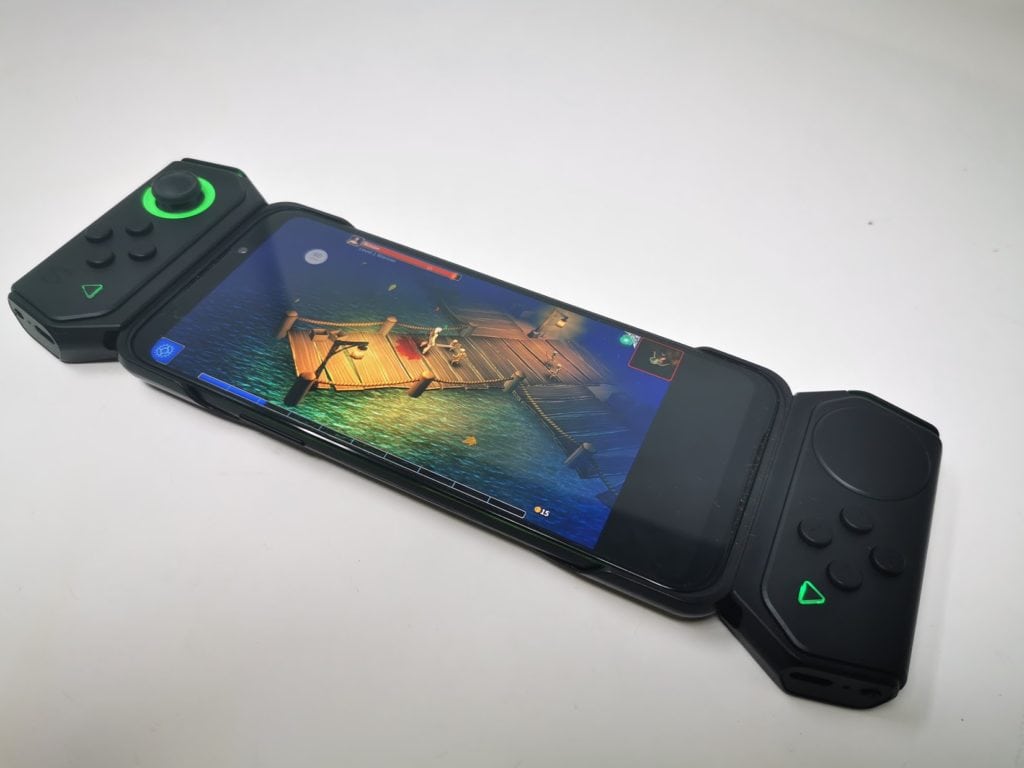 The Pro-Kit is based on three components, a case, then a left and right side controller. The case is essential as this is the thing that allows the controllers to slide on to. The controllers themselves work independently from one another, connecting to the phone via Bluetooth.
There are enough inputs on both controllers for any avid gamer. The left controller has an analogue stick and digital direction buttons plus two shoulder buttons.
The right has a touchpad, 4 mappable buttons and two shoulder pads.
On the bottom of each controller is a USB-C port plus a switch to switch them on.
In use
These connect like standard Bluetooth accessories, but the OS has support for them built in when you enable Shark Space you can manage the connection.
Some games work natively with the controller, others do not. Black Shark has a relatively intuitive way of dealing with this. When you press the function button on the controllers, it will place all the buttons on the screen, and you can drag them to their equivalent on-screen controls, mapping the functions. This is especially useful in emulators, I have DrasTic, and the built-in controller mapping was more miss than hit most of the time. To get the onscreen mapping working with the controllers, I had to manually add the emulator into Shark Space, and then the function button would allow me to map the controllers.
With a little patience, I managed to get the controllers working with most games. The issue being that games are designed for the touch screen, the games you run on emulators were never designed for phones, so it will never be 100% accurate across all games.
Overall
I feel like these are quite a bit overpriced, but there is no real competition against them. The case adds a little bit of value to them, so you could say that is worth a tenner, leaving the controllers at £70, but that's still £40 more than third-party controllers. The closest equivalent device could be the ASUS Gamevice Controller For ASUS ROG Phone which also costs £79.99 and was £149.99, so in this respect, the pricing is reasonable
The controllers work well, and I suspect this is the best controller on the market, as I can't imagine third-party controllers ever being able to perform quite as well due to button mapping issues. The controllers don't always work perfectly, but this is due to games not being designed for them.
Overall though, if you are a gamer and have committed to buying the Black Shark 2 I would say the Pro Kit is an essential but overpriced bit of kit.