Huawei Watch GT 3 42mm Review Rating
Summary
The Huawei Watch GT 3  is a significant upgrade from its predecessor, the hardware has improved incrementally and this now offers one of the most accurate wrist-based heart rate trackers I have used. The switch to Harmony OS opens up the watch to installable apps, this currently only has a limited number of useful apps but there is huge potential.
Pros
Still one of the best looking smartwatches on the market
Exceptional battery life
Accurate fitness tracking (HR and GPS)
Excellent health tracking features
Cons
No data exports such as Strava
Limited & poor selection of installable apps
The Huawei Watch GT series has always been great but somewhat limited. After Huawei launched the Watch 2 with WearOS back in 2017, it seemed like they ditched the idea of a fully-fledged smartwatch. The GT series sacrificed the functionality of installable apps in favour of a light OS that provided exceptional battery life and reasonably affordable price points.
Huawei finally launched the Watch 3 earlier this year which was equipped with Harmony OS, the Huawei alternative to WearOS/Google. It was a superb watch that outclassed most WearOS devices with the quality of the hardware and also battery performance, but Huawei can't compete with the overall number of apps available.
The Huawei Watch GT 3 takes a different path than its predecessors, running a slimmed-down version of Harmony OS, opening up the possibility of far more functionality than was possible previously. Huawei has managed to do this while retaining the superb battery life the GT series is known for.
In theory, the Huawei Watch GT 3 should be a strong contender for the best smartwatch out there, but as usual, there are a few niggling complaints.
Specfication / Key Features
Huawei Watch GT 3
Display
46mm: 1.43-inch AMOLED, 326ppi,
466 x 466 resolution

42mm: 1.32-inch AMOLED, 352ppi,
466 x 466 resolution
Dimensions and weight
46mm: 45.9 x 45.9 x 11mm
42.6g

42mm: 42.3 x 42.3 x 10.2mm
35g
Build/Design
46mm
Colour: Black/Steel
Material: Stainless steel and plastic
Watch straps: Black rubber strap, brown leather strap, stainless steel strap

42mm
Colour: Black/Gold
Material: Stainless steel and plastic
Watch straps: Black rubber strap, white leather strap, gold Milanese strap
Battery
46mm: Up to 14 days of "typical" use, 8 days with heavy use

42mm: Up to 7 days of "typical" use, 4 days with heavy use

Wireless charging
Processor
ARM Cortex-M
RAM
32MB
Storage
4GB
Hardware
Speaker
Microphone
Connectivity
Dual-band GNSS
GPS, GLONASS, Galileo, Beidou, and QZSS
Bluetooth
Sensors
Accelerometer
Gyroscope
Geomagnetic
Optical heart rate sensor
Air pressure
Temperature
Durability
5ATM
Software
Harmony OS
Compatibility
Harmony OS 2 or later
Android 6.0 or later
iOS 9.0 or later
One thing Huawei has not disclosed is what chipset this is running. It is an unknown ARM Cortex-M chipset. Previous generations ran the Kirin A1, which was a big selling point at the time.
Design & Build Quality


I opted to review the smaller 42mm model this year. I have already reviewed the 46mm Huawei Watch GT 2, GT2e and GT 2 Pro. I have relatively thin wrists, so it is not too hard for me to pull off the smaller size, and I think the black model looks more elegant than the black 46mm watch.
The black is a bit of a dull colourway. This model also comes in gold or with a white strap and bronze/gold trim. The other colours are perhaps a little feminine for my personal style, but the product pictures make them look much more impressive. It is worth noting that the other colours come with a premium price, £20 extra for the while leather, £70 for light gold.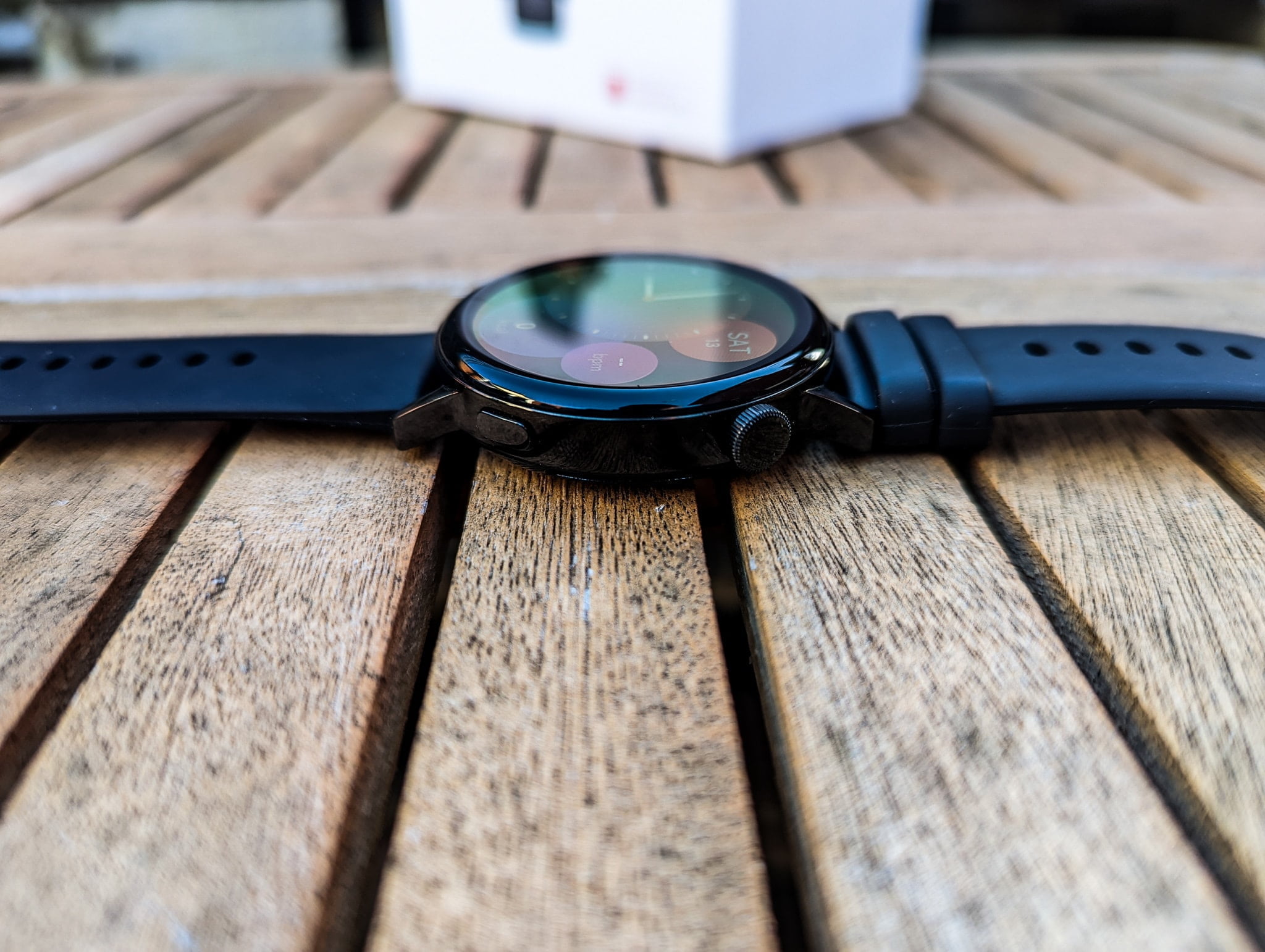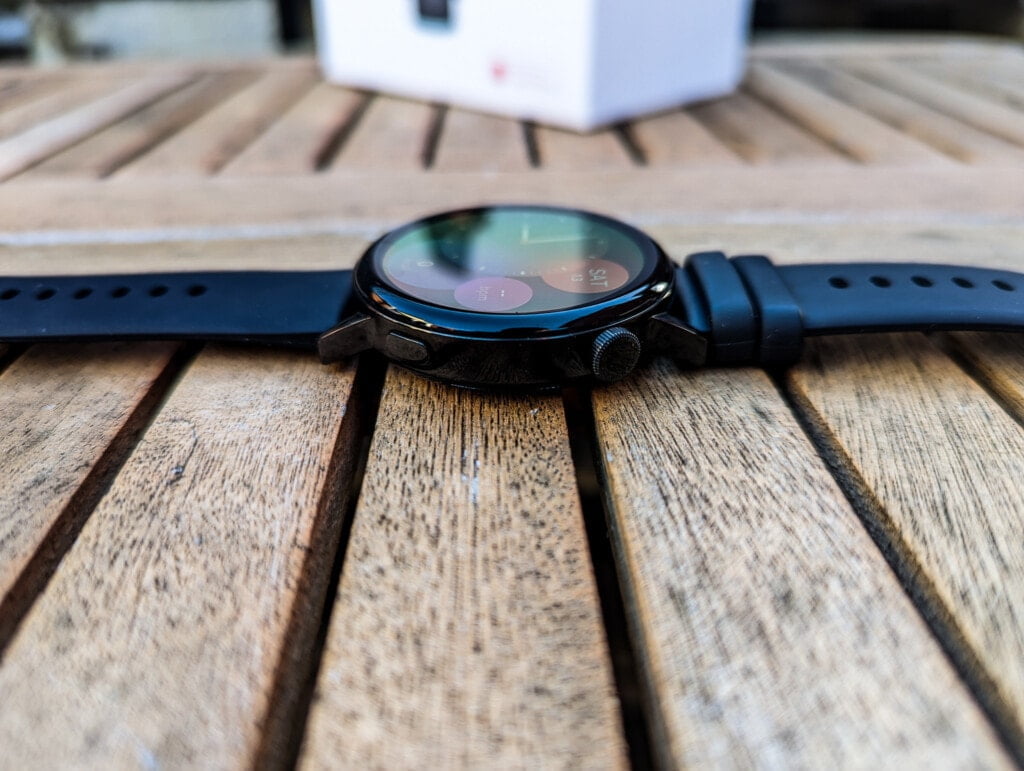 My black 42mm model has a similar overall design to the Watch 3. Both with curved glass, and the crown is located in the same place. It is not as weighty as the Huawei Watch 3, weighing just 35g vs 54g, and this is not just because it is a smaller size, the 46mm model is only 42.6g. This is heavier than the previous generation, the 42mm watch weighs 6g more, and this is reflected in the overall build quality. It feels like a proper watch rather than cheap plastic.
Just like the Watch 3, the crown can be rotated and pressed for navigation, or you can use the touch screen. Physical navigation is always a big bonus for anyone that does fitness making stopping and starting activities easier.
The 466 x 466-pixel AMOLED display looks great, with the 42mm model offering 352ppi and 800 nits of peak brightness. This is easy to use in bright light.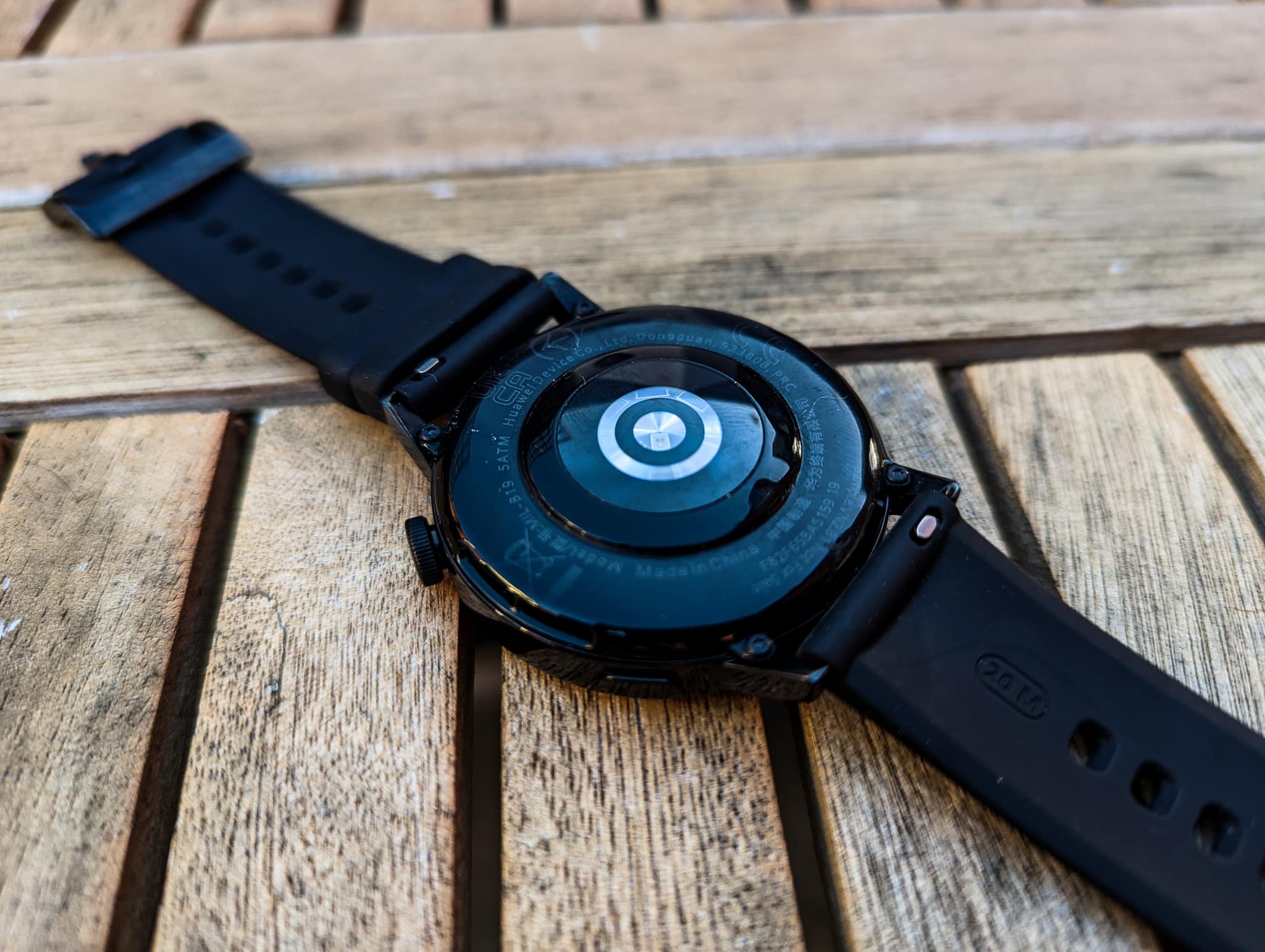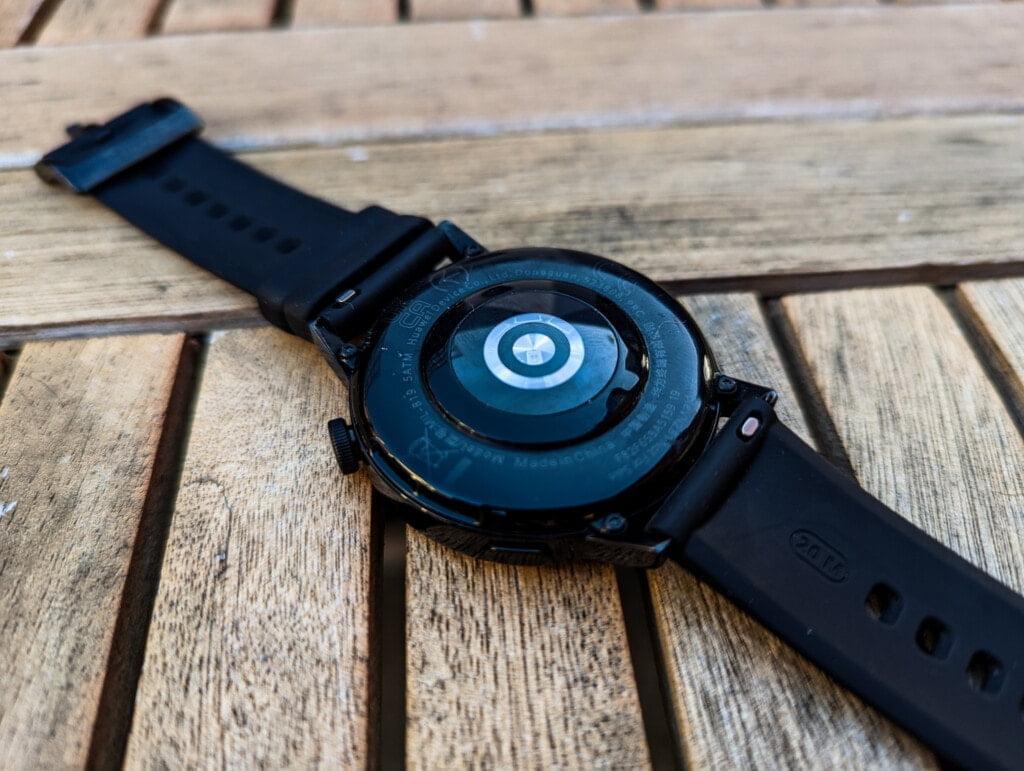 On the rear of the watch, you have the new TruSeen 5+ sensor with twice as many photodiodes as the previous watches and claims that this has the most accurate wrist-based heart measurements on the market.
HarmonyOS – Features & Apps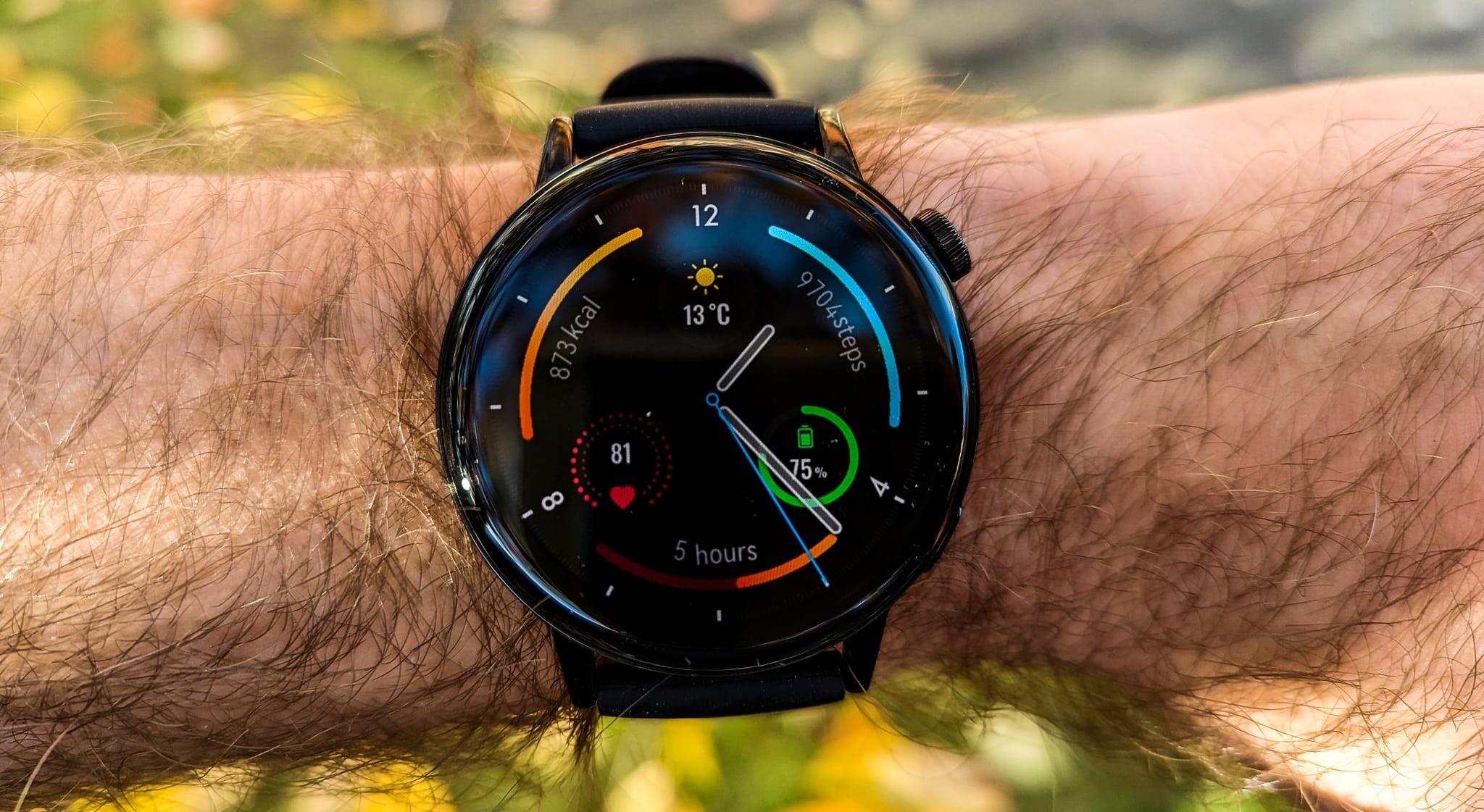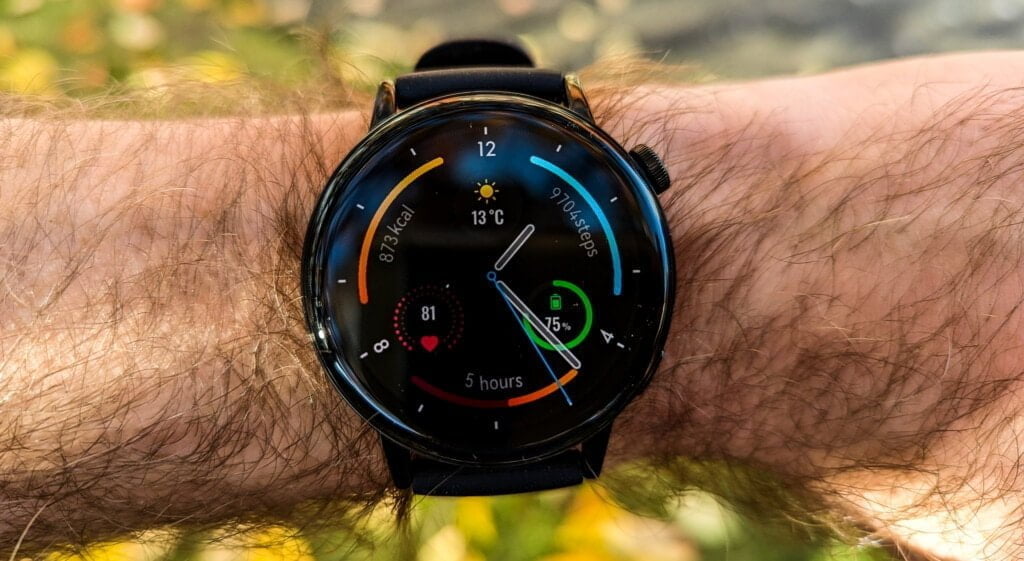 When the Huawei Watch 3 launched, Huawei made a big song and dance about it using HarmonyOS. While the product page doesn't specifically mention it, they advertise the apps you can install via the AppGallery.
For the Huawei Watch GT 3, it was barely mentioned at all. The new grid style navigation was the main thing that indicated this was running HarmonyOS, but it wasn't clear if it could install apps.
I had previously suspected that this might offer a slimmed-down app selection, and this suspicion appears to be correct. As far as I can tell, the Huawei Watch 3 currently has over 80-apps available to it, all of which can be installed from the AppGallery on the watch.
For the Huawei Watch GT 3, you can install apps but this is via the AppGallery option within the Health app. The selection of apps is slimmed down to around 24. The selection of apps is relatively poor, but there are three fitness/workout apps. Sadly, none of the fitness apps offers anything like Strava integration.
Then there is Petal Maps which can provide navigation when connected to Petal Maps on your phone. I wasn't able to get this to work on my current phone because Petal Maps isn't compatible with the Pixel 6, likely due to Android 12. However, this is a huge feature improvement over the previous GT watches and shows how much potential this watch has with apps.
Installable Apps and Watch Faces
The above screenshots show all the apps you can currently install. It is a poor selection, in my opinion, but I am still optimistic about things improving in the long term.
You have a choice of 12 watch faces pre-installed, plus a large number of free watch faces that are available. There is then an extensive range of paid-for watch faces, with prices ranging from £0.49 to £3.99
Huawei Watch GT 3 vs Huawei Watch 3 Features
With this looking like the Huawei Watch 3 and also running Harmony OS, you may be wondering what differentiates the two watches apart from the limited number of apps.
A quick rundown of features the Huawei Watch 3 has that the GT lacks:
More apps, installable via the watch itself
Celia smart assistant (my watch doesn't seem to have it)
eSIM mobile connectivity
Music streaming/downloading via Huawei Music
WiFi
NFC / Mobile Payments
Background applications
Outdoor Fitness
As always with Huawei wearables, there is limited export functionality. Huawei does not support Strava or other similar apps, and at this point, it looks like they have no intention of ever offering such a feature. This limits the appeal of the Huawei Watch GT series; most keen amateur athletes use Strava, so this watch is unlikely to appeal to them.
It is possible to export your data to third-party services, using an app to synchronise your Huawei Health data to Strava and others. This works reasonably well for me on my old Huawei P30 Pro, and this is what I have done when comparing data further down.
The export limitations are disappointing because Huawei appears to be trying to take the fitness aspects of this watch seriously, and it offers a lot of fitness insight that can easily compete with the likes of Garmin.
Optical heart rate accuracy during exercise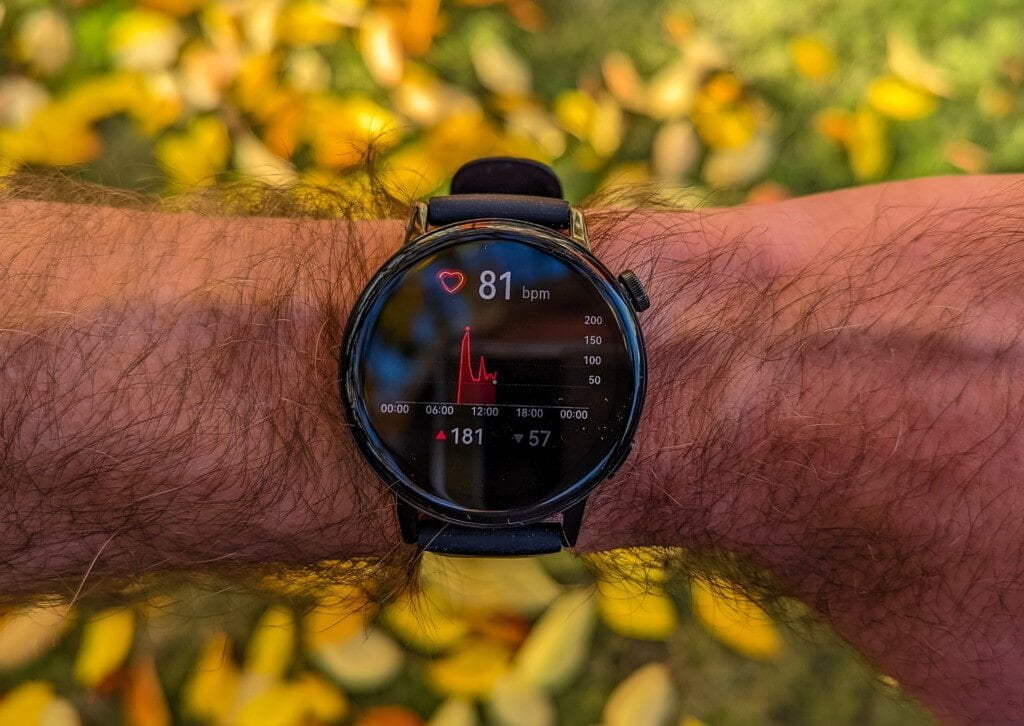 One aspect Huawei focussed on during my briefing was the new, improved optical heart rate. It always feels a bit contradictory for a company to make big claims about the fitness features and accuracy but don't offer the option to pair up external heart rate monitors.
It doesn't matter how accurate a wrist-based optical HRM is if the placement and fitting isn't 100% perfect. For me, I have thin bony and hairy wrists, so getting reliable readings is a nightmare.
In the case of Huawei, they highlighted how much better they were than the Apple Watch 6 while acknowledging they were not as accurate as the chest based Polar H10. Ironically, the Apple Watch 6 can pair with Bluetooth chest straps such as the Polar H10.
As far as wrist-based tracking goes, Huawei appears to live up to the claims. It is not perfect, but I found it to be considerably better than my Garmin Fenix 6 Pro when using the wrist HRM. For whatever reason, my Garmin has been terrible for tracking my heart rate on gently walks recently, often claiming my heart rate is 125bpm.
For more intense activities, accuracy starts to slip, but it still provides acceptable results.
Now I am not marathon training I have been doing short distance running a bit more, focusing on speed. On my recent 6km run, the Huawei appears to track my Garmin/Polar OH1 perfectly until just under 15 mins.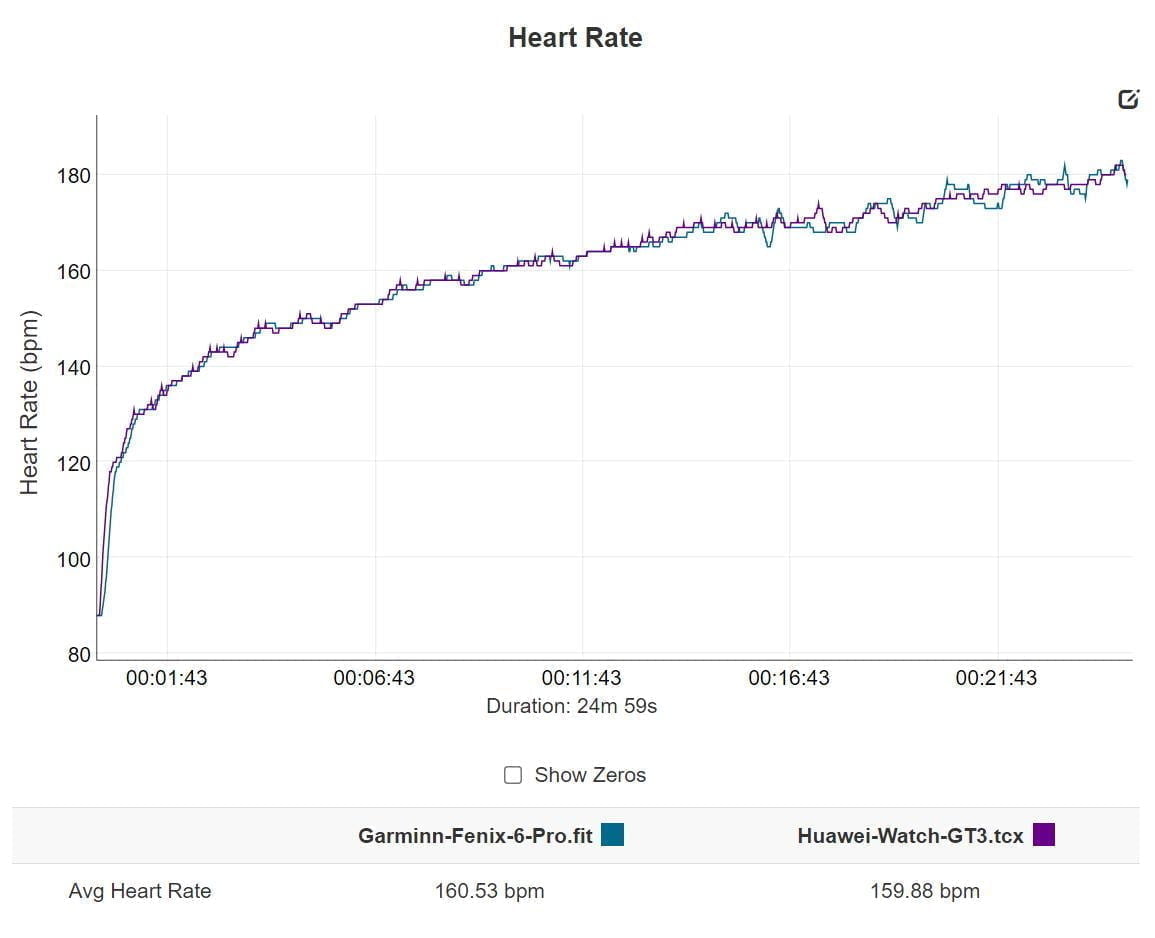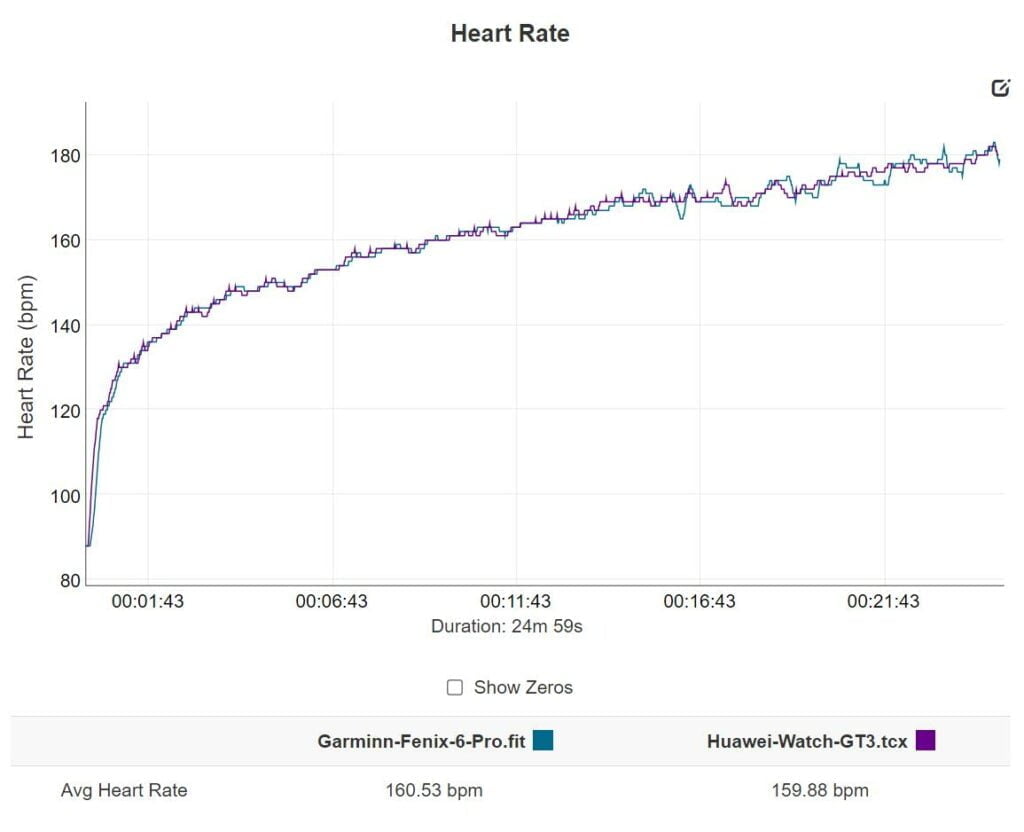 As my speed and heart rate increased so did discrepancies in the accuracy, at one point, the Huawei records 174bp while the Garmin/Polar OH1 reads 168bpm.
Similarly, on a 10km run, tracking remained accurate in the early part of my run, but as my pace and heart rate picked up the heart rate readings started to separate from each other. From about 30 mins the Huawei started to record consistently 33bp higher and at 40mins this started to increase to 6bmp.
One annoying quirk was that the runs I exported using Health Sync both underreported the distance. This isn't a fault of the watch as that matched my Garmin, but something was lost in the sync process of the Health Sync app.
Interestingly, it seems to only think my VO2 max is just about average, which is over 10 points lower than my Garmin and lower than I'd expect for someone running a 20min 5K. It is quite likely this will increase the more I use the watch for outdoor runs.
GPS Accuracy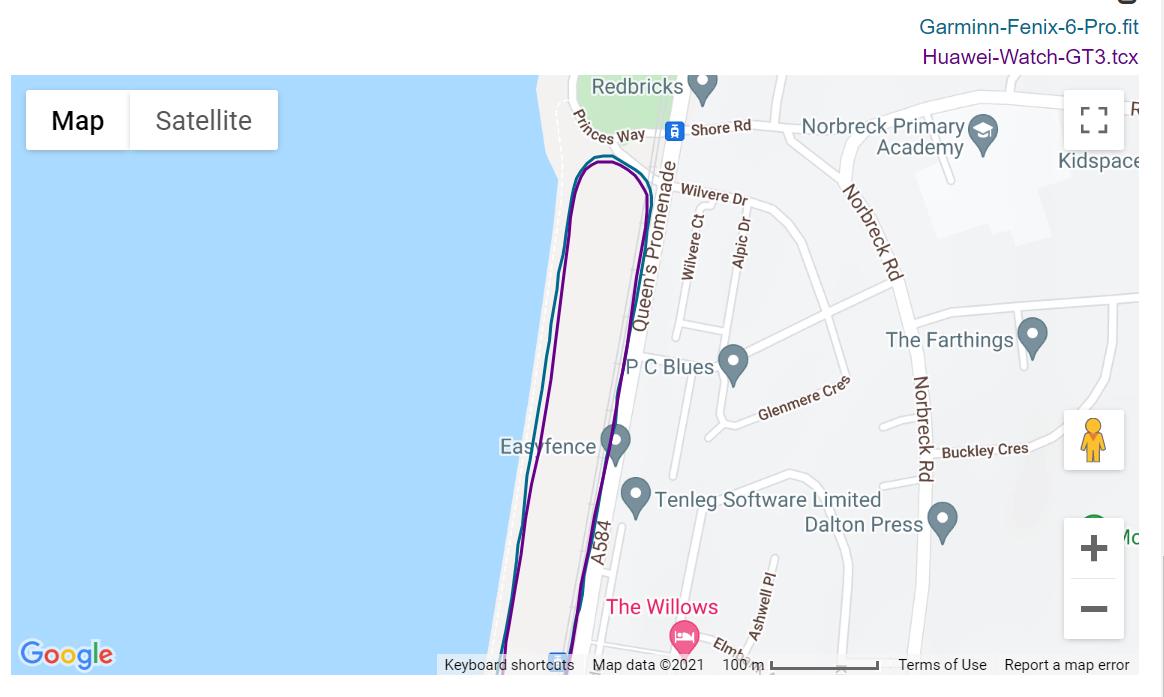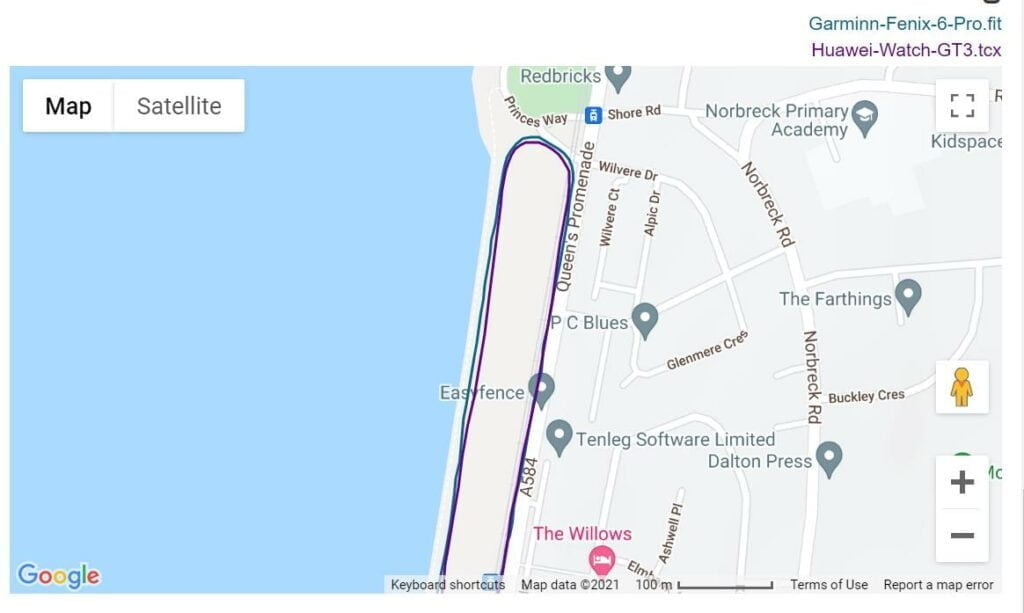 GPS Accuracy appears to be good, again I haven't done any long outdoor activities, but the watch tracks my Garmin Fenix 6 Pro almost perfectly.
The GPS lock-on time was much faster than the Huawei Watch 3, and the overall accuracy seems to be better too.
Health Tracking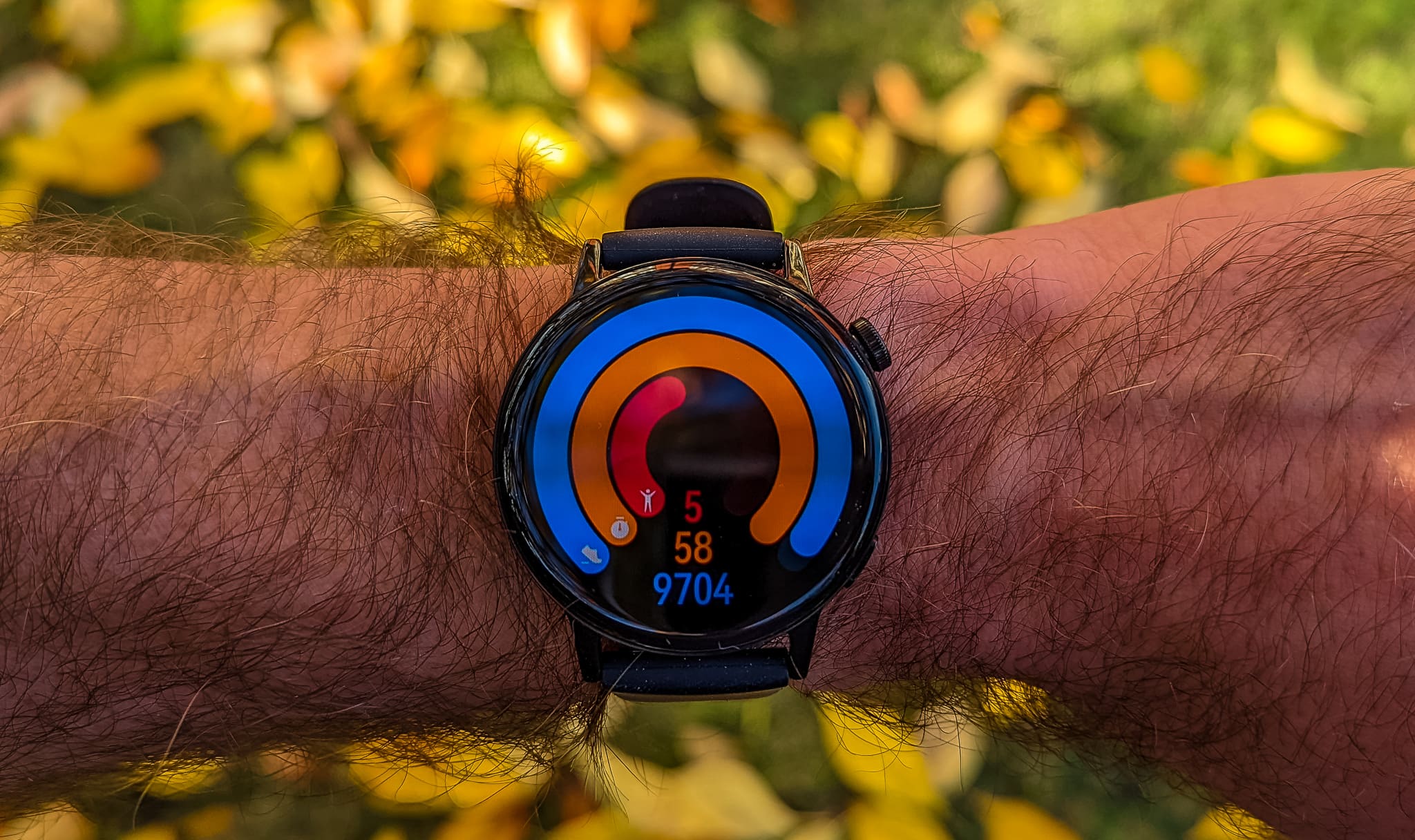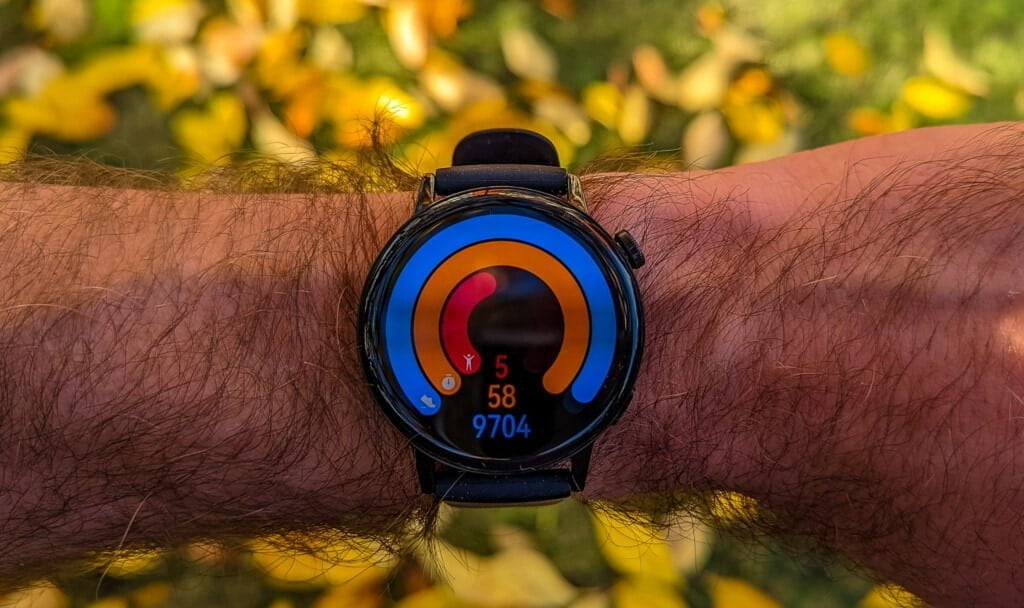 Huawei has always had an excellent and extensive amount of health features. The GT 3 now includes a Healthy Living option which allows you to set goals and provides advice.
Like all wearables, I am not sure how useful some of the features are. Skin temperature and SPO2 measurements have limited use at best.
Sleep tracking seems to be more accurate than average compared to most of the devices I have reviewed.
Battery
The battery appears to be excellent, though I haven't done quite as much GPS tracking as I have with some of the other Huawei wearable reviews.
There seemed to be quite a bit of discharge the first day or so, but I started using the watch on Monday, and by Friday, it still had 17% left. I'd say my usage was quite light, though, no very long runs like my previous reviews.
While the battery life is less than the Huawei Watch GT 2 I previously reviewed, this is the smaller 42mm model. Huawei claims the 46mm can do 2-weeks just like its predecessor.
In my experience, battery life for watches, in order of worst to best, would be:
Most WearOS devices < Samsung Galaxy Watch 4 < Huawei Watch 3 < Garmin Fenix 6 Pro < Huawei Watch GT 3 42mm < 46mm Huawei Watch GT watches.
I haven't used an Apple Watch, but it should be about the same as Samsung.
For me, I'd say 5-days+ use is a sweet spot, and I doubt many people will complain about having to charge a watch this frequently.
Price and Competition
The Huawei Watch GT 3 has launched for a base price of £229.99 for the 46mm model or £209.99 for the 42mm model I am reviewing. This is the same launch price as the previous GT 2 series; however, they have dropped massively in price.
Buy the Huawei Watch GT 3 from Huawei
The Huawei Watch GT 2 Pro is currently around £175
Huawei Watch GT 2 46mm around £108
Huawei Watch GT 2 42mm is around £109
Then you have the Huawei Watch 3, which launched at £349.99 but is currently £279.99.
The Garmin Venu 2 is probably a better choice for fitness thanks to its ability to sync with Strava and its compatibility with footpods, cadance/speed sensors and external heart rate sensors. This is quite a bit more expensive at £275-290.
The Samsung Galaxy Watch4 is the best WearOS alternative, priced at around £219
Overall
The Huawei Watch GT 3 is a significant improvement over its predecessor.
Harmony OS will now allow users to extend functionality with apps, albeit a reduced number compared to the Huawei Watch 3. The vast majority of these apps will be useless for most people, but the inclusion of navigation via Petal Maps gives you a hint of the potential here.
As usual from Huawei, it is very disappointing to have a fitness-focused watch that has no integration with third-party services, nor is there any option to pair the watch up to heart rate straps. I'm obviously biassed about this, due to the amount of exercise I do, but it is a fitness focussed watch, and I think it is a valid issue.
Ignoring those issues, the fitness features of the Huawei Watch GT 3 are superb. Heart rate and GPS accuracy are good, and you get plenty of useful data to analyse as well as training plans.
Even though my black watch is a bit of a boring colourway, the overall look and feel of this watch are amazing.
Overall, the watch is superb and certainly one of the best options on the market, If you can cope with its limitations and want a watch that doesn't need charging every other day, then this is an easy recommendation.
Last update on 2022-06-19 / Affiliate links / Images from Amazon Product Advertising API