Soundcore Anker Liberty Review
Summary
Well designed with a comfortable fit that has not fallen out during my testing. Excellent audio quality and battery for this style of headphone too.
I have been a big fan of Anker products for a while now, and their audio gear is superb offering superb performance for the price.
Recently I have been reviewing the Anker Soundcore Liberty Air which is completely wired free earphones that cost £79.99 on Amazon, but there is an additional £10 voucher you can apply bringing it down to £69.99.
[content-egg module=Amazon template=list]
Traditionally I was not a fan of wire-free earphones, I always found them more problematic than they were worth, especially with any form of sports. I have slowly been coming around to them, following some surprising good affordable options recently. The Anker Soundcore Liberty has been good enough that, for now, they have become my main earphones for the gym and travel.
Design and Features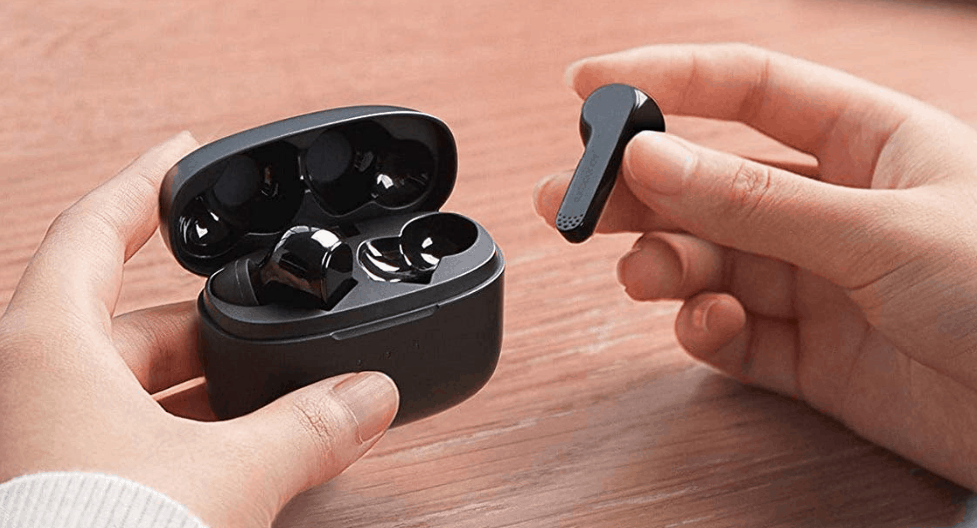 These are well made and attractive, they come in a charging case which can charge the earphones four times over with 5 hours playtime for a single charge and 20 between needing to plug them in.
The earphones use Bluetooth 5 which helps with both the battery life and connectivity between each earphone and the phone itself.

Design-wise, they are not dissimilar to the Airpods, rather than have a large earpiece that sticks horizontally out fo your ear, there is an elongated section that dangles down a little.
There are various questionable marketing terms indicating that these have superior sound such as Graphene-Enhanced Sound, how true that is, is another question. They are however IPX5 rated so while they are not advertised as sports earphones, they should work well. In fact, I have found this kind of earphone works very well in the gym, as there are no cables with controls that can get sweat inside them. Sadly, for me, I sweat a lot and I have destroyed every single pair of waterproof sports earphones that have a wire, including the superb Anker Soundcore Spirit X, hence why these are now my gym earphones.
Fit and comfort
Fit varies per person, and I think I must be cursed with oddly shaped ear canals as it can be 50/50 if I get a good fit. These, thankfully, fit well, using the larger earpiece I am able to walk around, use the running machine, and do weights with them never falling loose.
Fit plays an important aspect of the sound quality, and I find that these do occasionally need a little adjusting to get the best level of bass out of them. If the seal is not quite right, it will drop off significantly, this is often why some people will say something has plenty of bass and other very little.
Sound Quality & Performance
During my time with them, I had no issues with connection, pulling them out of the case and they auto pair, they also paired up first time with my phone. I didn't experience any dropouts while using them, and this included when I was moving around a lot such as running.
Battery life also appears to be excellent for this style of earphone, they can't compete with the all-day life of the SoundMagic Bluetooth earphones, but I got multiple hours of use, easily enough for a long gym session and I am considering them for a marathon.
Sound quality is good to excellent, these don't quite have the range of bass that bulkier more expensive options such as the 1MORE does, but there is more than enough there to handle most music. As previously mentioned, getting a decent fit is essential, and adjusting them slightly can increase bass considerably. In comparison to other wire free options, I have used the overall sound quality is superb, with rich bass and clear mids and highs.
When in the gym I tend to play either metal or some form of electronica, these were comfortably able to handle the liveliness of both genres, while still offer great vocals for less aggressive music when I listen to them casually during work or when travelling.
Overall
I have been pleasantly surprised by these, not that there was any doubt with the quality of Anker products, but I am always sceptical of wire-free earphones.
Overall these are well made, very comfortable to wear, never falling out, and sound great too.
In terms of pricing, they sit quite high up for Anker products which could be off-putting for some. However they are still half the price of the Apple Airpods and £90 cheaper than the Bose SoundSport Free