Amazon Echo Spot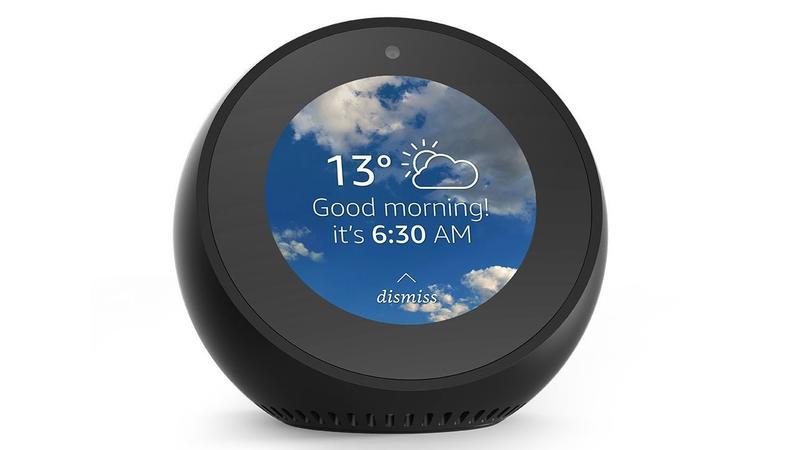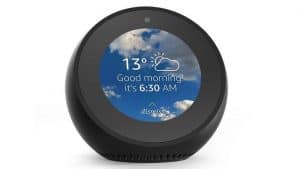 Product Name: Amazon Echo Spot
Offer price: 119.99
Currency: GBP
Availability: InStock
Build -

90%

Design -

90%

Features -

90%

Usability -

85%

Price -

75%
The Echo Spot was finally released in the UK this week and can either been seen as a budget mini Echo Show or very expensive Echo Dot with a screen. Does it find a comfortable middle ground between the two devices?
While the Echo Show is large and ugly, the Echo Spot can only be described as cute with its dinky ball shape. I did find it bigger in real life than the pictures suggest, but it is still tiny and should fit on any desk.

Design
It comes in black or white and at there are no swappable shells for it like the Echo 2. This is a bit of a shame as the device itself is very attractive, and I can imagine more design conscious people would love the option for custom colour. Or just a few more default colours.
It looks like a perfect circle that has then had its front sliced off for the screen, and a bit off the bottom to make it stand. There is a volume control on the top as well as a button to switch off listening.  The spot is powered by a pin style adaptor, so you can't get away with using a MicroUSB, I suspect it would require too much power for that.
The 2.5" screen is bright and clear; it can show videos from BBC news in a perfectly reasonable resolution.
Set up
The basic set-up of the device is quite simple, when you switch it on you need to follow the on-screen instruction which includes connecting to your Wi-Fi. The screen is very responsive, and typing in my password was effortless. It is just as easy as typing on a regular smartphone. As usual with Amazon devices, it comes preloaded with your account details, so you don't even have to log in to Amazon, which is nice, as I have a random complex password and 2FA.
Once the unit is connected and the firmware upgraded you will need to download the app and log in to your account.  From here you can manage all your Skills. You can also enable and then manage all these skills directly from a browser. I actually prefer this method because all the skills require some form of login, so doing from my desktop was much easier.
I do find the process of enabling a skill then setting it up a bit more clunky than the Google Home system, but it is not awful. One thing I found noticeable straight away is the number of skills on Amazon appears to far outnumber that of Google Home. At the moment with Google Home, I just have TP-Link plugs and Philips Hue links up to it, and I only really use it to switch everything off in my office at night.
Home Automation
With Alexa, I was able to do the above, but it also links up with Blink and AppKettle (my smart kettle). Both of these skills worked straight away, and I am seriously considering switching from Google to Alexa just because I can tell it to boil my kettle.
There is one particular area the Echo Spot, and Show can differentiate themselves from the speaker only versions, and that is with home security cameras. For example, if you have Netgear Arlo you can tell it to show me the front door camera. This should also work with Nest, Logitech and Ring. Sadly, Blink only has vocal integration so I was not able to test how well this system would work.
Ideally what I would like, and I don't think any of the systems do this, is for the motion video to be pushed straight to my Spot as soon as a motion alert is triggered. In the example of Ring, at the moment Alexa won't even alert you if the doorbell is pressed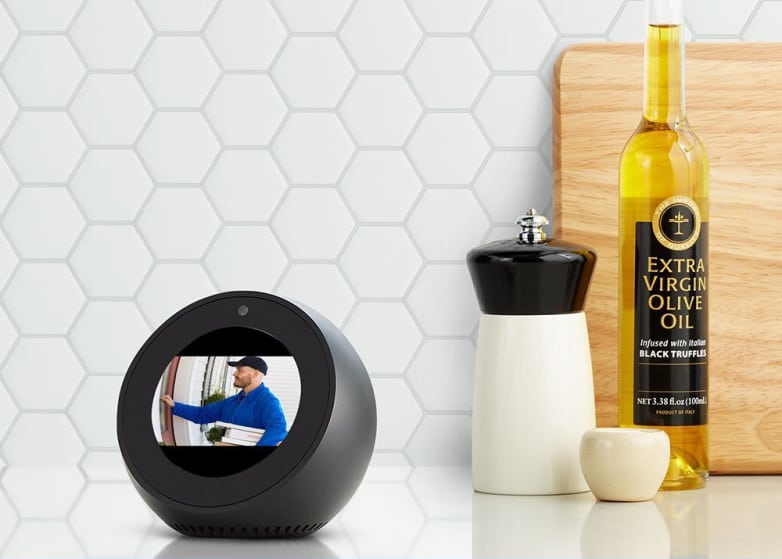 Once all your accounts are linked, and devices are discovered, you can manage each specific skill. You can group devices too. With Philips Hue, Alexa will already know I have 3 lights in one room, but I can then group my 2 TP-Link Kasa plugs with the Hue lights so at the end of the night I can just tell Alexa to switch off my room. Google Home used to do this by itself, but it appears to have stopped working for me.
Other Apps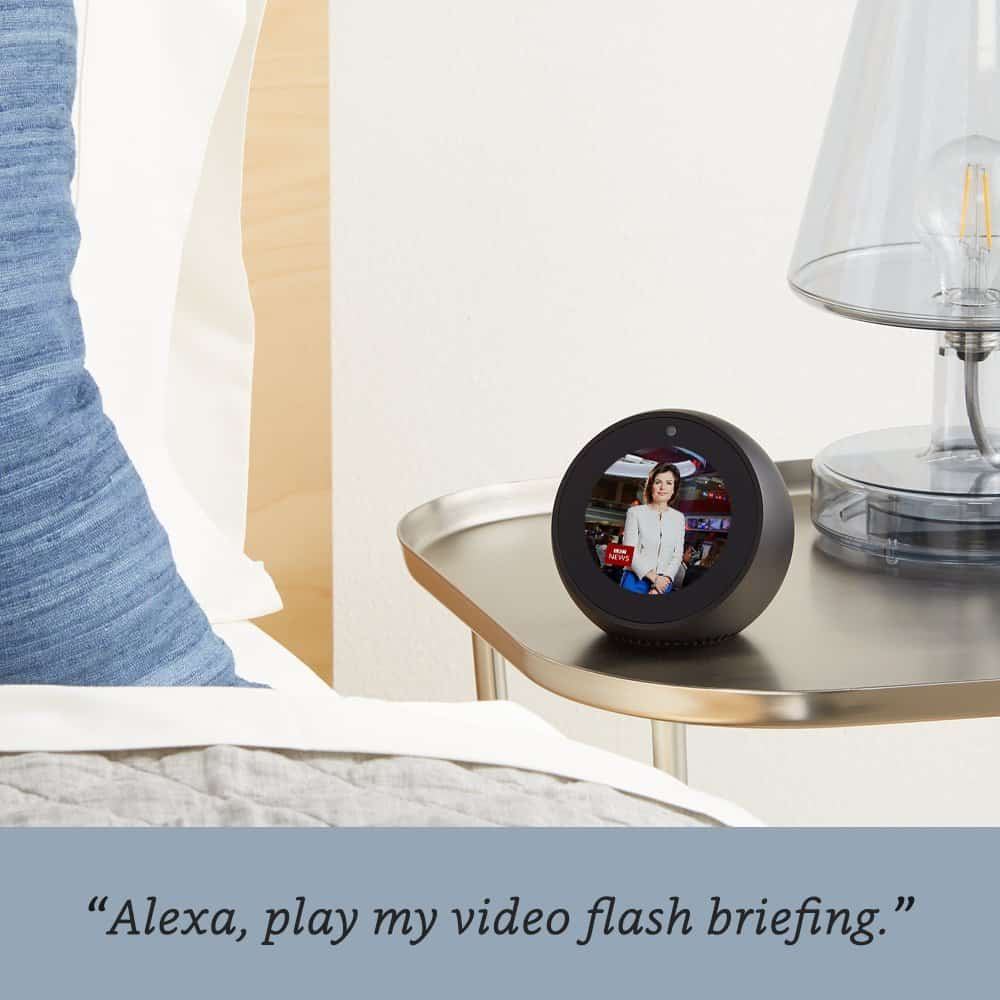 Alexa, in general, has a vast number of apps to use and many of these can make the most of the screen. The most obvious one that is already built in is the BBC news function. So, when I ask Alexa for the news, it shows me the days highlights. To be honest, I found limited use with this, the screen is excellent, but it is not something I want to be looking it for a couple of minutes at a time.
Drop In
One of the big selling points of the Spot and Show is the drop-in feature. It is basically skype for your Echo, but you can set up your Spot to allow video calls from your household or specific contacts, so there's no need to answer a call. I am not sure how comfortable I would be with having my device auto-answer a call, nor do I see why the service needs to be restricted to just the Echos with a screen, I would be quite happy with audio only.
Thankfully, if you do have multiple spots in the house and use drop-in you can avoid any embarrassing situations as the Drop-In call begins with a white screen which slowly transitions to the image, and your Spot will also make a noise to give you a bit of warning.
Sound Quality
I haven't used a dot, so can't compare that, but I was quite surprised by the volume and audio quality of the Echo Spot. It can't compete with a decent pair of speakers, or even the Google Home, but it is loud, clear and no noticeable distortion. If you listen to music on it, it's a bit like listening to a radio. The main is it suffers from is the lack of bass, but this is no surprise.
If you want to use the Spot to listen to music regularly, there is an aux out, and it can connect to things via Bluetooth. So, for me, I just plugged it straight into my computer speakers and then I had exceptional audio quality with all the advantages from the Echo Spot.
Overall
Ignoring all the other options available, the Amazon Alexa Spot is a fantastic device, I think it looks great, and the Alexa system works well with a huge variety of skills, with a growing number of skills being able to utilise the screen.
Taking into account Google Home and the other Echo devices. As a Google/Android fan, I am ashamed to admit I prefer Alexa; there are just more integrations available at the moment.
Personally, I think the Echo Show is ugly, and it isn't something I would consider, so the main comparison is this or the Dot. At £120 it is more than double the price of the Dot so I think for most people this is a hard sell. However, if you have any smart home camera I would say the extra money is well worth, being able to see who is at my door without messing around with my phone would be fantastic. It would no doubt be convenient for monitoring the elderly or for baby cams.
While the drop in feature isn't personally for me, I can see the appeal, again if you look after someone elderly it would be useful to be able to drop in on them and make sure they are OK.
If the Echo Spot appeals to you, and perhaps if you want to use the Drop-In feature, you can get 2 Spots for £199.98 which does make the cost per device a little more bearable.