BenQ ScreenBar e-Reading Lamp
Product Name: BenQ ScreenBar e-Reading Lamp
Offer price: 89.99
Currency: GBP
Availability: InStock
Build -

80%

Performance -

90%

Price -

75%
Recently, BenQ has been expanding into the lighting market, focussing on products that improve the lighting in a computer environment. My first review was their beautiful WiT e-reading lamp, and they are now following this up with the ScreenBar e-Reading Lamp.
This device is less about style and more about functionality, it is a small tubular lamp that is mounted above your monitor. In a similar manner to the previous lamp, this is designed to illuminate your workspace using optimal light temperatures and angles. The design keeps the light from shining into your eyes while avoiding creating any screen glare.
It has multiple temperature levels which allow you to select as you wish or use the automatic options. So, for example, you could have the warm light for evening use as you wind down, whereas the cool light can be used for the mornings when you need to concentrate.
The light has a full range of brightness settings, and again, you can find your own preferred settings or apt to allow it to do everything automatically.

Set-up
It is effortless to install as it just hangs there counterbalanced with a weight behind it. Once it is installed it is not very noticeable; it doesn't restrict any views now is it distracting.
MicroUSB powers it and there is a long cable supplied. Ideally, if you have USB built into your monitor you will connect it here and reduce cable mess, or you can use a plug or USB hub too.
Once installed you have easy access to the controls on the top panel of the light. There is the power, auto button, brightness and temperature settings.
If you click the auto button after you switch it on, the lamp will detect the ambient light and illuminate your desk area with the appropriate choice. Alternatively, you can press and hold the other buttons until you get to your desired settings.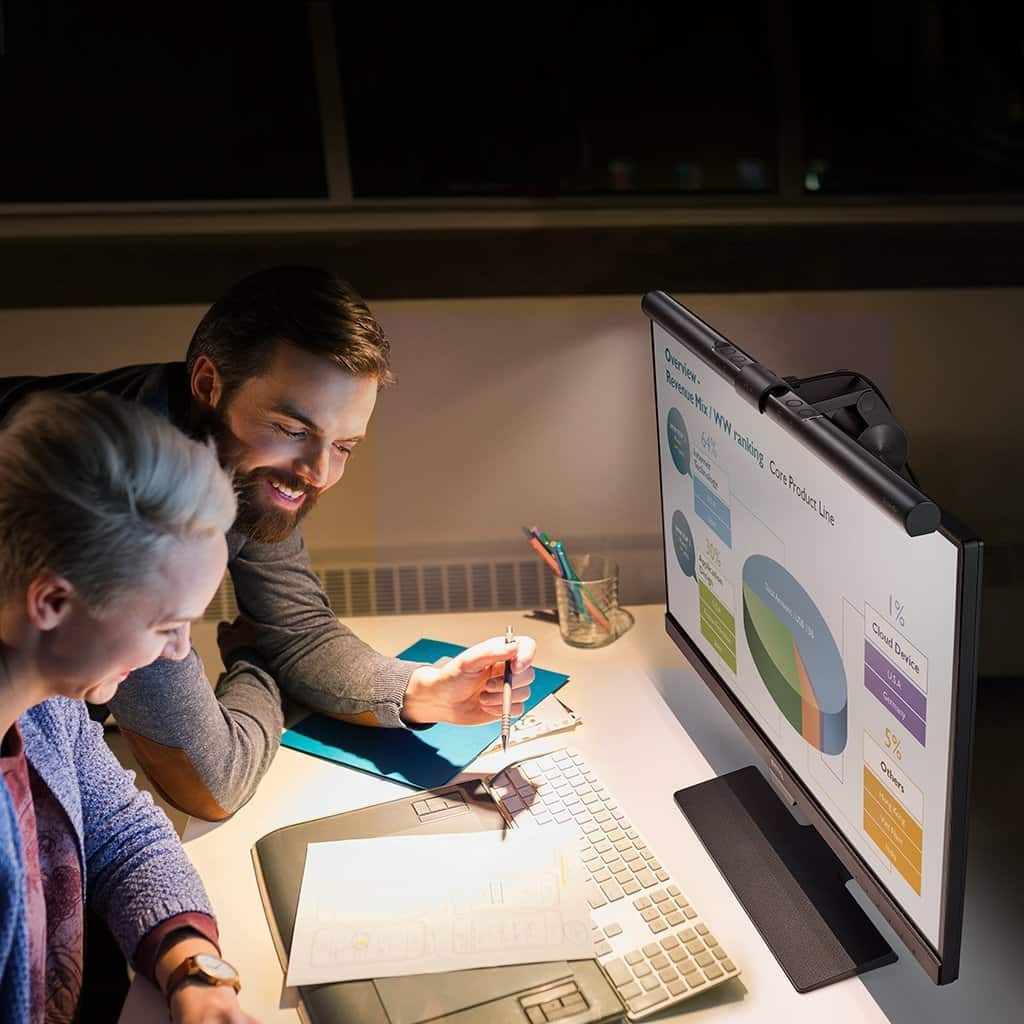 During my use I found the lamp to be quite good, and its level of performance was dependant on my current lighting. I use Philips Hue in my office, and the three lamps I use don't shine light directly on me, they are all shaded somewhat, and I use white light in the mornings. With this setup, I found the auto features not that great, I already have quite a lot of light, and the auto option was quite a bright yellow light. So, I found the automatic choice to be a bit over the top.
Using the manual options, I toned down the brightness and changed the temperature to cool. During this mode, the lamp provided an excellent additional level of illumination without adding eye strain. As the product description states, there was no screen glare.
Where the lamp shines (sorry) is if you don't have a lot of illumination, to begin with, switching all my lights off and leaving the ScreenBar on auto provided me with a lovely clean slightly cool light. It perfectly illuminated my screen and keyboard areas without shining any bright light into my eyes at all.
You can rotate the light slightly, adjusting the angle and therefore illumination, I found having it pointed directly down was ideal for me. If I can see a source directly, it hurts my eyes.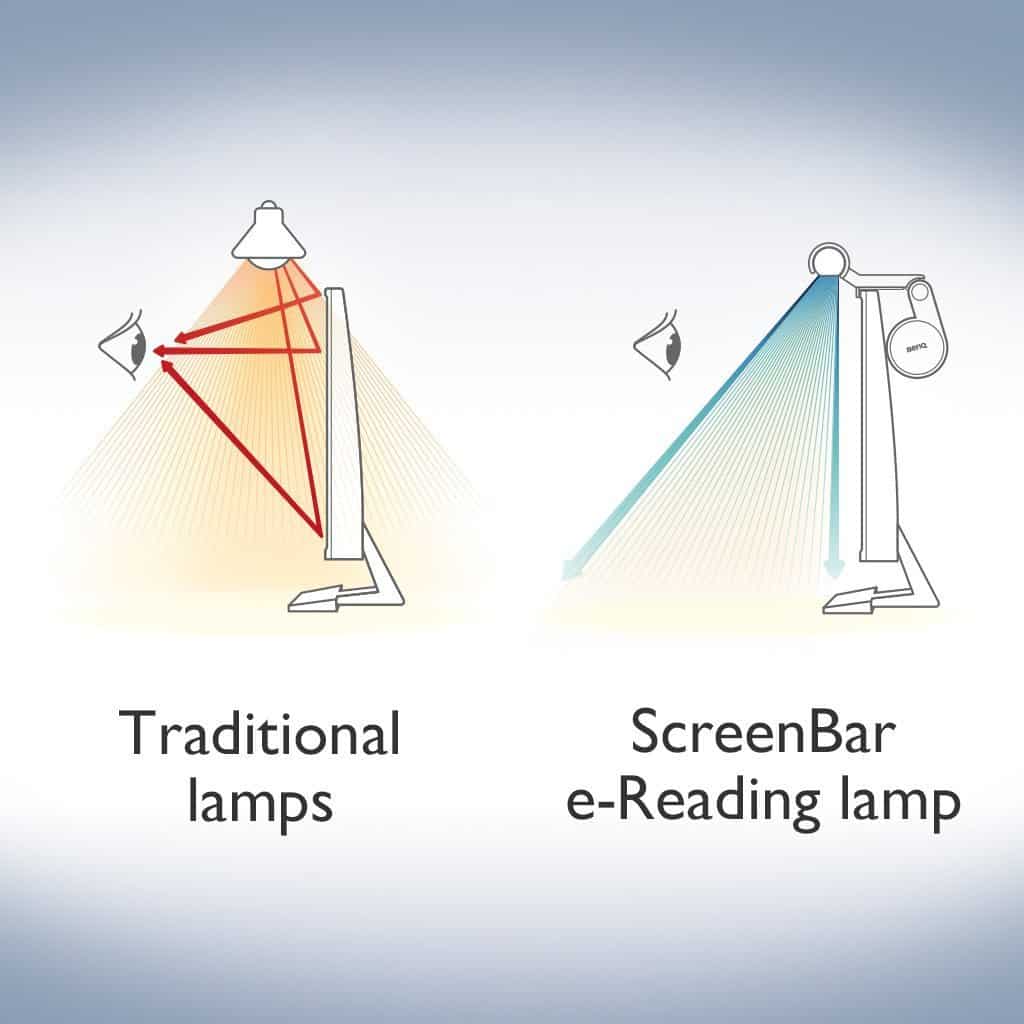 Overall
This is a great lamp, but I think the benefit of it is dependant on your current setup and usage. If you tend to work in the dark, or just with one lamp, then you will really benefit from this. I found it significantly reduced eye strain for me, and avoids all glare directly on my screen. It is particularly beneficial to your stereotypical gamer or computer geek that traditionally works in a poorly illuminated environment.
If like me, you already have a decent amount of lighting that doesn't point directly into your eyes, then it will understandably be of less benefit.
The lamp is currently priced at £89.99 which is a lot cheaper than the previous BenQ lamp, but still quite expensive for casual home use. On the other hand for anyone using a computer for extended periods of time, I would say it is a good investment as it significantly reduces your eye strain.
While the BenQ WiT e-Reading Lamp was a beautiful lamp that helped with eye strain, this is a great cheaper alternative.