UPDATE – New Discount Offer:
Before price: £299.99
After price: £219.99 (£50code+10%off code)
Discount code: mightygadget
Start Date: 07/03/2022 8:00 GMT
End Date: 20/03/2022 23:59 GMT   
There are a huge number of robot vacuums on the market nowadays, and many of them all seem to offer the same features, with few offering anything worthwhile that differentiates themselves. I have recently covered quite a few robot vacuums that have full smart mapping functionality, which have considerably better multi-room performance than the older styles that just bounce around randomly or semi-randomly.
The Trifo Lucy is one of the few robots on the market that does things a little differently. This uses cameras for its mapping functionality, similar to the biggest brands in the business. But, it then uses those cameras to implement a home security solution.
Specification and Features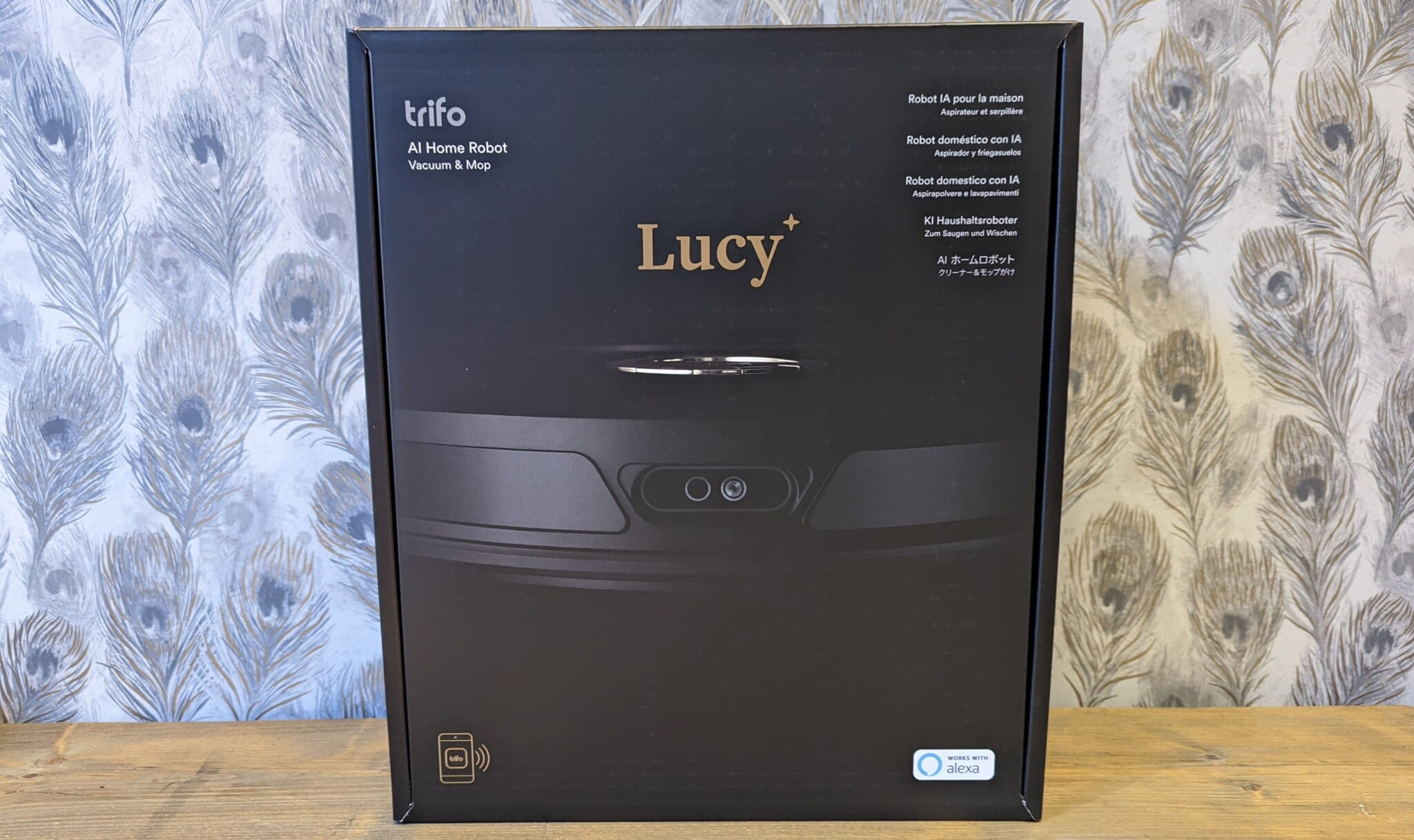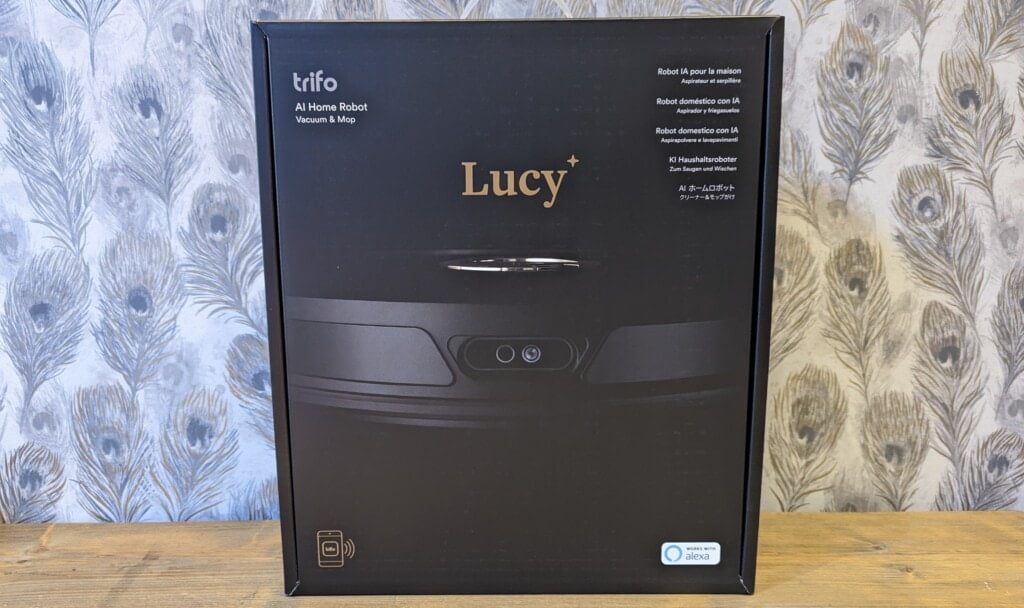 Suction Power: 3000 Pa
Dusbib Capacity: 600 ml
Water Tank Capacity: 100ml
Battery Capacity: 5200 mAh with 120 mins run time
Noise: 70 dB
Other Specifications
Dimensions 360mm (w) x 360mm (d) x 84mm (h)
Weight: 3.4kg
Set-Up
Setting up the Trifo Lucy was as easy as most smart home devices nowadays. As usual, you need to download an app, sign up for an account and provide the 2.4Ghz WiFi details. With this having a camera built-in, you show a QR code to the camera, which passes over the SSID details.
Settings
The Trifo Lucy has all your usual settings for a smart robot vacuum, this includes:
Schedules with the option to set cleaning mode
Cleaning history showing you the map it cleaned, cleaning area and cleaning time
Maintenance stats inform you how many hours are left before you need to replace the various brushes and filter
DND mode to stop the robot switching on during the night
Once you have a map built up, you can:

Set up designated cleaning areas

There is no option for no mop zones
This then has options you won't find on most/any other vacuum, this includes:
Manual control – where the video feed is loaded up, and you remotely drive the robot around recording footage
Motion detection – allowing the robot to act like a security camera
Mapping & Obstacle Detection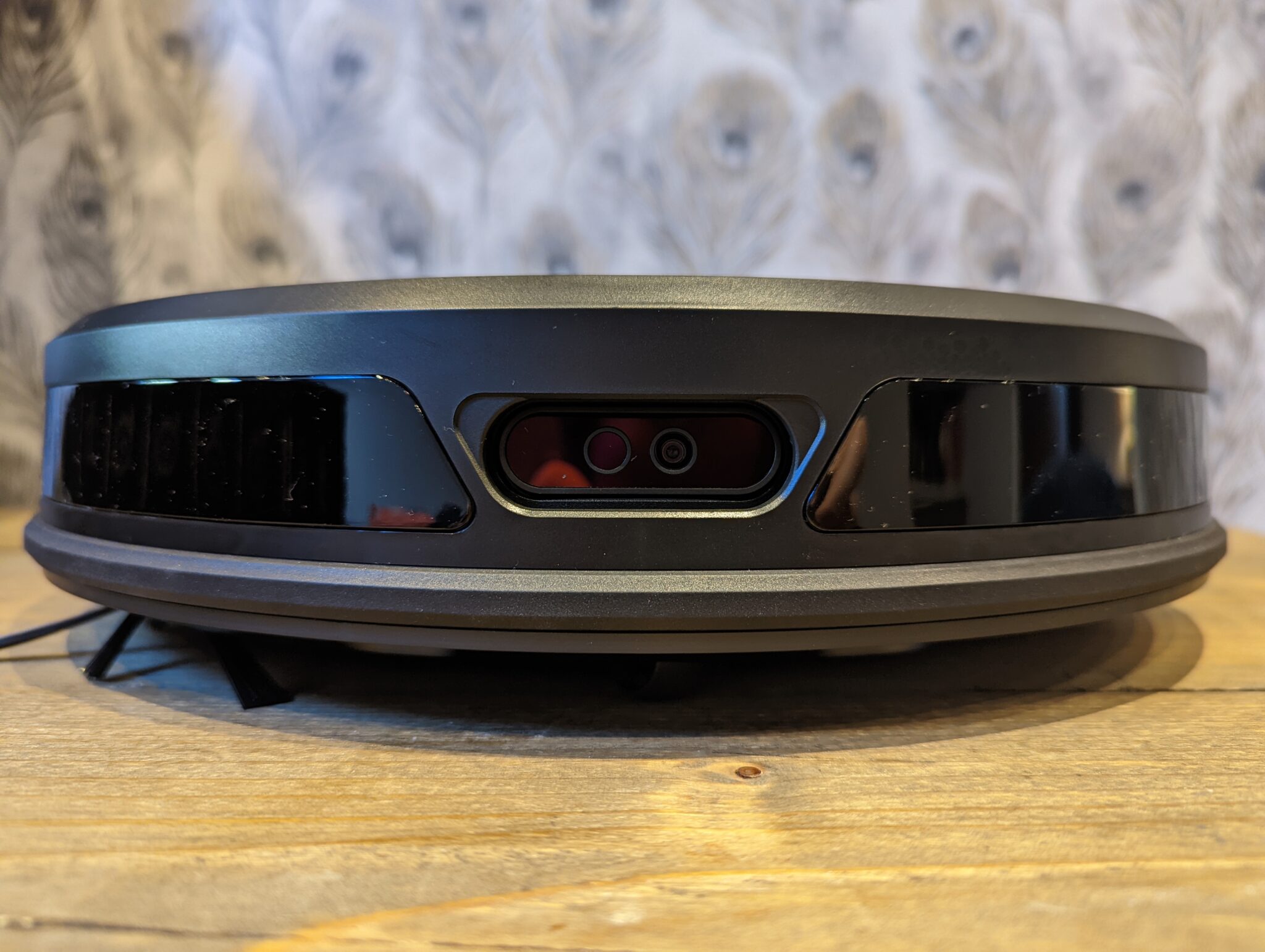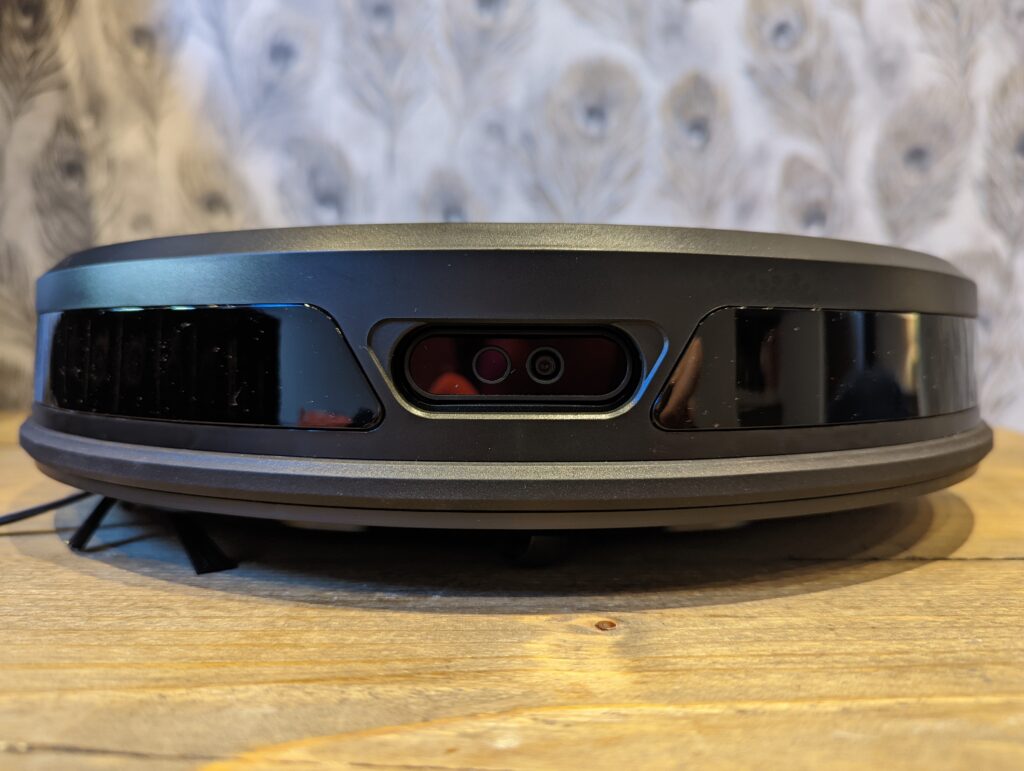 Trifo Lucy is one of the few robot vacuums on the market that use a camera for its mapping, with the technology being known as Visual Simultaneous Localization and Mapping (vSLAM). In comparison, most mapping robot vacuums use laser-based LiDAR, though a few use a combination of both.
There are pros and cons to both technologies, LiDAR is a bit more efficient with its map building process being both faster and more accurate. vSLAM, on the other hand, captures more information about what is directly in front of the robot; this allows it to identify objects better and can provide superior object avoidance.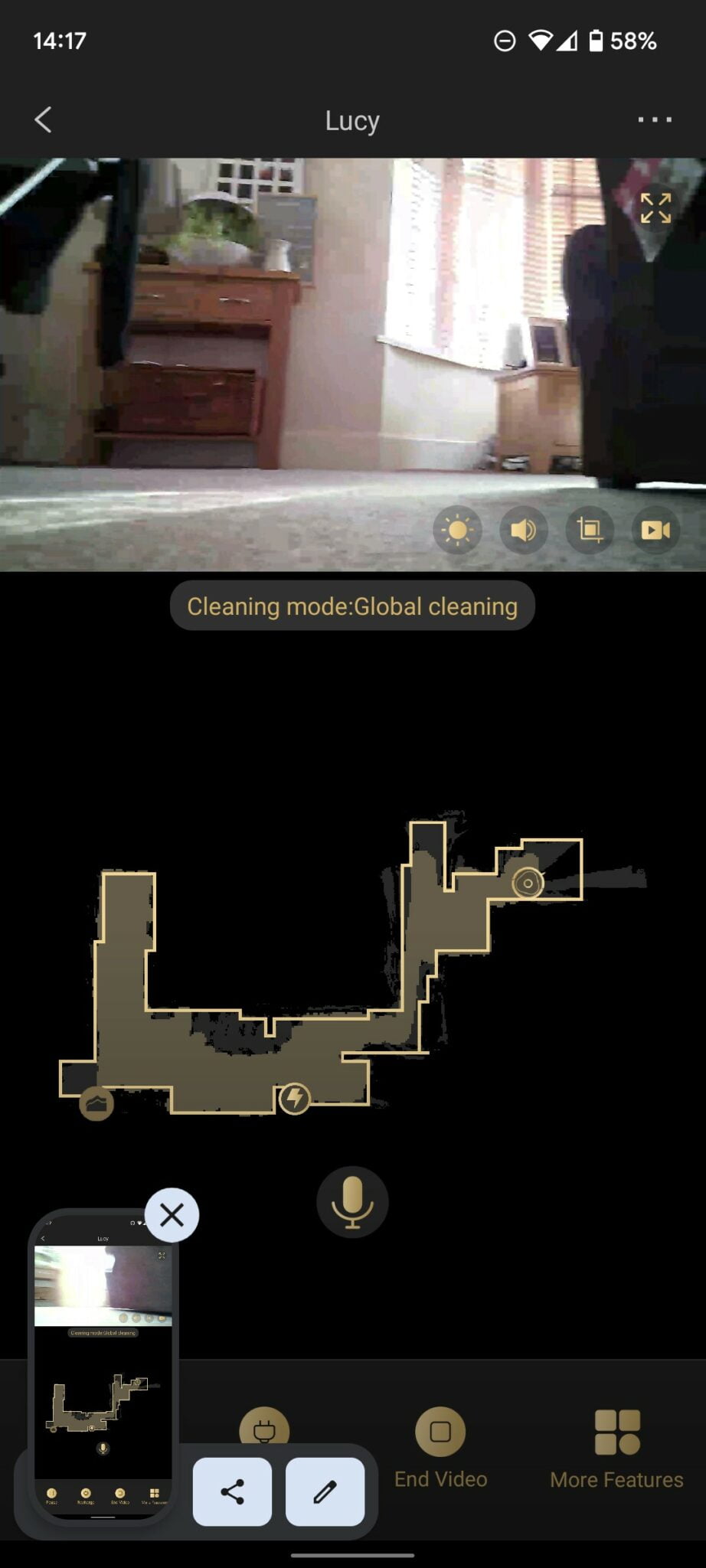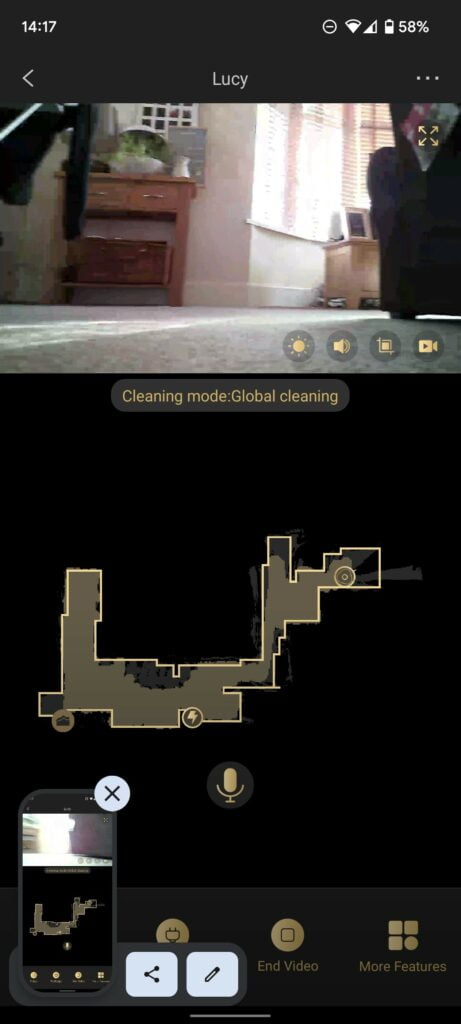 I have only used LiDAR-based vacuums before. With this, the overall quality of the map isn't quite as good, and I found it harder to set up no go zones, but when the robot visually identifies obstacles as it goes around, identifying them on the map and avoiding them. I have found that this seems to avoid random paraphernalia that inevitably finds its way onto my floor. Wires have been particularily problematic for me in the past, and so far, this hasn't got tanged up.
Video & Motion Detection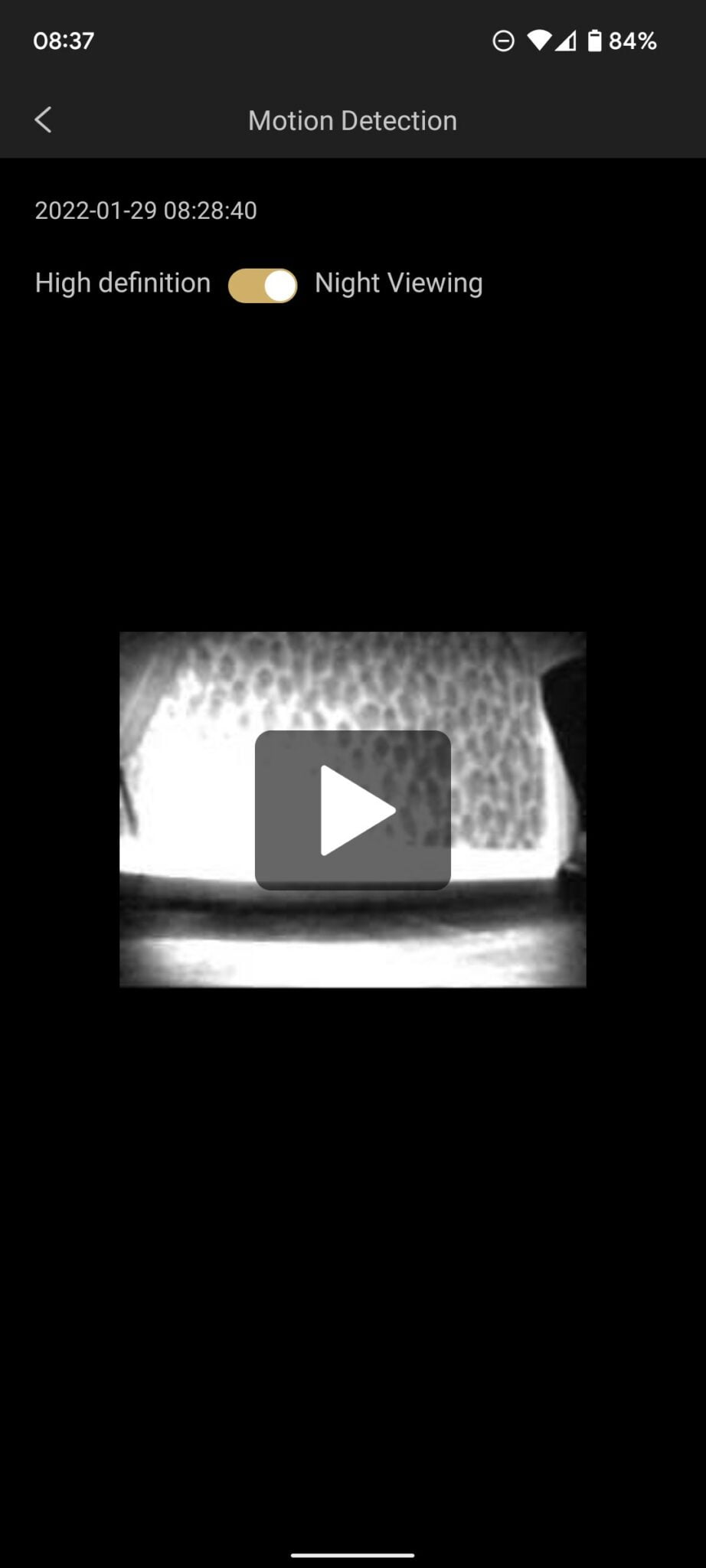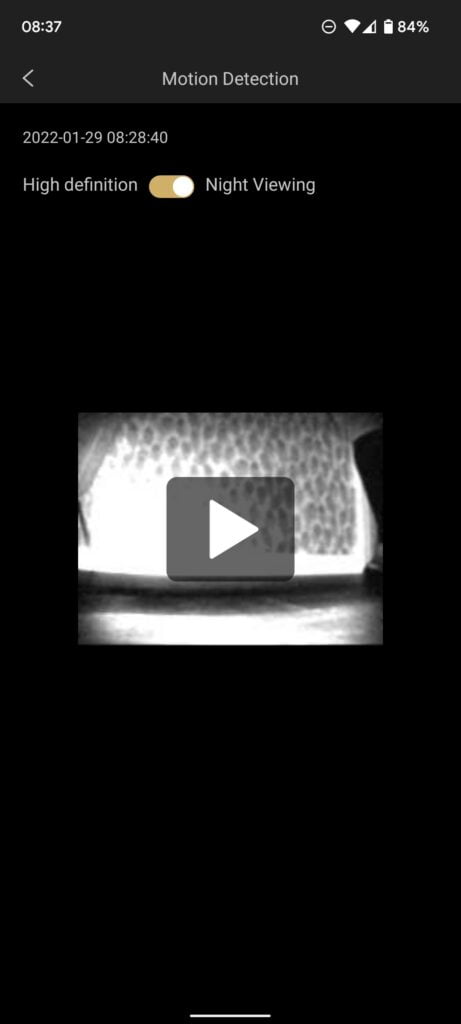 Because this uses cameras, Trifo decided to expand the functionality and build in a security camera system. You can have the robot detect motion and send you notifications.
It is a bit of a strange feature, and I am not sure how useful it is, but it is still a welcome addition. Trifo has taken the existing hardware and improved the overall functionality. You can't really complain about that.
The vacuum will detect motion when it is in docked as well as when it is in motion. I feel like the docked state will provide the best security as you can locate the vacuum in a location where you would expect people to enter the property, for example, a hallway near your entrance.
One issue is that the viewing angle of the camera is sub-optimal for intruders. Where I have mine located, it can only capture someone's feet as they walk past.
However, if you do get notified of movement, you can take control of the robot and use the camera for remote control while it also records footage.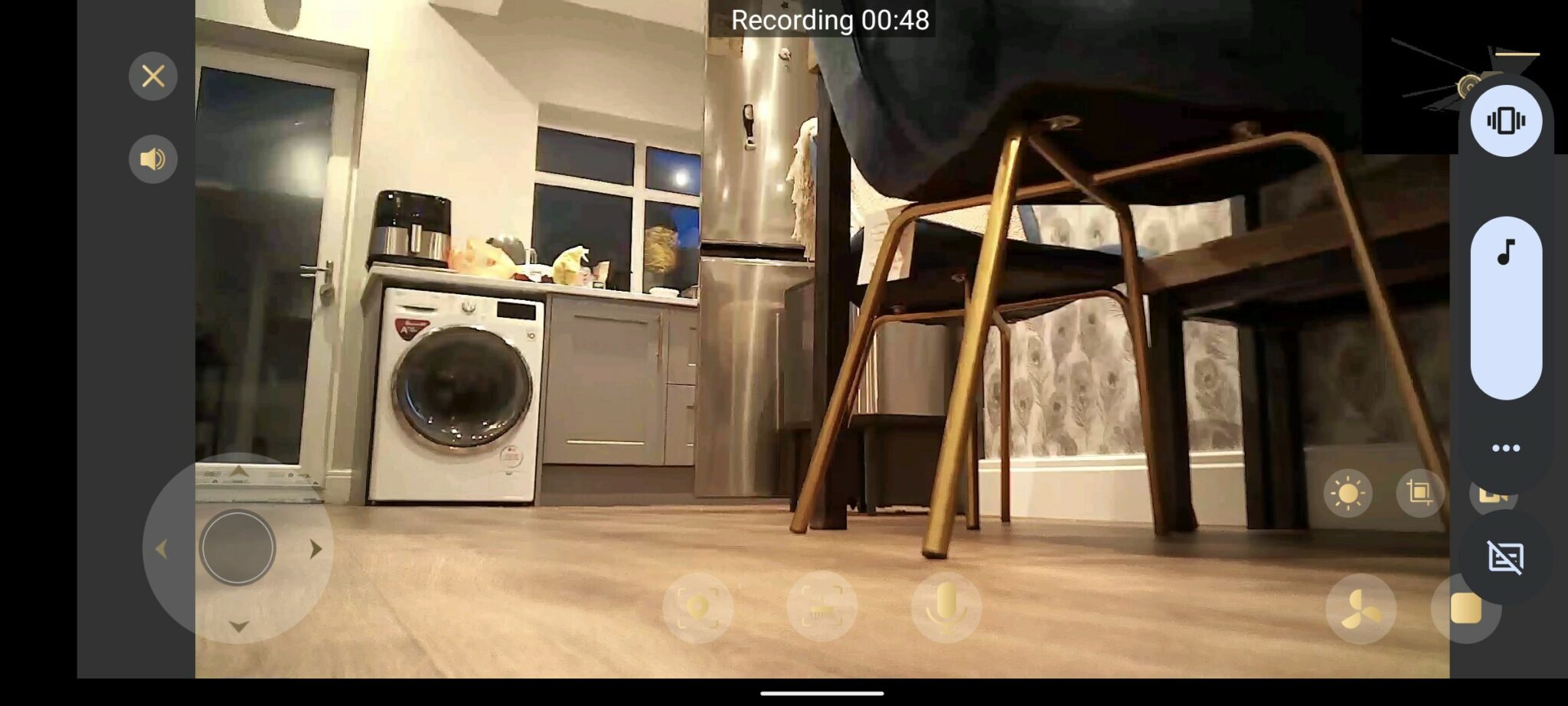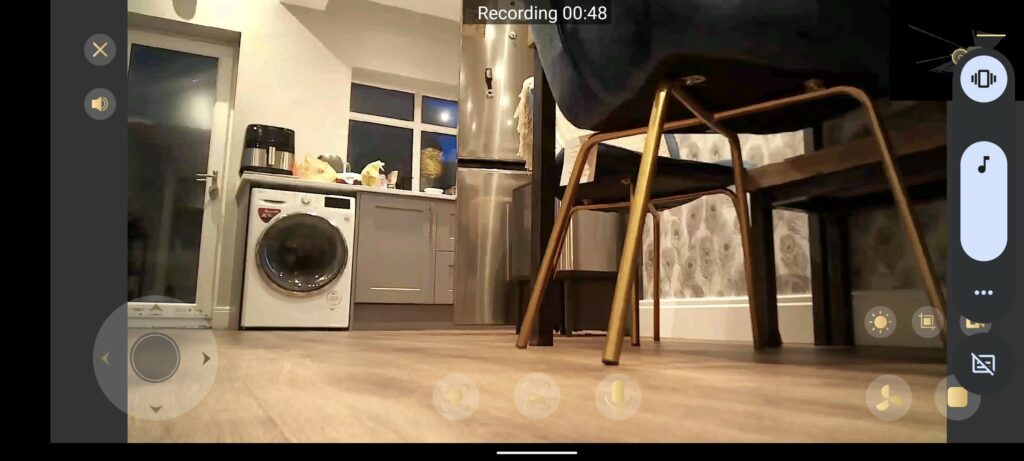 You could argue that intruders may avoid visible security cameras outside or inside your property, but it is unlikely that they will think that a vacuum is providing security too.
I believe in the future, this robot will be upgraded with a patrol route for improved home security.
Mopping & Cleaning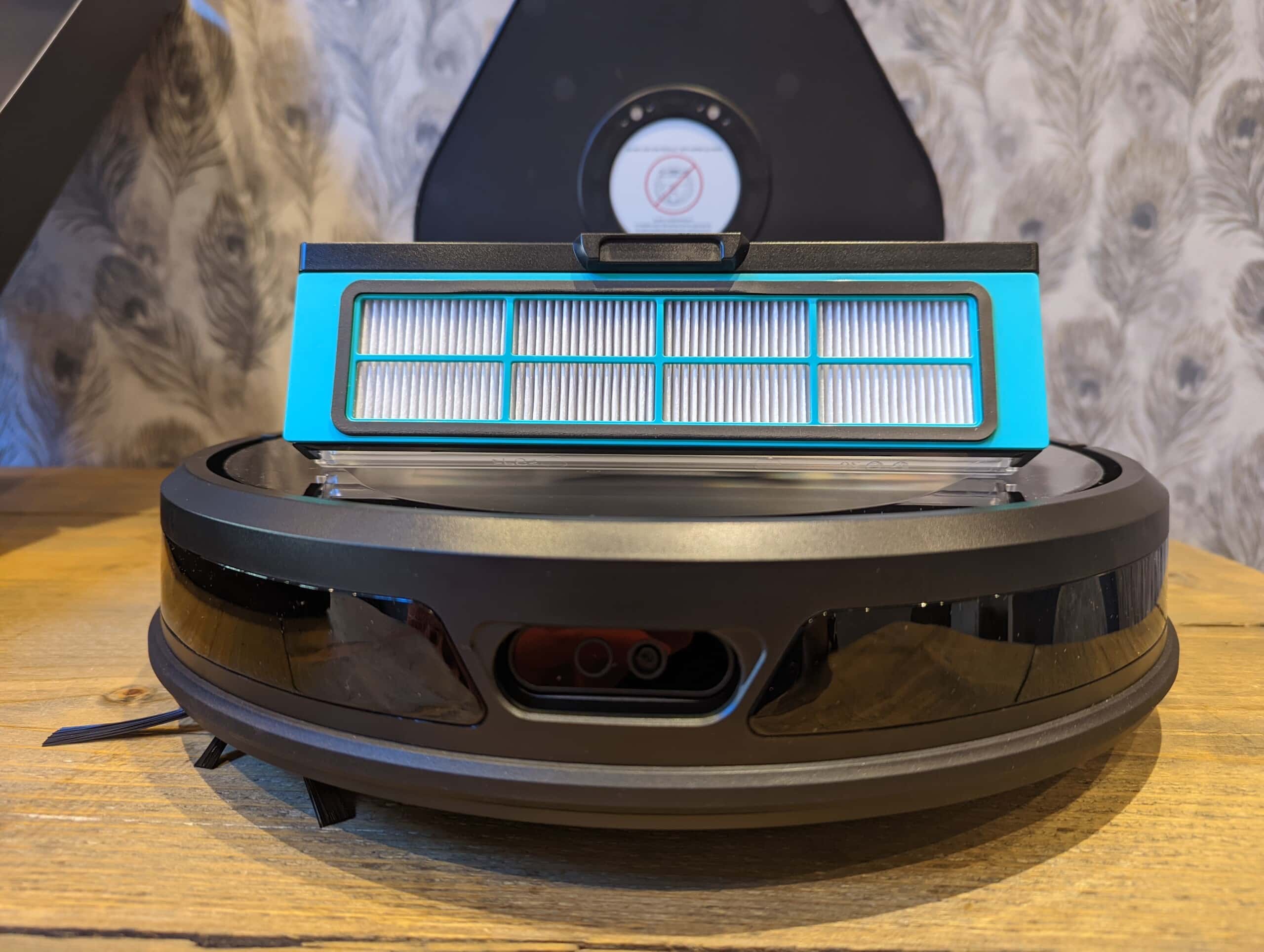 The Trifo Lucy has a bit of a different design than many of the robot vacuums I have reviewed recently.
On a positive note, it has a large 600ml dustbin, I probably only empty it once or twice a week. There are not many other robots out there that have this volume of storage, the other superior option are the ones with auto emptying stations, but these come at a premium cost.
However, for mopping, it only has a very basic 100ml reservoir that is gravity fed. This is only really good for one clean, and I am not sure if it would cover a large property of hard floors. The robot has no control over the reservoir either, so you can't set up no-mop zones, and you'd have to fill the reservoir just as the robot starts.
Only my kitchen/dinner is hard floor, and it did an adequate job here, but I wouldn't buy this vacuum specifically for the mopping functionality.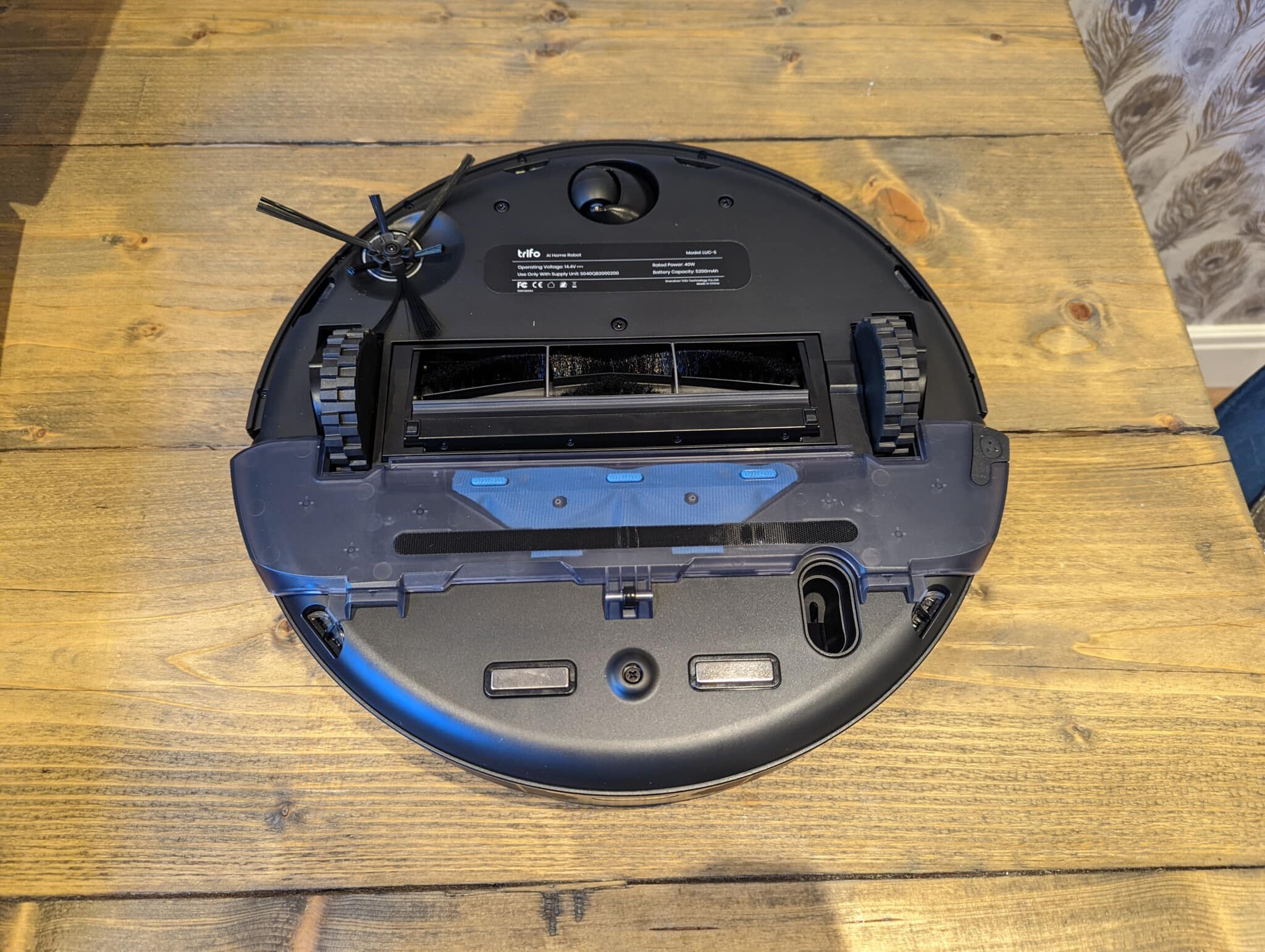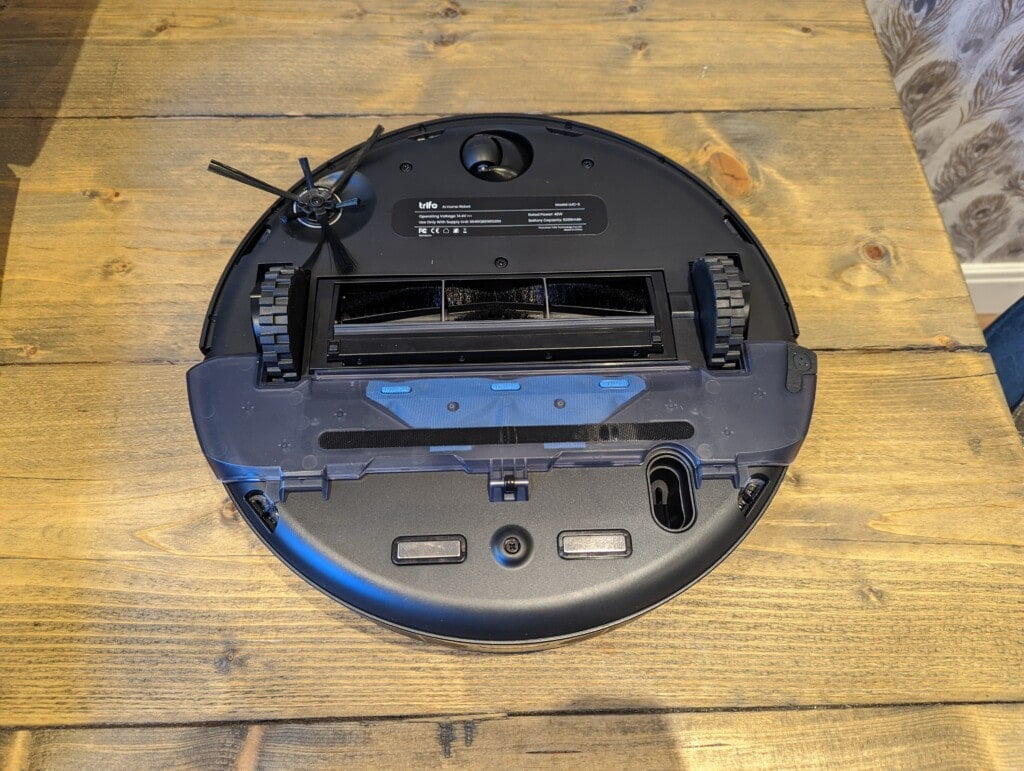 Then there is just one side sweeper logically, this seems like it will be less efficient at cleaning. I can't say I have noticed a significant difference between the quality of cleaning of this vacuum vs others, but I'd have been happier with two sweepers.
This is a very noisy vacuum, I set it to the normal setting on my schedule, and it was clearly audible through brick walls or when I was sat in my office upstairs. Dialling down the suction settings does allow it to run quietly when you are not in the same room.
Overall though, while it may not be the absolute best at cleaning, I have been happy enough with the performance. For me, the benefit of these smart mapping robot vacuums is the frequency of cleaning, which avoids the need for deep aggressive cleaning.
Price & Availability
Before price: £299.99
After price: £219.99 (£50code+10%off code)
Discount code: mightygadget
Start Date: 07/03/2022 8:00 GMT
End Date: 20/03/2022 23:59 GMT   
It is a good price at £300 but with the discount, it is a bargain!
Trifo also has the Lucy Pet with increased suction and a pet hair extractor.
Then there is the Emma and Emma Pet starting from $250, this has basic smart navigation where it will clean your property in efficient up and down lines, but it doesn't map the property in the same way as Lucy.
The Trifo Max is a more affordable alternative to Lucy at $450 and has a lower level of suction.
Overall
Trifo Lucy is an excellent robot vacuum with mapping features. The two main benefits I found from it were improved object detection for the random things around your home and the large dustbin. I want my robot vacuum to be as hands-off as possible, with me just forgetting it exists and it doing its job.
The overall vSLAM mapping and its ability to set no go zones aren't quite as good as LiDAR counterparts, but I have found that it doesn't make that much difference in overall performance.
The mopping functionality is sub-optimal, and I am not 100% convinced that the single side brush provides the best performance either. However, the overall cleaning performance has been good enough in comparison to other robots. All visual debris is cleared, and it has plenty of dust from the carpets.
[Original Post on 9 February 2022] Updated on 8th of March with new discount
Last update on 2022-05-28 / Affiliate links / Images from Amazon Product Advertising API