Arlo Pro 4 Review Rating
Summary
Overall, I'd say the Arlo Pro 4 is an excellent camera all around and is probably the best option on the market if you need a camera to work without a base station, for example, if you just want one camera.
Pros
Excellent video quality both during the day and night
Superb motion detection
Works without a base station
Cons
Premium price
Monthly subscription
The Arlo Pro 4 is the top of the range Arlo camera that works without the need of a base station and is one of the most advanced options on the market with 2K resolution, a spotlight for colour night recordings and AI object detection.
Sale
Specification
Image Sensor: 4 megapixels @ 2560×1440 resolution
Sensor Size: 1/3″
Spotlight: 6500K, 42Lux @1M
Lens Field of View: 160° diagonal
Video Features: Auto Track and Zoom, HDR, H.264 and H.265 Encoding
Motion Detection: Single Motion Detectors, 130 degree horizontal.

AI object detection via subscription

Microphone: Single Microphone Array with noise and echo cancellation
Audio: Full Duplex 2 way audio
Networking: 802.11 b/g/n – 2.4Ghz
Battery Life: 3-6 months
Operating Temperature: -20 to 45 degree Celsius
Cloud Recording Price & Options
You get 3 months of service free of charge. Then a single camera is £2.79PCM or unlimited cameras for £8.99. This gives you 30-days of video history.
There is also a 4K plan, which has a 60-days history, and this is £12.99 PCM.
There is a free plan, but you only get notifications, live streaming and none of the advanced motion detection.
Smart Hub Add-On Unit
I have not reviewed this but Arlo has a hybrid solution for their cameras, they work individually recording to the cloud or you can buy a £180 smart hub for it. This allows local video backup, but you'd still need a subscription for the smart features. It will also extend the battery life and range of the cameras.
It is worth noting that a lot of the Arlo documentation makes no mention of the Pro4 being supported for the Smart Hubs, but it works with the VMB4500, 4000, 4540, 5000.
In the Box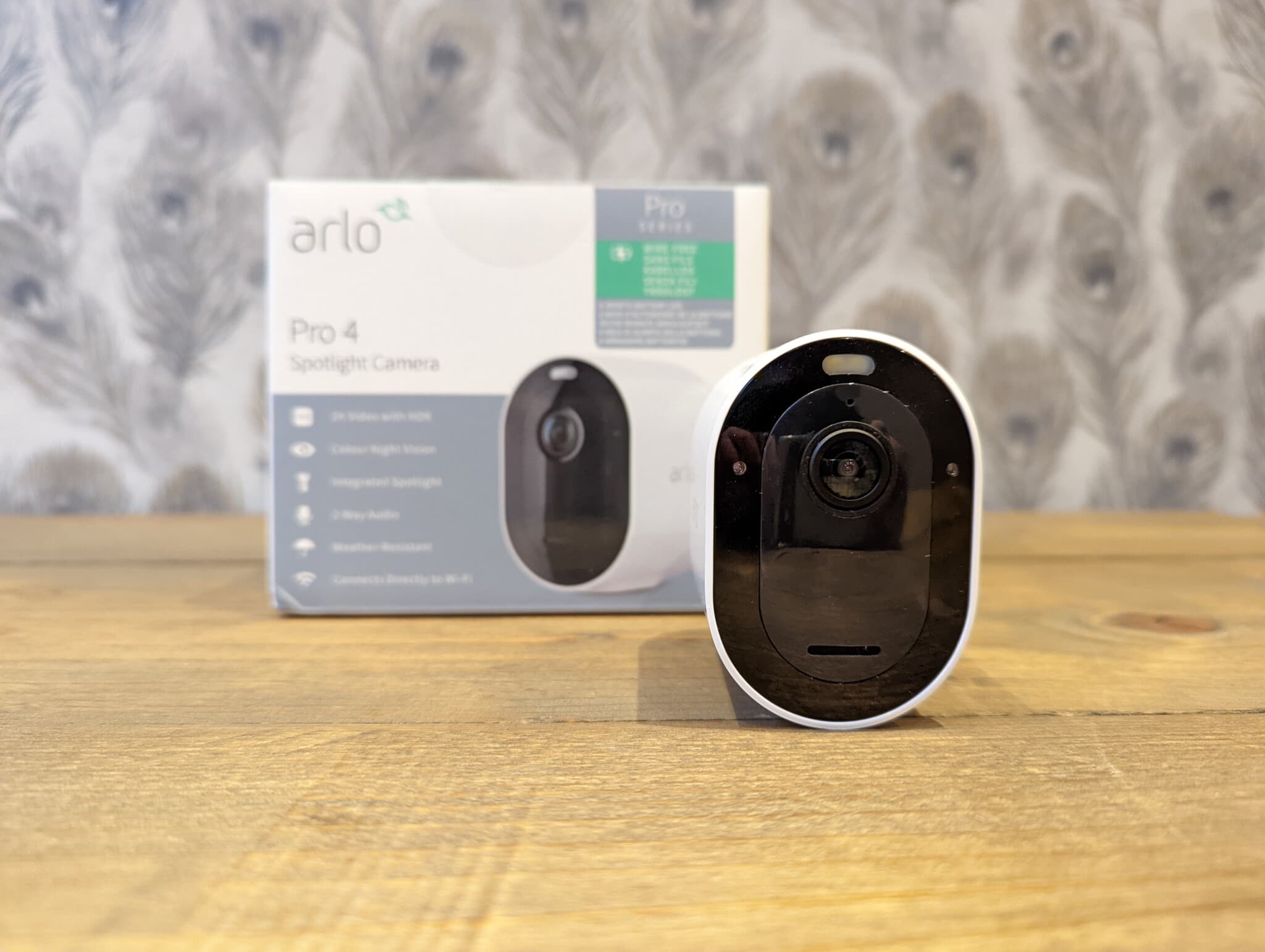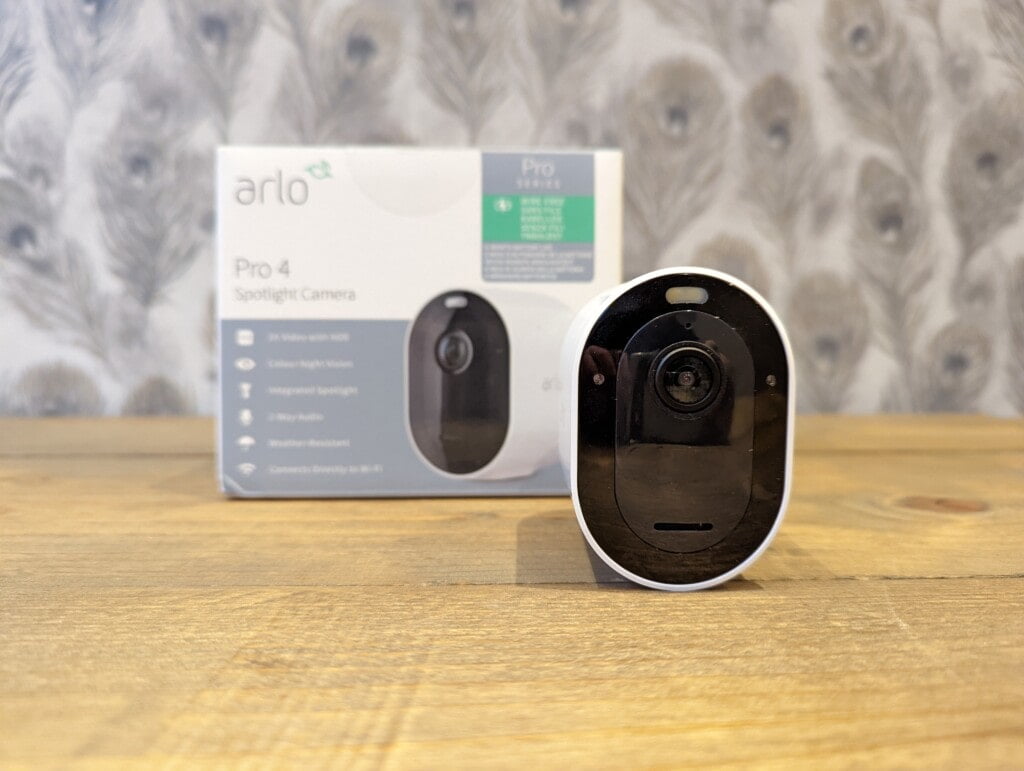 The two main things to point out about the Arlo is that it only includes a magnetic mount, not the screw in kind and it uses a removable battery.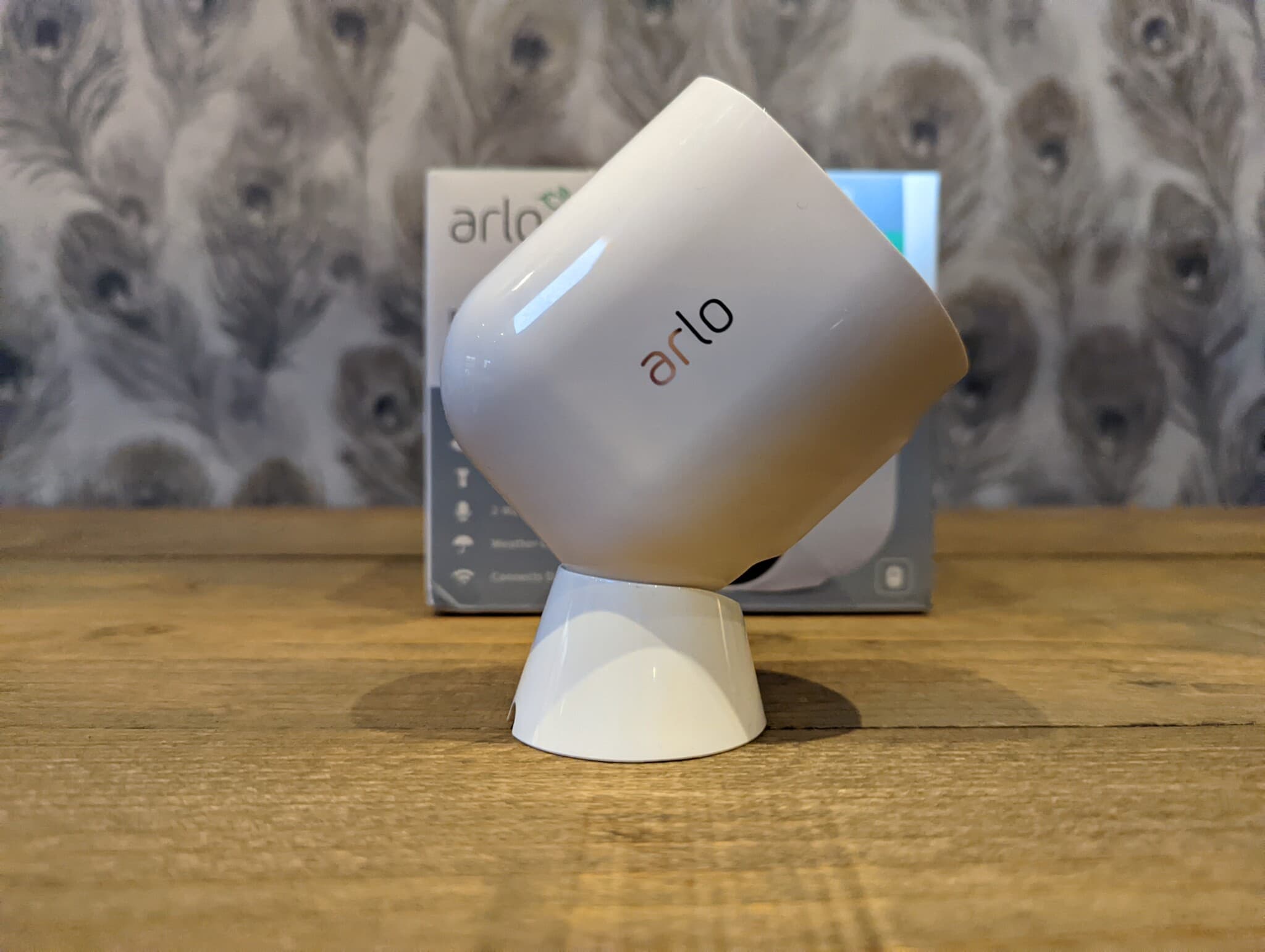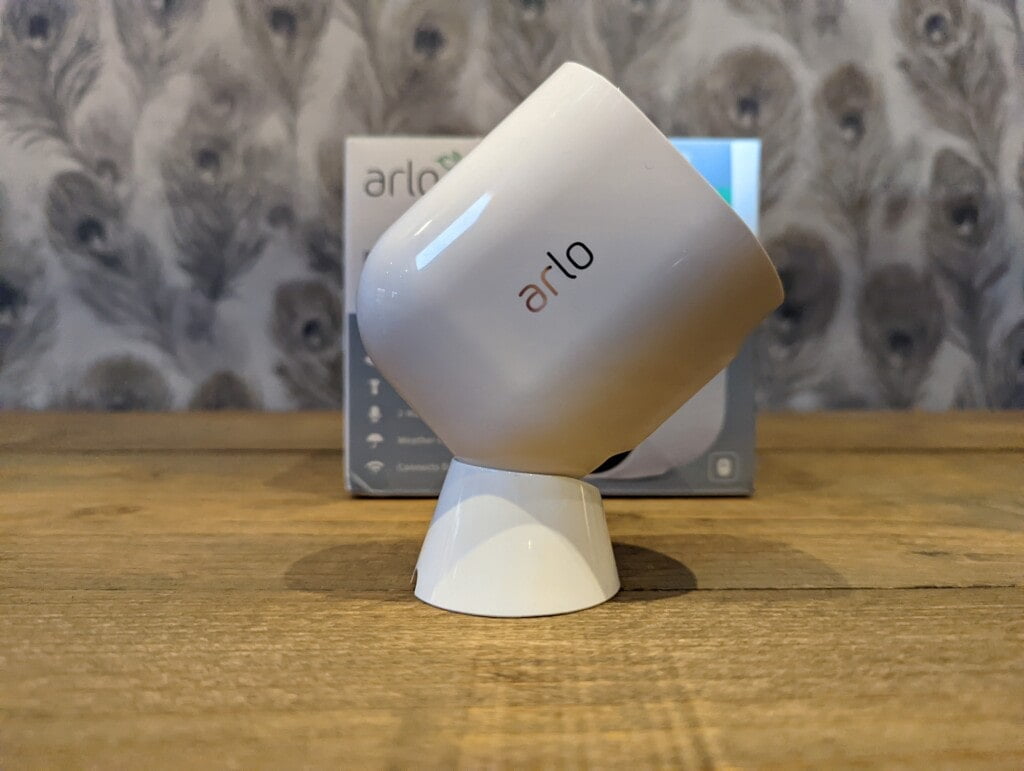 Arlo will also sell you an outdoor security mount
Annoyingly, unlike Ring, the battery is charged via a proprietory magnetic cable and needs to be mounted inside the camera to charge. While you can buy spare batteries (£40) you will also need an Arlo charge station to charge them for £50. This gives Arlo the advantage over Eufy, but it is a lot more expensive than Ring.
Set-Up
Like most smart home devices nowadays, getting everything up and running was easy.
Download the Arlo app and create an Arlo account.
Put the battery in the camera.
Connect to WiFi your 2.4Ghz WiFi
The included magnetic mount is excellent, but it is disappointing that Arlo don't inlude a proper outdoor mount. The camera uses a standard-sized thread, and I mounted my Arlo to an existing mount, so you don't need to buy the Arlo branded mount.
Arlo works with a variety of third-party services, including Alexa and Google Assistant. If you have the hub, you will also be able to extend the functionality with various Zigbee sensors.
Settings
Arlo has a wide range of settings giving you a greater level of customisation than many other brands.
You have device-specific settings for the camera then system-wide settings which are related to your subscription. For the system-wide settings, you can manage this via the app or web.
Under video settings, you have options to adjust the brightness, enable HDR, switch on auto zoom and tracking, adjust the spotlight settings and power management.
Interestingly, the camera can have three different viewing angles within the video mode. My best guess is that this is like the motion tracking where the image is just cropped.
Adjusting the spotlight settings could be worth it to improve your battery life. Apart from having it off or on, you can adjust the brightness and also change it, so it uses a flash or pulsate rather than being constantly on when someone is detected.
There is also a power management option that can extend the battery but sacrifice video quality or shorten it for better quality.
Under the activity zones section, you have up to 5 zones you can define, which is far more than I would ever need.
For the system settings, you have various object detection settings, including people, cars, animals and all other motion. Arlo will also detect packages. You can even have it notify you if the camera hears a smoke or CO2 alarm.
Video Quality
Day Time Footage
Day time footage is excellent, one of the best options I have used for battery-powered cameras.
Night Time Footage
Night time footage is excellent for a battery camera. Like many cameras now, this has a spotlight that enables colour recording. It doesn't provide enough illumination to make the quality as good as the day time footage, so there is some graininess to it, but overall it is good.
Motion Tracking
Arlo has a unique tracking feature that will zoom in and track any person or car it sees. This is not a PTZ camera like the Reolink RLC-523WA or Eufy Security Floodlight Cam 2. The images are cropped and use digital zoom. The end result is a significant reduction in the quality of footage.
It is a clever feature, but in my opinion, I think you are better off leaving the camera recording at full 2K.
Motion Detection
Most surveillance cameras launched recently have some sort of AI object detection that can identify people, cars, and other objects.
The accuracy of this motion detection varies between brands. I'd say Ezviz is the bottom of the pack (but still good), then Reolink, then Eufy and then I'd say Arlo seems to be a bit better. Netatmo deserves mention too; their cameras will match faces to names.
During my time with the camera, there have been no missed events that I am aware of and no false positives. Motion alerts are therefore kept down to a minimum and come through in a timely manner.
Battery Life
The battery will deplete at varying rates based on your settings and the environment the camera is in.
With my camera faced away from the street as much as possible and motion zones enabled with the optimised power management setting, I get about a 4% drop in battery per day. Hopefully, I will squeeze a full month out of it.
This is quite a bit lower than what Arlo advertise, but it is better than the Reolink Argus and Ezviz BC1, though not as good as the Eufy 2C.
Apart from tweaking the settings, you can also buy the smart hub, which should extend the battery considerably.
Price and Alternative Options
The Arlo Pro 4 is available as a one-camera system, pricing varies a lot, it was £190 at the time of writing but from for around 6-weeks prior it was £150-160
Similarly, the three-pack is currently £533, but it has been as low as £400.
At the moment, it actually works out cheaper to get the 3-pack Arlo Ultra2, which at the time of writing is just £520 on Amazon. The Ultra2 comes with a base station, it won't work without one, and it records at 4K with a 180-degree field of view vs 160-degrees.
The Eufy eufyCam 2C Pro is available as a 2-pack system with homebase for £300, then additional cameras are £130.
The Eufy Security SoloCam S40 is perhaps a bit closer related to the Arlo Pro 4, as it works independently and has a spotlight. It does have one advantage, an integrated solar panel to extend the battery life. This is £199. There is also the Eufy SoloCam E40 at £120, which has 2K footage but no spotlight.
Overall
The Arlo Pro 4 is a superb battery powered security camera with the best video quality of any battery camera I have used. The overall number of features also seem to be better than its main rival, Eufy.
However, with a three-pack costing over £500 then another £8.99, this is very much a premium-priced solution. But, I think the overall performance is good enough to justify the markup compared to Eufy. If you are looking for a multi-pack system and want to stick with the Arlo brand, you would probably be better off with the Arlo Ultra2.
Overall, I'd say the Arlo Pro 4 is the best option on the market if you need a camera to work without a base station, for example, if you just want one camera.
Last update on 2022-05-20 / Affiliate links / Images from Amazon Product Advertising API