Today Acer was one of the first companies to hold a press event for IFA. They announced lots of new products, so many it is hard to cover them all in individual posts while away at the event!
The below is an overview of the new launches.
Highlights of the launch include the new Swift models, both of which have been upgraded to 10th Gen Intel Core i7-1065G7 processor as well as featuring the discrete NVIDIA GeForce MX250 graphics, this makes them both superb all-round laptops. They have both also been upgraded to use Wi-Fi 6.
The Swift 5 remains the lightest laptop on the market at under 1KG, weighing just 990g and will start from 899-Euros. The Swift 3 will continue being one of the best laptops for bang for your buck, weighing at just 1.19kg this will start from 599-Euros.
For gamers, the Predator Triton 500 looks like an amazing option. It is slimmed down to just 17.9 mm (0.70 inches) thin and weighing 2.1 kg (4.6 pounds) and now features a 300 Hz 15.6-inch Full HD display!
I can't post about Acer without mentioning the ridiculous Predator Thronos, which has now been updated to the Predator Thronos Air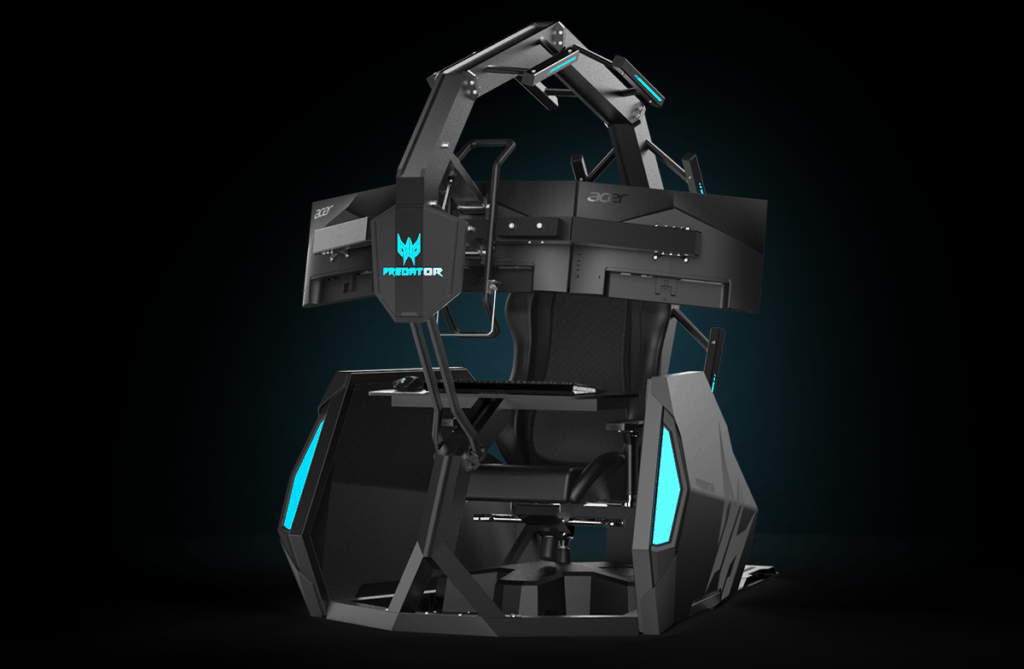 Predator Thronos Air
The Predator Thronos Air, Acer's newest gaming "chair," is a sleek gaming cave for hard core enthusiasts. The steel structure includes a chair, modular desk and monitor arm. It envelops the gamer in a comfortable and encasing cockpit, ideal for total and complete battle immersion. Teal blue lighting emits a soft cool glow, perfect for gaming.
The chair can be adjusted to various angles (130 degrees inside cabin and 180 degrees outside the cabin) for maximum comfort. It even includes a massage function, so gamers can relax after intense gaming sessions. The desk includes an adjustable keyboard and mouse tray, ensuring comfortable typing regardless of seating angle. A foot rest keeps feet elevated.
Capable of supporting up to three displays, the monitor arm can be manually raised and lowered with a handle conveniently located right below the middle monitor stand. In addition, a camera can be positioned right above the middle monitor, making it easy to live stream the action to YouTube, Twitch or Mixer.
To keep the area neat and organized, a platform for a powerful gaming PC is located behind the chair, and a cable management system neatly stores cords and wires out of the way. In addition, Acer offers numerous customization options and upgrades, such as a seat stabilizer to prevent the chair from moving around during game sessions, a cup holder, a headset holder, a USB hub, and a camera.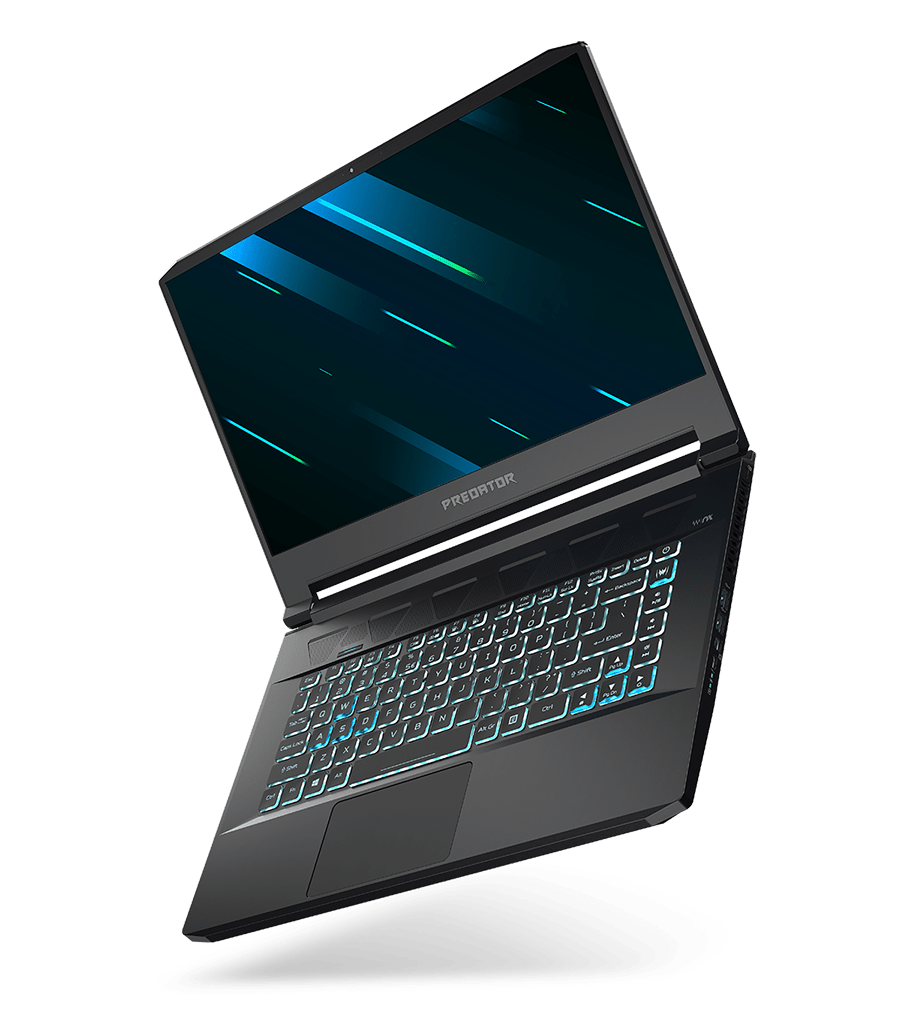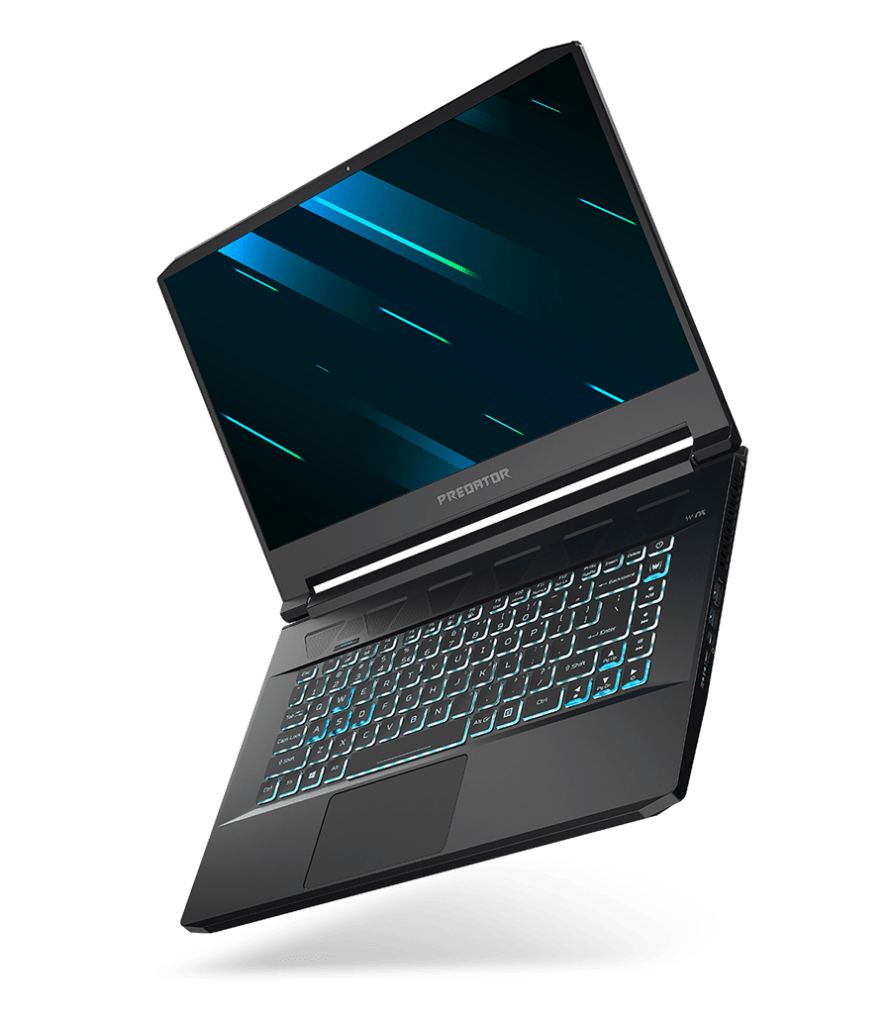 Acer Chromebooks
Acer's four new Chromebooks deliver responsive everyday performance for running multiple apps and for entertainment and productivity  
Two large-display models deliver immersive visuals and up to 12.5 hours of battery life. The largest model has a 15.6-inch display and a dedicated numeric keypad, making it great for handling number-intensive tasks like personal finance
Two super-portable 11.6-inch models provide up to 10 hours of battery life and fast on-the-go connections for productivity and fun in compact designs
All new Chromebooks feature fast Gigabit Wi-Fi and dual USB 3.1 Type-C ports for fast data transfers, charging and display output 
Acer ConceptD Pro Series
The new ConceptD Pro series notebooks featuring NVIDIA® Quadro® GPUs, are designed not only for professional creators but also AI engineers and software developers
Powerful 9th Gen Intel® Core™ processors and Windows 10 support compute-intensive workloads that demand performance, allowing creators to wait less and do more
At the top end, the ConceptD 9 Pro is an RTX Studio 17.3-inch notebook with a uniquely-hinged display that easily handles complex engineering simulations with up to NVIDIA® Quadro RTX™ 5000 GPUs with 16GB VRAM and 32 GB of DDR4 memory
At 15.6 inches, the ConceptD 7 Pro is an RTX Studio notebook designed for power on-the-go with up to NVIDIA Quadro RTX 5000 GPUs with 16GB VRAM and 32 GB of DDR4 memory
ConceptD 5 Pro is an RTX Studio notebook aimed at users in the advanced creative space with 15- and 17-inch options and NVIDIA Quadro RTX 3000 GPUs
ConceptD 3 Pro  is a notebook for creators like photographers and graphic designers featuring NVIDIA Quadro T1000 GPUs and a PANTONE-Validated display
·The new ConceptD CM2241W is a stylish desktop monitor featuring an attractive slim bezel, excellent color accuracy, and a wide color gamut  
Acer Nitro XV3 Monitors
The new Acer Nitro XV3 gaming series offers an unparalleled gaming experience; NVIDIA® G-SYNC™ compatible, extremely-high refresh rates and ultra-high resolution for more realistic and accurate images 
The new Nitro XV273U S delivers detailed gameplay with WQHD resolution (2560×1440), rapid 144 Hz/overclock to 165 Hz refresh rate 
The new Nitro XV273 X monitor features Full HD resolution (1920×1080) with up to 240 Hz high frame rate, DisplayHDR™ 400 and IPS native 5ms and G2G 1ms (0.1ms min.) response time 
Acer Predator Triton 300
Acer's expanding line of thin Windows 10 gaming notebooks and immersive gaming chairs gives gamers more options than ever
The lightweight Predator Triton 300 combines powerful technology and mainstream features in a slim design at mainstream price points
The Predator Triton 500 is now available with a blazing-fast 300 Hz display
The Predator Thronos Air, Acer's newest gaming chair, is the perfect gaming cave for hardcore enthusiasts. Modular, adjustable and customizable, it gives gamers maximum immersion for their favourite games
Acer Projectors
The Acer C250i is a Full HD portable LED projector designed to project smartphone content anywhere, anytime
Its unique and elegant cylindrical design with multiple planes allows it to broadcast imagery on walls, ceilings or any surface without a stands or tripod
It supports the world's first[ii] auto-portrait mode so settings don't require adjustment to mirror the smartphone's screen orientation without black bars on the side
The portable LED projector needs no time warming up and features an LED module that lasts up to 30,000 hours
For medium-sized exhibition venues or meeting rooms, Acer also announced the PL1 series 4,000 lumen laser projectors
Acer Swift and Aspire C
The latest generation of the Acer Swift 5 features new 10th Gen Intel® Core® processors with Intel Iris® Plus graphics, a new discrete NVIDIA® GeForce® MX250 graphics option, and weighs just 990 grams 
The Swift 3 packs a lot of power into its 15.95 mm thin chassis with up to a 10th Gen Intel Core i7-1065G7 processor and an optional discrete NVIDIA GeForce MX250 GPU, keeping everything running at its optimum speed
The 6.8 mm ultra-thin Acer Aspire C all-in-one with its space saving and elegant design, comes with stylish looks and plenty of practical features for students and the whole family to enjoy
Acer Planet9: A Next-Gen Esports Platform
Planet9 is an open community that allows gamers to build their team, train for excellence, and challenge for victory