ACER Swift 3 15.6" with AMD Ryzen 5 2500U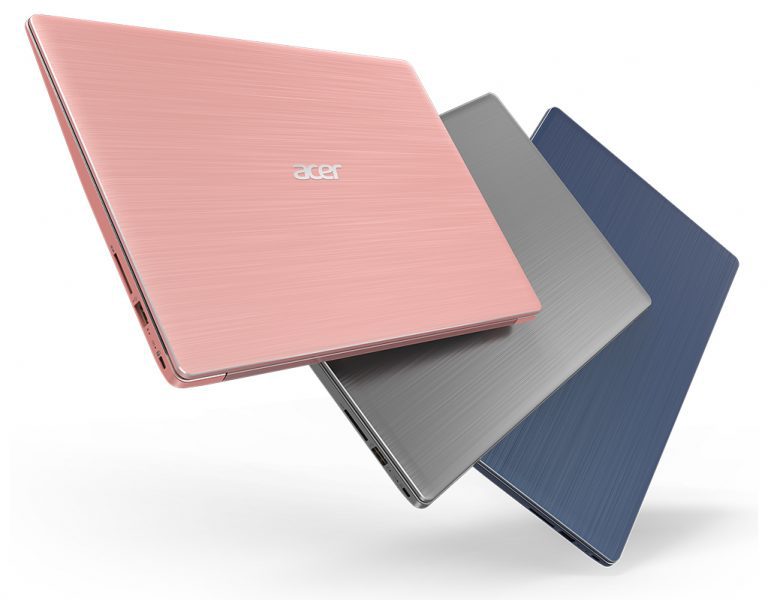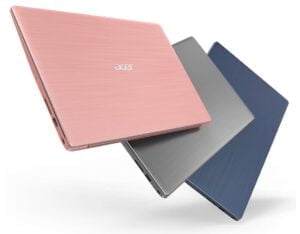 Product Name: ACER Swift 3 15.6" with AMD Ryzen 5 2500U
Offer price: 799
Currency: GBP
Availability: InStock
Build & Design -

90%

Performance -

85%

Price -

75%
AMD took the PC world by storm last year with the release of their Ryzen based chips. In particular, the R5 1600 and R7 1700 became the recommended CPUs for PC builders. AMD is now hoping for repeated success in the laptop market with the Ryzen 5 2500U and Ryzen 7 2700U.
I am lucky enough to be one of the first people in the UK to get a review sample of the Acer Swift 3 with the Ryzen 5 2500U, so I can see how it stacks up against its Intel equivalents.
The new AMD based Swift 3 is now available on Currys for £799, and you can get 10% off the marked price at the moment. This places it £100 above the i5-8250U based Swift 3 or the same price as the i5-8250U mode that has a dedicated Nvidia MX150 GPU.
The Swift 3 series itself, is a relatively unexciting range in a world of ultra-portables and gaming laptops. However, it is probably one of the laptops with the most universal appeal; this is the kind of laptop families buy as their primary PC as it is both affordable and quite powerful.
Specification
With the Intel-based Swift 3 you get a 14" display, but for the updated model that has been increased to 15.6" which has also increased the weight from 1.6kg to 2.1kg. I am unsure of the exact reason for this, though I would guess with the Ryzen being so new Acer wanted some extra space to improve thermals and avoid any other issues of a new CPU platform.
The exact specification of the Swift 3 includes:
| | |
| --- | --- |
| Operating system | Windows 10 (64-bit) |
| Processor | AMD Ryzen 5 2500U Processor 2.0 GHz / 3.6 GHz (Turbo Core speed) 2 MB cache |
| RAM | 8 GB DDR4 |
| Storage | 256 GB SSD |
| Screen size | 15.6" |
| Screen type | LED |
| Resolution | 1920 x 1080 |
| Screen features | Corning Gorilla Glass |
| Wireless | Dual Band Wireless-AC - 2x2 |
| Ethernet | No |
| Bluetooth | Bluetooth 4.0 |
| USB | USB Type-C x 1, USB 3.1 x 1, USB 3.1 x 1, USB 3.0 x 2, USB 2.0 x 1 |
| Video interface | HDMI x 1 |
| Audio interface | 3.5 mm jack |
| Sound | Acer TrueHarmony |
| Speakers | Stereo speakers |
| Mouse / trackpad | Multi-touch trackpad |
| Keyboard | Full-size island-style backlit keyboard with numeric keypad |
| Battery type | 4-cell Lithium-ion |
| Battery life | Up to 6 hours |
| Dimensions | 18.9 x 370.5 x 255 mm (H x W x D) |
| Weight | 2.1 kg |
The Intel equivalent has almost the same specification, except the battery life on that is rated at 10 hours vs 6.
Design and Build
The Swift 3 is built very well, Acer uses a grey metal casing which is done in brushed metal. This gives the laptop a very sturdy build, and it is much better than the all plastic Samsung I use on a daily basis.
While I find the 15.6" format quite large to my tastes, the laptop itself feels thin and light to hold. Even though this is not designed to be an ultra-portable, it is only .9KG heavier than the XPS 13 2-in-1 which costs more than double the price of this. It is not something you would want to be carrying around all day on a regular basis, but the occasional commute should be quite comfortable.
As there is more surface area due to the screen, Acer has managed to include a full keyboard with number pad. The keys are chicklet style, and you get backlighting on the leys. I found working on it for a day to be quite pleasant with no apparent flaws to the keyboard design.
The touchpad is off centre and of a decent size. I found it to be very accurate and responsive. Gestures with up to four fingers can be configured with Windows 10 onboard devices.
Along with the keyboard and touchpad, you get a fingerprint reader, which is set up when you first boot up the laptop. It is a nice addition, but I did sometimes have issues getting it to recognise my fingerprint, I think, if there is even a little bit of dampness on your finger it can mess things up. When it does work the login is very quick, though I personally just stick to the pin entry as it is fast enough.
The 1920 x 1080 display is beautiful, but it does use a reflective coating and you can see the reflectiveness in my photos. I didn't find it to be a huge issue, with it being a laptop, it is easy to move the display if you have reflection issues, I find it is desktops that reflective coatings cause significant problems. Reflective displays generally offer better colour accuracy than a matte finish, and this would appear to hold true with the Acer finding the colours to be vibrant and bright. With it being an IPS based display you get wide viewing angles too, but I don't find this very important for a laptop.
You get plenty of connections with a total of 5 USB ports, 1 being a type-C USB. Unfortunately, there is no ethernet port, but this seems to be the trend nowadays as laptops have become slimmer. With USB3.0+ it has been easy to buy a hub with included ethernet if this is something you really need. Wireless connectivity is handled by a MIMO 2×2 module Atheros/Qualcomm QCA6174 with Bluetooth 4.2 which should be more than adequate for most household needs.
Performance
The most important aspect of this review is the performance, can it keep up with Intel or not? I don't traditionally benchmark laptops, by the time I review them the specific CPU and GPU has been tested by hundreds of blogs across dozens of laptop brands so it a bit pointless regurgitating the same info.
However, in this case, I was curious to see how well it does against Intel, so ran some basic benchmarks to see how it did.
Using PassMark the Acer Swift 3 received an overall rating of 2726, with a CPU mark of 7388, and a 3D graphics mark of 1601.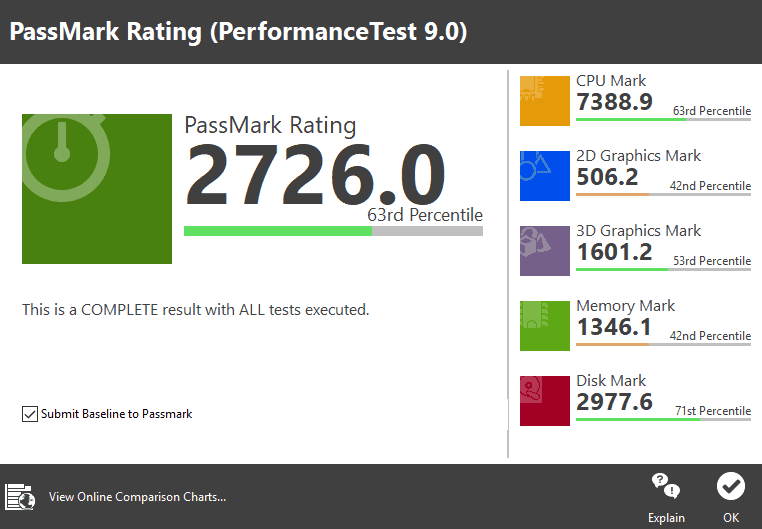 In my case, this put it a little bit behind the average 7622 CPU mark for the i5-8250U, though the average Ryzen 5 2500U result is 7859 putting it a little bit ahead. In real-world situations, I don't think anyone would notice the difference.
The next model up for the Intel is the i7-8650U which achieves a CPU mark of 9275 comfortably outperforming the other 2.
The 3D Graphics mark was 1601.2 putting it well ahead of the 936-average achieved by the Intel HD 620. However, it falls behind 2012 produced by the GeForce MX150 which is found on some of the Swift 3 variations.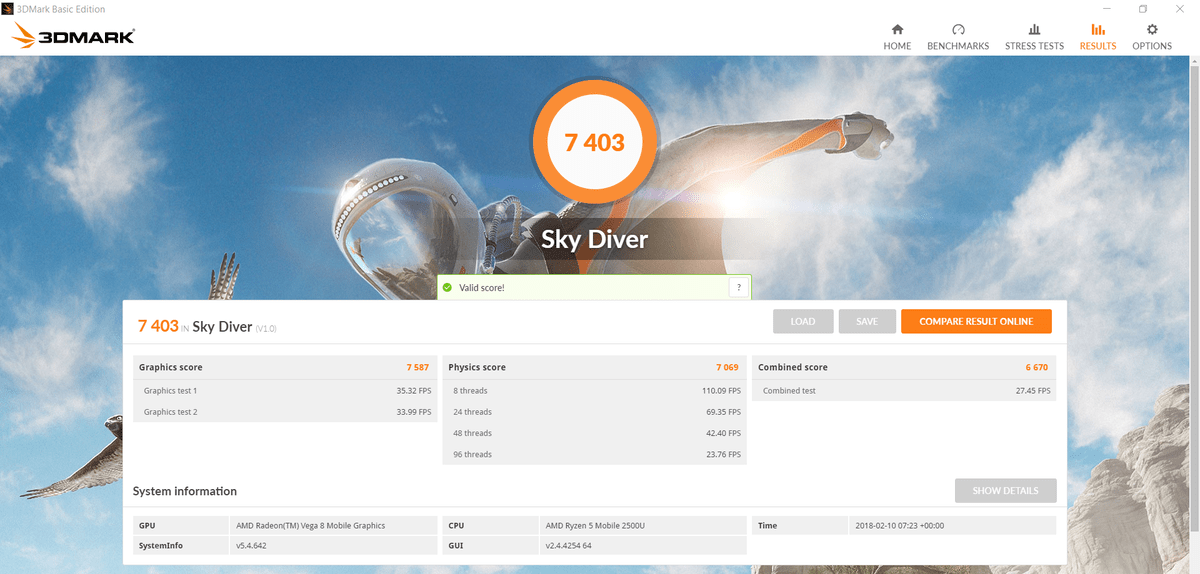 Testing the GPU a little further I used 3DMark to carry out a couple of tests. In Sky Diver, it achieved a result of 7403 in comparison the highest Skydiver result for the Intel 620 is 4416. The highest result for the NVIDIA GeForce MX150 that also uses an Intel Core i5-8250U Processor comes in a 11003 with most results being over 10k.
So overall, the Ryzen 5 2500U with AMD Radeon RX Vega 8 will sit somewhere between the Intel Core i5-8250U with Intel 620 graphics and the same CPU with a dedicated NVIDIA GeForce MX150 GPU. The integrated GPU of the AMD only has access to 256 MB of DDR4 main memory which is why it will struggle to perform as well as a dedicated card.
During my testing the Acer does have quite a loud fan noise, I was able to notice it when it was benchmarking on a table a couple of metres away from me. Though the fan does only spin up loudly during heavy stress and I found ti to be very quiet during general use.
The Swift 3 uses a 256GB SATA based M2 SSD which according to Speccy is a Hitachi/Hynix HFS256G39TND which is rated at 540 MB/s / 250 MB/s read/write. Far from the fastest SSD on the market but it is more than adequate for most users scenarios. During my testing I achieved 512/254 MB/s read/write. The important thing is that 256GB is large enough for the laptop to be functional.
Day to day use
Based on the above results, it will come no surprise that the Swift 3 can handle daily work tasks with no issues whatsoever. I used it for a couple of days work and never had any problems with laggyness or slow down. My Chrome install is massively bloated with extensions and I am a serial tab opener, this often causes problems with low-end laptops, but this laptop could handle as many tabs as I would throw at it.
During my use, I also had to edit several PSDs and Photoshop encountered no issues. Though I am no graphic designer and these were quite small PSDs.
It also handles all media file playback well with VLC and downloading a 4K sample played without stutter.
Gaming
Laptops notoriously suffer from poor gaming performance; they just can't compete with a dedicated desktop PC card. Things have improved in recent years, and the Acer Swift 3 can handle quite a lot of games in low settings. If you are a serious gamer, I wouldn't recommend this as your main laptop/PC but if you need a gaming fix while travelling it can cope with selected games.
During my testing, I played GTAV, Deus Ex Mankind Divided, Civilization VI, XCOM 2, SIMS 4 and The Witcher 3.
Except for Deus Ex all the games were playable on low settings. Though XCOM did stay around the 30FPS range, thankfully you don't require quick responses in that game.
GTAV, Civilisation and Sims 4 could all have their graphics bumped up to medium while still being comfortably above 30FPS. In low settings they all achieved 60+FPS.
Battery Life
Within a day of receiving the laptop I was asked to upgrade the firmware to improve the battery life performance, so there are apparently some tweaks happening with the battery performance.
The Swift 3 is rated at 6 hours, which is noticeably smaller than the 10 hours the Intel equivalent is rated at.
In practice, during my office day, I got more than 5 hours but had to plug it in before the 6-hour mark. This was during moderate usage, not gaming, with brightness around 25%. So you will probably struggle to get a full days work with no power, but it should be adequate for most train commutes or plane journeys.
Software
The Acer does come with some software pre-installed, not so much that I would class anything as bloatware. The main noticeable installation is Norton which then also tries to install 2 extensions into Chrome. It is mildly annoying but the extensions are easy to block, and the application isn't too bothersome after that.
There is also a recommended software option, but this appears to be a list of Windows Store apps that Acer is trying to push. It is not forceful in its approach so you can easily ignore it.
Overall
AMD has produced another great chip, it manages to sit in between the Intel Core i5-8250U with integrated graphics, and the same CPU but with an NVIDIA GeForce MX150. It is a dependable workhorse, and I can see this being used on a lot of mid-range laptops over the next year.
Regarding the Acer Swift 3, the laptop itself is well built, and both slim and light for its size. I can't think of any serious negatives about it, nothing, in particular, annoyed me about it.
It is the perfect laptop for your average user that primarily uses a laptop at home over a desktop and just uses it for general office work and casual gaming. It is priced accordingly based on this use too, being far cheaper than well-specced ultra-portables or dedicated gaming laptops.
The main problem for this laptop, and I suspect the mobile Ryzen platform as a whole is pricing. At the time of writing you can pick this up for £799 before a 10% discount, but the Intel i5-8250U version with integrated graphics is £699 or the MX150 version is the £799.
It is not a huge difference but assuming the benchmarks posted above are accurate the MX150 would be the better buy, providing superior GPU performance for the same price. If the AMD 2500U version were priced £50-100 cheaper, then that would be the more logical purchase of the three options. Acer will probably not want to price this too aggressively as it would cannibalise the sales of the other 2 options. If you want to do any gaming at all, I would be inclined to rule of the cheaper Intel version.
Please note I was paid to do this review, but all the results are honest and the opinions are my own.