Thermaltake TT Premium X1 RGB Cherry MX Blue Keyboard Review
Product Name: Thermaltake TT Premium X1 RGB Cherry MX Blue Keyboard
Offer price: 99.99
Currency: GBP
Availability: InStock
Design and Build -

80%

Features -

90%

Price -

85%
I have mainly reviewed cases for Thermaltake in the past year, but they have a sub-brand called TT Premium which focusses on gaming peripherals.
The TT Premium X1 RGB gaming keyboard is a feature-rich mechanical keyboard with Cherry MX Blue switches and is currently available on Scan, Overclockers and Novatech for just £99. For some reason, Amazon has it as £161.23.
If you are not a fan of Cherry MX Blue, there is also a Silver switch option which has a lower attenuation and can be better for fast-paced FPS games.
The TT Premium X1 RGB Mechanical Keyboard features an extended 104 key design layout, along with dedicated media keys, full software controllable RGB, as well as USB and 3.5mm passthrough. The main thing it lacks compared to some of the other keyboards I have reviewed recently such as the Acer Predator Aethon 500 is dedicated programmable macro keys.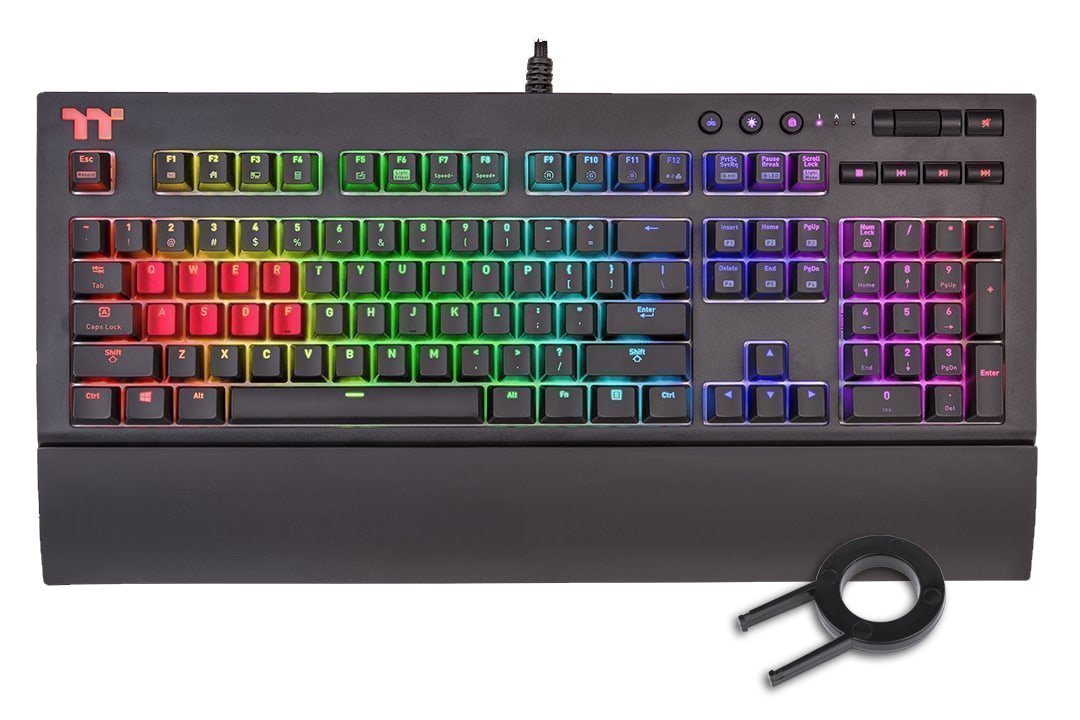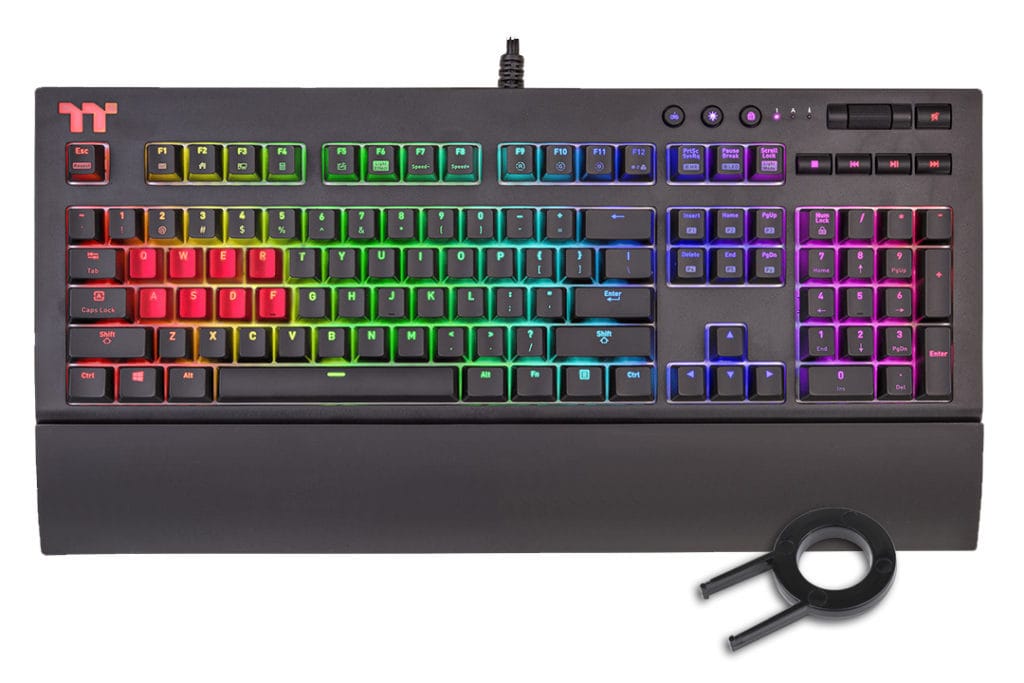 Design and Build
Sitting at over 1.5kg this is not quite as weighty as the Predator Aethon 500 but there is certainly a decent amount of heft to it. Thankfully there are no unusual quirks to the design layout, unlike the Acer.
While there is a lot of heft to the keyboard, there is also a lot of plastic used in the construction and the outer shell is all plastic rather than an aluminium frame. The keyboard itself is quite thick sitting reasonably high up but the keys clear the plastic housing of the base by a reasonable margin which allows the RGB LEDs to shine underneath quite brightly. In comparison, some keyboards such as the Logitech G810 Orion Spectrum have keys sitting flush with the housing giving off a more subdued lighting, or the HyperX Alloy FPS RGB where there is no lip between the base and the keys, so all the LEDs are extremely visible and bright.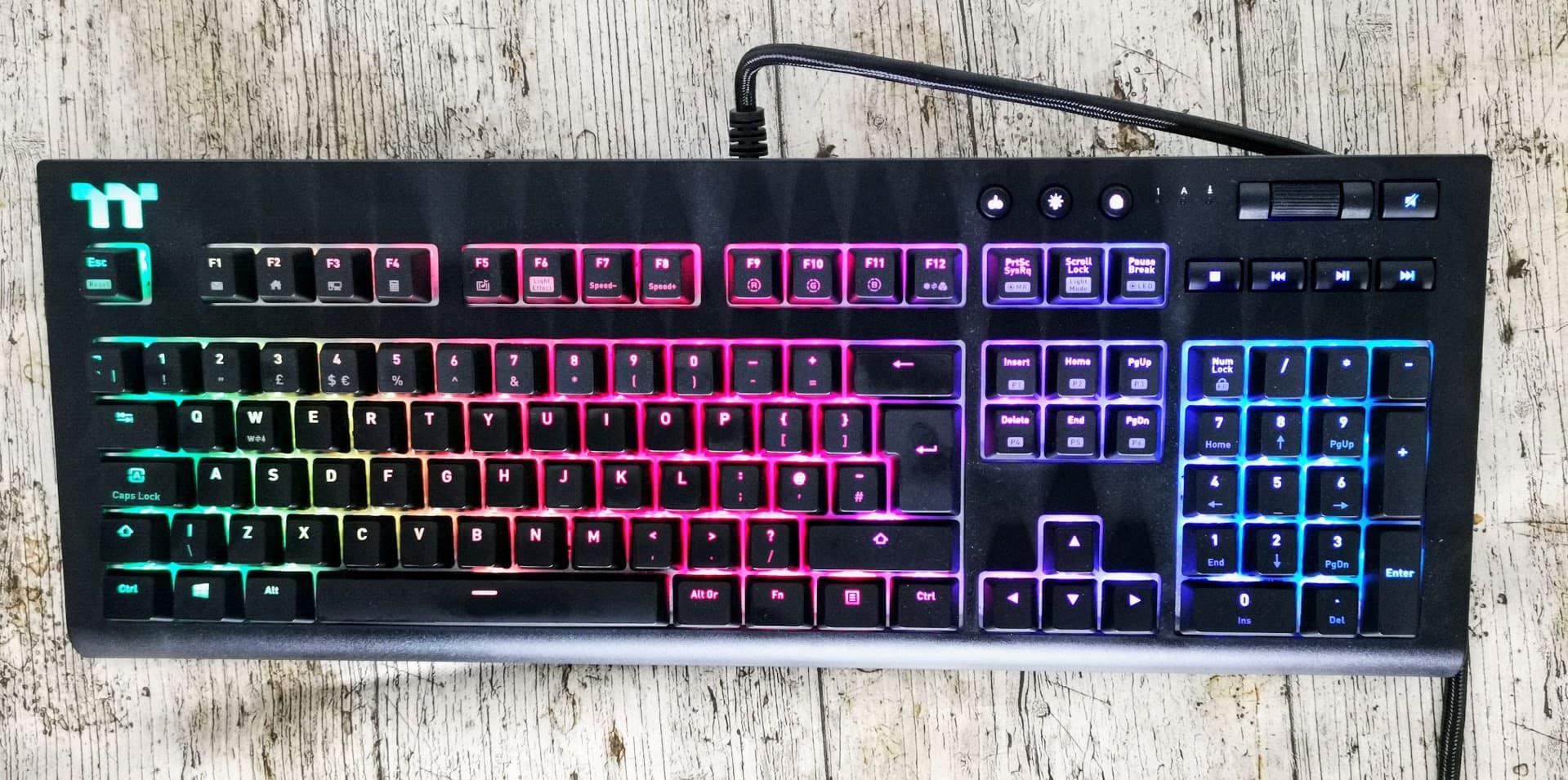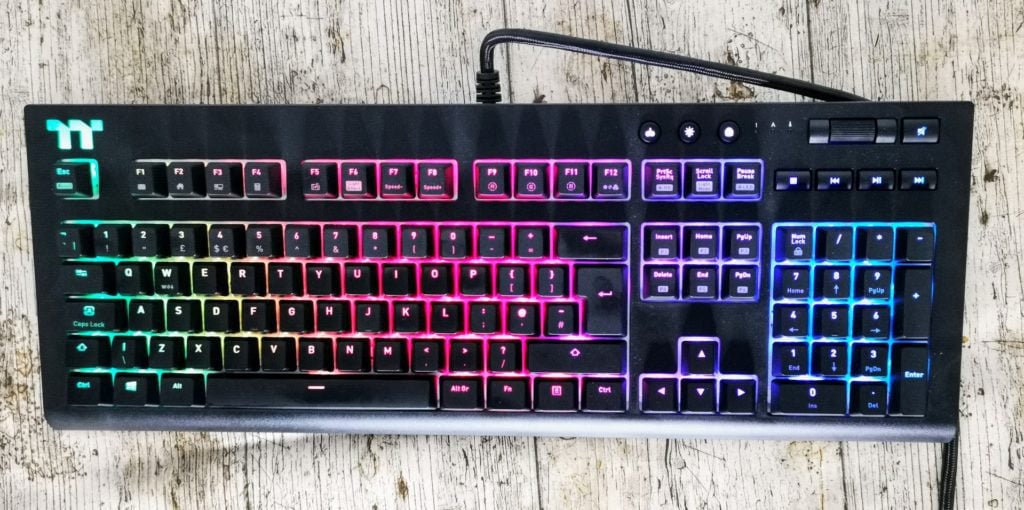 You get proper media keys with pause, skip, stop mute and a volume controller. This is a feature I use a lot on keyboards, so I am glad it is included here. There are also additional buttons such as windows key lock, game mode and backlighting levels.
All the keys are black, but Thermaltake also includes eight optional red keycaps which can be swapped using the included keycap puller. You can also tweak the comfort with an included magnetic wrist rest.
Lastly, the keyboard also features USB and audio passthrough allowing you to connect your mouse or another device into the back of the keyboard.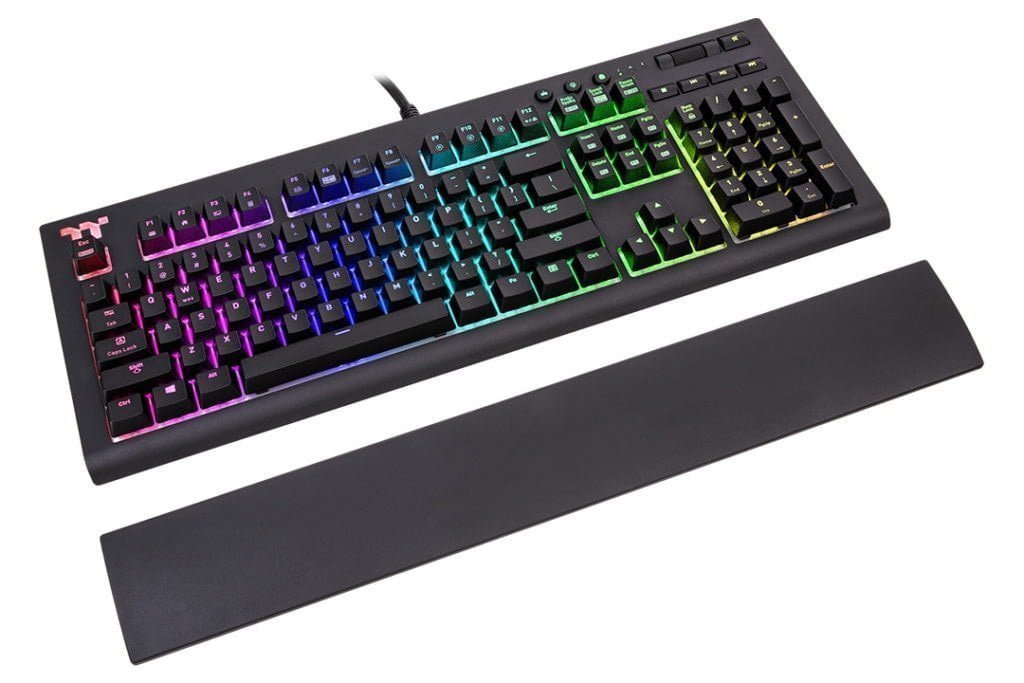 Initial impressions are very impressive, with me only reviewing the Acer a few days ago there is a lot to like here. The build quality doesn't feel as good but the overall features are better and more importantly there is a considerable difference in price, with this technically being half the price of the Acer.
Keys and Typing
The model I was sent includes Cherry MX Blue switches, I have talked about these several times in my reviews. Blue switches are favoured by typists due to their tactile bump and audible click, but can be less suitable for gaming as the weighting is relatively high – 50 cN – and it is a bit harder to double tap, as the release point is above the actuation point. Blue switches are noticeably louder than other mechanical switches
Alternatively, you can buy this keyboard with Speed Silver switches which are a shortened version of the MX Red switch, actuating at 1.2mm instead of 2mm and with a total travel of 3.4mm compared to 4mm.
As someone that spends most of the day writing or programming, using this keyboard is a pleasure to use, it has excellent tactile feedback, and typing speed is very quick. If you type a lot you may find Speed switches a little too sensitive, gently resting a finger on a key will often trigger the switch, which happens quite often when I use my HyperX in an office.
Similarly, it is suitable for my style of gaming, I not a competitive or even a very good gamer, so I don't need the fastest switches on the market.
As always, I wouldn't recommend a blue switch keyboard if you intend on using it in an office environment, it is a little too noisy. The silvers should be fine (just a bit sensitive).
Software
The software has an extensive level of settings to tweak to get your keyboard working and looking to your liking. However, I think Thermaltake need to hire some new graphic designers as both the X1 RGB software this keyboard uses and the TT RGB plus software used by the fan hubs looks dated.  Some of the UI is just poor as the main colours used for the UI is black, red and dark grey, and it can be a little difficult to read.
Ignoring the design issues, which is only a minor gripe, you can do pretty much anything you want within the software, there are multiple lighting profiles with plenty of presents which you can then further customise yourself. You can manually set up colour profiles as well as record macros for gaming and set the delay time for key presses.
Under the lighting section I particularly like the option to sync the lights with the system temperature, by default it is dark blue for under 40-degrees, but then goes red at 64 and pink and 70. This can then be synced with the TT RGB software so the fans replicate the same colour.
The TT Premium X1 is also designed to work with a mobile app that allows for customisation and control via your Apple smartphone. Not only can you adjust lighting colours, effects, speed, etc., you can also swap profiles with ease. Thermaltake boasts of hands-free operation, but you must be in the app and in the voice-enabled section to use this function.
The app also features a virtual game controller mode allowing you to play your favourite games over a wireless connection via your system and customised X1 controlled setup. I honestly can't see why you would want or need this, I imagine someone spending £100 on a gaming keyboard would also have a controller if they play any games that need it. It is an additional free feature though, whether you use it or not.
Conclusion
With this currently being priced at £99 it sits somewhere in the lower half of mechanical keyboard pricing which makes this an attractive proposition to start with. For that money, you are getting an extremely impressive number of features that you would typically expect on a keyboard costing 50% more.
Cherry MX keys, additional keycaps, a wrist guard, USB passthrough and media keys and a good level of build quality easily justify the price of this keyboard.
While the software doesn't look amazing, it is easy enough to use and has an extensive level of customisations which also includes the ability to sync the RGB to Thermaltake TT RGB plus fans