Logitech G810 Orion Spectrum RGB Mechanical Gaming Keyboard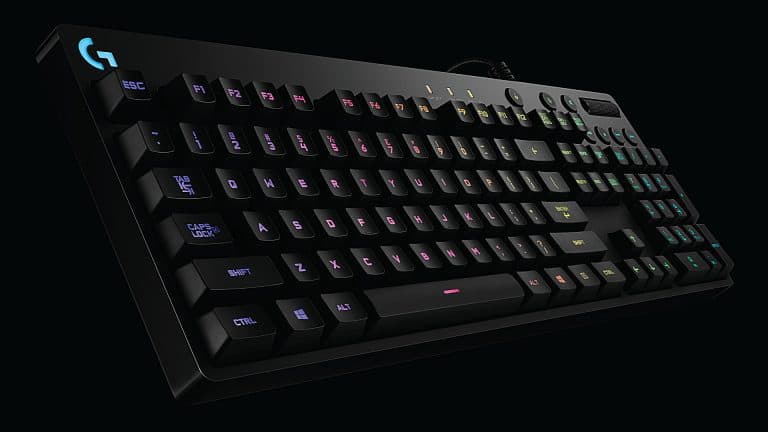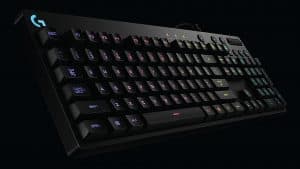 Product Name: Logitech G810 Orion Spectrum RGB Mechanical Gaming Keyboard
Offer price: 120
Currency: gbp
Price -

85%

Build -

90%

Features -

85%

Performance -

95%
The Logitech G810 is the bigger brother of the superb G610 I reviewed back in 2016. Currently priced at £121 on Amazon it is around £20 more than the G610.
For the extra £20 you get two substantial improvements, firstly there is the full RGB with each key being able to produce 16.8 million colours.
Then there are the Romer-G mechanical switches, which have been developed by Logitech, especially for gamers. The switch itself has a spring inside, dual contacts to register the actuation, and a landing pad to soften the bottoming out of a keypress.
The design has a shorter travel distance, a higher actuation point of just 1.5 mm, and an actuation force of 45 grams. Logitech claims that the keys are therefore 25 percent faster, which should help responsiveness in gaming.
Logitech guarantees that the Romer-G switches will live for 70 million presses, which is 40 percent more than the 50 million keypresses that the Cherry MX keys are good for.
The aesthetic of the two keyboards is pretty much identical; they have the same dimensions, same weight and same key layout.

Both keyboards are matte black, but the G810 has a sort of velvety feel, which feels more pleasant when typing.
Typing Performance
When it comes to using the keyboard, if you have previously used a Cherry MX Brown keyboard, you will be surprised about the noise and tactile feedback of these. They are far less clicky both in feel and sound then the MX Brown, they feel like the keys are dampened. If you are particularly fond of the traditional typing feel and noise, this may not be for you. However, once you get over the reduced noise, the typing experience is very pleasant, the responsiveness of the keys is fantastic, and typing on the G810 feels very natural. I did feel like I was typing faster on it, but this is most likely just in my head.
I am not a serious gamer, but I found the keyboard to perform well during faced paced games. I wouldn't go as far as saying it improved my performance, but it certainly didn't hinder it.
RGB & Software
I am not a massive fan of RGB in general; I don't see the point usually. With the G810 though, the implementation is very nice, the keys offer vibrant colours that don't glare, nor did I find them very distracting. I spent more time than I care to admit playing with the different RGB settings within the Logitech software, and did find it quite fun.
The default effect profiles are good; you have a choice of things like breathing, star effect and colour wave. The other lighting modes offer even more variation and customisation. There is a "Your Effects" section that has a large number of default effects such as datafall or a very colourful BleepBloop where every key lights up a different colour at the same time and switches around. You can then create your own effects, being a subtle or as crazy as you would like. This is a good idea for gamers that have a particular aesthetic, or maybe even competitive gamers could set up an effect to match their brand.
Then you have two more modes, one is for freestyle where you can assign each key colour, and the other, which could be a useful mode, is called zones. The default format for this mode is to light up the WASD keys red, numbers yellow, function keys purple, windows keys green. This would be a useful mode for gaming in the dark without having lighting made overly dramatic.
The software Logitech provide is also excellent, it is straightforward to use, it will automatically scan your PC for games so you can set up gaming profiles. Function keys can be assigned to commands for different profiles. You can also disable keys when in gaming mode, so the Windows key is disabled for example.
The software is universal across Logitech devices, so switching between my old Logitech board and this one required no additional software. My mouse is also managed within this application.
Overall
The is a fantastic keyboard, it offers the same simple design as the G610 but adds an excellent quality RGB lighting. The software is very user-friendly, and if you already use a Logitech mouse, I would say it makes sense to stick with them to keep everything in one place.
It is priced comparatively too, coming in around the same price as the cheapest Cherry MX RGB boards from Corsair and Coolermaster.
If you are particularly fond of the Cherry MX experience, then you may not be as keen on this board. I personally liked it, the sound isn't as nice, but it is quieter, and I found my performance as good if not better than that of the Cherry MX Brown.
The only omission I would have liked to see is USB passthrough, but it is not a significant concern.