Acer Windows Mixed Reality Headset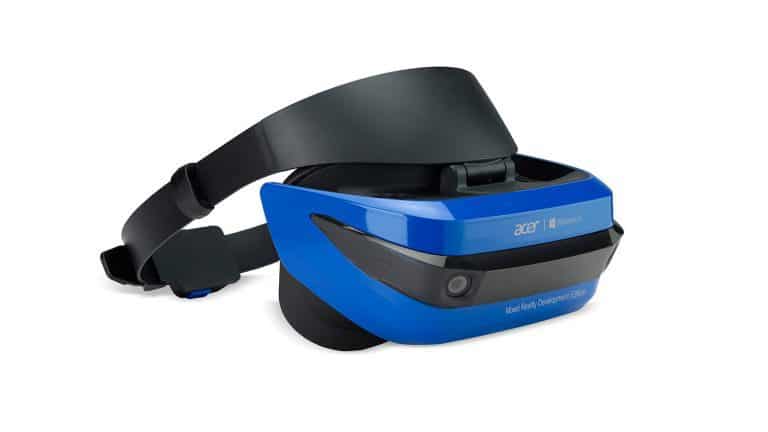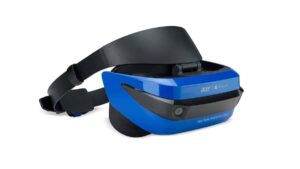 Product Name: Acer Windows Mixed Reality Headset
Offer price: 399
Currency: GBP
Availability: InStock
Price -

90%

Build -

75%

Range of Software -

75%

Performance -

85%

Ease of Use -

80%
Windows Mixed Reality was first announced back in 2015 under the name Windows Holographic. It wasn't until October 2016 during a hardware event, Microsoft announced that multiple OEMs would release virtual reality headsets for the Windows Holographic platform, based on Microsoft reference designs enabling room-scale virtual reality without external sensors or components.
These initial products were displayed last year at CES with the products finally being released October 2017.
These mixed reality headsets are compatible with Microsoft Store and Steam.
The Acer Mixed Reality Headset is priced at £399 and come with the headset and two wireless controllers. This pricing is more or less the same as headsets from competing brands. It is also the same price as the Oculus Rift + touch controllers, and they are a lot cheaper than HTC Vive.

One of the advantages of the Windows Mixed Reality systems is that you just need a headset and two controllers. There are no battery packs and no other external sensors, so setting it up is a bit more straightforward.
This is my first proper VR review, so detailed comparisons to other brands is a little tricky.
Build and Design
I don't think there is any way to make a VR headset look good, most opt for an all-black approach, whereas the Acer uses glossy blue with black accents. The build quality is a bit plasticy, but everything feels solid. There is foam on the inside of the mask to make it feel more comfortable, but I found the foam around my nose was loose and need adjusting often. This could be just an issue with my review sample though.
The headset feels quite comfortable to wear, but I did have some issues getting the focus right. When positioned with the best focus I found it pushed down on my nostrils a bit, slightly blocking my breathing.
The controllers are a unique design with large rings protruding out of the end with flashing LEDs. These controllers connect via Bluetooth, but there is no Bluetooth adaptor included.
Setting up the headset is a breeze you just plug in the HDMI and USB, and Windows recognises the device straight away. It will then go through a setup procedure which includes being able to set up a VR area around your room.
I found some issues with pairing the controllers, but I think this may be my cheap Bluetooth adaptor. Pairing them was okay, but getting them to both to connect at the same time was temperamental.
The Acer set-up comes with 2 Ghostbuster games included, which is a nice addition so you can experience the system without forking out even more money.
When you plug everything in you can browse your VR apps by exploring a virtual home which provides access to all your Apps.
Acer's MR headset is equipped with a 2.9 x 2in LCD, providing a resolution of 2,880 x 1,440 for each eye with a maximum refresh rate of 90Hz. This drops to 60Hz on a machine equipped with integrated graphics.
Windows Store
One of the apps I loaded up to experience the VR system was Asteroids! VR which is an 11-minute cinematic experience. It is a fun way to try out your headset but there no interaction with your controller. It is basically a movie in VR, so unlike 3D, you need to move your head around to watch the events take place. It is a fun experience to watch, and unlike watching a 3D movie, I didn't get the same level of eye strain I would generally suffer from.
The Ghostbusters games were a great way to experience gaming in VR in the first game you receive instructions from Slimer who explains how to navigate around the VR world using your controller. Using the controllers, you can clearly see your hands and how they interact with the world, and you can move around to pick up and throw objects. It felt a lot more immersive than I had expected.
It was indeed a fun experience but in a world of 4K content I did find the overall resolution to be a little lacking, and you could make out the pixilation in the Asteroids! movie, though that could have been the footage. However, having a high-resolution VR display would be both very expensive and highly demanding on your system. This is just a trade-off you need to make. Both the VIve and Rift have a lower resolution of 2,160 x 1,200, so these will suffer from the same issues.
I found that the amount of VR content within the Windows store was severely lacking, there are a few games but not much noteworthy. Ironically, I couldn't find anything classed as mixed reality; it is all full VR.
Steam VR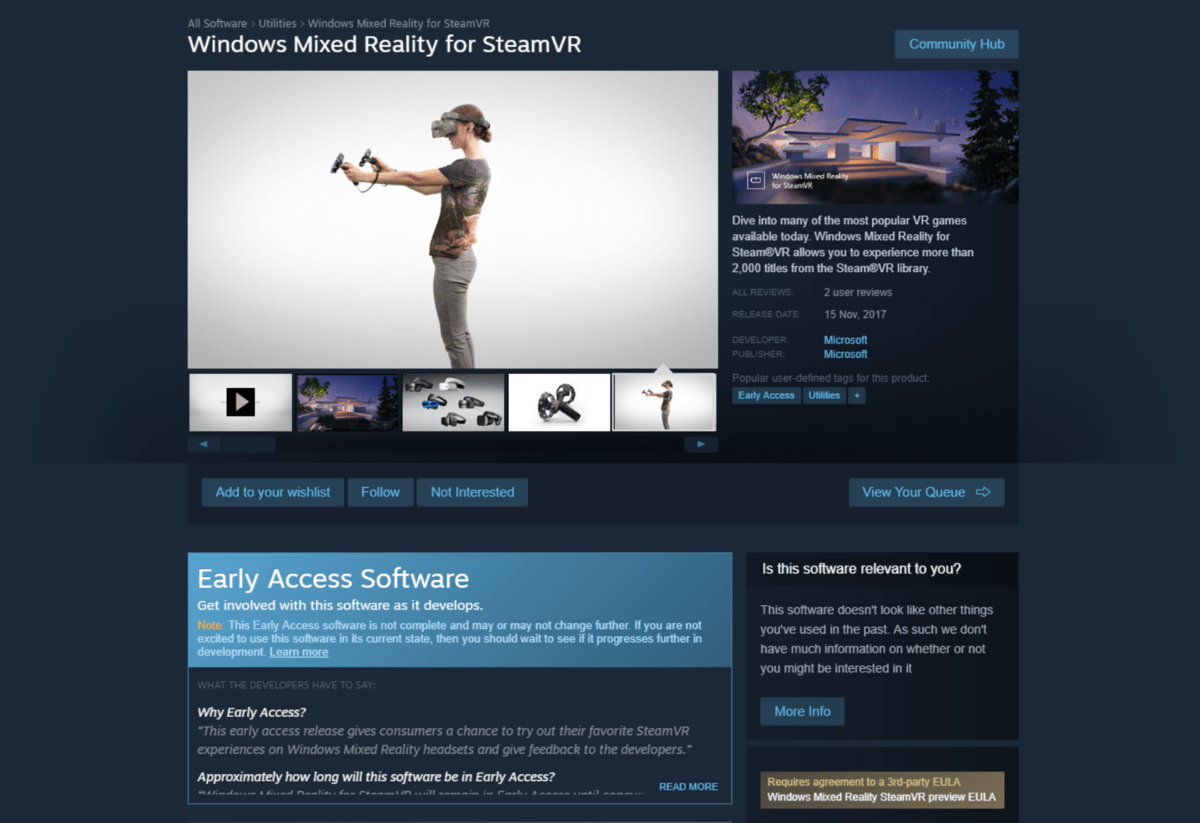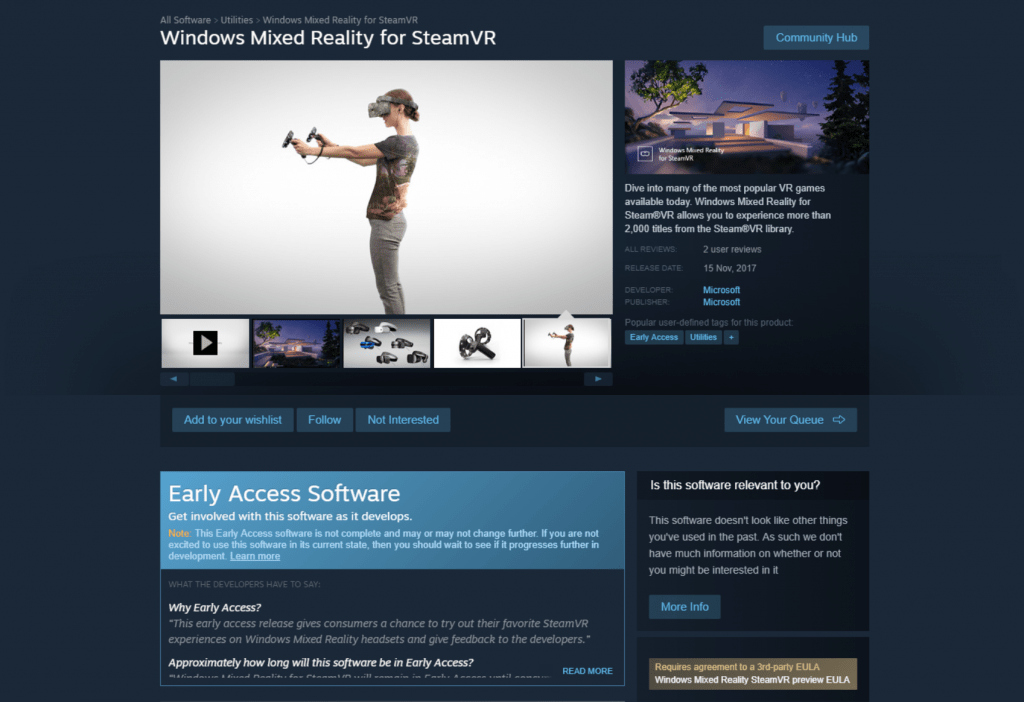 Windows Mixed Reality does work with Steam VR, and this provides you with an exponentially larger number of apps, but at the moment it is early access. I didn't realise this at first and just couldn't get the headset to work with Steam, even though it recognised I had something plugged it. You need to download an extra utility to get it to work. When it is installed, unfortunately, things don't always work great, and just looking at the discussion forums WMR headsets are plagued with issues.
With SteamVR the hardware requirements change, and the minimum is:
OS: Windows 10 Fall Creators Update
Processor: Intel Core i5 4590 (4th generation), quad-core (or better) / AMD Ryzen 5 1400 3.4Ghz (desktop), quad-core (or better)
Memory: 8 GB RAM
Graphics: NVIDIA GeForce® GTX 970 or better
DirectX: Version 11
Whereas the recommended asks for an Intel Core i7 and a GTX 1070.
Overall
VR is still in its early days, so there are issues with all platforms. Windows Mixed Reality itself is very new, so there are understandably some teething issues. The main problem isn't so much the hardware, but the software, there are some decent games on the Windows Store, but nothing like Steam. Steam is still in beta and is glitchy. Once these issues are ironed out, you should have access to more than 2,000 titles from the Steam library.
Prior to WMR, only the Vive could access Steam and this costs around £600. The Acer WMR costs just £400 which makes it an absolute bargain in comparison. I haven't used the HTC Vive, so can't do a fair comparison, but the Acer should be easier to set-up and has a higher resolution display. The build quality doesn't appear to be as good, but with a 33% saving, I think I could live with it.
With WMR being baked into Windows 10 the software can only get better, it has the full backing of Microsoft and several big-name OEMs like Acer. So, if you are wanting an affordable way of getting into VR, then the Acer Windows Mixed Reality Headset is an excellent choice.