While TCL technically entered the mobile market in 2019 with the TCL Plex, it was the TCL 10 series that was their first big push into this competitive market.
There was huge potential; the TCL 10 5G was genuinely a good alternative to the affordable OnePlus Nord and Realme X50.
The more expensive TCL 10 Pro could have been great with its beautiful curved AMOLED display, but it was let down by an underpowered chipset relative to the price of the phone.
TCL are now back with the TCL 20 series, and the TCL 20 Pro once again aims to win over buyers with its large beautiful curved, AMOLED display but now with a new faster chipset.
TCL 20 Pro 5G vs TCL 10 Pro Specification Comparison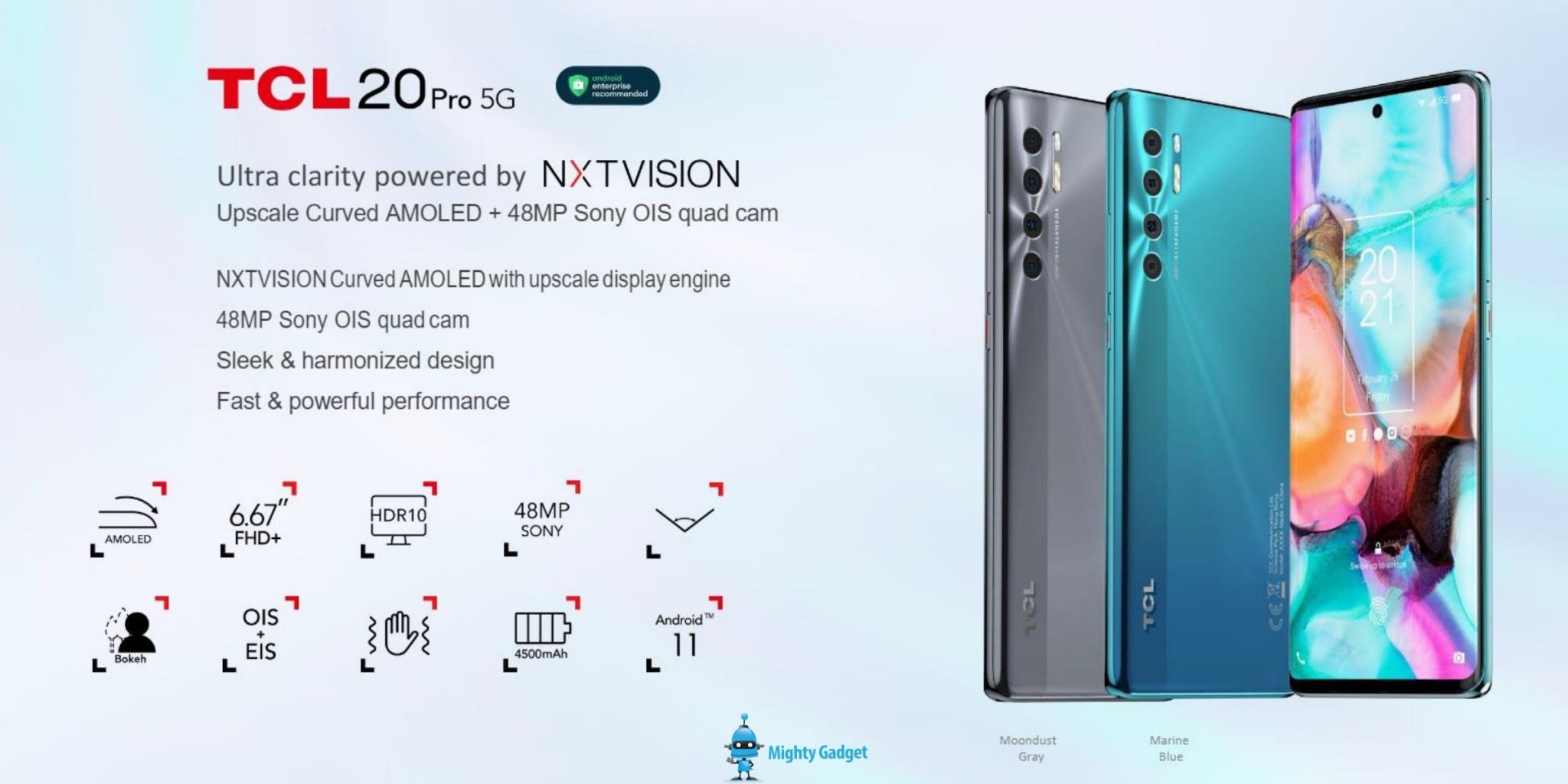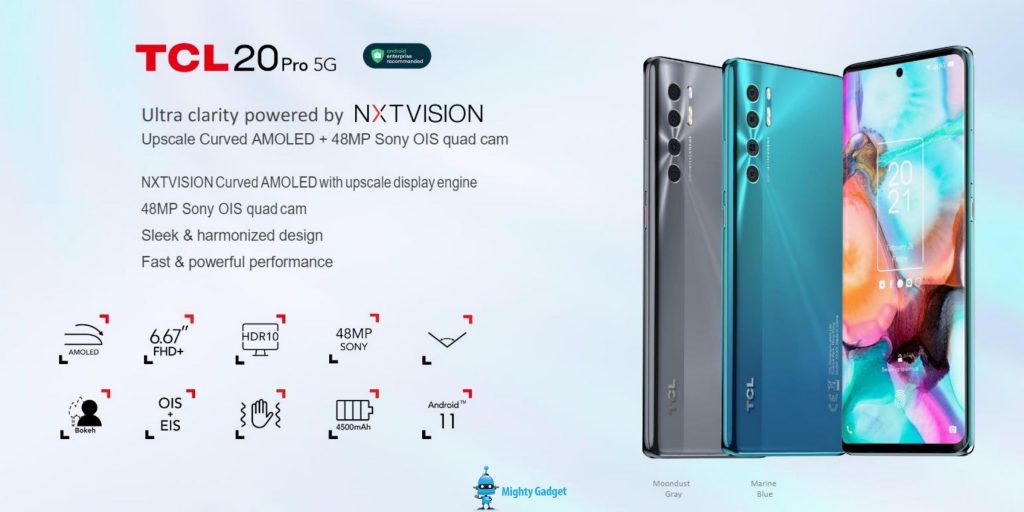 TCL 20 Pro 5G
TCL 10 Pro
Processor
Qualcomm Snapdragon 750G 5G
Qualcomm Snapdragon 675 (4G)
Display
6.67-inch Curved AMOLED, dotch display
FHD+ (1080×2400 resolution)
20:9 display ratio
394PPI, 16.7M colors, DCI-P3 100% , JNDC 0.8
700typ brightness(HBM)
Iris6 display chipset
Rheinland Certification
6.47 inch 2340 x 1080 pixels resolution AMOLED
RAM
6GB
6GB
Storage
256GB + microSD
128GB internal with microSD card support
Cameras
48MP Sony IMX582 OIS 1/2" 0.8μm
16MP ultra wide
5MP macro camera
2MP depth camera
32MP front camera
64MP Samsung Bright S5KGW1 1/1.72 0.80 µm
16MP ultra-wide lens with 123-degree field-of-view
5MP macro lens
2MP super low light video camera
24MP front-facing camera.
Wireless technology
802.11 a/b/g/n/ac WiFi, Bluetooth 5.0, NFC, GPS
802.11 a/b/g/n/ac WiFi, Bluetooth 5.0, NFC, GPS
Battery
4500mAh
18W Quick Charge
15W Wireless
4,500 mAh battery with Quick Charge 3.0 support and charger
Dimensions
164.2 x 73 x 8.77 x 9.07mm
190g
158.5 x 72.4 x 8.6 mm and 187 grams
Colours
Marine Blue and Moondust Gray
Gray or Green
Launch Price
£499
£399 (Now £297.97)
Display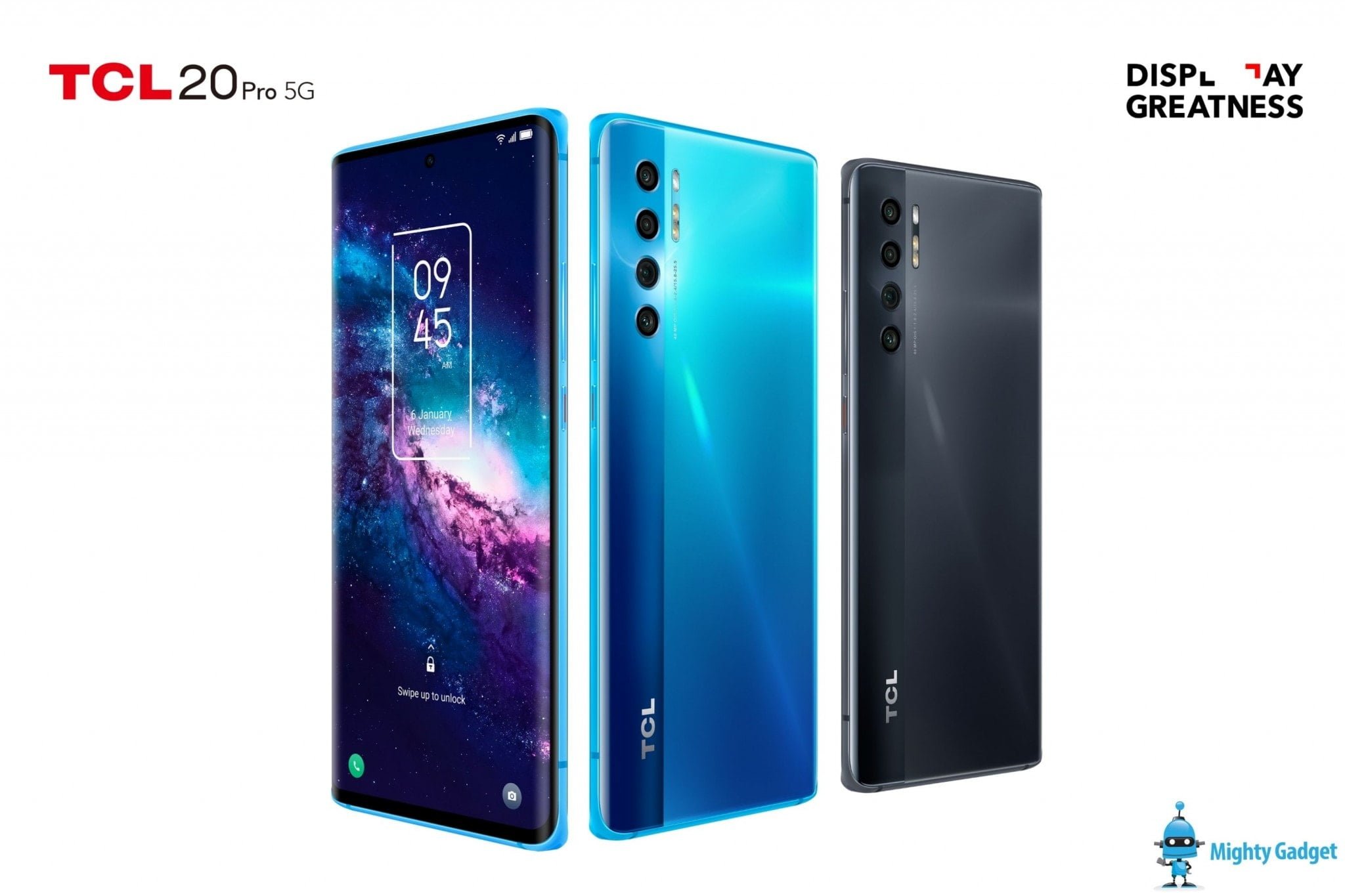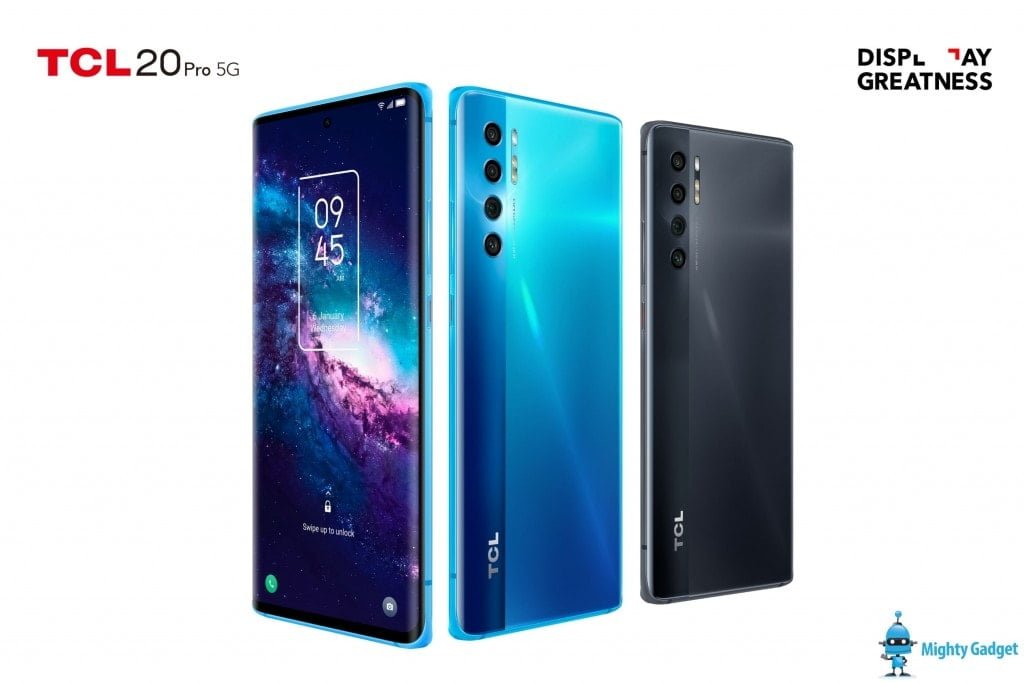 TCL are relying on their display technology being the thing that sells their phones. It is an interesting approach to mobile. For none premium-priced phones, we typically see companies focus on the camera or chipset performance as the main selling point of the phone, for example, the Realme 8 Pro with its 108MP camera or the Poco X3 Pro with the Qualcomm Snapdragon 860.
The new phone is quite a bit larger than the reasonably petite TCL 10 Pro. It doesn't have a fancy high refresh rate like most phones launched the past few months, this will likely draw criticism, but I would prefer a good quality 60Hz display to a poor 90Hz/120Hz.
TCL claim the display tech provides industry-leading colour accuracy, and from my experience with the TCL 10 Pro, I am inclined to believe them, it was a beautiful display.
Independent third-party test lab DXOMARK recently tested the TCL 20 Pro 5G and gave it a display rating of 89, driven by the advancements of NXTVISION. This positions the phone among the top mobile competitors, some costing more than twice as much.
The OnePlus 8T also scores 89 with DXOMARK, but this score would put it ahead of the Huawei P40 Pro, which I think has a superb display.
Chipset
The chipset has had a substantial upgrade, in my opinion, moving from the Snapdragon 675 to the more modern Snapdragon 750G 5G with its Arm Coretex A77 cores.
Considering the price of this phone, I would have much preferred to see something like the Snapdragon 780G, but I suspect this may not have been available during the development of this phone.
Camera
The camera has been tweaked, and it is not clear if this will end up being an improvement or downgrade. While the resolution of the sensor and sensor size has reduced, I have typically found the Sony sensors outperform the Samsung.
I would have hoped for a clear improvement in the specification. Instead, the sensor used on this phone is the same as you find on cheaper phones such as the Poco X3 Pro and several of the cheaper TCL 10 phones.
Price & Alternative Options
Unfortunately, even though the TCL 20 Pro 5G offers your usual generational upgrades, TCL seems to think the new TCL 20 Pro is worth a 25% premium over last years model, which I thought was already overpriced.
The TCL 20 Pro will launch for £499, the TCL 10 Pro launched at £399 and is currently available for £298.
One justification for the price is the massive 256GB of storage, considerably more than any of the affordable alternatives below.
That is a hard sell. For just £50 more, you could get the OnePlus 8T which would offer substantially better specs but a flat AMOLED display (but the same DXOMARK for the display). For £150 more, you could get the OnePlus 8 Pro, again with substantially better specs and also with a curved AMOLED display.
Admittedly there are not really any decent phones with a curved AMOLED display at this price point, and this seems to be what TCL are reliant on for selling the phone.
If you could live with flat IPS, the Xiaomi Mi 10T Pro is cheaper with substantially better specs elsewhere. Or the Xiaomi Mi 10T Lite, which has the same chipset and the 64MP Sony IMX682 for less than half the price of the TCL.
However, you could argue that this is a better buy than the Google Pixel 4a, which has been widely praised by reviewers and users alike. The SD750G on the TCL is just as good, if not better than the SD765G; you get a much bigger battery and display, and technically a better camera spec.
Overall
For me, pricing seems wildly off the mark. This may be a better buy than the Pixel 4a, but I think TCL will struggle to win over users due to a lack of brand recognition.
I guess this would work well for in-store purchases where buyers who are not phone geeks get wooed by the looks of the phone.
It could be a brilliant phone, if the TCL 10 Pro had launched with a better SD765G chipset, it would have been fantastic. This does offer that much-needed performance improvement, but I just can't get my head around the 25% price hike.
Last update on 2022-05-21 / Affiliate links / Images from Amazon Product Advertising API