TCL 10 5G Review Rating
Summary
Considering the TCL 10 series is only the second range of phones from TCL, the new TCL 10 5G is an excellent attempt of offering a high-performance phone for mid-range prices.
I wouldn't say they quite compete with more established brands, but they are not far off. For US buyers, this is probably one of the best buys in the mid-range.
Pros
Decent camera spec
SD765G is a superb chipset with all the performance you could need
Excellent battery
Cons
Not quite as good as competitors
The TCL 10 5G was announced all the way back at CES in January when the world was relatively normal. The TCL 10 Pro was later launched in May, which was a good phone but with a confusing specification for its price.
Today, the TCL 10 5G is finally launched, the spec and pricing are suspiciously close to the recently launched OnePlus Nord and Realme X50, which makes me wonder if all these companies knew each other's spec and price well before any announcement.
Nonetheless, the TCL 10 5G offers up some real competition against the other phones, it is a more sensible buy than its more attractive Pro sibling, and the Snapdragon 765G gives you that flagship-like performance for half the price of many premium phones.
I have only had this phone for a week, so the review is not as thorough as some of my other pieces. I will pad out the content with more relevant information, the more I use it.
As I have just come away from reviewing the Realme X50 and with both phones being similar, I have drawn a lot of comparisons between the two phones.
Specification Overview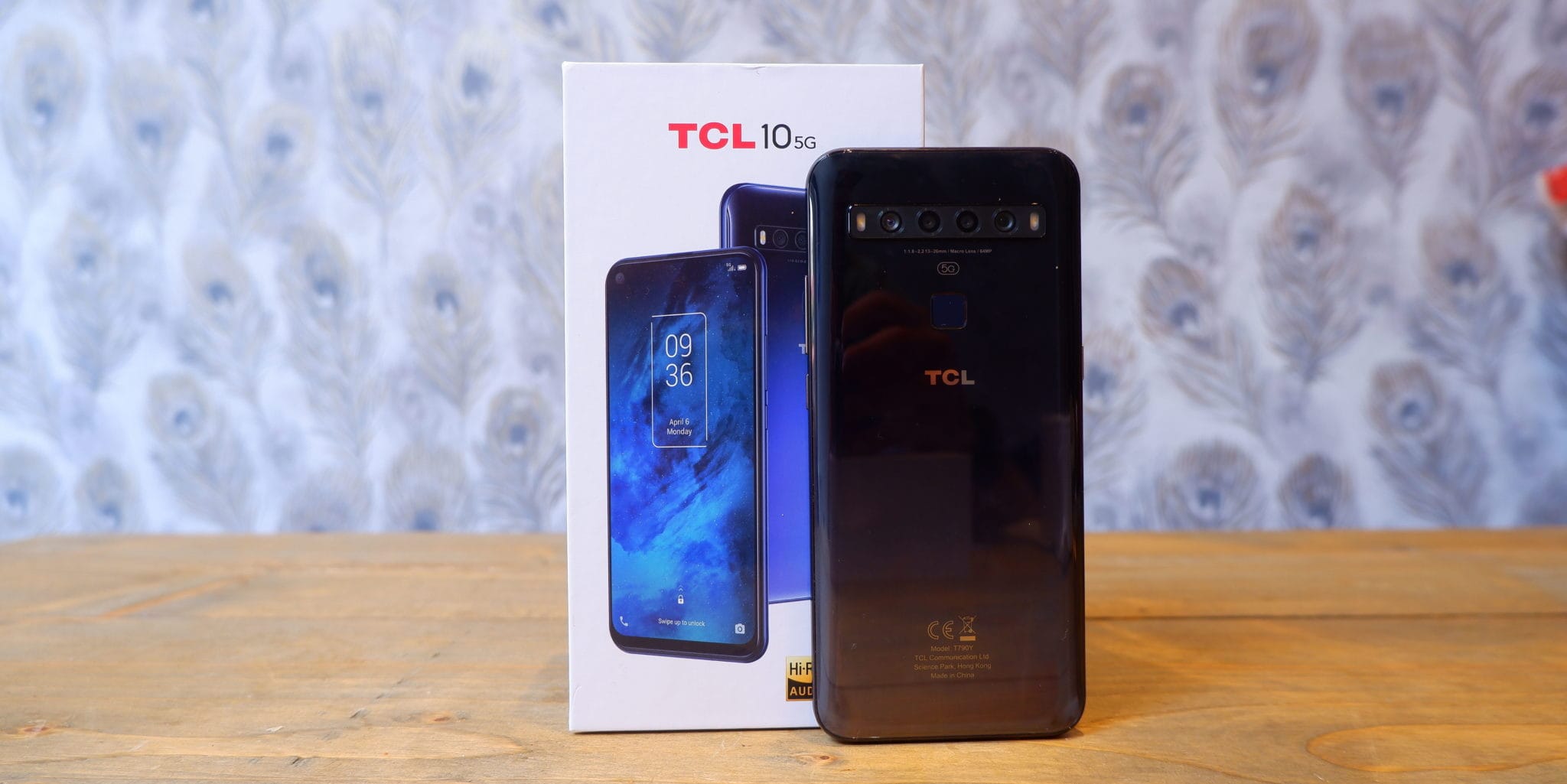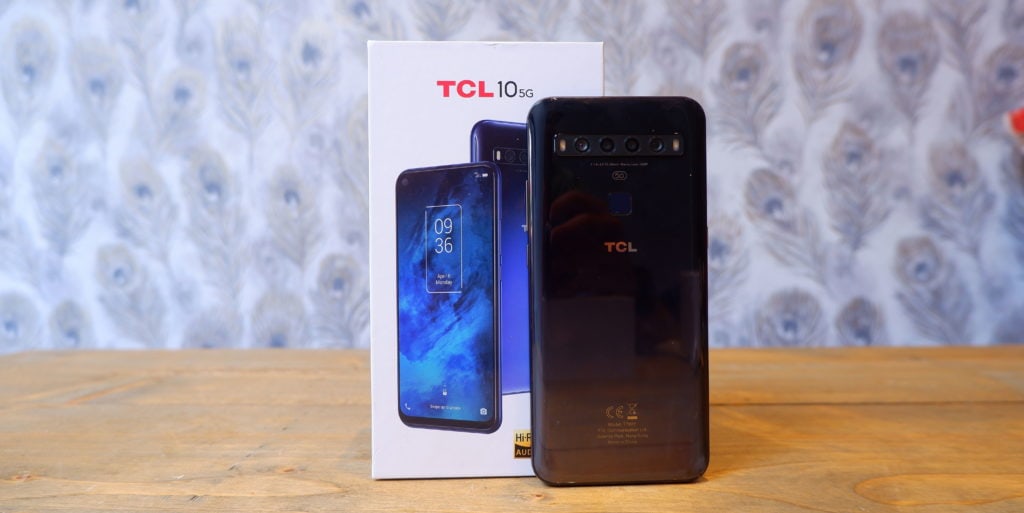 Dimensions – 163.7 x 76.6 x 9 mm (6.44 x 3.02 x 0.35 in)
Display -6.53 inches IPS 60Hz 1080 x 2340 pixels, 19.5:9
Chipset – Qualcomm Snapdragon 765G
Storage – 128GB
RAM – 6GB
Camera – 64 MP, 8 MP, 5 MP, 2 MP
Front Camera – 16 MP
Battery – 4500 mAh battery 18W charging
TCL 10 5G vs OnePlus Nord vs Realme X50
With the three phones being quite similar, it is easier to list what is not the same. The main differences are:
In price order:

Realme X50 – £299
OnePlus Nord – £379
TCL 10 5G – £379 (needs to be confirmed, but it is 399-Euros in Spain)

TCL has a glass front, back and aluminium frame, Realme is plastic on the back, OnePlus uses a plastic frame.
TCL has the lowest spec display being IPS 60Hz 1080p, the Realme is also IPS but 120Hz while the OnePlus has an AMOLED 90hz display
TCL can expand storage via a microSD the other two don't
TCL has the best-specced rear camera with a 64MP lens with a 1/1.72″ sensor while the other two have 48MP with a 1/2.0″ sensor.
TCL has the worst selfie spec, but the benefit is that it only has single punch hole on the front, which I much prefer.
TCL has a 3.5mm headphone jack
TCL has the biggest battery but slowest charge.
Related – TCL 10 5G vs OnePlus Nord vs Realme X50 full comparison
Design and Display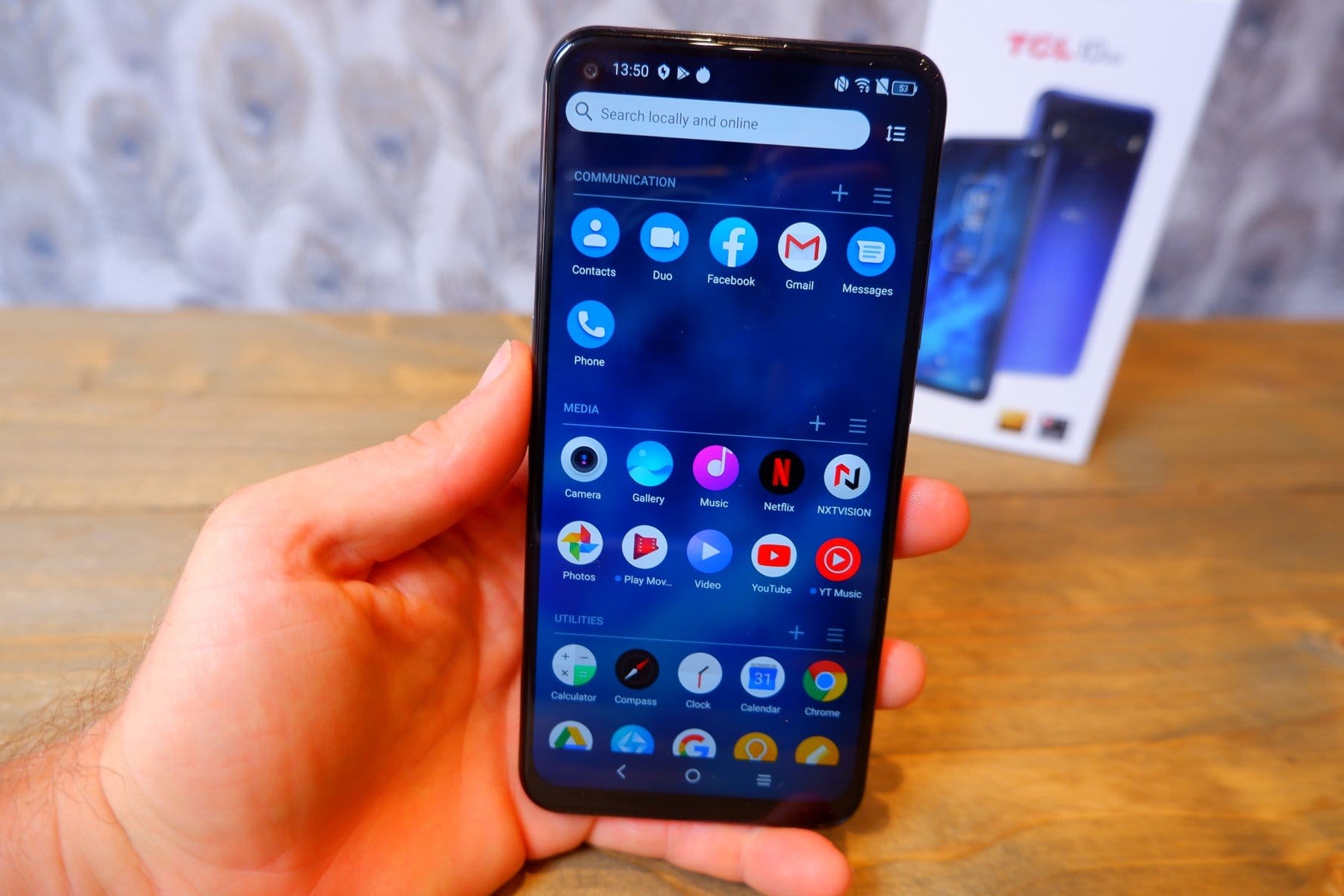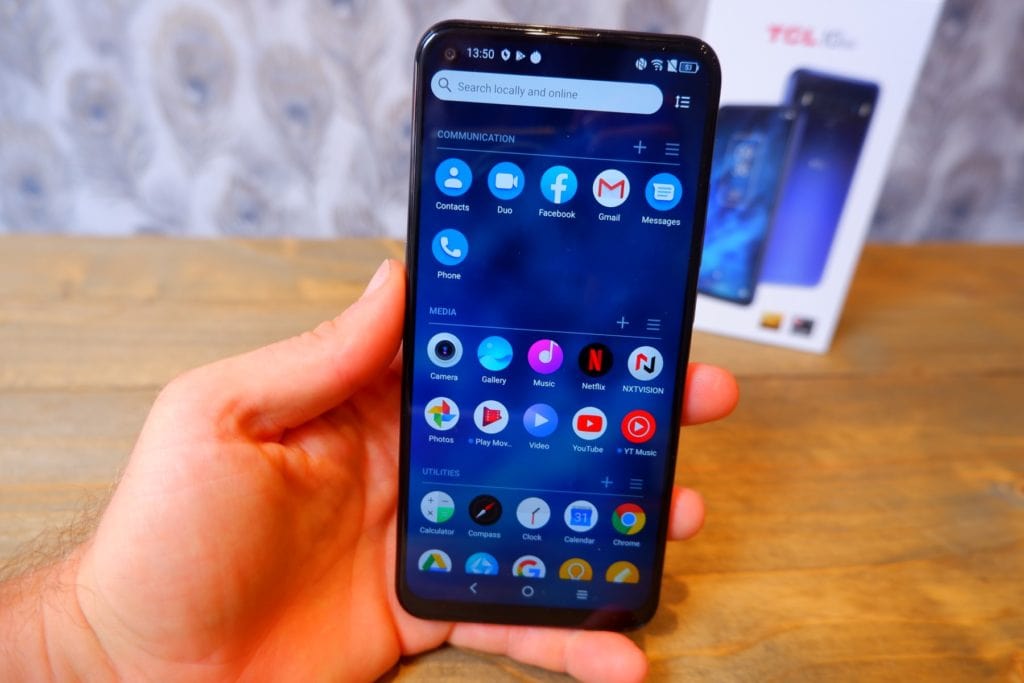 The TCL 10 5G isn't the best looking phone ever, in particular when you compare it to the Pro model it looks a little outdated.
The camera bump is just downright ugly, and I find the high placement of the camera modules running across the width of the phone quite easy to end up with a finger in the photo.
The recessed thumbprint scanner is also less aesthetic than a side-mounted one, and I find it quite small. However, I know some lefties that much prefer this placement.
You then also get a dedicated Google Assistant button on the left-hand side. I found this more annoying than useful; it is easy to trigger it if you are balancing your phone on something when trying to take a photo.
On a positive side, the selfie camera is a single punch hole, which is much more pleasant than the pill shape of the Realme X50.
Apart from that, the overall design and dimensions are similar to the Realme, both have flat screens with a bit of a thick bezel when compared to premium phones. The TCL is a little heavier but feels nicer thanks to a glass back and aluminium frame, it also has the benefit of a 3.5mm headphone jack.
The display itself is good, even though it is not a high refresh rate display like Realme/OnePlus the overall performance of it is excellent, colours like accurate and vibrant and the TCL software can concert some SDR content to HDR.
Camera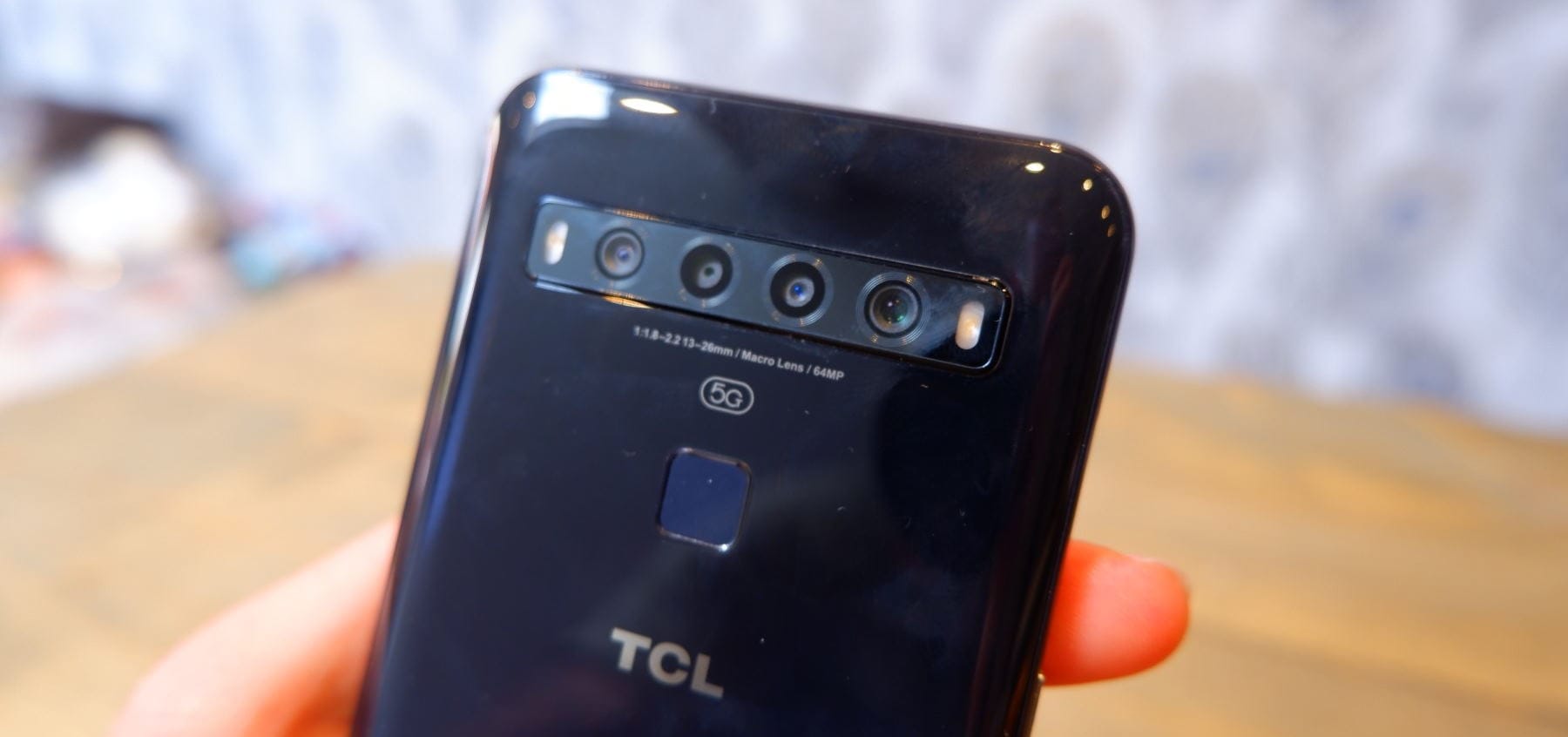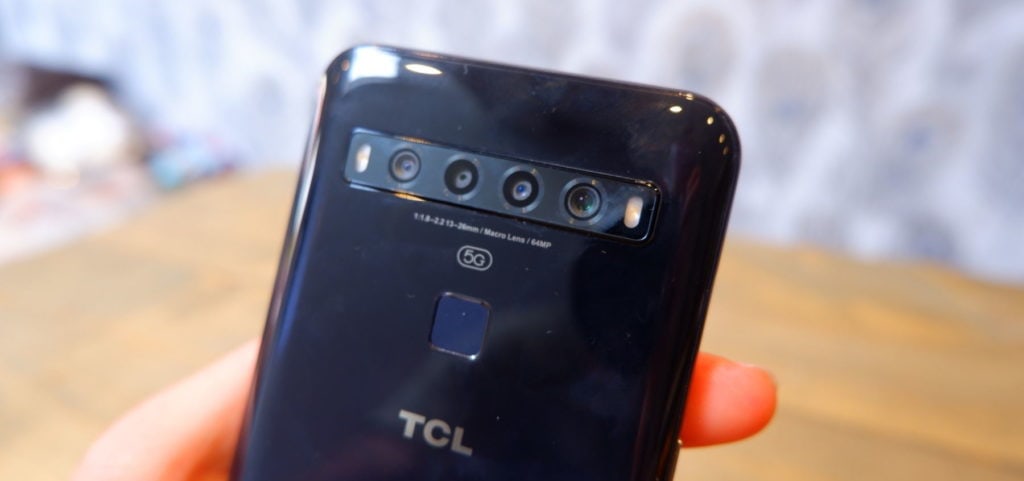 In theory, the camera should be the stand out feature of this phone compared to the OnePlus Nord and Realme X50. The main difference being the other phones have a main sensor that is 48MP, 1/2.0″, 0.8µm, and f/1.8 this has a 64 MP, 1/1.72″, 0.8µm, and f/1.9.
I have not had the phone long enough to generate a strong opinion. In general though, like most phones nowadays, it can produce excellent shots in good light. I did find some of the photos looked a little dull compared to the Realme, but this was an overcast day and was quite possibly a little closer to what things looked like in real life.
Again, like most phones, the ultra-wide can be a little hit or miss in some scenarios, but it is about as good as the Realme and other phones around this price.
It is worth noting, this phone has the same main sensor as the TCL 10 Pro, and I thought that produced excellent photos. I feel like this hasn't produced quite as good photos, but my time has been limited with it, and I am confident it will take shots equal to the quality of the TCL 10 Pro.
For video, you can record at [email protected] or [email protected]/60/120fps, and the camera has gyro-EIS, so performance is about the same as the Realme.
I few minor niggles I had with the camera was not from the camera itself, but the placement of the sensors, making it easy to have a finger in the shot. You also have the volume buttons sticking out on one side, and a google assistant button on the other. I have a tendency to balance my phone on things due to being a little shaky, so I found it quite easy to accidentally catch these buttons.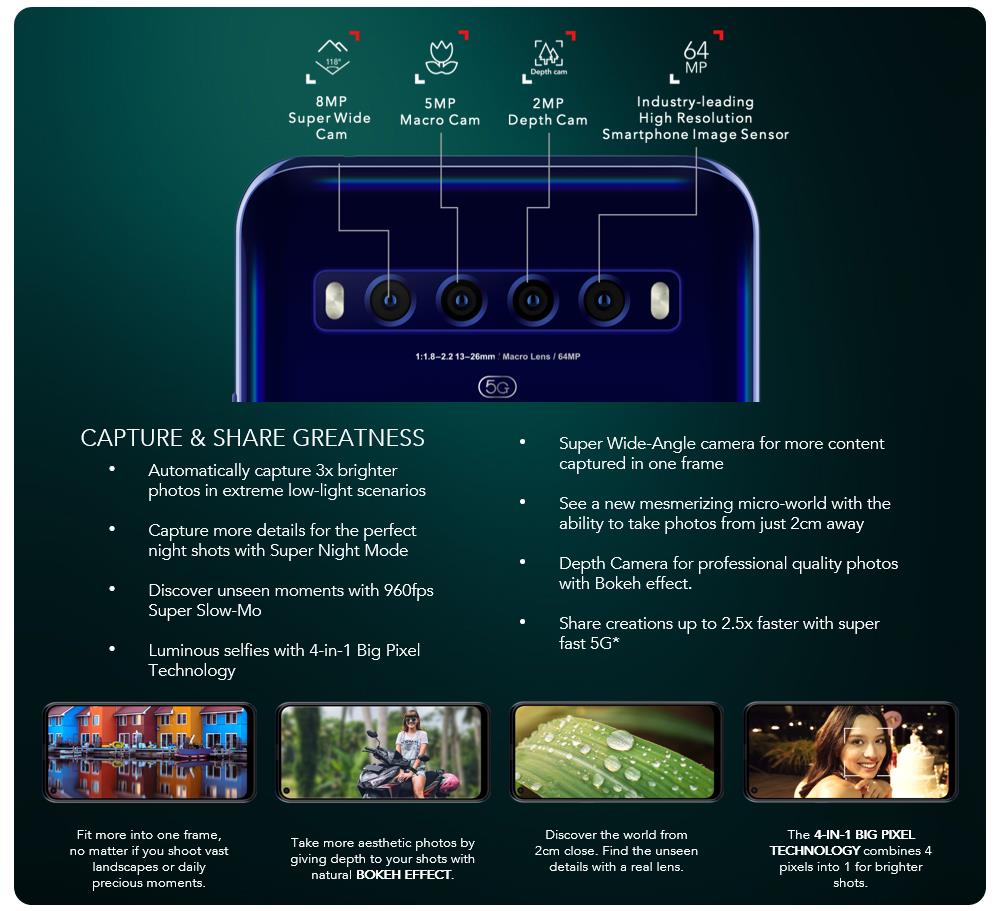 Low Light
During my testing, I experienced some software glitches with the super low light mode. Due to my sleep schedule, long summer days, and bright street lights, my testing is limited to indoors keeping the environment as dark as possible. On the first occasion, the super night mode completely failed creating blank blue images.
However, the second time I tested it worked fine. Performance is considerably better than the Realme X50. Neither phone produced spectacular photos, due to the very low light levels they are both a bit grainy and blurry, but the TCL is significantly better and should be able to produce decent low light shots (assuming there is at least a small amount of light for it to work with).
Photo Gallery
Performance and Benchmarks
Day to day, the phone performs perfectly. The UI is exceptionally responsive and smooth, almost to the point where I don't notice the screen only running at 60hz.
The will run everything you through at it perfectly. It is only a handful of people that will really appreciate the extra power a flagship chipset offers. Even hard-core gamers should be happy with this.
Synthetic Benchmarks – Geekbench – Antutu – 3D Mark
Benchmarks are almost identical to the Realme X50, which is to be expected. PC Mark is a little lower, but I think this is more to do with the way Realme keep clocks high in some scenarios.
Overall, for cost/performance, Snapdragon 765G based phones are the best you will get in the UK at the moment. The Kirin 820 on the Huawei P40 Lite does perform quite a bit better and is cheaper, but that has issues with Google. Things may change if/when some mid-range 5G MediaTek based phones get launched in the UK.
Antutu
| Antutu Benchmark | Total | CPU | GPU | MEM | UX |
| --- | --- | --- | --- | --- | --- |
| Huawei P40 Lite 5G - Kirin 820 | 350308 | 113628 | 108027 | 69102 | 59551 |
| Realme X50 | 323286 | 103663 | 94154 | 68007 | 57462 |
| Oppo Find X2 Lite - Snapdragon 765G | 323940 | 104845 | 92682 | 58053 | 68238 |
| TCL 10 5G - Snapdragon 765G | 320890 | 105992 | 94626 | 61984 | 58288 |
GeekBench
| | Single Core | Multi Core |
| --- | --- | --- |
| Huawei P40 Lite 5G - Kirin 820 | 606 | 2304 |
| TCL 10 5G - Snapdragon 765G | 621 | 1924 |
| Realme X50 - Snapdragon 765G | 612 | 1899 |
| Oppo Find X2 Lite - Snapdragon 765G | 595 | 1799 |
| Oppo Reno4 Z - Dimensity 800 | 503 | 2121 |
3DMark
| | Slingshot Extreme OpenGL | Vulkan |
| --- | --- | --- |
| Huawei P40 Lite - Kirin 820 | 4131 | 3873 |
| TCL 10 5G - Snapdragon 765G | 3331 | 3113 |
| Realme X50 - Snapdragon 765G | 3308 | 3098 |
| Oppo Find X2 Lite - Snapdragon 765G | 3415 | 3025 |
Battery
The battery is superb, I didn't manage to complete the PC Mark battery test as I accidentally stopped it and didn't have time to run it again. However, at the time, it was still going strong at 12+ hours.
The Realme X50 managed 15 hours, and this has a bigger battery so you should easily get over a day of heavy usage out of it, and quite easy to squeeze a couple of days of lighter usage.
Software / Bloatware
The UI is the same as the TCL 10 Pro, and it still has some pre-installed apps including Facebook and Netflix. However, it looks like they have slimmed down some of the bloatware including getting rid of Booking.com, Microsoft News, Moon Reader, OfficeSuite as well as some of their own apps such as a different browser to Chrome.
I quite like the UI, everything seems to make sense with things sticking close to the stock Android to feel in most cases.
Though the app drawer is contentious, rather than being laid out alphabetically, apps are grouped up into categories. I have not found it too much of a problem with a handful of apps, but it could certainly get confusing with a large number. You can change it to alphabetical via the toggle on the top right, but this should have been by default really.
Pricing & Competition
I think the competition is evident by now. The Realme X50 and OnePlus Nord are the two obvious alternatives. I'd say the main consideration is if you want to save money with the Realme or if you want a better screen from the OnePlus.
The Xiaomi Mi 10 Lite is currently discounted down to just £245 which could be the best buy of them all. The camera is not as good, and the MIUI isn't the best, but it has an AMOLED display plus the Snapdragon 765G making it incredible value for money.
If you are not specifically looking for an affordable 5G phone you could consider the TCL 10 Pro which thankfully has dropped down to a much more sensible price of £339.95, the chipset is a little underpowered, but apart from that, it is a good phone.
If you are in no rush to buy, the Pixel 4a is a consideration, it is cheaper but lower specced in every department. However, even though it has a single 12.2 MP dual-pixel sensor on the rear, the Pixel devices always punch well above their weight in photography.
Alternatively, the Realme 6 Pro is cheaper, is less powerful, however has a superior camera specification including a 2x telephoto lens.
Conclusions
Overall, I like the TCL 10 5G a lot, but at the same time, it is hard to recommend over the OnePlus Nord on Realme X50.
It does a good job at keeping up with them, and in some regions, it will be your best option, in this case, I wouldn't be upset, you are not losing out on much getting this over the OnePlus.
While my testing with the camera has been limited, the low light performance is better than the Realme X50, and I would think overall performance should be better. This would be the main reason to opt for the TCL over the other two phones.
If the other two phones didn't exist, this would be superb offering exceptional performance and a decent quality camera all for a reasonable price. For most people, there is little reason to opt for a flagship device.
Last update on 2022-05-25 / Affiliate links / Images from Amazon Product Advertising API