A few days ago the Realme X50 was launched and I have been using this as my main phone for the past week or so. As usual with Realme it offers exceptional value for money when it comes to the hardware specs, it is the cheapest 5G phone in the UK market, and the Snapdragon 765G chipset gives you a flagship-like performance at half the price of many other phones.
Since this launch, the OnePlus Nord has come out, offering slightly more premium features for around £80. Both phones should make a superb option for anyone wanting a more affordable option to the usually overpriced flagship devices.
Specification
It is worth noting that the Realme X50 is not the same as the X50 launched in China. We instead have a rebadged X50m. This is a more affordable option with a lower camera spec.
Dimensions: 163.8 x 75.8 x 8.9 mm – 194g
Display: 6.57 inches – 2400 x 1080px – 120Hz refresh rate
Chipset: Qualcomm Snapdragon 765G
RAM: 6GB
Storage: 128GB
Rear Camera: 48MP, 8MP ultra-wide, 2MP Macro, 2MP depth
Front Camera: 16MP, 2MP depth
Battery: 4200mAh – 30W charging
Other: No 3.5mm. Does have NFC
Realme X50 vs Realme 6 Pro
I have covered this in more detail on a separate post, but Realme has priced these two phones identically. This leaves you a difficult decision of deciding if you want the superior camera and build quality of the Realme 6 Pro, or the superior performance and 5G connectivity of the Realme X50.
It is tempting to get the most powerful phone for your money, and this is normally the way I lean when buying things myself. But in reality, you need to consider what you want from the phone. The Realme 6 Pro has a superior primary sensor as well as a 2x zoom 12MP telephoto lens then an 8 MP ultrawide selfie senor as the secondary option on the front. This makes it much more versatile as a camera phone, and the Snapdragon 720G is still a fantastic chipset.
Realme X50 vs OnePlus Nord
More recently, the OnePlus Nord has launched, the two phones share many specs, but the OnePlus has a superior 90Hz OLED display but then costs around £80 more.
There are a few other tweaks here and there, the OP has a glass back, it has a superior selfie camera arrangement, and OxygenOS is superior.
However, they are so close in spec it makes it difficult to choose which is the best option.
Design and Display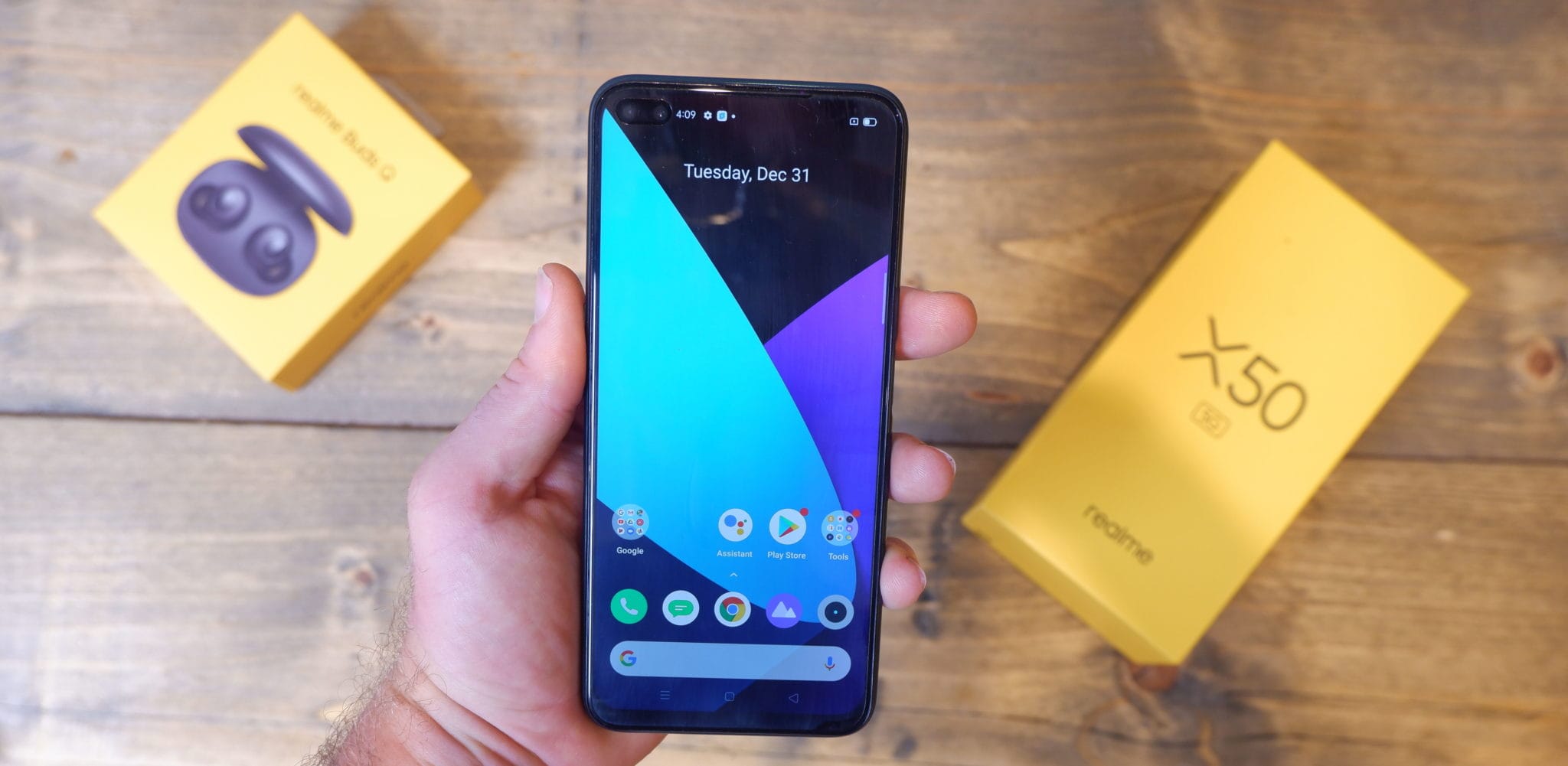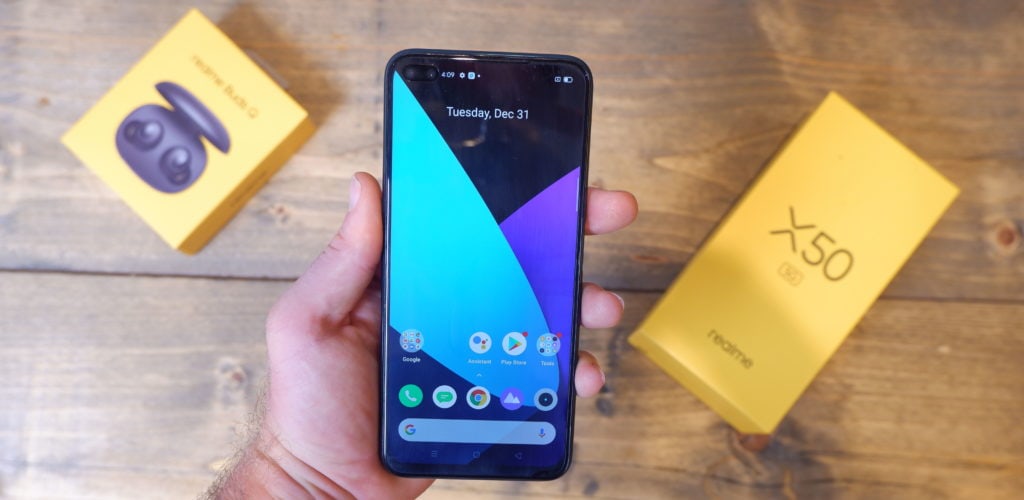 Like most of the Realme phones, this has a plastic case which gives it a cheaper feel than its counterparts, though this will likely make it a little lighter and durable compared to glass-backed models. After reviewing so many Realme phones it feels like a generic design, basically, everything from the Realme 6 upwards looks the same apart from the colour case you get. You can say the same about most modern phones though.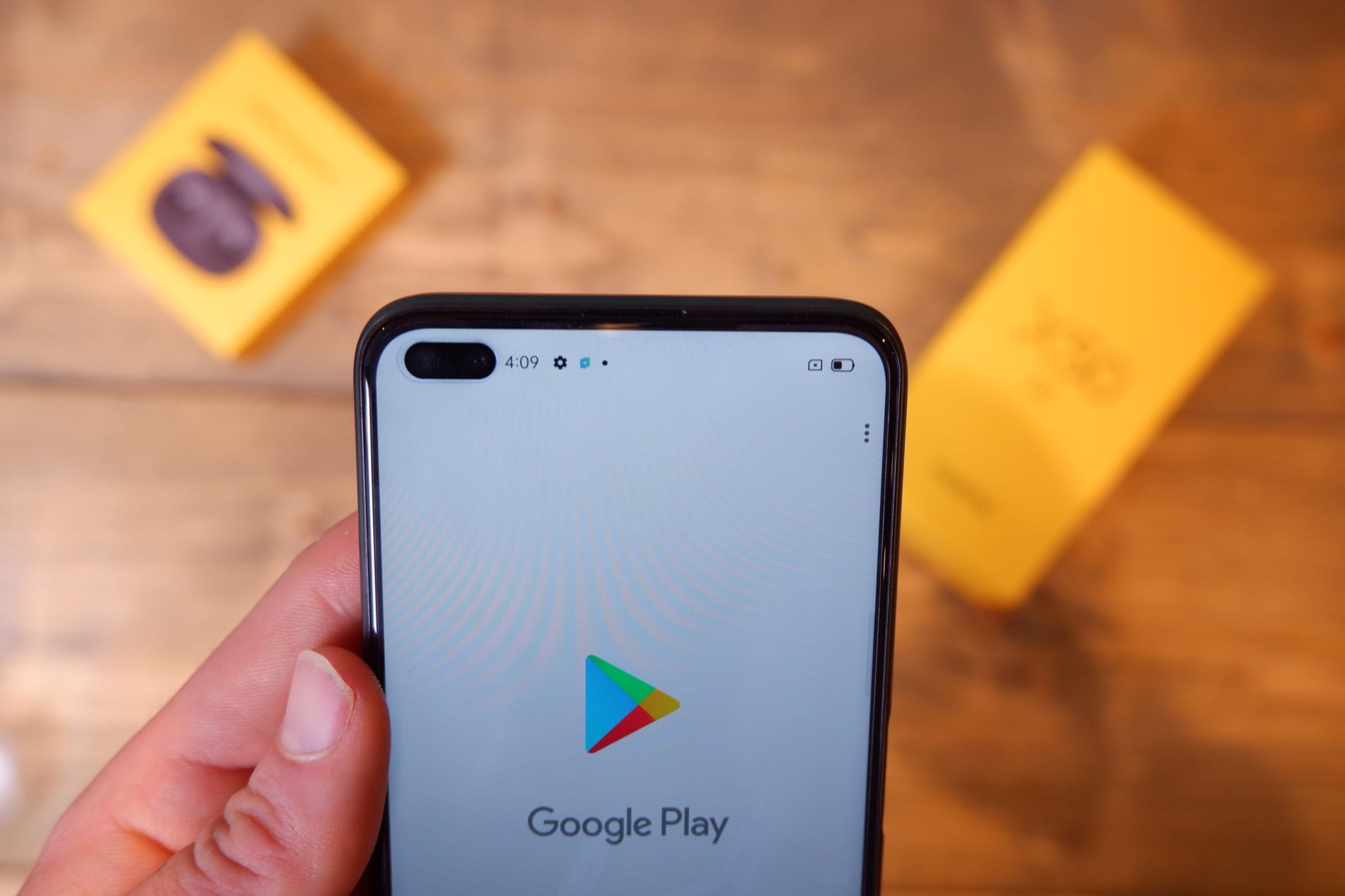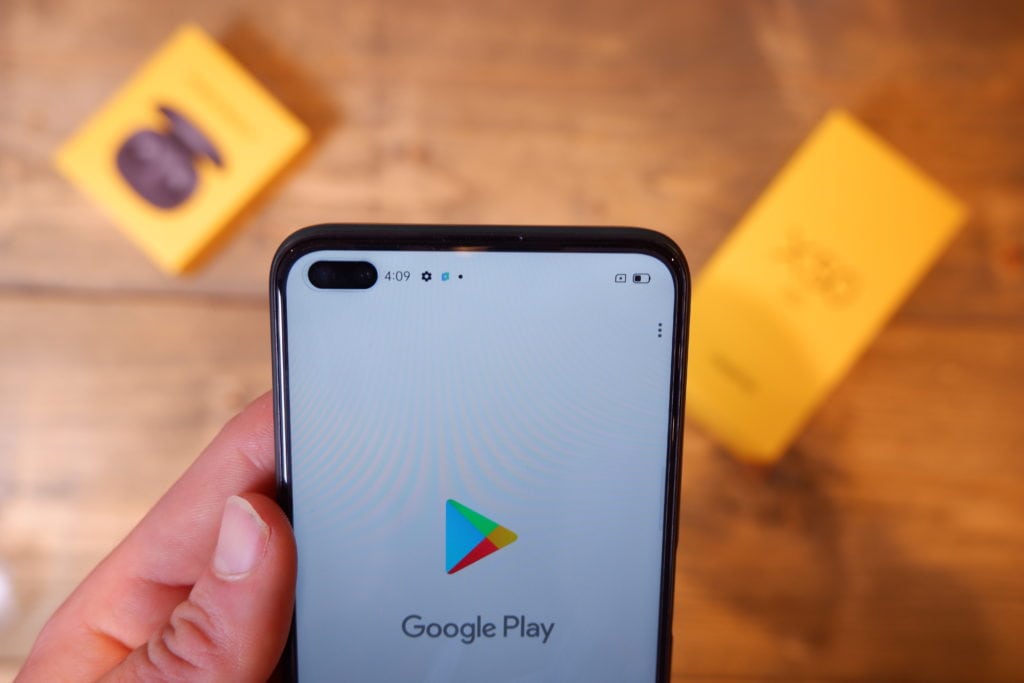 The display itself is an IPS panel running at 120Hz refresh rate with a resolution of 2400 x 1080px, and like many of the recent phones, it has a pill-shaped cut out. Unlike some of the other phones that pill shape doesn't give you the added benefit of an ultrawide selfie, instead, it hides a depth sensor. I would have preferred a single punch hole.
With it being an IPS display, the fingerprint sensor is located on the side where the power button is. I have no problems with this placement, but I know others that do. Side-mounted sensors tend to be a little more accurate, or at least, less prone to failing vs pressing your finger on a screen.
During my use, I have not experienced as many visibility issues outdoors as I did with the Realme X3 SuperZoom, though the weather hasn't been as nice. The display is generally good, colours appear subjectively accurate, you can crank the brightness up very high, so I don't think it will have visibility issues on those rare bright days.
Camera
While this is one of the most powerful phones in the Realme line up and only the 2nd 5G phone they have launched in the UK, the camera specification sits below its siblings.
Both the Realme 6 and 6 Pro have superior camera specs, it is not a massive difference, but it is noticeable. This can still take great shots you just need to weigh up your preferences before opting for this over the Realme 6 Pro.
Generally, in moderate light using the main sensor, you can take fantastic photos, and it is going to be good enough for most users.
The 8MP ultrawide lens is less good, like most phones, but it can still take good shots but sometimes depending on light and other factors, they can look a little dull.
The lack of a telephoto lens means any form of zoom will quickly deteriorate the photo quality, and I would recommend limiting the digital zoom as much as possible.
As always with Realme, low light photography is average, there is a dedicated night mode with long exposure, and it does make a significant difference between a normal shot. However, it can't compete with the likes of Huawei, and I have found it very sensitive to movement introducing blurring with the tiniest bit of shake.
For video, you get gyro-EIS with options for ultra steady and max ultra steady. Video can go up to 4K at 30FPS, or you can do 1080p and 60FPS. If you want to record with the ultra-wide lens, then you will be restricted to 1080p at 30fps.
Camera Samples
Performance and Benchmarks
Overall performance is superb; the Qualcomm Snapdragon 765G gives you a flagship like levels of performance at a fraction of the cost. With the increased price of the Snapdragon 865, phones based on the Snapdragon 765G are definitely the sweet spot this year. Admittedly, it is not quite as good as the Kirin 820 the affordable 5G chipset you find on the Huawei P40 Lite 5G, but that costs more and has issues with Google.
In particular, while it does score a lot less than the SD865G in gaming benchmarks, this is a superb phone for gaming offering oodles of performance and smooth gameplay thanks to the 120Hz display. While I am not an obsessive Android gamer, I do like to play Call of Duty, and it easily handled this with no performance dips at all.
The combination of the SD765G, 120Hz display and Realme UI mean that day to day use everything runs perfectly. There are no noticeable performance glitches; everything loads extremely quickly, scrolling and gestures are all beautifully smooth.
Battery
Battery life is superb, again not quite beating the Huawei P40 Lite 5G but more than enough for well over a days worth of usage.
Using the PC Mark battery test, I achieved 15h 13 mins which is considerably higher than the Realme 6 and over 3 hours better than the Realme 6 Pro. Like most of the mid-range phones from Realme, you get 30W charging, which can take your phone from dead to 70% in around 30 mins, so there should rarely be an occasion where you are out of battery.
Software
My device appears to have arrived with some early software, so my experience was a little rough to start. Thankfully it has improved a lot since then, and hopefully, Realme will address the issues I have with the security check application.
The phone runs Realme UI, which is based off ColorOS which OPPO uses. I have no major issues with it, but it takes a little getting used to when coming from other brands. My biggest gripe is the way the settings are laid out, things are just not in the right order, but it is hardly a huge problem.
Removing Realme Security Check
My review sample came with a piece of software that runs a security check any time you try and install an app. It is very annoying, to say the least, and obviously a carry-over from the Asian ROMs. Hopefully, this will be removed by the time customers by it, but if not, you may wish to remove it yourself.
To do this, you will need to use ADB on a computer and enable developer mode. While it is quite simple, it is more complex than many people are comfortable with.
Enable developer tools on your phone

Settings > About Phone  > Version > Touch build number 7 times

Go back to settings then under additional settings, there is a new option called developer tools. In this, you need to enable USB Debugging
Download the SDK Platform Tools
Unzip them wherever you want
If using windows, go to the folder press shift and right click then open PowerShell window here
Type adb devices
For me, running adb doesn't work in PowerShell you need to type in ./adb
You phone should ask if you want to connect via adb and to trust the source, click yes
Rerun adb devices (press up) and it should show that it is authorised
Run adb shell (./adb shell)
You need to type in the command listed further down. I originally put it here, but WordPress messes about with the way code is displayed.

pm uninstall is the uninstall command, the user is root, and the rest is the package that does the security checks
You can also use this method to delete any other unwanted apps, but do so at your own risk
pm uninstall --user 0 com.realme.securitycheck
Price and Competition
As previously discussed the recently announced OnePlus Nord is the most likely alternative option, it costs £80 more but has a superior build quality, 8GB RAM vs 6GB and features a 90Hz OLED display. OxygenOS is also a bit nicer than Realme UI. All these add up to justify the extra money, but at the same time that does represent a 26% price increase over the Realme, so they are quite different phones in terms of pricing.
The other alternative is the OPPO Find X2 Lite, this is more like the OnePlus but lacks the higher refresh rate screen, uses a notch and costs a little more. However, it has one big advantage, it is the only option out of the three phones where you can pick it up on contract across multiple carriers.
The TCL 10 5G is also coming to the market soon, it is price about the same as the OnePlus Nord, so higher than this. The camera is better, it has a bigger battery, microSD and 3.5mm so it could be a good alternative.
Overall
There is no denying that the Realme X50 offers phenomenal value for money. In terms of chipset performance, most people won't notice the difference between this and a flagship phone, yet you are paying half the price.
You do make a few sacrifices to achieve this price point, the biggest being average camera performance. There is nothing specifically wrong with it, but at the same time, nothing special. While the 120Hz display is incredibly responsive, I'd still prefer an OLED over IPS.
I had a couple of software-related problems. One was fixed via a firmware update, but I am not 100% sure if the security check function will get shipped on retail units. I hope not. It is easy enough to remove, but it shouldn't be there in the first place.
As always with Realme, if you want the best bang for you buck, then they are the go-to brand. With no Xiaomi/Redmi/Poco options available in the UK with the SD765G, this has no real competition at this price point. The only realistic option is the more expensive, but also better, OnePlus Nord.
Last update on 2022-05-21 / Affiliate links / Images from Amazon Product Advertising API