Yesterday, two new gaming phones entered the market, both featuring the brand new Qualcomm Snapdragon 865 Plus.
ASUS released their third iteration of the ROG Phone while Lenovo released their first flagship gaming phone, the Legion.
Qualcomm Snapdragon 865 Plus
The new SoC upgrades the CPU and GPU speeds by 9.2%, upping the frequencies on the Cortex-A77 cores to up to 3.1GHz for the first time ever in a smartphone.
The other cores remain identical with 3x Cortex A77 running at 2.42GHz and then 4 small Cortex A55 cores.
The original Snapdragon 865 was clocked at 587 MHz, and the new Snapdragon 865+ has an undisclosed frequency, but a claimed 10% performance boost.
ASUS ROG Phone 3 Specification – Incremental upgrades vs ROG Phone II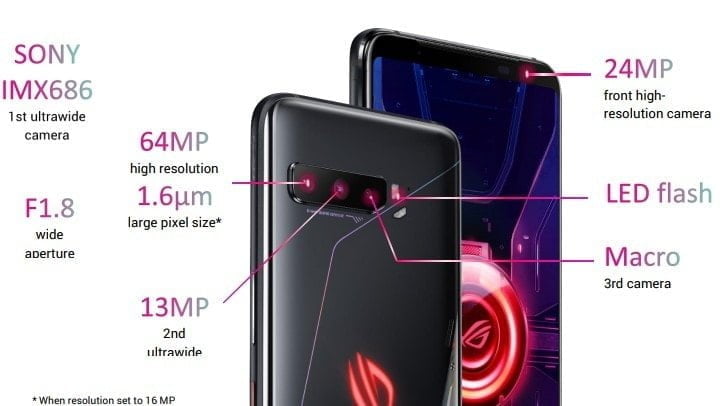 As usual with the ASUS ROG Phone, they go all out on specs. However, this year there are now three options.
The most affordable option uses the slightly slower Qualcomm Snapdragon 865 then has 8GB RAM and 256GB storage. This is called the ROG Phone 3 Strix Edition to avoid confusion.
There is then a 12GB/512GB and 16GB/521GB option which both use the newer Snapdragon 865 Plus.
ASUS says that it's also vastly upgraded the heat sink of the SoC inside the phone, with it now being 6x larger than that found on the ROG Phone II, so there is less chance of thermal throttling during long sessions.
The display is the same size and resolution of last years phone at 6.59″ 2340 x 1080 (19.5:9), again using AMOLED, however this year they have upped the refresh rate to 144Hz while keeping the touch sampling the same at 270Hz.
Battery size remains the same too with a monster 6000mAh, but they have upgraded the charging to 30W charging (PD).
The camera gets an upgrade too, with the primary lens now features the 64MP Sony IMX686 sensor. You get the same 13MP ultra-wide lens, and it still lacks a telephoto lens, but they have added a 5MP macro lens.
You still get two USB ports with USB-C 3.1 on the side then USB-C 2.0 on the bottom, however, they have removed the 3.5mm headphone jack.
The overall dimensions have remained almost identical too, and this is still a hefty phone at 240 grams
You still get ultrasonic shoulder buttons but they have now been made more customizable. You can split each into two buttons if you need additional controls or use them as for slide gestures to adjust the game camera's angle.
Lenovo Legion Dual Specification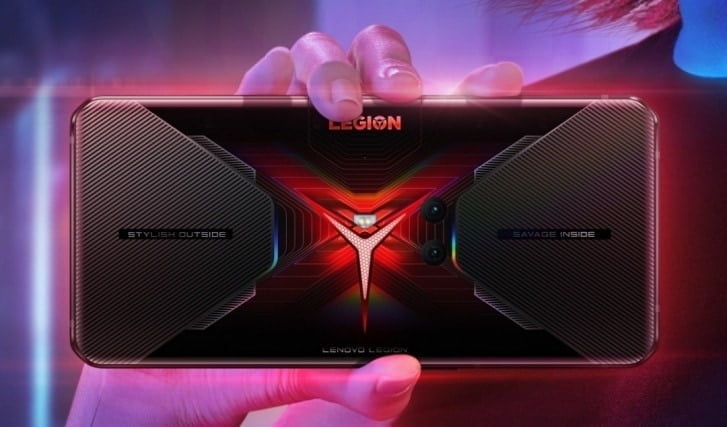 The Lenovo Legion Dual is perhaps a little more exciting, maybe because it is new and interesting to see their interpretation of a gaming phone.
Like the ASUS, this comes with Snapdragon 865 Plus, but this is standard across all configurations, which go from 8GB/128GB up to 16GB/512GB.
The display is also suspiciously similar to the ASUS, likely source from the same company. It has a 6.59-inch FHD+ AMOLED display with a 144Hz refresh rate and a 240Hz touch sampling rate.
The 20MP selfie camera is side-mounted and pops out to help facilitate live streaming during gaming sessions.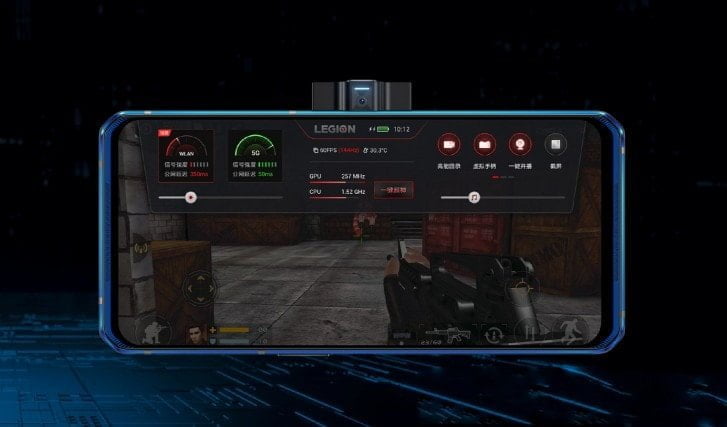 On the rear is a 64MP primary camera alongside a 16MP ultrawide sensor located in the middle.
The battery is a bit smaller than the ASUS at 5,000mAh, but it is the first phone to offer 90W fast charging which can do a full charge in just 30 minutes. However, to achieve this, you need to plug in chargers in the two USB-C ports – one on the bottom and another on the left side and fill the two cells simultaneously.
Adding to the gaming experience are the pressure-sensitive side triggers and 4 mics for optimal sound recording.
The Duel also sports an advanced cooling system with two heat pipes as well as Lenovo's U-Engine dual X-axis vibration motor which promises over 100 types of long vibration patterns and 13 kinds of low-response ones.
Lenovo will also offer a range of accessories for the Legion Pro, including a dock which allows for easy connection to a monitor.
Price and Availability
For ASUS you have to pay premium prices:
8+256GB + S865: €799/£718
12+512GB + S865+: €999/£897
16+512GB + S865+: €1099/£987
The Lenovo Legion Phone is technically cheaper, but it has only been launched in China so far, and these prices will not be relevant to the UK market, you can expect at least a 20% increase.
8GB RAM + 128GB = ¥3499 ($500/£300)
12GB RAM + 128GB = ¥3899 ($555/£440)
12GB RAM + 256GB = ¥4199 ($600/£470)
16GB RAM + 512GB = ¥5999 ($860/£675)
It is expected that the phone will be announced in Europe, the Middle East, Africa, and Latin America but will not be sold in the US.