Livall BH51M NEO Review Score
Summary
A bit weighty for your Sunday ride, but for the daily commute this tech featured bike helmet has a superb range of safety features that easily justify its cost.
I reviewed the Livall BH60SE back in March 2019 and came away very impressed with the smart bike helmet which combined lights, built-in speakers and indicators.
That was a road cycling style helmet, and Livall also makes some more urban or commuter orientated helmets. Their latest being the new flagship Livall BH51M NEO which has taken their existing commuters' helmet and updated it with some extra smarts.
The older Livall BH51M had the same features as the road bike orientated BH60SE which included automatic inductive LED lighting with 270° visibility including turn signal indicators, handlebar remote control, stereo speakers and Bluetooth technology to connect to your smartphone.
The two built-in Bluetooth stereo speakers and windproof hands-free microphone enable you to listen to music on the go, answer phone calls remotely and hear GPS sat nav directions while being aware of your surroundings.
In the event of an accident, the built-in 3-axis gyroscope activates an SOS Alert on your smartphone that is sent to your designated contact along with your GPS location. Peace of mind for you and your friends and family.
The new BH51M NEO introduces front facing bright LED's and automatic brake warning lights.
In the past 2 years, the Livall range has won multiple awards including 'Product of the Year' in the Urban category at ISPO Munich 2018 and 'Tech for a Better World' Award at CES
You can currently buy the Livall BH51M NEO for £149.99 direct from Livall or it is also on Amazon While this is not exactly cheap, most of the lower end dumb bike helmets will set you back £50 and quickly go up to well beyond a hundred. Similarly, bike lights, and earphones that are safe to use on the road will all add up to a significant cost.
[content-egg module=Amazon template=list]
Full Feature List
Bright front and back LED lights to make you more visible from all directions.
Brake warning lights are activated when the built-in gravity acceleration sensor detects a significant deceleration, the front and rear lights will be enhanced for 3 seconds to draw attention from surrounding traffic.
Fall detection alert means in the event of an accident, the emergency system will kick in automatically and send your GPS location to your emergency contacts via SMS message.
Hands-free operation so you can just concentrate on the road ahead.
Voice navigation allows you to keep your eyes on the road; listen to GPS directions via the built-in speakers and your connected smartphone.
Stereo speakers – Quality music, audiobook and podcast playback is delivered through Bluetooth stereo speakers strategically placed above the ears, allowing you to stay alert to surrounding traffic.
One-click to answer phone calls using the remote control; enjoy clear sound with the wind-proof microphone.
Indicator signals allow you to alert traffic of your turning direction to enhance your visibility.
Smart lighting means the lights can be set to come on automatically in dark conditions, perfect if your commute starts handlebars in good light but ends in darkness.
Anti-loss alarm is activated when the helmet is connected to your phone and the distance between helmet and phone exceeds 15m, both the helmet and phone will alarm.
Auto-off ensures maximum battery longevity, turning off automatically when the helmet is disconnected from the phone and not operated within 15 minutes.
SOS alarm can be activated if you are in distress by simply pressing the red button on the remote for 5 seconds. Your emergency contacts will receive an alert SMS message with your GPS location.
Walkie-Talkie allows you to easily communicate with your fellow cyclists when riding in a group.
Set up & App
With this being a smart helmet, it is a bit more involved than just putting it on. The remote attaches to your handlebars with a thick rubber loop similar to how many other handlebar attachments work, it is pre-paired so all you need to do is switch your helmet on and it should work.
The headphones don't pair up like standard, you will need to download the Livall app to be able to pair, and this also requires an account. While it requires more effort than normal it is easy enough and the app will then give you the SOS functionality.
As well as being able to set up the SOS function, Livall has also developed this as a basic sports tracking app, and you can do group rides with it. If you all have Livall helmets you can use it as a walkie talkie.
In use
The first thing I noticed about this helmet was the weight and overall feel of it, it is not exactly light and because of that, it is not something I would use for long recreational bike rides. At first, I felt a bit like a bobblehead, but after a few minutes I adjusted to the weight.
Lights & Brakes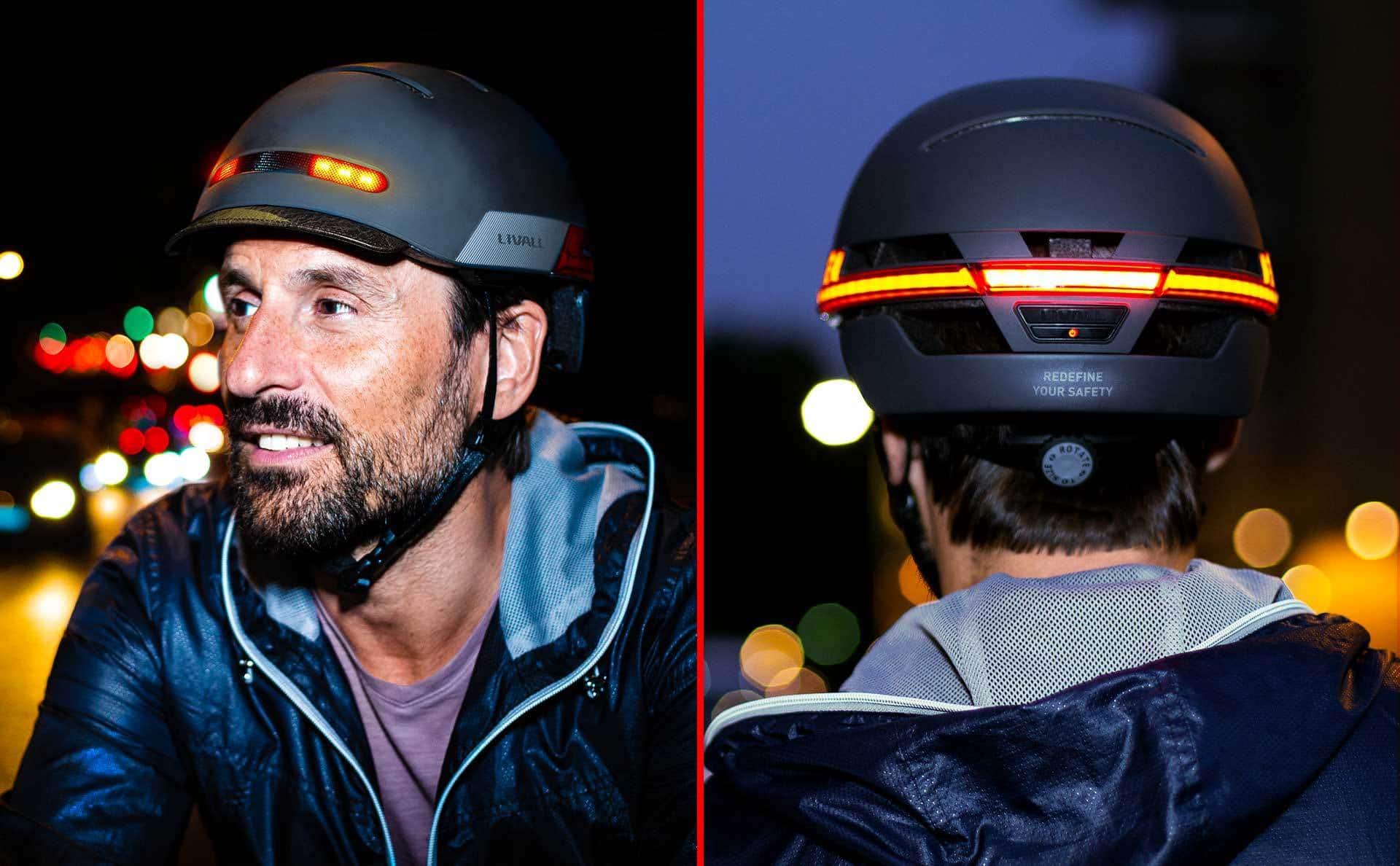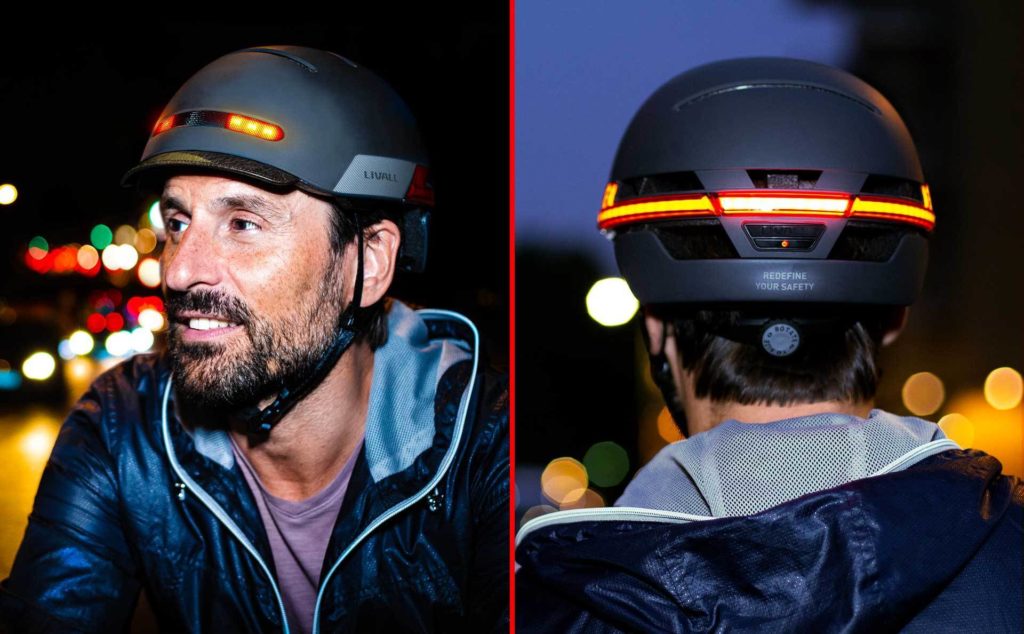 The lights are perhaps the most important feature of this helmet, this model now gets front and rear-facing lights with the rear lights covering 270° and providing lighting off to the side.
With these lights being located on your head it raises them up making them a bit more visible than equivalent lighting on the rear of your bike. While you should probably use bike lights too, I do like the fact that I don't have to remember to attach my bike lights when I need to cycle in the dark (or remember to remove them if I lock my bike in public). They are quite bright, so there is probably no need to use bike lights too, but every little helps.
The front lights are not the brightest but they are fine for going down street lit roads improving your visibility to other drivers, if you cycle down unlit roads then I would suggest proper front lights is a must.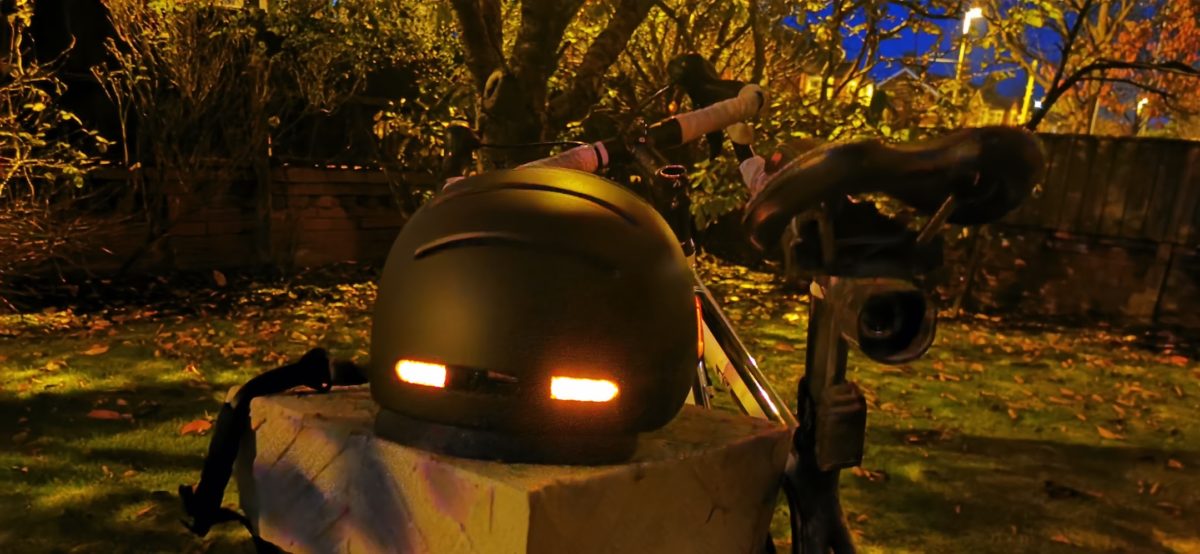 This model introduces brake lighting so when the built-in accelerometer sensor detects a significant deceleration, the front lights, along with the taillights will be activated for 3 seconds acting as brake lights warning traffic and pedestrians you are slowing down. It is not the easiest thing to test by yourself, but I got my partner to confirm it works before I set off to the gym in the morning.
Indicators
As well as the main lights, the helmet works as an indicator via the remote control you attach to your handlebar. This then allows you to use your thumb to press the indicator as you turn, which is likely much more visible in the dark than using a hand single. In some scenarios, like needing to turn through a roundabout, I don't feel very safe trying to accelerate and hand signal, and I have been beeped at more than once for failing to signal. So with this I can still signal while keeping my hands securely on the handlebars.
Speakers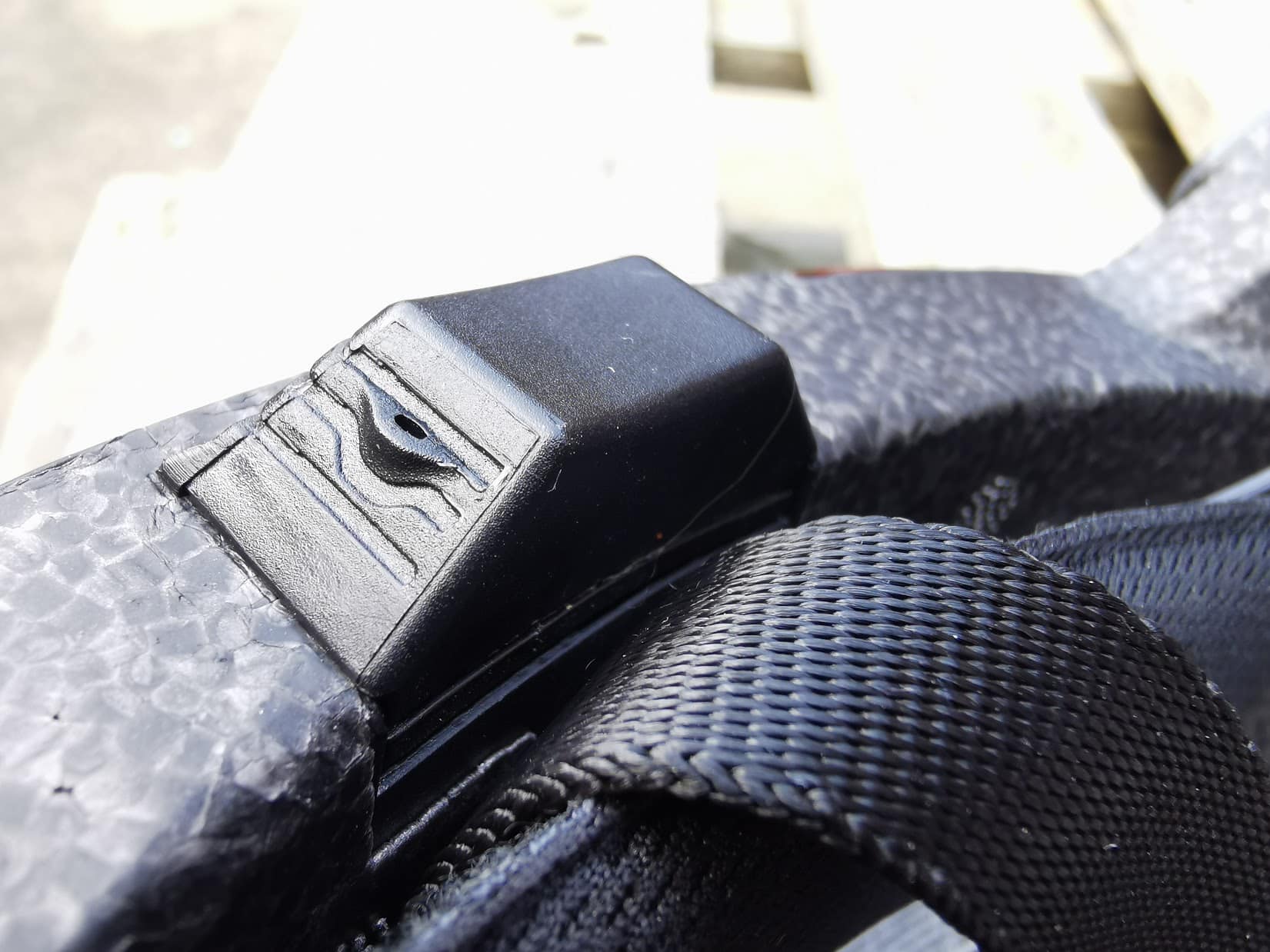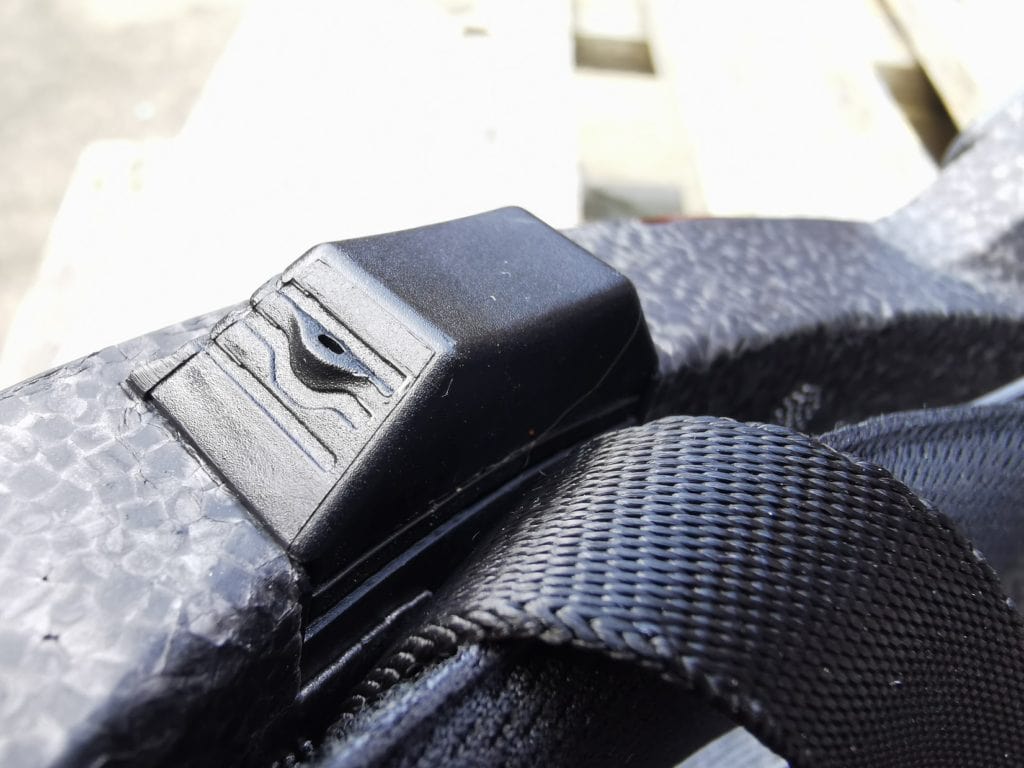 Commutes can be boring so being able to listen to music while still being able to hear the environment around you is a big plus. The quality of the speakers isn't great, and they quickly get drowned out with wind noise or heavy traffic, but it is a nice addition to have.
More useful is when you are cycling and need directions, again this provides a safe way to get audio directions and saves you continually having to pull over to check your phone. Again, vocal commands can get drowned out in some scenarios but you can still hear something come through and be aware you need to make a manoeuvre in the near future.
SOS
Finally, if you do find yourself in an accident, the helmet has built-in SOS which requires you to set up via the app. With this, when it detects a fall it will send a text to a pre-assigned person letting them know. There is a countdown timer for the SOS, so if you just drop your helmet or have a minor crash you don't have to worry your SOS contact. It is a similar feature to a lot of sports and smartwatches. Including the Apple Watch and Garmin Fenix 6, I have read several cases where it has been life-saving on those devices.
Overall
While this is not something, I would use for my long leisure rides due to the size and weight, it is perfect for the daily commuter. As we enter November, most people will be cycling to work in the dark, potentially home in it too, and any the improved visibility these offer for a daily commuter easily justifies the cost.
I have had many close encounters with cars in the years, most of the time it is their fault, sometimes mine, so the brake lights and indicators should hopefully reduce these. I can't say how much it has helped but I haven't had a crash since using the helmet.
The speakers can suffer in the wind, but it makes the commute more bearable being able to listen to something and in-ear earphones put you at risk of hazards, while bone conductions earphones can be very pricey.
Overall I think the combination of all the technology in here easily justifies the price
You can buy this model direct from Livall at: https://livall.co.uk/product/livall-bh51m/