New information covering the entire 10th Generation desktop CPU family, ranging from each specific SKU to the platform itself has been published by Wccftech.
The new generation of chips sees Intel up the core count by 2 over the i9-9900 but what else is new and how does the new range compare to the previous generation and its AMD counterparts?
Comet Lake-S is the official codename for the mainstream desktop, this will be the 6th iteration of the 14nm  fabrication process, with 10nm not arriving until 2020 and AMD on 7nm.
Related Content
The new Comet Lake-S platform brings many new features including:
Up To 10 processor cores for enhanced performance
Up To 30 PCH-H High-Speed I/O lanes for port flexibility
Up To 40 PCIe 3.0 Lanes (16 CPU, up to 24 PCH)
Media & Display features for premium 4K content support
Integrated + Discrete Intel Wireless-AC (Wi-Fi/BT CNVi) Support
Intel Wi-Fi 6 (Gig+) Support
Enhanced Core and memory overclock
Integrated USB 3.2 Gen 2×1 (10 Gb/s) support
Intel Rapid Storage Technology (Intel RST)
Programmable (Open FW SDK) Quad-Core Audio DSP
C10 & S0ix Support for Modern Standby
Intel claims the 10th Gen Comet Lake series will deliver an 18% performance improvement in multi-threaded compute workloads compared to 9th Generation processors and an 8% generational improvement over 9th Gen parts in general windows workloads.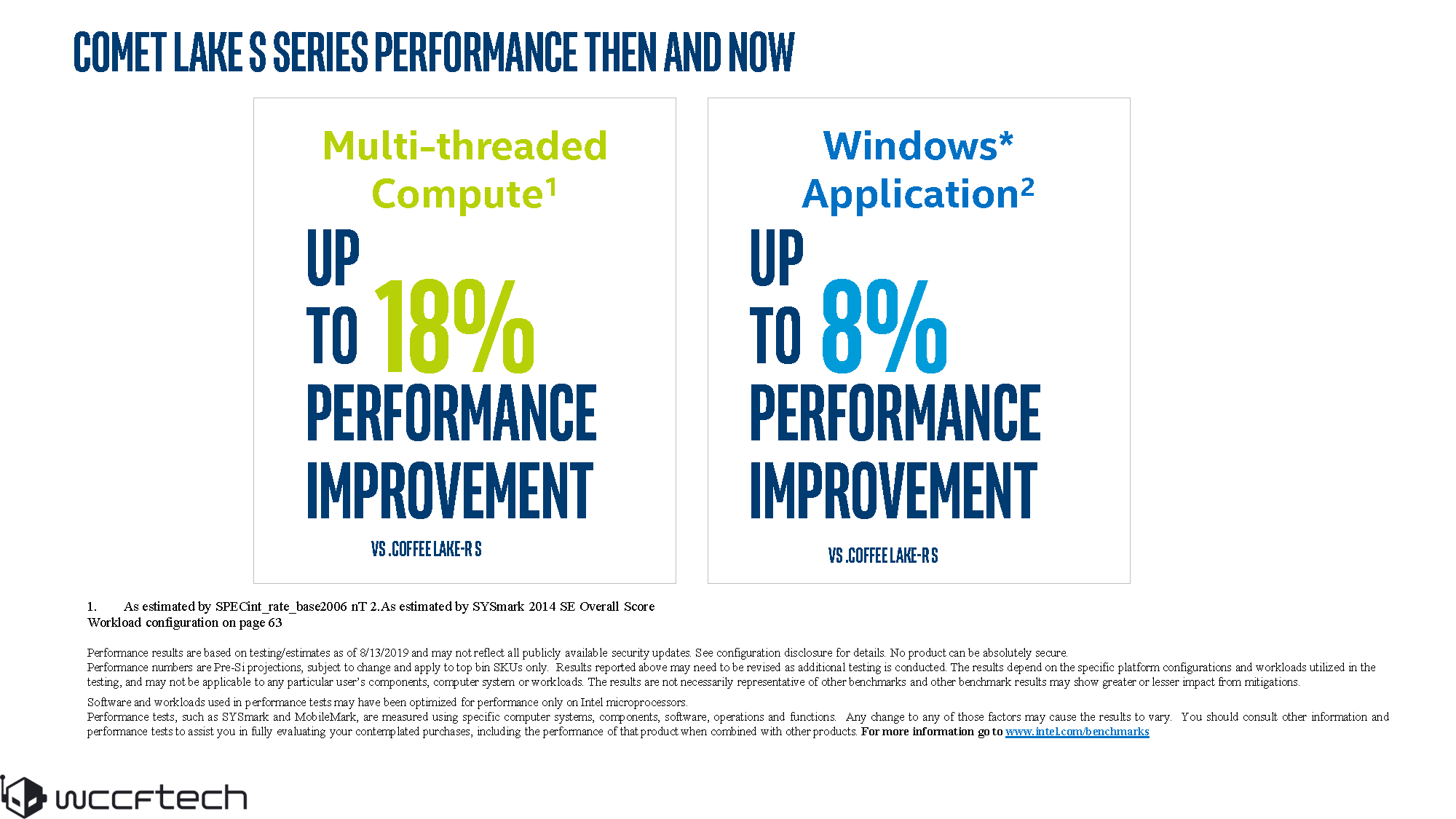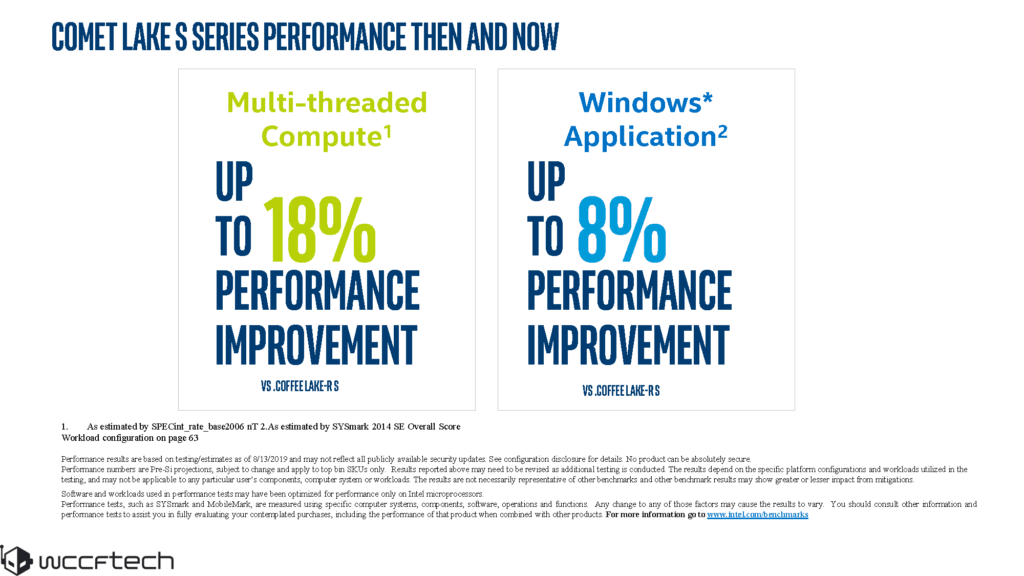 Intel 400-Series Platform & LGA 1200
If you were hoping to upgrade your existing CPU then you may be disappointed to here that the new CPUs will require entirely new motherboards thanks to the new 400-series platform using a new LGA 1200 socket over the long-established LGA 115. This socket has the same dimensions as the LGA 1151 socket but the socket keying has shifted to the left side and Comet Lake is no longer electrically or mechanically compatible with Coffee Lake motherboards. 
As the size remains the same, existing coolers would still be compatible with the LGA 1200 socket.
One advantage Intel may have over AMD here is that the continued use of PCIe 3.0 might make their flagship motherboards cheaper than some of the crazy prices seen for AMD.
Intel Core i9-10900 vs Intel Core i9 9900 vs Ryzen 9 3900
The leaked line-up includes 15 processors with the Intel Core i9-10900K sitting at the top of the pack, unfortunately, specifics about this processor are unknown such as the frequencies and TDP.
The Intel Core i9-10900 does have more information and this is clocked at 3.0 GHz with a boost of 5.1 GHz and a TDP of 65W with a cache of 20MB. The CPU itself will provide 16 PCIe 3.0 Lanes which is the same as the previous generation.
The equivalent 9-th generation chip is the Intel Core i9 9900 which has 2 fewer cores with 8 and 16 threads. It's base clock is a little higher at 3.1Ghz but its boost is a little lower at 5.0Ghz. This has 16MB of cache and has the same 65w TDP as the i9-10900. This is currently priced at £449.99 on Scan
Currently, AMD has either the £374.99 8-core AMD Ryzen 7 3800X CPU or the 12-core £551.99 that could compete with this, though the just announced Ryzen 9 3900 is perhaps the better like for like CPU. With Ryzen 3000 you get 24 PCIe 4.0 lanes on the CPU.
The Ryzen 9 3900 has 12 cores, 32 threads with a base frequency of 3.1Ghz and a boost of 4.3Ghz plus a TDP matching Intel at 65W. The cache on AMD is a little different and this uses 6MB L2 and 64MB L3. At the moment pricing has not been revealed but it should fall between the 3800X and 3900x so probably around the same as the Core i9 9900.
It is worth noting, that while Intel doesn't look particularly appealing compared to AMD on paper, many people regard the 9900K as the best-performing chip for gaming, albeit, offering worse value for money than the AMD equivalent.
Full Intel 10th Gen Core Comet Lake Desktop CPU Line-Up:
| CPU Name | Cores / Threads | Base Clock | Boost Clock | Cache | TDP | Price |
| --- | --- | --- | --- | --- | --- | --- |
| Intel Core i9-10900K | 10/20 | TBD | TBD | 20 MB | TBD | TBD |
| Intel Core i9-10900 | 10/20 | 3.0 GHz | 5.1 GHz | 20 MB | 65W | TBD |
| Intel Core i9-10900T | 10/20 | 2.0 GHz | 4.5 GHz | 20 MB | 35W | TBD |
| Intel Core i7-10700K | 8/16 | TBD | TBD | 16 MB | TBD | TBD |
| Intel Core i7-10700 | 8/16 | 3.0 GHz | 4.8 GHz | 16 MB | 65W | TBD |
| Intel Core i7-10700T | 8/16 | 2.0 GHz | 4.4 GHz | 16 MB | 35W | TBD |
| Intel Core i5-10500K | 6/12 | TBD | TBD | 12 MB | TBD | TBD |
| Intel Core i5-10500 | 6/12 | 3.2 GHz | 4.3 GHz | 12 MB | 65W | TBD |
| Intel Core i5-10500T | 6/12 | 2.3 GHz | 3.7 GHz | 12 MB | 35W | TBD |
| Intel Core i3-10100K | 4/8 | TBD | TBD | 8 MB | TBD | TBD |
| Intel Core i3-10100 | 4/8 | 3.2 GHz | 3.8 GHz | 8 MB | 65W | TBD |
| Intel Core i3-10100T | 4/8 | 2.3 GHz | 3.6 GHz | 8 MB | 35W | TBD |
| Intel Pentium G6400 | 2/4 | 3.8 GHz | 3.8 GHz | 4 MB | 65W | TBD |
| Intel Pentium G6400T | 2/4 | 3.2 GHz | 3.2 GHz | 4 MB | 35W | TBD |
| Intel Celeron G5900 | 2/2 | 3.2 GHz | 3.2 GHz | 2 MB | 65W | TBD |
| Intel Celeron G5900T | 2/2 | 3.0 GHz | 3.0 GHz | 2 MB | 35W | TBD |
Source: wccftech