Suunto 9 Initial Impressions
Product Name: Suunto 9
Offer price: 499
Currency: GBP
Availability: InStock
Initial Impression -

80%
Update: The full Suunto 9 review is now live
The Suunto 9 was announced a few weeks ago, and I received my review sample at the end of last week. Since then I have replaced my Garmin 235 and used it as my daily watch. I have not had it long enough to test it thoroughly but I thought I would do a short post with my initial impressions.
Priced at £499 the Suunto 9 is the top of the range watch from Suunto and has arrived around the same time Garmin has launched their refreshed Fenix 5 line called Fenix 5 Plus. The Sunnto 9 is more like the original Fenix 5 as it does not have any smart features such as built-in music or NFC card payments. It is however around £100 cheaper than the new Garmin.
One of the primary features of this new watch is the battery, there are various modes to maximise the amount of GPS use you can get out of your watch, with the ultra-mode allowing up to 120 hours of GPS tracking. So, this watch will appeal to the growing number of endurance athletes such as Ironman and ultra-marathons. After recently completing a 100m cycling sportive my Garmin 235 and Garmin Edge 520 nearly died on me after 6 hours of use, so there is clearly a market for ultra-long batteries in sports tracking devices.
[button link="https://amzn.to/2zAsV8V"] Buy the Suunto 9 from Amazon[/button]
Being a flagship device, the overall look and feel of the watch are excellent, unlike the Garmin, there is only one size available. So, if you are cursed with thin wrists such as myself, then the watch does look a little oversized.
You can navigate the menus of the watch with either the three hardware buttons or the touchscreen, the buttons have a nice firm tactile feel to them, while the touchscreen is fast and responsive. I found I used the buttons during exercise while I used the screen for general use, this is mainly because there is no back button, so you have to browse back to the back option when using the buttons. With the screen, you just swipe back.
As you would expect, there is wrist-based heart tracking, and in comparing it to my Garmin 235 the LEDs are much larger, and the watch uses both yellow and green light. I believe this is to help with accuracy over different skin colours. The heart rate sensor is from Valencell and it is the latest generation module, they are generally regarded as one of the best on the market, and I have some initial results below.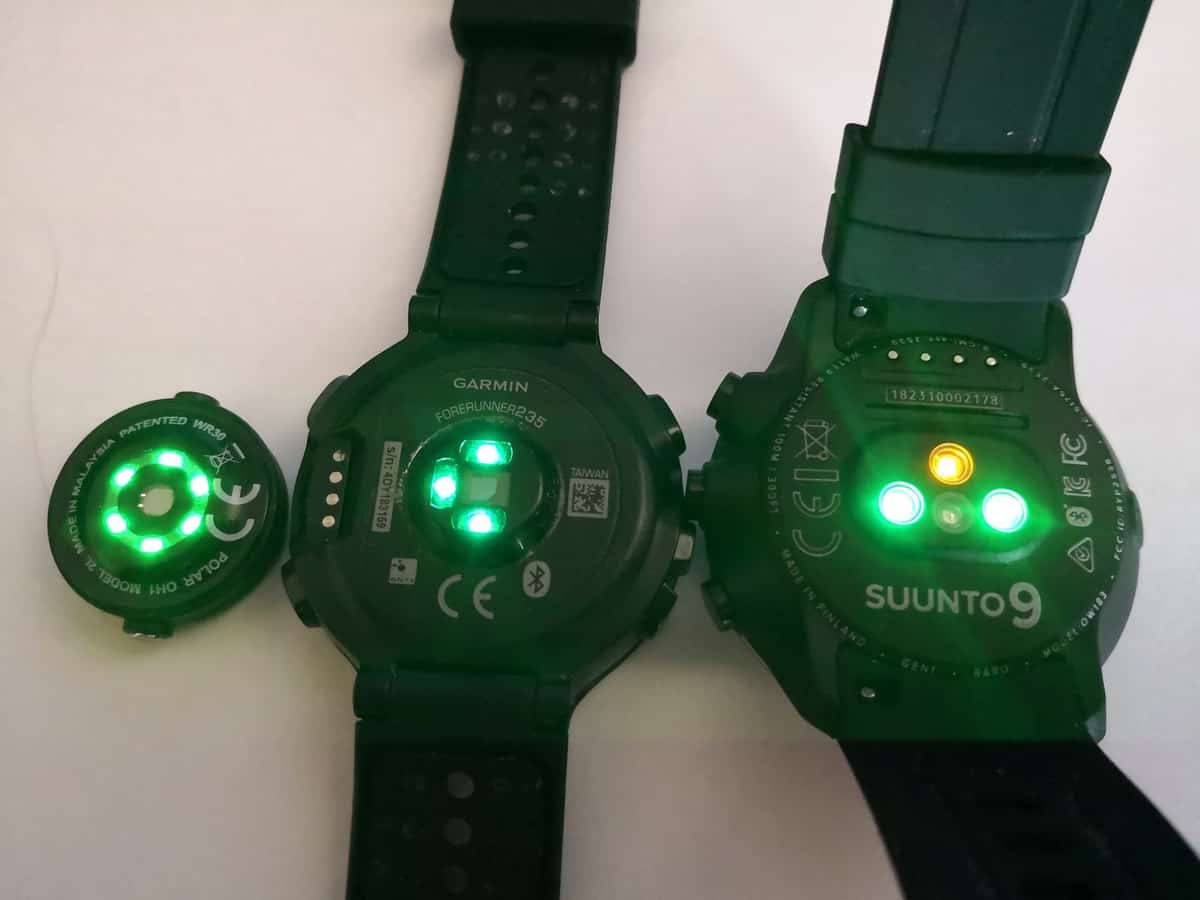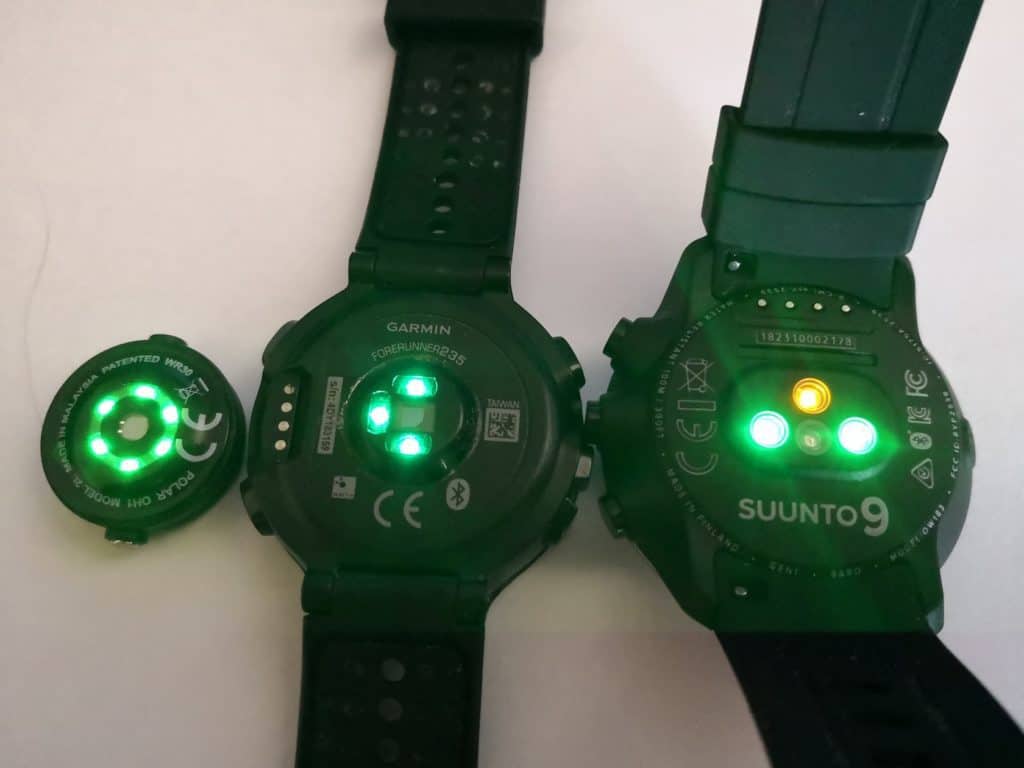 As I have been on holiday, I have not had a great deal of time to track activities, but I have squeezed in a few. During my testing, I have been wearing a Polar OH1 which should hopefully be the reference device and most accurate due to its placement. I also wore the Garmin 235 for comparison, this is not a like for like device, but it is all I have. I am hoping to get my hands on the Fenix 5 Plus in the next couple of weeks, so will be able to make a comparison of that then.
During my initial tests, I had some issues getting all three devices to work at the same time, starting three devices at once inevitably leads to user error. My full review will have more detailed comparisons.
My testing compromises of a lot of gym work doing cardio on the indoor bike, treadmill and occasionally the cross trainer. Outdoor work is mainly running, but I will try to fit in a bike ride at some point too.
HRM Results
The first test I carried out was done on the treadmill, as I have had issues with shin splints I like to do steep incline walks followed by a slow jog on a moderate incline, with me increasing effort through the incline rather than speed. This test yielded some positive data, there were some inaccuracies as usual with wrist-based HRM, but in general, there were no major peaks or troughs, unlike the Garmin.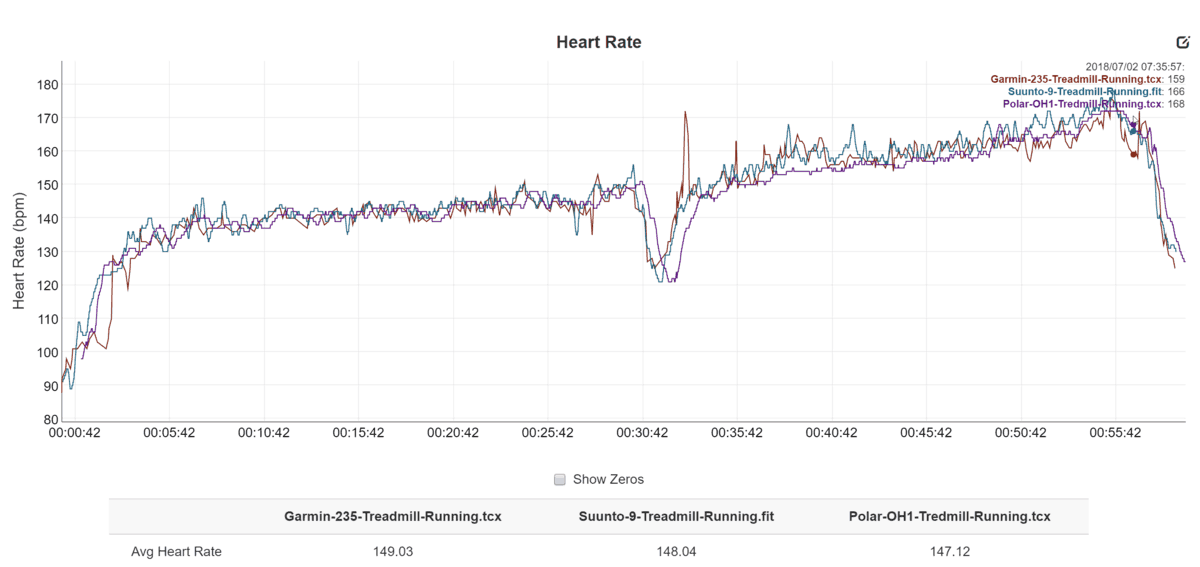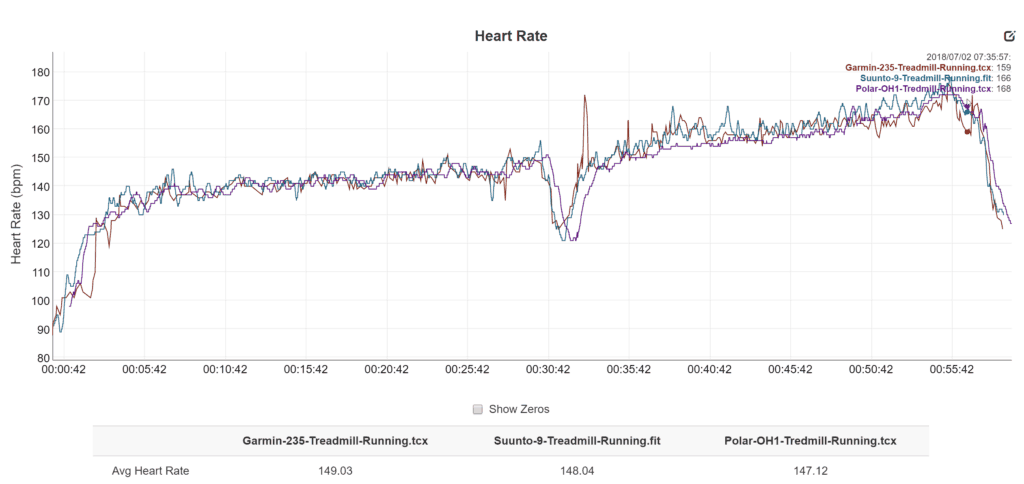 Unfortunately, the following three tests were less accurate to the point where I would say there was an issue with the watch or some truly awful placement on my wrist. Both the runs I did in Seville showed a massively elevated heart rate with the average BPM for the 2 runs being suspiciously close at 160.29 bpm and 160.22 bpm in comparison the Polar was 153.36 bpm and 148.95 bpm. So, on the second run, there was nearly a 12bpm difference between the two devices. My 1st run in Malaga where messed up both the Polar and Garmin tracking resulted in an average HR of 160.09bmp, which is also strangely close to the other results.
I have reduced the time period displayed in the images below to make the differences in readings more readable. If you click the image you should go to the public URL for my DCRainmaiker results.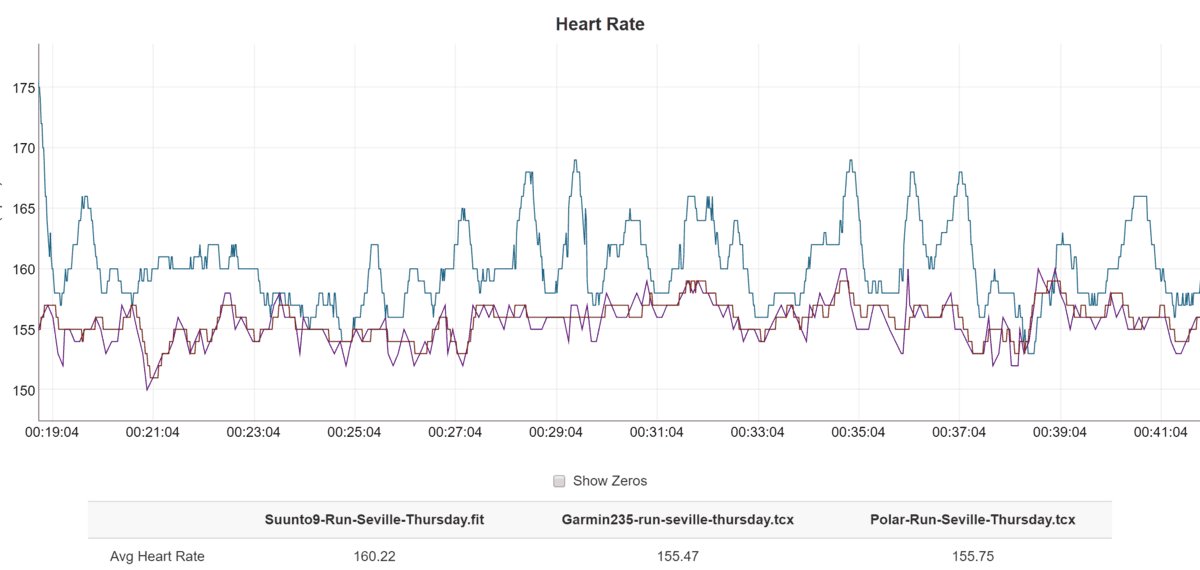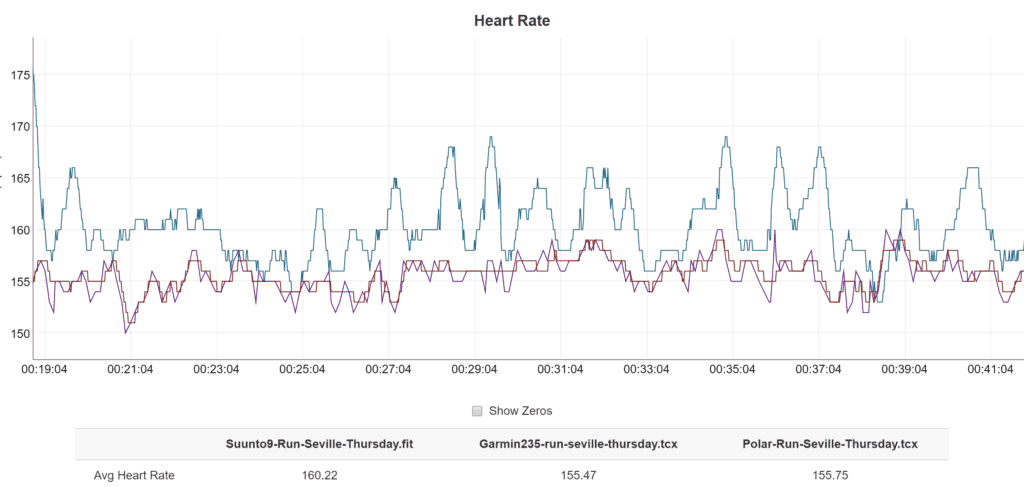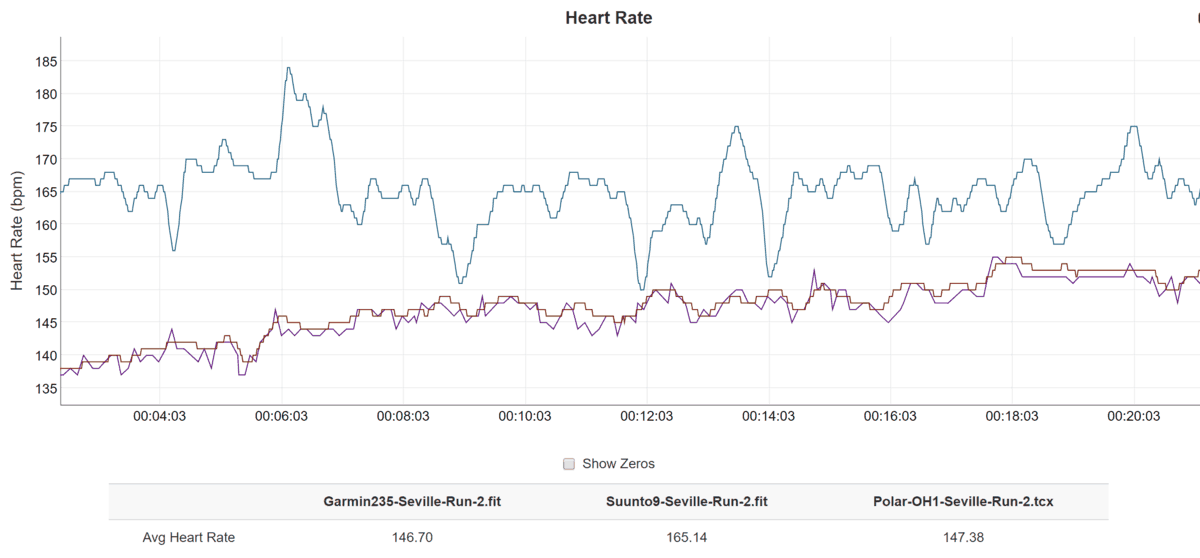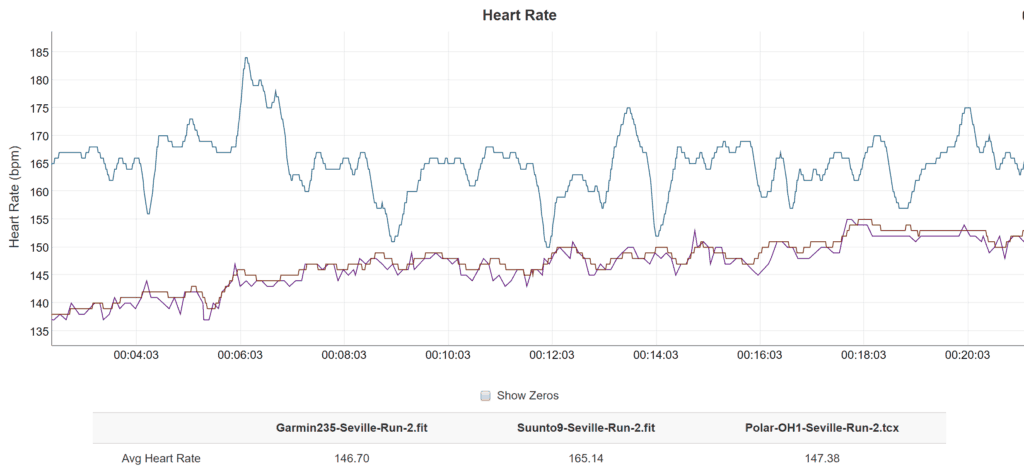 There is a good chance it could be a firmware issue, as when I got home I plugged the device into my computer and it updated. I did an indoor cycling session following this update, and this still had significant inaccuracies compared to the Polar (I forgot to charge my Garmin), but the problems here was a familiar issue I get with the Garmin, with the HR dropping off in parts for indoor bike sessions.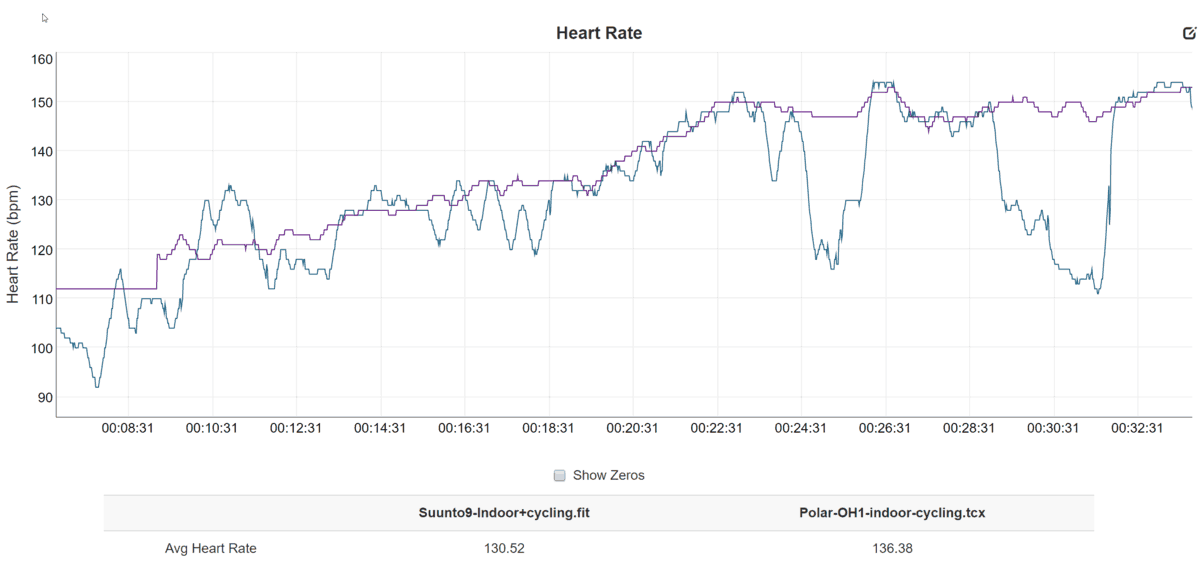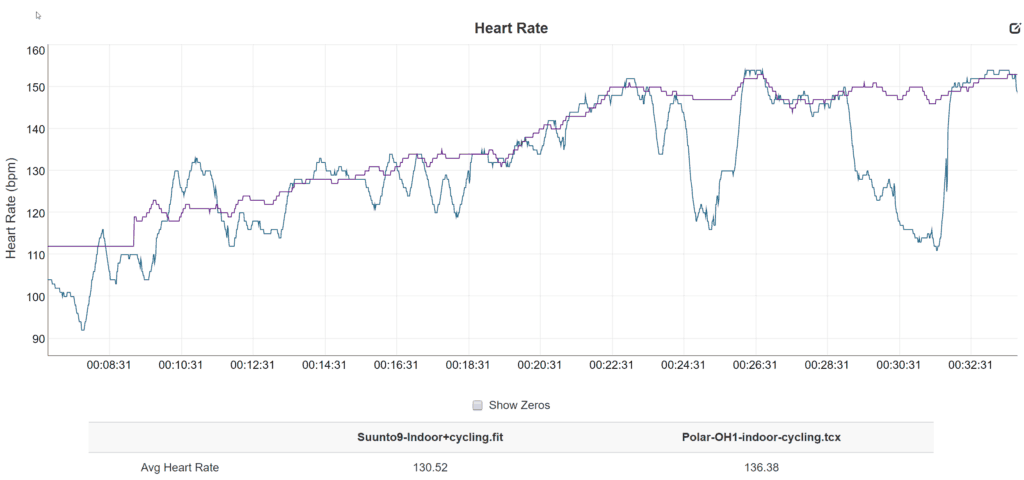 The heart rate sensor is from Valencell, so there is no reason why it should be any less accurate than the Spartan Trainer.
** Updates **
As suspected the accuracy issues were either the firmware or more likely the fit. The past 2 sessions I wore the watch with the sensors on the inside of my wrist, and extremely tightly, to the point where I had to force the pin into the next hole on the strap. The rubber is quite stiff which makes getting that tight fit a little harder. Anyway, and indoor bike ride was surprisingly accurate compared to the Polar OH1 . A 60m ride out into the hills of the Forest of Bowland was less accurate but I would say it was more accurate than the Garmin. Four hours in the saddle with me moving around regularly pretty much guarantees that the HRM will move around and give unreliable readings.




GPS Accuracy
I rarely pay much attention to GPS accuracy and just assume it is accurate enough, but on my runs, I did notice that the Suunto would vibrate when my phone told me I had done a mile whereas the Garmin was consistently behind a little.  While I don't worry myself about 0.1 mile normally, I have found it quite annoying during my past 3 half marathons that Strava and Garmin don't count them as a half due to the Garmin 235 consistently underreporting. If I use it for another event, I am seriously considering carrying on running past the finish until the Garmin records the right distance.
Overall
I love the watch and its interface itself. I haven't used the Spartan high-end devices before, but I believe this is more of an evolution of their range offering familiar features with a heavy focus on battery life. I like the watch interface and both the mobile and web app. I find the mobile app connects to my phone with fewer issues than the Garmin devices I have used in the past, and it causes considerably less battery drain.
GPS accuracy appears to be excellent from what I can tell, and Suunto has some pretty snazzy technology to do accurate tracking even when the GPS sampling is reduced down to 60 or 120 seconds.
Sadly, my initial tests were kind of ruined by some questionable heart rate results. I am 99% sure this is either a firmware issue or wrist placement issue. I do tighten the watch before all sessions though the rubber strap is quite stiff from new so maybe I have not done it enough. I am quite hairy too, but Garmin copes with this. I will continue testing and update my initial impressions with more positive results if I get them. UPDATE As suspected it looks like it is a fit issue, the rubber is very stiff so you have to tighten it much harder than normal. It will be annoying if it continues like this but it should loosen up and get easier.
Garmin seems to have done well selling its high-end devices to the general public even if they don't need them. Suunto seems to be moving in the other direction, rather than focussing on mass market appeal they are improving their devices to work for serious athletes that need accurate GPS data and extended battery life for endurance events.
[button link="https://amzn.to/2zAsV8V"] Buy the Suunto 9 from Amazon[/button]