Suunto 9 Baro review
Product Name: Suunto 9 Baro rview
Offer price: 499
Currency: GBP
Availability: InStock
Build and Design -

85%

Hardware Performance / Activity Tracking -

90%

Battery -

95%

HRM Performance -

70%

App -

60%

Price -

75%
A few weeks ago, the Suunto 9 was launched, and for the past three weeks or so I have been using it as my main sports watch, replacing my ageing Garmin Forerunner 235. I have posted some initial impressions of it, but now I have used it for around 20 gym, running sessions, and a long bike ride so I have a clearer understanding of how good it is.
The Sunnto 9 replaces the Spart Ultra as the top model in the brands line up, it is priced at £499 making it around £100 cheaper than the new Garmin Fenix 5 Plus line, but depending on sales, around £100 more than the old Fenix 5.
Suunto has taken an interesting approach with the 9, they have focussed on a specific target audience rather than specifically trying to compete with the vastly more popular Garmin products.
The Suunto 9 is particularly appealing to endurance athletes, with the watch having multiple modes allowing you to reduce GPS sampling times and vastly improve battery life. This may seem like a very niche target audience, but with the growth of Ironman and the popularity of long-distance cycling sportives, it has become quite a large niche.
[button link="https://amzn.to/2A4hNkY"] Buy from the Suunto 9 from Amazon[/button]
Key Features
The products highlight of the watch include:
Three predefined battery modes – Performance, Endurance and Ultra – deliver from 25 hours to up to 120 hours of recording time with GPS tracking on. Suunto 9 uses smart reminders based on your activity history to help ensure you are fully charged for your next outing. If the watch notices you are running low on battery during an exercise, it will automatically suggest changing to a different battery mode.
Intelligent battery technology with smart charging reminders
FusedTrack – algorithm combines GPS and motion sensor data to improve track and distance accuracy. This allows you to extend battery life by lowering GPS power without significantly compromising accuracy.
In comparison the Spartan Ultra which this replaces the new model has
Added FusedTrack: Ability to get GPS tracks without GPS data
Switched GPS chipset providers from SIRF to Sony
Addition of new battery performance options
Ability to dynamically change battery options mid-workout to get to finish
Ability to go into super-low power chrono mode to finish the workout
Added 'intelligent' low battery warnings day before your long workouts
Swappable bands using industry standard 24mm straps
Slightly bigger buttons (depth), different bezel styling too
Added optical heart rate sensor from Valencell (latest generation 1.2 sensor set)
Added 24×7 continuous HR tracking
Now compatible with new 'Suunto' mobile app, and Sports Tracker based web platform


Suunto App & Movescount
One of the strange things Suunto has decided to do is launch a second app called Suunto, and it appears they may phase out the older Movescout which they have stopped investing in.
The issue appears that the two services don't share data, so you need to choose one or the other. I liked Movescount in my review of the Spartan Trainer but found it missed a lot of features such as your daily health stats. Instead, it just showed your activity stats.
The Suunto App is the main app that Suunto is now pushing and features many of the things you would expect to see in a sports watch companion app including easy access to your step, sleep and calorie data.
Unfortunately, the Suunto App feels like it is only half developed, you get a lot of great features such as a good user-friendly design, the ability to easily view all your activity data and daily health stats. You also have the option to attach photos, comment on and like activities, all stuff you are used to from other apps.
I also found that the phone connection and automatic activity syncing is far more reliable than Movescount. My Mate 10 Pro has a particularly fussy Bluetooth connection, and with Movescount it would not maintain a connection for smart notifications and syncing a single activity would take about 15 mins, while I had to leave the screen active on the sync page.
So, what it does do, it does well, the problem is that there appear to be huge features that have been omitted in comparison to the old app and competing apps. The most serious issues are the lack of integration with 3rd party apps, so there is no synchronisation between Strava or any other service, this is inexcusable as far as a fitness watch companion app goes. At first, I thought there was no web access, but just to make things a little more confusing, activities synced to the Suunto App, go to sports-tracker.com so you can view your activities there, and more importantly download a GPX file for manual imports to other services. As far as I can tell Sports Tracker has no auto sync options, and there is no option to download .Fit or .Tcx files, so the data you can export will be lacking. Furthermore, Sports Tracker only shows basic data about your exercise, there is no VO2, EPOC, cadence or recovery time data, overall, from a brief look at Sports Tracker it is very poor compared to the Movescount web option.
[button link="https://amzn.to/2A4hNkY"] Buy from the Suunto 9 from Amazon[/button]
Based on this the Suunto App is really not good for the intended buyer of this watch it appears to be aimed at the casual sports watch user rather than serious athletes.
While I found notifications considerably more reliable than Movescount I can't find anywhere to customise what can send notifications. So, in my case, I get pestered with email and other push notifications frequently. While I would like to restrict that to just phone calls, text messages, and telegram messages (which I use to talk to my GF). You could easily do this in Movescount, but I can't find the settings for this on the new app.
So, as it stands, the Suunto App appears to miss the target audience of this watch, and you may be better off using continuing to us Movescount, or sync via the PC.
The other option, and what I do, is to use the Suunto App, so you have easy access to your health data, then do syncs to Movescount via your PC. I sync all my devices via PC as it is quicker and more reliable, I leave the USB cable in so when I get back from the gym I take the device off plug it in for a charge and go for a shower. That way I don't have to worry about battery or syncing activities very often.
Battery Life
Battery life and Fused Track are the two features that will likely make people buy this device over the Garmin equivalent. Features such as music and contactless payments are nice, but they are not much use if you are a serious athlete about to do a 12-hour event.
Suunto hasn't found a way to magically improve the battery performance of GPS. Instead they new watch has some pretty clever settings that reduce battery draining features. The watch has 3 predefined modes that you can quickly set for any exercise you start, and then a custom mode which will allow you to define your own settings.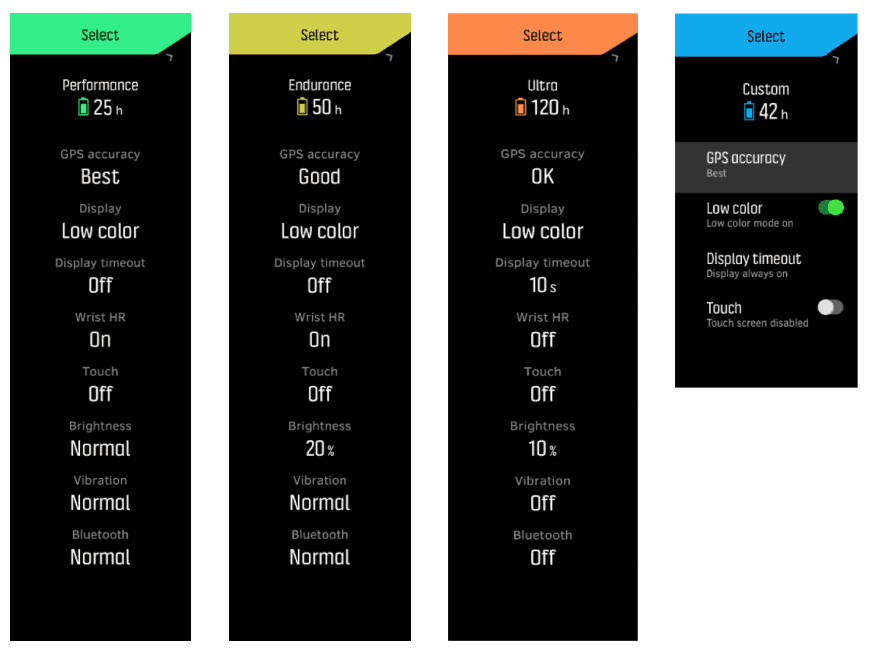 The three modes are 'Performance', 'Endurance', and 'Ultra'. The biggest battery drain during sports is the GPS, so Suuntu has reduced the issues associated from this by reducing the sampling rate 'Best' accuracy is every second, while 'Good' accuracy is every 60 seconds on the Spartan.  And 'OK' accuracy is every 120 seconds.
To get the 120h battery life, Suunto will then disable heart rate tracking too. I'm not sure if it is possible, but an option to reduce HRM sampling frequency would be good to provide a middle option between endurance and ultra. I think that would be reliant on the sensor supporting it though.
The other options that change are for obvious values such as screen brightness and screen timeout.
The 3 pre-defined options allow the performance to do 25-hours tracking, 50-hours and then 120-hours. So the watch should be able to last for the most extreme events or for multi-day activities such as hiking.
To further help you finish your activity without the watch dying, the watch will intelligently identify when the battery is low and suggest switching modes. During my testing, I didn't encounter this feature, but after a 100m sportive in Nottingham where my Garmin 520 died on me, I can appreciate how useful something like this would be.
When the battery is getting low during day to day use, the Suunto 9 will advise you if you need to charge the watch. It does this intelligently too, so it will work out when you do extended activities and let you know the night before.
[button link="https://amzn.to/2A4hNkY"] Buy from the Suunto 9 from Amazon[/button]
Fused Track
To complement the battery features, Suunto has developed something called FusedTrack. With the endurance and ultra-modes, the GPS sampling is reduced to 60 or 120 seconds so if you were cycling in the ultra mode you could easily cover over a mile in distance before the GPS gets sampled – that is a bit of an extreme example, but the same applied with running or other activities. If you were following a none straight line this would cause some very inaccurate tracking.
Suuntu alleviate this problem by taking data from multiple points including compass, gyro, and accelerometer to intelligently work out the GPS route
Performance
My first impressions of the watch had some mixed results, the first session I did with it was great, the subsequent runs I did on holiday resulted in some shocking heart rate accuracy, but good GPS.
I suspected it could be a fit issue, the rubber strap on the new watch was quick stiff, and the following activities have been a lot better, but you need to be careful with your fit. I know this is standard with all wrist-based tracking, but I found that this was really bad if the fit isn't perfect, but then better than average (or at least the Garmin 235) if you get a good fit. I have quite hairy wrists, and I found that it was best to wear the watch on the inside of my wrist for runs where I wanted accurate tracking. My most recent run had a normal tight fit but it was recording my heart rate around 20bpm higher than it was. It was only when noticed and flipped the watch around did it start tracking properly.
This particular run was a good example of the issues you can experience with wrist-based heart rate tracking, I had issues with the Suunto the first 20 mins, but once the fit was fixed it tracked quite accurately against the Polar. With the Garmin, even though I was wearing it quite tightly, it just completely failed for the entire run.


On the same run, I also put the watch into endurance mode to see how well the watch performs with its slower GPS sampling. It was mostly a straight route, so not the best to plot a GPS track, but I found it works well, but naturally not as good as the 1-second sampling on the normal mode. By the end of the route, the watch had tracked 13.47 miles or 21.68 km while the Garmin and my phone tracked 12.69 miles or 20.42km. While it was mainly a straight route, there was a sharp 90-degree turn at the start and a 180-half way around, so it is possible these were the points where it miss-tracked the distance. This is not ideal for short quick sessions, but if you are on a 6-hour bike ride, I don't think less than 1 mile over reporting is a significant issue. You can see the issues with pacing below:


One problem I did have with this mode was when syncing to Strava via Movescout it detected several personal bests which did not occur, such as best 400m and best 5k. So, I would have a very fast 1km segment followed by a very slow one. During the run itself, you don't get accurate mile markers, as it only updates every 60 seconds. These issues were inevitable due to the way the watch works in this mode, so I would only use the endurance or ultra-modes if you really need to.
The below screenshots show some areas on the GPS tracked route where the Suunto 9 messed up in endurance mode:
When working in the normal mode, I think the GPS accuracy is better than the Garmin 235. In particular, for a lot of my runs, the Garmin seems to under report by about 0.1 miles. Whereas both the Suunto and my phone alert me of a mile at around the same time. The Garmin has caused me some frustration because Strava won't recognise personal bests on recent half marathons as I only ran 13.1 miles according to the watch.
My final verdict on the Suunto 9 heart rate tracking is that it has the ability to be more accurate than the Garmin 235 but it is plagued with the same issues as all wrist-based HR tracking. It is good for casual training, you can't really get any more convenient than tracking via the watch you wear all day, and if you get a good fit and can be very accurate, but the slightest issue with placement or fit can cause serious issues with heart rate tracking. For day to day training and all day heart rate tracking it works well, but for anything serious, I would strongly recommend using a separate sensor such as the Polar OH1 which you can pair up with the watch.
The below images show some of the activities I have done and the various levels of accuracy. I have made some of the activities public too. This includes a 12m run, 5m run with poor fit, a bike ride with surprisingly good accuracy, indoor bike ride with very good accuracy, and a treadmill run with good accuracy.
General day to day use of the watch is excellent, I like the touch screen, once you wake up the device you can just use the screen to browse through all the options. It is much more efficient than using the buttons. In particular, there is no back button, so when scrolling through things, you have to scroll back up to the option that allows you to go back. With the Garmin I had a lot of problem with catching its plastic buttons and starting activities inadvertently which is very annoying if you are sleeping, I had no such issues with the Suunto, the buttons are well placed and firm enough that I don't recall accidentally triggering anything during my use.
Overall
Judging the watch based on its target audience it is superb, it does exactly what they advertise, and it mostly does it well. It looks good, even on my thin wrists, and the build quality feels excellent and durable. While it is expensive, it is not excessively so as far as a high-end sports watch goes.
Its battery and fused track features make it very unique compared to the Garmin options and if you are the sort of athlete that needs these kinds of features, this is about the best option you have. For example, the Garmin Fenix 5X Plus which costs an eye-watering £749.99 has a GPS tracking battery life of 32-hours, or 13 with running. There is an extended life mode called UltraTrac but that can only do 70-hours.
For the general population choosing, this watch over competing brands is a harder choice. The Fenix 5 Plus has features that are a lot more appealing to the casual user, specifically music and contactless. You pay steeply for this feature though. Alternatively, the only non-plus models are now available for a much more affordable price, with he Fenix 5 dropping down to £350 recently for the Amazon Prime day sale.
[button link="https://amzn.to/2A4hNkY"] Buy from the Suunto 9 from Amazon[/button]
The biggest let down about this watch is the mess of apps, not so much that it makes the watch bad, but it is something frustrating to put up with when you have spent £500. Both apps have vast areas of functionality missing; if they are going to get rid of Movescount, they need to really up to the pace with the Suunto App development. There is an easy fix for me at least, by using my PC to sync the device, but it is not going to help sales when Garmin or other devices can handles all the functionality in one app.