Fritz!Box is not a name most people in the UK will be familiar with, we generally associate Asus and Acer with high end consumer routers, or TP-Link for cheaper ones. However AVM, the company that makes the Fritz!Box is the second largest manufacturers of broadband devices in Europe, and has a 50% market share in its home country, Germany. The Fritz!Box range of routers is its most successful product line and the Fritz!Box 7490 is its latest top of the range router.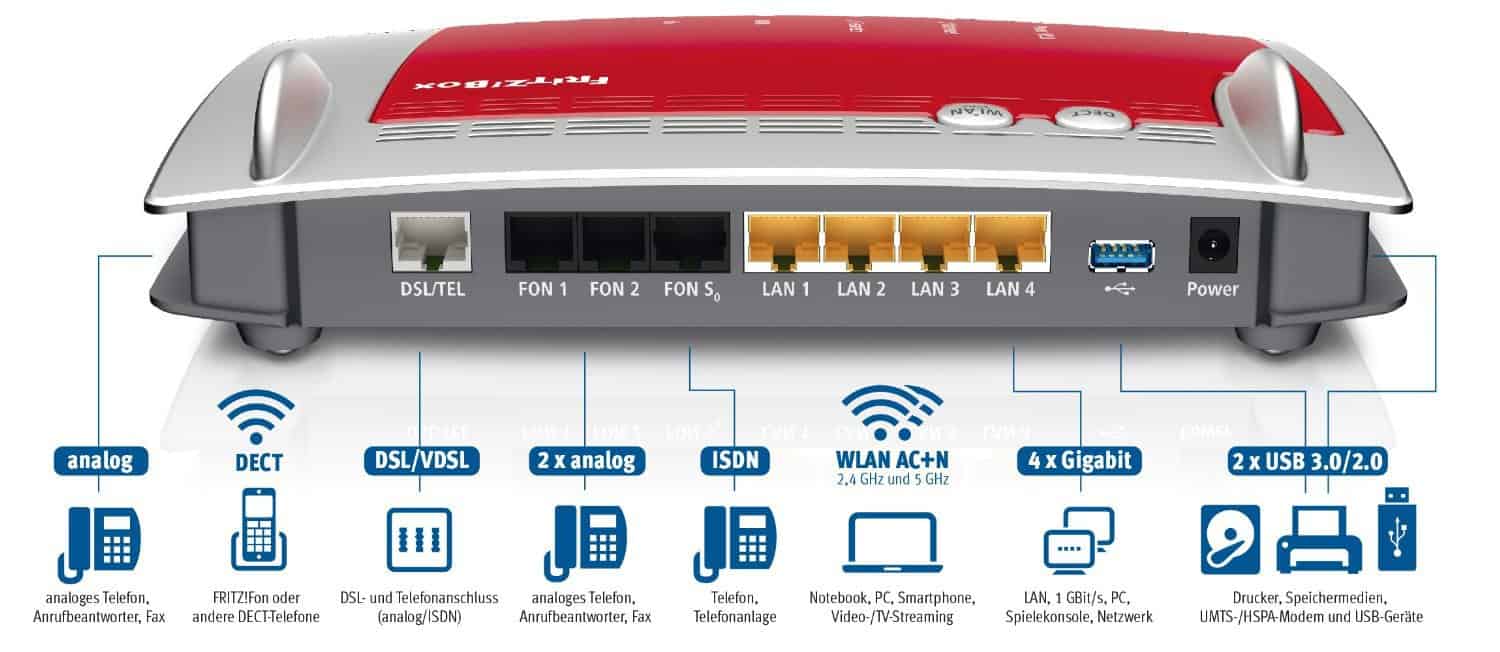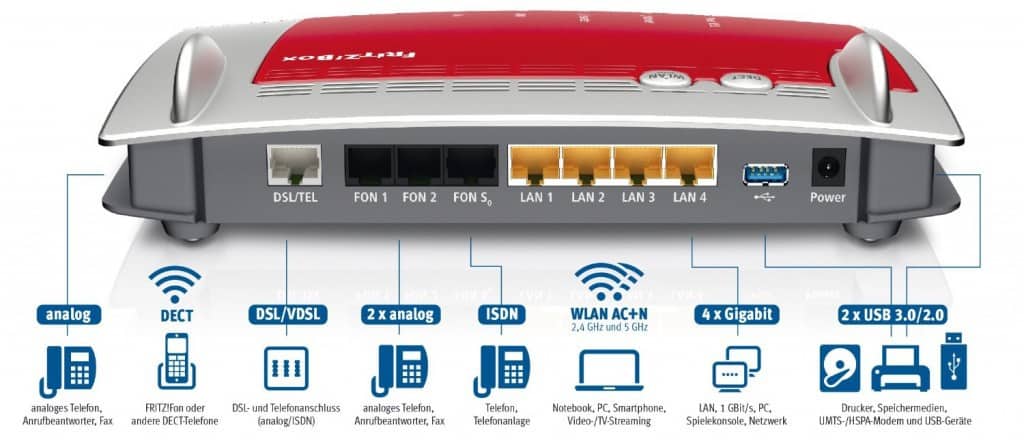 For most people the modem and router supplied by the ISP is enough, but for heavy internet users, tech savvy people, and business a new router is always a wise investment. While the majority of router on the market only have an ADSL modem, or none at all with just a WAN socket, the Fritz!Box 7490 has a VDSL2 modem built into it. This makes it quite an exclusive device with only a handful of competitors on the market offering the same functionality.
In general most people with fibre that want a new router will plug their open reach modem into the router, with the modem providing internet to the router and then the router handling all the internal networking. This generally works fine, but it is not an elegant solution and it adds a layer of complexity to a system that can quite often be plagued with problems at the best of times. Such problems often include issues with the ISP itself requiring router/modem restarts, random reboots of your devices themselves, or general WiFi issues. Therefore it is always good and more aesthetic to have one device to troubleshoot than multiple.
Up until this year the market for VDSL2 modem equipped routers was restricted to around 6 devices including Technicolor/Thomson TG589vn v3, DrayTek Vigor 2760n (2860), Billion 8200N, FRITZ!Box 7390/3390 , Asus DSL-N66U N900 and lastly the BT HomeHub. The FRITZ!Box 7390 has always been regarded as one of the best options out there for its vast array of features, though it has always been one of the most expensive options. With the other brands, unlike some of the router only options,many of these VDSL routers have been plagued with bad reviews especially the ASUS DSL-N66U.
This year AVM have released the successor to the popular 7390, the Fritz!Box 7490. There have not been many changes between models but the 2 noticeable changes are very important. The 7490 has upgraded WiFi and now comes with Dual Wireless AC+N with 1300 Mbit/s (5 GHz) + 450 Mbit/s (2.4 GHz) simultaneously. Secondly the USB port has been upgraded to USB 3.0 which is very useful for the inbuilt NAS features of the system.
Setting up the 7490 is relatively easy depending on your ISP and home network, you just navigate to http://fritz.box/ then follow the instructions and that should be it. Unfortunately it is not quite that simple with Plusnet and presumably most BT run VDSL connections. In order to get it working with UK based VDSL connections you need to set the VLAN ID to 101 which is under the additional internet settings, everything else was set up correctly for our connection. Once this was changed we connected to the internet fine. This is obviously not a huge issue and not really AVMs fault but it may be frustrating to less tech savvy users and it could be worth AVM setting a profile up for.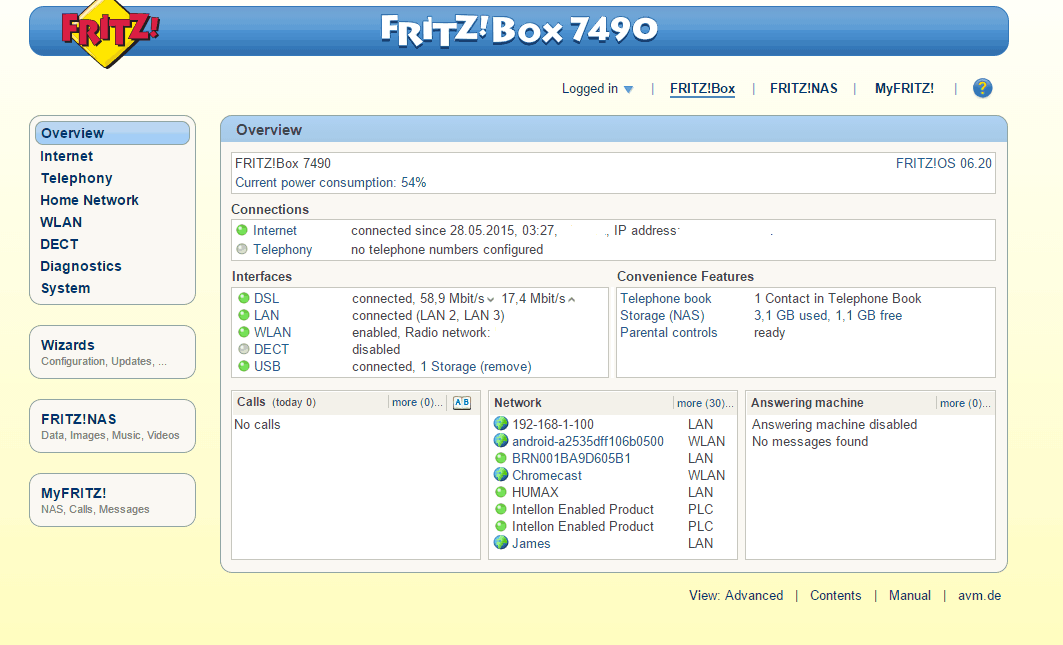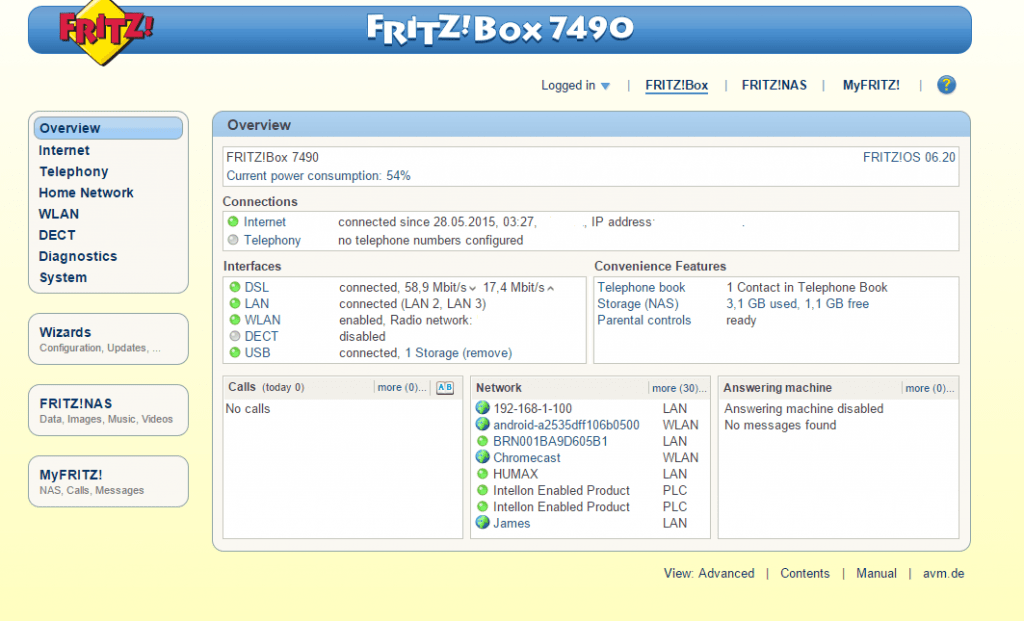 The second issue we faced was the strange choice of IP address, typically most UK routers use the format 192.168.1.* with the router either being 192.168.1.1 or .254, however AVM have opted for the unusual address of 192.168.178.1. For most basic users this should not be an issue, but for anyone running a slightly more advanced network with computers using static IPs or multiple routers on the network then you either have to change the entire network or the routers IP. Changing the IP was as obvious to do as you would expect and required a quick  Google to find out that you had to go into the advanced view and then you can access the settings to change the IP address under Home Network > Network Settings.
Once we had everything set up we were syncing at our normal if not slightly better speeds and found the wired connection to be superb (as expected). It is also worth noting another slightly unusual setting under network settings, and thats the LAN ports can be switched from 1 Gbit/s to 100 Mbit/s, which appears to be a power saving feature. In our case 3 of the ports were set to 100 Mbit/s so we chose to set them to the full speed.
After a little tweaking we found the Wifi performance to be superb, considerably better than the BT HomeHub 5 we were previously using. Using the default settings were initially fine, but we found that connections would randomly slow down a bit. After choosing our own WiFi channel on a less congested channel and separating the 5GHz WiFi name from the standard 2.4-GHz the stability of the WiFi significantly improved. In fact the Wifi seems to be so good it covered our entire house which is a relatively large 4 bedroom house with old fashioned very thick walls. Previously we had to use multiple routers within the house to achieve reliable connections when we used the HH5. Using a simple Speedtest.net check throughout the house on our mobile using both 2.4-GHz and 5-GHz we always got in excess of 50MB/s which is just below our sync speed. This included rooms around 15+ metres away and 2 walls.
USB storage is available over SMB, FTP and web interfaces, with individual user permissions able to be assigned for security. UPnP media streaming is available, and you can sync the contents of your USB device with various online WebDAV services. During our testing the NAS functions worked fine but the read and write speeds seemed quite slow with us only achieving around 15MB/s. This limits the use of the NAS features somewhat but it still is a useful feature for people wanting a basic NAS for backups.
The last main selling point of the 7490 is the extensive DECT support. The unit itself is a DECT base station for up to six cordless analogue, ISDN or IP based telephones. It supports HD telephony for better call quality, has no less than five digital answering machines that email recorded messages (voice-to-mail) and fax reception with email forwarding (fax-to-email).
Overall we have been extremely happy with the Fritz!Box 7490. It is probably the most feature rich routers we have ever come across but that does mean it is also one of the more expensive routers at around £175 on Amazon. It has some setup issues but these are easily overcome, and if you are investing in a router of this calibre it is likely you are reasonably tech savvy, so any issues are an easy fix. The only other downside is the slightly unusual styling, if it was all black it would be a lot more discrete, but it is not hard to hide a router.
If you are wanting an all in one VDSL modem and router then we thoroughly recommend Fritz!Box 7490. It is very expensive and if you don't need the DECT features there are cheaper options, which include AVMs Fritz!Box 3490 at around £130, but if you want an all singling all dancing router, this is the one to choose.
You can buy the Fritz!Box 7490 from Amazon for around £175.