Nacon MG-X Android Gaming Controller Review Rating
Summary
The Nacon MG-X is an excellent controller that excels at its intended purpose of being an Xbox cloud gaming controller.
Pros
Works flawlessly with Xbox Game Pass 
Excellent ergonomics and mobile interpretation of the Xbox controller
Cons
Official Xbox certification comes with a premium price
Portable gaming is booming, the Nintendo Switch shows no sign of slowing sales, Steam is launching the Steam Deck, and mobile gaming has been massive for years.
Cloud gaming has also gained significant traction, and thanks to our massive phones, 5G data and fibre Internet, it seems like a perfect time to convert your mobile into a portable console.
I have previously reviewed the GameSir X2, which is an excellent controller, but if you want the best experience possible for Xbox Game Pass games, then an controller that has been certified "designed for Xbox" is your best bet.
The Nacon MG-X is one of the only controllers on the market to achieve this and is a superb choice for anyone with an Xbox Game Pass subscription.
Specification / Features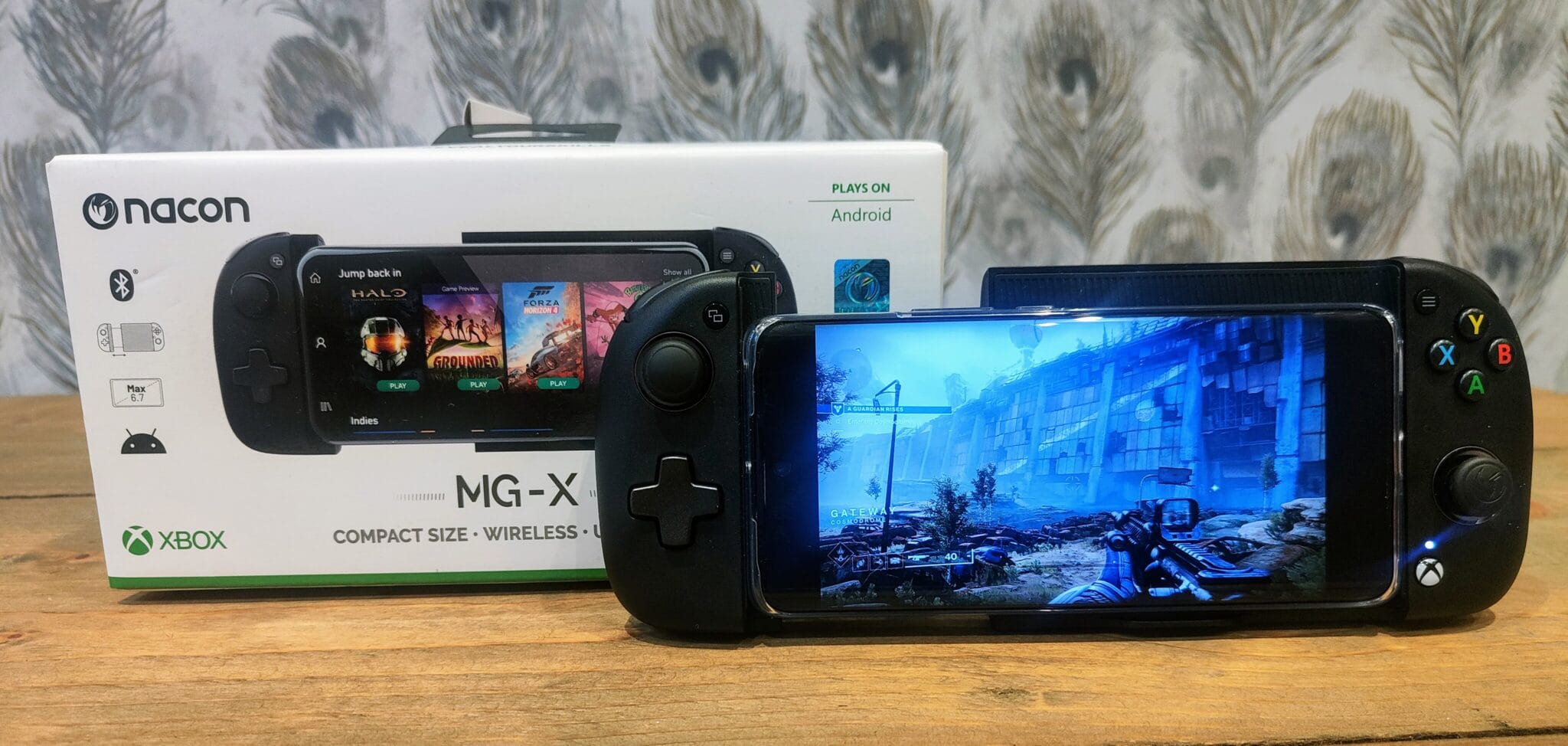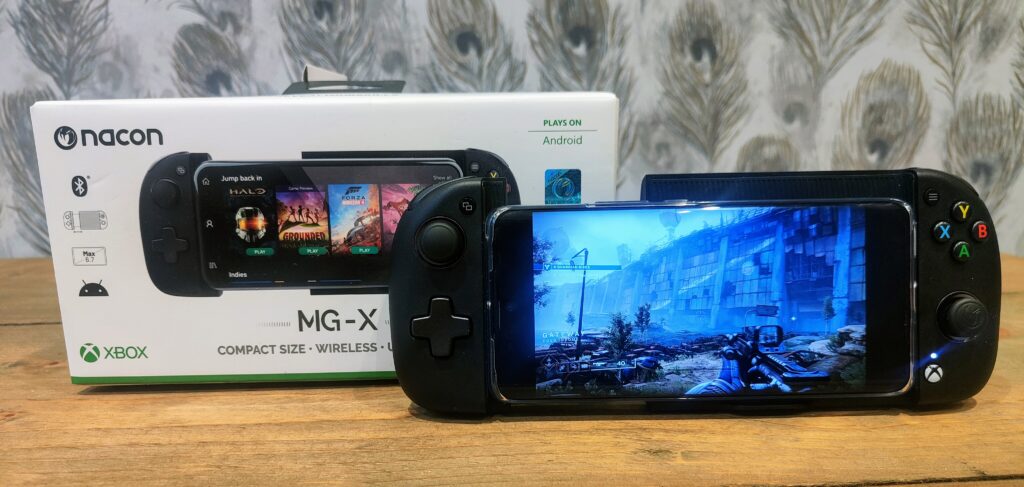 Phone Size – Fits phones up to 6.7″
Connectivity: Bluetooth 4.2 low energy
Battery: 20 hours with USB-C charging
Joystick Position: Asymmetric
Button Layout – Matches Xbox & has Xbox Nexus button
Other Compatibility – Android games that support controllers and other cloud streaming services such as Nvidia
Nacon MG-X vs Razer Kishi vs GameSir X2
The Nacon MG-X is one of the only Android controllers that is specifically designed for Xbox and is officially certified 'Designed for Xbox'. The official certification no doubt adds to the cost, as I am sure Microsoft charge a hefty fee for it, but it guarantees the best experience possible.
The Razer Kishi is the main competitor. There are two versions of this controller, one that is a universal gaming controller available on Amazon which is cheaper at £79.99 RRP but available for as low as £59.99. Then there is the Razer Kishi for Xbox Universal Mobile Gaming Controller, which is £99.99
The two Razer Kishi models have some minor differences. The Xbox variant has four face buttons (A, B, X, Y) and three custom Xbox buttons that mirror a regular Xbox One or Xbox Series X controller.
The original Kishi also had three extra buttons, but the ones on the Xbox version take on the logo and features of the Xbox Nexus, View, and Menu buttons.
In terms of functionality, there doesn't seem to be any difference. The price difference is likely due to the fee Microsoft charge for 'Designed for Xbox', the same as the Nacon.
Then there is the GameSir X2 for £69.99. They advertise it as cloud gaming compatible, and it worked well when I reviewed it, but it is not officially certified.
The Razer and the GameSir both connect via USB-C for a more reliable connection with no need to charge. Both these controllers are marketed for Android games too.
The GameSir is the most versatile allowing you to map the controls to any Android game, and it allows you to use a controller for games like Call Of Duty.
The Razer has pre-mapped controls depending on games baking in that compatibility. This provides a more reliable solution but is dependent on games supporting it
Set Up – Phone size compatibility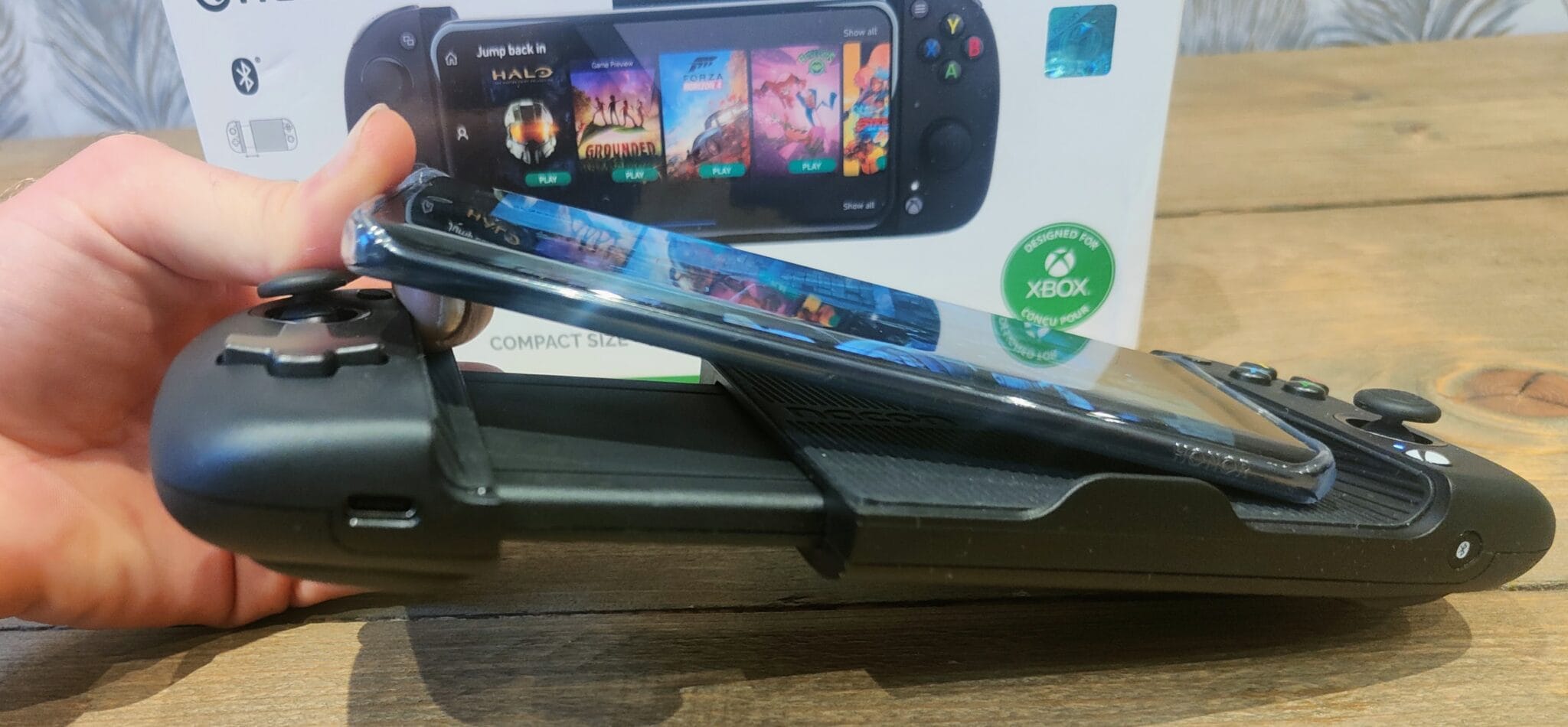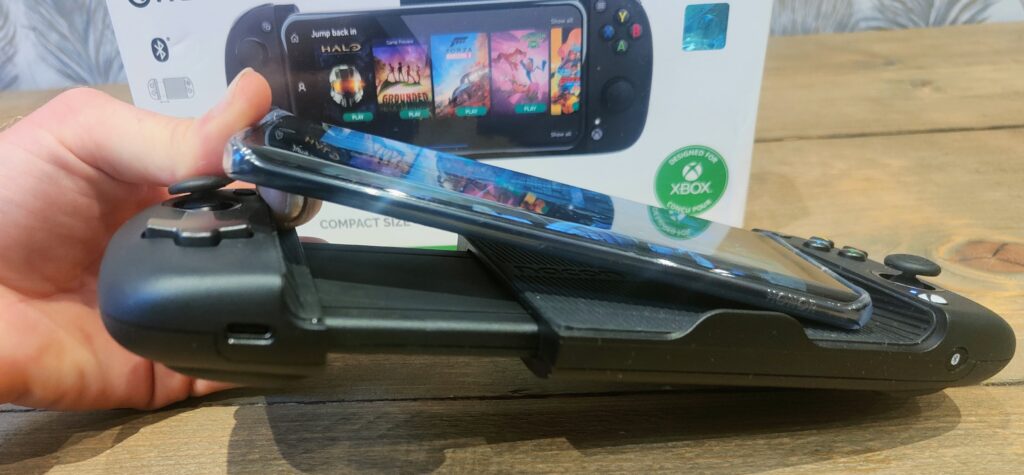 The main thing to note when buying this controller is if your phone will fit. Nacon state it is compatible with phones that have a display up to 6.7-inches.
I have tried it with the RedMagic 6S Pro, which has a 6.8″ display, and it just about squeezes in. You may be able to get something a little larger to fit as there is a bit more stretch from it.
However, the thickness of your phone could be an issue, or more specifically, your camera bump. I found that the large camera bump on the RedMagic 6R. The camera bump on most phones will sit in the recess created from expanding the controller out, but the RedMagic 6R has the bump running right up to the edge of the phone, so it struggles to lock into place.
Other phones I tried with no problems include:
The controller worked OK with cases, too, though this will depend on the size of the case. The slim included cases on most phones work well, but a bulky third party case probably won't.
Beyond that, there is not much you need to do. Just pair your controller by powering it on and hold down the Bluetooth button for 3 seconds and pair it within your Android settings. There is no additional app needed.
Once you have done the initial pairing, the controller will auto-connect to the phone any time you switch it on.
In Use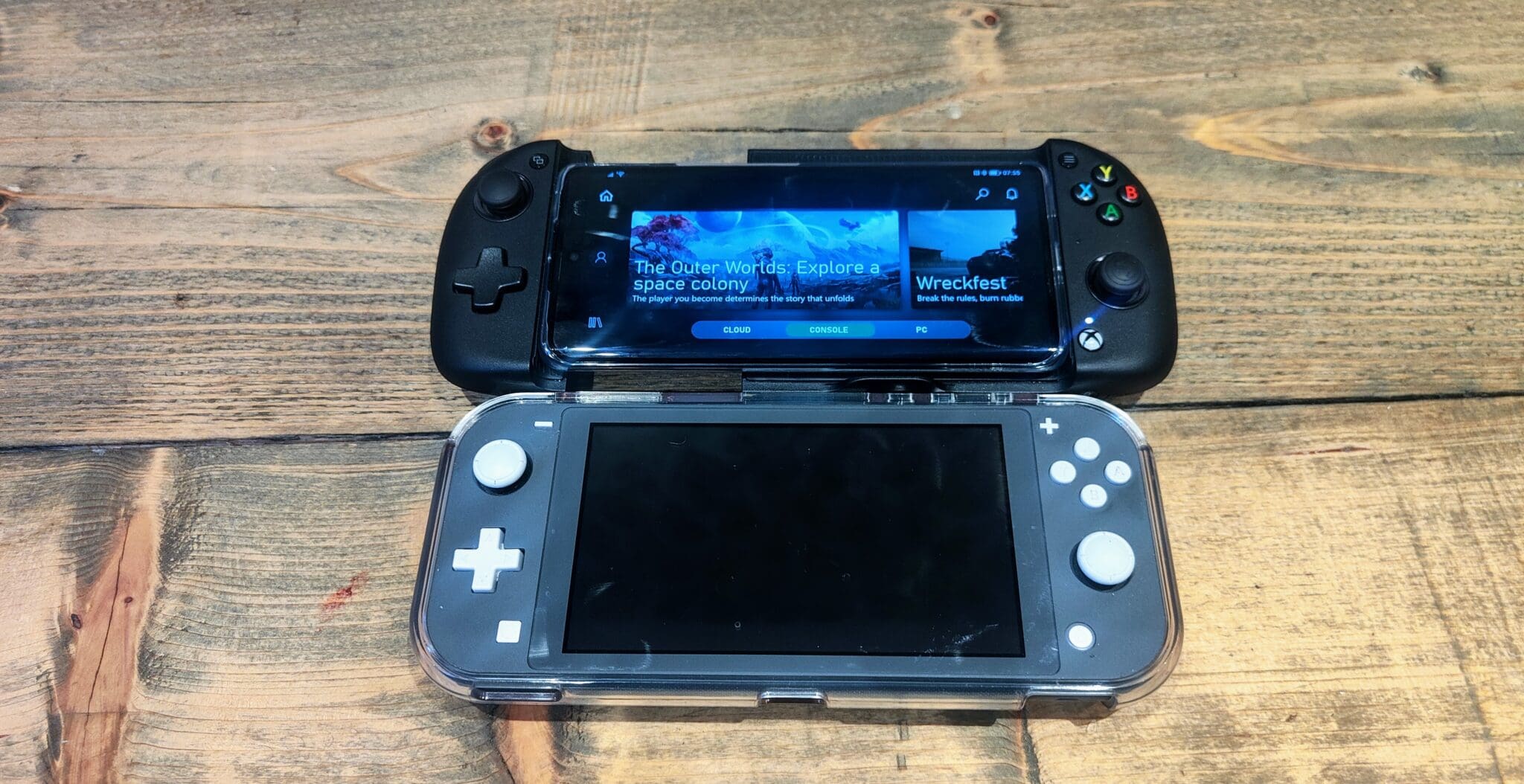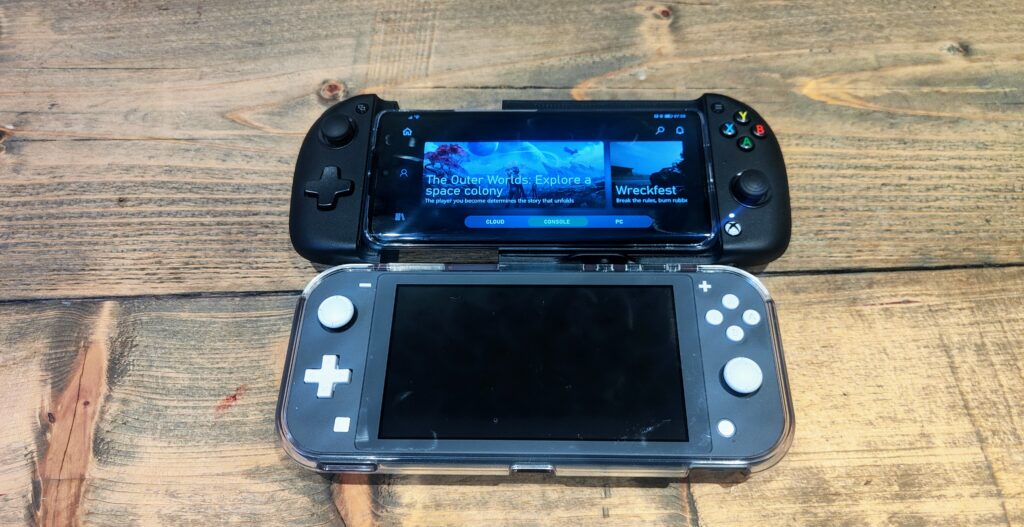 With this using Bluetooth connectivity, you can't use passthrough charging like you can on the GameSir X2. So, your gaming will be limited by the battery life of your phone. I haven't tested it thoroughly but I would assume battery drain from cloud gaming is less than playing games directly on your mobile.
It is also worth noting that is you have a 3.5mm headphone jack, this will be blocked too.
For Xbox Game Pass, the controller works absolutely perfectly, all the buttons match up to the app, and the controls are instinctive. The overall ergonomics work well, it is comfortable to hold in my hand, and I didn't feel like my hands were cramping from gaming over long periods.
The only issues I faced were the overall performance of Xbox game streaming. It does work well, and it is incredibly impressive to be able to play AAA console games smoothly on a mobile phone, however, it does have intermittent stutters.
I have very good Wi-Fi, connecting via Wi-Fi 6 and my Virgin fibre is 500Mb with speeds consistently 450Mb/s or higher when I test it. However, every few minutes, games will stutter a small amount with the connectivity warning light up. This obviously is not an issue with the controller.
Even with the occasional stutter, I do kind of love Xbox Game Pass. I have found myself not PC gaming as much as I used to, because my gaming PC is my work PC and I don't fancy sitting staring at my monitor for 10+ hours a day even if it includes some gaming. So being able to play Xbox games on my mobile while lounging around on my couch is a welcome alternative. For £10.99 per month, I think it is reasonably priced too.
As for Android games, the experience is about the same as all other mobile controllers. It is good if the game supports it, but support is patchy. You could, of course, use this with emulators and many of these support controllers with button mapping built-in, so this would work well with them too.
Price and Availability
The Nacon MG-X has an RRP of €99.99, and you get a free game which is from a selection of predominantly Steam games. Current availability is only from the Nacon store and in Euros. Delivery is free and within 48 to 72h with the final price working out at £85.23 based on the exchange rate at the time of writing.
Overall
The Nacon MG-X is an excellent controller that excels at its intended purpose of being a Xbox cloud gaming controller. Build quality and ergonomics are superb, I'd say it is just as comfortable to use as my Nintendo Switch.
The price may seem a little high compared to some alternatives, but I am positive this is due to the official Xbox branding/certification, and the problem is reflected with the Xbox variant of the Razer Kishi. However, I don't think the price is too bad, it is only £15 more than the GameSir X2, and it is cheaper than the Razer Kishi Xbox.