Wired2fire Predator Gaming PC Review Rating
Summary
The Wired2fire Predator is a well-built gaming PC offering a good selection of components that should accommodate most gamers and is ideal pairing with a high refresh rate 2560×1440 monitor. It is priced reasonably, slightly higher than the components themselves but you then get the full build, delivery and a 5-year warranty. 
Pros
Small mark up compared to buying the components yourself and building it
Good quality, tidy build (better than I would do)
Upgrades are charged at retail price or below
Good overall spec ideal for most gamers 
Cons
A better PSU selection would be good
When it comes to PC gaming, most PC users would advise to self-build as it is often cheaper and also a more rewarding experience compared to prebuilds from big brand names such as Dell or Acer.
However, smaller local/national companies have often produced high-quality prebuilt gaming PCs with a minimal markup compared to the price of the components themselves.
With the ongoing supply and demand issues with GPUs earlier this year, it was often quicker and cheaper to buy a prebuilt gaming PC rather than pay the inflated GPU prices.
Things have settled down a bit now, GPUs are partially available but still at prices higher than the MSRP, but system builders are still one of the best ways to get a complete PC quickly in the current market.
Wired2fire are one of these companies. They may not be quite as famous as the likes of Scan or Overclockers, but they have been around for several years and have a good reputation.
For the past couple of weeks, I have been using the Wired2fire Predator, which is their mid-range gaming PC option that starts at £1,549 and includes the AMD Ryzen 5 5600X six-core CPU and the Nvidia RTX 3060 Ti graphics card.
The £1500 price point seems to be the sweet spot at the moment for systems such as this. You have plenty of gaming performance, more than capable of running any game you want on a high refresh rate 1440p monitor using high settings, while at the same time not breaking the bank.
Specification & Price vs Retail Pricing & Scan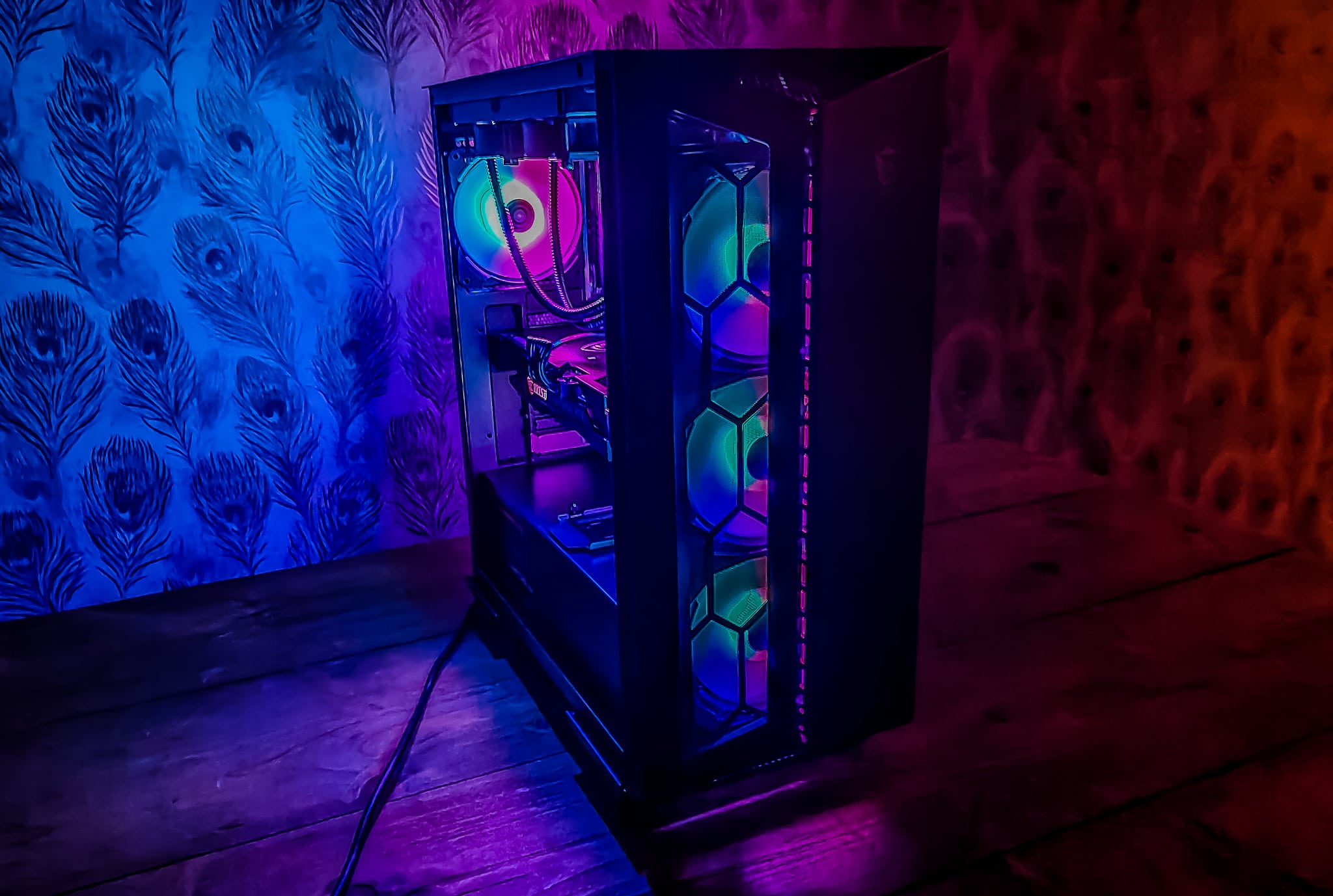 Wired2fire
Predator
Retail
Case
MSI MPG Gungnir 110R ARGB
£90
CPU
AMD Ryzen 5 5600X
£270
CPU Cooler
Cooler Master MasterLiquid 240 Lite
£57
GPU
MSI Gaming X RTX 3060 Ti
£650
Memory
16GB 3000Mhz DDR4
£70
Motherboard
MSI B550-A Pro
£100
Storage
Crucial 1TB NVMe
£100
PSU
Kolink Classic 700W Bronze
Kolink Enclave 600W Gold
£50
£65
OS
Windows 10 Home
£35
Price
£1549
£1560 with Enclave PSU upgrade
£1422
£1437
The standard Wired2fire build comes with a Kolink Classic 700W Bronze, which should be adequate, but I think spending just £11 extra for the Kolink Enclave 600W Gold is worth it. It is a no-frills PSU, but it has decent reviews online.
With my upgrade, the final price comes to £1560, which includes the full build, delivery and 2 years collect and return warranty and 5 years labour.
My build seems to have come with a Wi-Fi adaptor, the motherboard doesn't have this built-in, and Wired2Fire have this as a paid upgrade of £22.
The thermal paste used is Cooler Master MasterGel Pro which I assume came supplied with the AIO so I have not factored it into the costs. This has a thermal conductivity of 8.0 W/mK which places it at about the same performance as the popular Arctic Cooling MX-4. The £5 upgrade to Arctic Silver 5 increases the conductivity to 8.9 W/mK, whereas the £25 metal based Conductonaut is 73 W/mK (and quite risky to work with due to its conductive properties).
I priced up the components individually via Google, most of the results I used were from Overclockers. If you shop around or buy as and when prices drop, you can probably drive the price down further. However, my price came to £1437, so you pay around £100 for the build, delivery and warranty, which I think is OK.
Looking at some of their main competitors, Scan, the price is similar to the 3XS Gamer 1660 SUPER. I had to tweak the build to get it to match the Wired2fire as close as possible. There are a few points with this comparison
Scan works out a touch cheaper even after the £12 delivery
PSU is has a smaller 550W rating but is a Corsair TX550 Gold
1TB WD Blue SN550, 2400MB/s Read, 1950MB/s
GPU upgrades limited to the RTX 3070
Motherboard is a B450 vs B550 with is limited to PCIe 3.0
Much longer build time with 25-30 working days
Only 3 years warranty but 1 year onsite with 2&3 being return to base
The inclusion of a B450 on the Scan machine is a bit annoying as it limits future upgrades. Bumping the motherboard up to B550 and £70 to the price making the two systems almost identical in price.
The OcUK Gaming Oxygen Gaming PC has a very similar specification for £1,639.99 – it has faster RAM but a smaller NVMe drive. They use a Kolink case but don't specify the PSU or AIO cooler. The PSU is a 600W 80Plus Bronze Rated PSU, so on the lower end of the spectrum.
I have gone through some of the specs looking at upgrade choices and their prices. All the upgrades appear to be either retail price or below, so you can customise this PC to your liking without feeling ripped off.
Some options worth considering:
Save yourself £48 if you already have a Windows 10 licence
Switch out the NVMe for a 1TB Samsung 980 PCIe 4.0 for £10 – you probably won't see much if any performance difference, but for a tenner for one of the best drives on the market, it seems worth it.
Upgrade to the Kolink Enclave 600W Gold for £11 – Sadly, they don't have a wider range of more reputable brands
It is possible to upgrade to the MSI SUPRIM X RTX 3080 for £455, with the GPU being priced at £1097. CCL have this in stock at £1200, and the cheapest RTX 3080 I can find online is £1100 – This is pre-order, though, so there if no guarantee it will be in stock soon.
Delivery / Packaging
I haven't bought a prebuilt gaming PC for over 15 years, though I have reviewed some Acer pre-builts. Therefore I am not familiar with what the standard of delivery and packaging is like nowadays with such expensive and fragile components.
I see lots of worrying posts on Reddit with users getting PCs delivered with smashed side panels, or the GPU ripped/bent out of place. Thankfully, there was no concern here, the overall packaging was superb. I am sure it is possible that things could get damaged due to heavy-handed couriers, but it looks like Wired2fire have done everything they can to protect the build.
You have one massive box with a lot of air-filled padding, the PC is then shipped within the case box, which itself is designed to protect the case and glass as much as possible.
The interesting part is how they protected the GPU. The protective insert seems to be expanding foam that is held within a pouch, so when this is activated, it expands around the gaps within the case, going over the top of the GPU then down the sides. I can't think of a solution that would be better than this, other than shipping the GPU in its own box not installed in the PC.
Unpacking the case reveals several stickers giving you warnings to remove any packaging, it also has stickers to make sure you plug your display port/HDMI cables into the GPU and not the motherboard.
Wired2fire quote a 5-15 working day build and delivery time but with GPU shortages this may vary. Due to COVID and the current market, they have extended this to around 20 days.
Delivery was done via DPD with a 1-hour window. You can pay extra for a Saturday or Sunday delivery.
On top of the PC case, Wired2Fire included the motherboard box with all the extra cables and screws. It would have been good if they had included the GPU box, this is the thing you are most likely to upgrade in the future and having the box to resell your old GPU would help a lot.
Build Quality
Again, I don't have much experience with prebuilds, but the overall build quality is excellent, in my opinion. At the very least, it is far neater than anything I would do myself.
All the cables are neatly organised with nothing getting in the way of airflow. The GPU has a metal backplate, so there is no sign of sagging or any need for a support.
The case has a slide on the metal right panel, which I prefer compared to a second glass panel. This hides the mess of cables on the rear side. Wired2fire have tidied things up nicely using Velcro cable ties, but you can pay for upgraded cable management.
Gaming & Benchmarks
Most people buying something like this will be best off with a high refresh rate 27-inch 2560×1440 monitor, and this is the setting I used for benchmarks.
3DMark 13 – Time Spy: 10615 (Graphics: 11473, CPU: 7458)
3DMark 13 – Time Spy Extreme: 5304 (Graphics: 5605, CPU: 4069)
3DMark 13 – Port Royal: 6866
PCMark 10: 6101 (Essentials: 8981 , Productivity: 7670 , Digital Content Creation: 8949)
CystalDisk: 2413MB/s read 1903MB/s write
Far Cry 5 New Dawn Benchmark: 109fps average, 147fps max, fps minimum
Final Fantasy XIV Endwalker Benchmark: 18709 Extremely High
Assasins Creed Valhalla Benchmark: 72fps avg, 43 min, 120 max
For actual gaming, the RTX 3060 Ti handles almost everything you throw at it with ease. Cyberpunk 2077 is the only game that I tried that needed some settings tweaking if you want to keep the FPS high. Other games such as Watch Dog Legion ran with no problems at all.
Noise / Cooling / Temperatures
This hasn't specifically been designed to be quiet or silent. The case fans are all stock, and these provide a small amount of fan noise for day to day use. I'd say it is not much louder, if any, than my main work/gaming PC, which I have upgraded with Noctua fans.
During gaming, under heavy load, the noise does ramp up and it sounds like either the CPU pump or CPU fan starts to sound a bit high pitched. However, my PC speakers generally drowned this out, and a gaming headset certainly would.
Running the 3Dmark stress test and also gaming, the PC seemed to handle temperatures quite well. HWMonitor indicated that the CPU stayed under 65-degrees, as did the GPU.
Overall
The Wired2fire Predator is an excellent mid-range choice for someone needing a full build, either as a first PC or even for experienced PC gamers wanting a hassle-free upgrade.
With such a small price difference between the retail pricing and this PC and factoring in the fact that the build quality is better than I would have achieved myself, this is something I'd consider buying if I were looking for a complete PC. It is just less hassle knowing someone has built everything properly (and neatly) plus the build is under warranty.
The key takeaways are:
Around a £100 premium compared to buying the components individually and building it yourself and quite a lot cheaper than Overclockers.
Excellent overall build quality that is better than I would do myself (and likely most novices).
2 years collect and return warranty and 5 years labour (on top of whatever component warranties your get)
Some minor niggles to consider
Priced a bit higher than Scan
PSU options from more reputable brands other than Kolink would be good.
GPU box should be included.