Huawei Matebook X Pro Review
Product Name: Huawei Matebook X Pro
Build and Design -

95%

Performance -

95%

Price -

85%
In recent years Huawei has grown exponentially in the mobile space becoming the 2nd largest phone company in the world. Now they have their eyes set on the laptop market with the Matebook X Pro, which is potentially one of the best laptops of the year.
The Matebook X Pro 13.9" 1.33KG frame puts it up against the superb and hugely successful Dell XPS 13 as well as many other excellent premium ultraportables.
Specification
CPU:8GHz Intel Core i7-8550U (quad-core, 8MB cache, up to 4.0GHz)
Graphics:Intel UHD Graphics 620, Nvidia GeForce MX150 graphics (2GB GDDR5)
RAM:8GB LPDDR3 (2,133 MHz)
Screen:9-inch 3K (3,000 x 2,000) LED with touch panel (3:2 aspect; 450 nits; 1,500:1 contrast; 100% sRGB)
Storage:512GB SSD (NVMe PCIe)
Ports:1 x Thunderbolt 3 USB-C, 1 x USB-C 3.1, 1 x USB 3.0, 3.5mm audio jack
Connectivity:11ac (2 x 2 MIMO) Wi-Fi, Bluetooth 4.1
Camera:720p webcam with far-field microphones
Weight:93 pounds (1.33kg)
Size:304 x 217 x 14.6mm; W x H x D
Pricing & Comparisons
The base model of this starts at £1,199.00 on Amazon with the model I have reviewed being £1,499.99 currently, but as low as £1,299.00 recently. On the Microsoft store, it is £1,399.99
[button link="https://amzn.to/2zy9Jq5″] Buy from Amazon[/button]
A like for like comparison with the Dell XPS 13 is a little hard, but the i7-8550U/8GB/256GB PCIe model costs £1,348.99 or the 16GB/512GB model costs £1,449.00.
So the dell is either a little cheaper for less storage or more expensive but with more RAM. The one big difference is the Matebook X Pro has a Nvidia GeForce MX150 graphics card giving it a significant performance advantage for anything requiring a GPU.
The HP Spectre x360 is a good alternative priced at £1,499.95 giving you a 2-in-1 format but the price and lack of GPU back it more money for less power.
Similarly, the Surface Laptop 2 is £1329 currently, with i7/8GB/256GB, so for £70 extra, you can get more storage and a better GPU with the Matebook.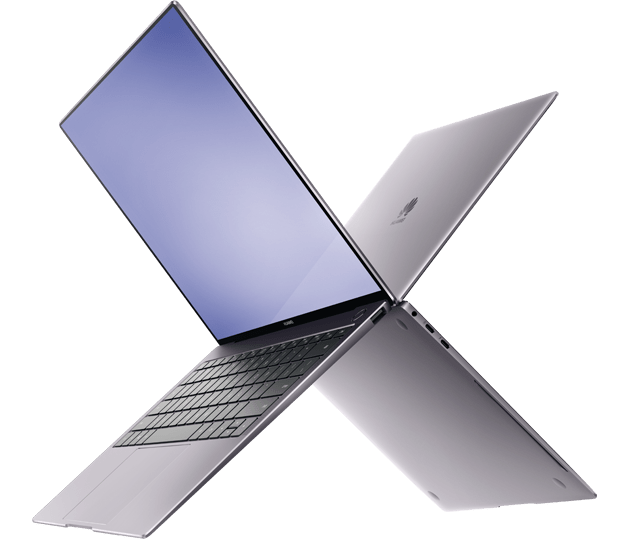 Design and Build
Huawei has copped a bit of flak for the naming and design of this with obvious comparisons with the Macbook. In reality though it is just a very well made slim and attractive laptop. The design is unassuming allowing this to look good in both a corporate environment as well as the consumer.
It uses an aluminium unibody design with diamond-cut edges, and a sandblast finish. The build makes it weightier than the plastic build you will find used for the ultra-lightweight Acer Swift 5, but this is worth it for the overall build quality and feel of the laptop.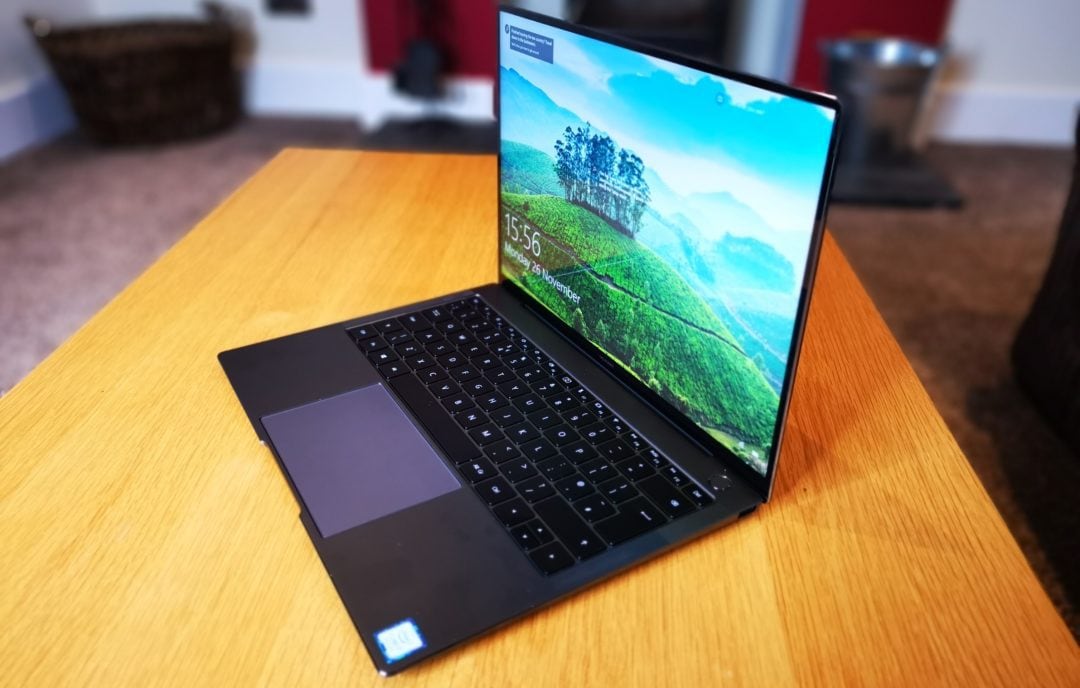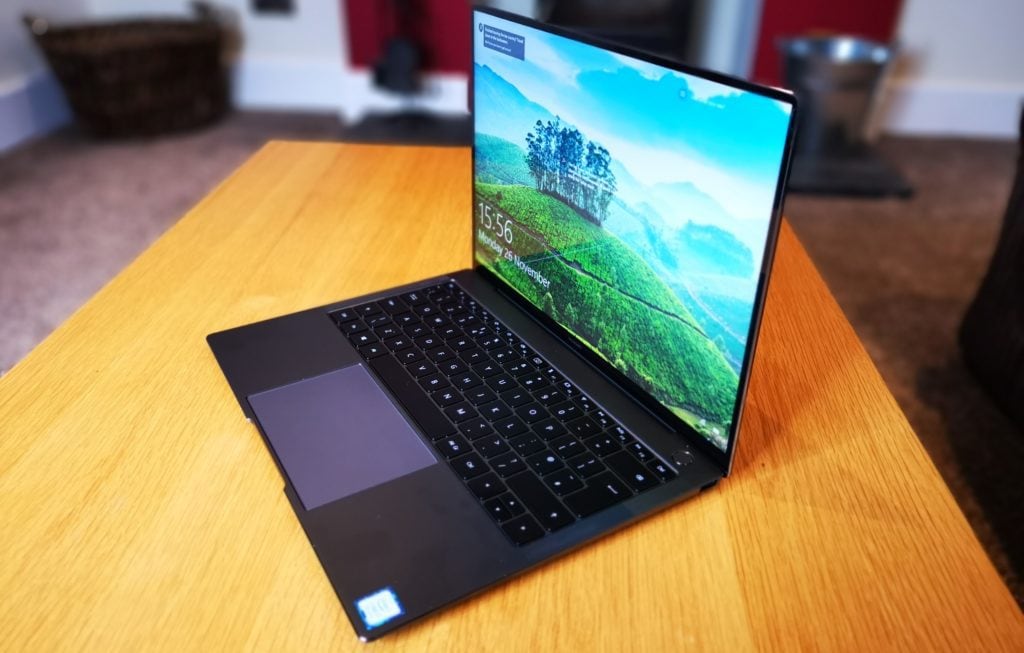 At 1.33kg you should be able to comfortably carry it around all day with no back or shoulder ache. In comparison, it is only 0.12KG heavier than the Dell or just 60 grams heavier than the Surface Laptop 2. The dimensions are too similar for the differences to be a concern.
The Matebook X Pro has four strategically placed speakers, two for treble and two for bass that is Dolby Atmos rated. As far as laptop speakers go, these are good, and surprisingly loud for such a thin device.
The trend with ultra-portables is to do away with all the wired connection options, this is not the case here, not only do you get two USB-C ports but a full-sized USB-A socket. One of the USB-C ports is Thunderbolt 3 enabled while the other is USB 3.1, with both capable of outputting a video signal and accepting power.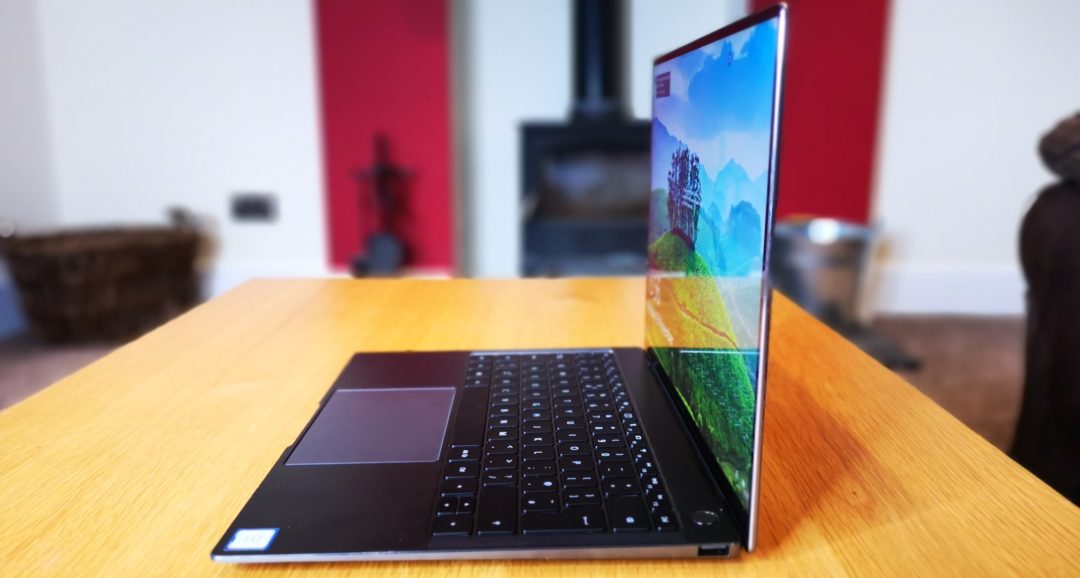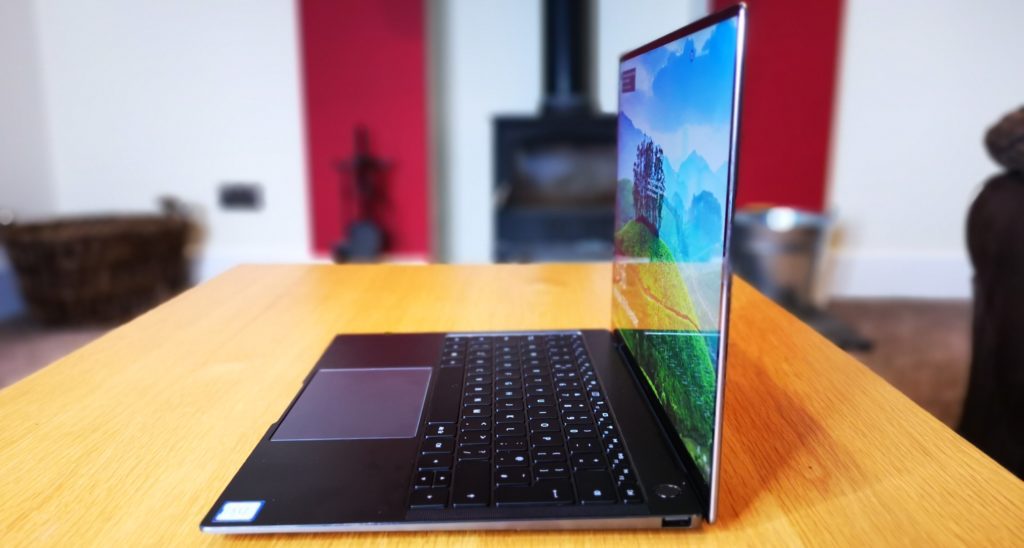 Within the packaging is a USB-C adaptor that has VGA and HDMI out, as well as USB-A and USB-C. This is an accessory you wouldn't find from other companies, with many of them charging a premium for such an adaptor.
The laptop is sealed shut with eight Torx screws, and I would expect maintenance and upgrades are not easy. The RAM is soldered, so there will be no upgrades here, you should be able to swap out the NVMe drive, but with 512GB on my model, I doubt that will be needed any time soon.
Display
The 13.9-inch LTPS/IPS display has a 3000×2000 resolution and covers 91% of the physical area of the lid, made possible through 4.4mm bezels. This is an unusual aspect ratio compared to many modern laptops giving you more vertical space compared to 1080p or 3840×2160 4K. While this aspect ratio is not perfect for watching media, I find it better for doing work; the vertical space gives you a bit more text before you need to scroll.
The quality of the screen is exceptional for an IPS display and can offer 488 nits maximum brightness allowing you to use this outdoors comfortably. It is also clad in Gorilla Glass providing a bit more protection to a delicate and expensive component. I know with the Dell XPS 15 the screen is exceptionally fragile with no covering, and when you break the screen, the whole lid needs replacing, which is very expensive. So, any added protection for daily bumps I can get is a welcome addition.
The screen also supports 10-point multitouch, which can be useful on occasion if you need to scroll a lot. Due to the lightweight nature of this, if you are heavy handed the screen will wobble a bit.
Keyboard and Touchpad
The keyboard is full sized, backlit and spill proof, after all, you don't want to break your £1300+ laptop when you spill a bit of coffee on it.
The keyboard itself is excellent and comfortable to type on for long periods of time, I would say it is not as nice as the XPS 13, if memory serves me correctly, the XPS had a bit more travel with the keys. This is still excellent though and much better than the keyboards you will find on premium 2-in-1s.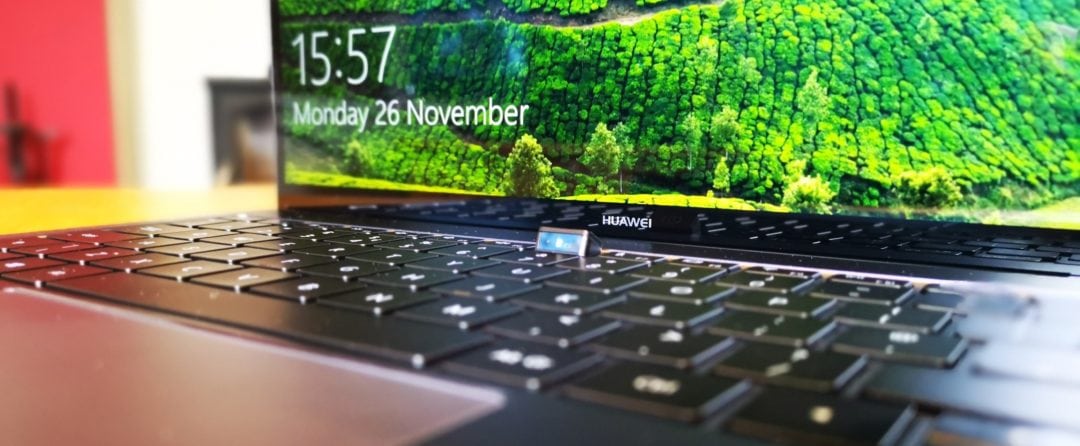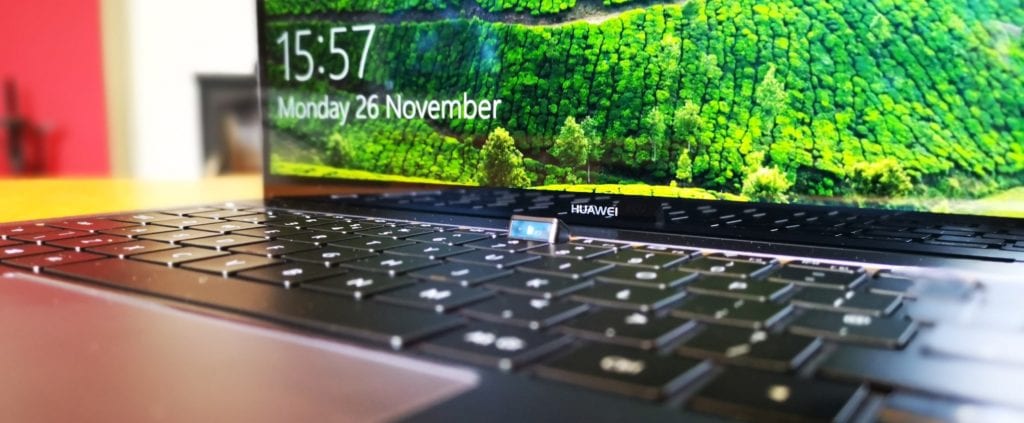 One of the often talked about features of this laptop is the pop-up webcam. This isn't just for show either, it provides two advantages, one acting as a privacy shield, which has become a growing concern the past couple of years, and secondly, it frees up space on the display giving you a better screen to body ratio.
The touchpad on this is massive, with a central alignment it probably covers a third of the width and its height reaches from the edge of the laptop to the edge of the keyboard. It is nice and sensitive which makes multi-touch gestures simple to carry out, though I admit I still rarely use this feature. Thankfully you get two built-in mechanical buttons which are light enough to click easily.
The power button is also a fingerprint reader and works along with Windows Hello to unlock the laptop with a simple touch. I have not had a lot of look with fingerprint readers on laptops in the past, I find them very inaccurate, but this is not the case with the Matebook X Pro, since using it I don't think it has failed to recognise my finger once, and unlocking is very responsive. One of the reasons for the excellent fingerprint reader is that it is controlled directly by the processor, not by Windows 10, this also means you can boot up and unlock the device in one finger press. This allows you to boot up from cold and login in a matter of seconds, apart from the always on HP Envy X2 this is the fastest boot and login I have ever experienced.
Software & Features
There is little to no Huawei added bloatware that I can see on this laptop, you get PC manager which monitors your hardware and divers allowing you to update things on bulk. There is also the Dolby Atmos software. Nothing nags you, and there is no added Norton or MacAfee software.
One of the only issues I have with this laptop is the strange drive partitioning, out of the box it has two partitions one with 80GB for your Windows drive and then 381GB for data. So, if you keep things as they are you need to make a conscious effort not to install much on the boot drive. You can quickly change this by deleting the D partition then extending the C into the available space, or repartition into more sensible sizes. It is a quick fix, but something that shouldn't need to be done.
Performance
As you would expect based on its specification, this can fly through all day to day tasks with no issues at all. The combination of the i7 8550U CPU and NVMe SSD means everything loads instantly without lag.
The NVMe drives performs as expected, it is not quite the best on the market but you are not going to notice any difference in real world usage.
Putting it through basic benchmarks yields a 3347 result in PCMark 10 and 941 on Time Spy in 3DMark. Which is similar to the results for the i7-8550U and MX150 across other manufacturers.
The inclusion of the MX150 is one of the stand out features of this laptop, there are very few other ultra-portables offering this. I think the HP Envy 13 is the only other option I have reviewed recently that has this.
You are not going to buy this as a gaming laptop or purely for video editing, but the GPU gives it considerably more versatility over other ultra-portables. It will happily run games such as Fortnite, Rocket League or League of Legends, you should be able to run these titles in medium detail and 1080p resolution with little to no tweaking. It will even play titles like GTAV, Rise of the Tomb Raider and Doom, you may need to tweak the settings to get it playable enough, but this can achieve over 30FPS in all of these games. This makes it perfect for someone such as myself that travels a lot with work, giving you the flexibility to play games while travelling or bored in hotel rooms.
As long as you are not gaming all day, battery life is superb too; its 57.4 Wh battery allowed me to comfortably work a full day doing office work without needing the power cable. Thanks to the USB-C charging you have a great range of charging options too, this works with the Anker Power Delivery battery pack I recently reviewed, as well as PD USB plug sockets. These won't charge as fast as the supplied 65W charger but they help keep you going on a long day.
During my testing, I did find that the laptop can spin up its fans to a relatively loud and with a moderately high-pitched tone. For basic use, the fans either remain off or quiet enough for them to be inaudible when I put my ear next to the laptop. When things heat up, they can become quite audible, this is just a consequence of having so much power in such a small frame. It is not the worst fan noise in the world, much better than the Swift 5, but at the same time, it is higher pitched than some of the larger laptops with bigger fans such as the Nitro 5.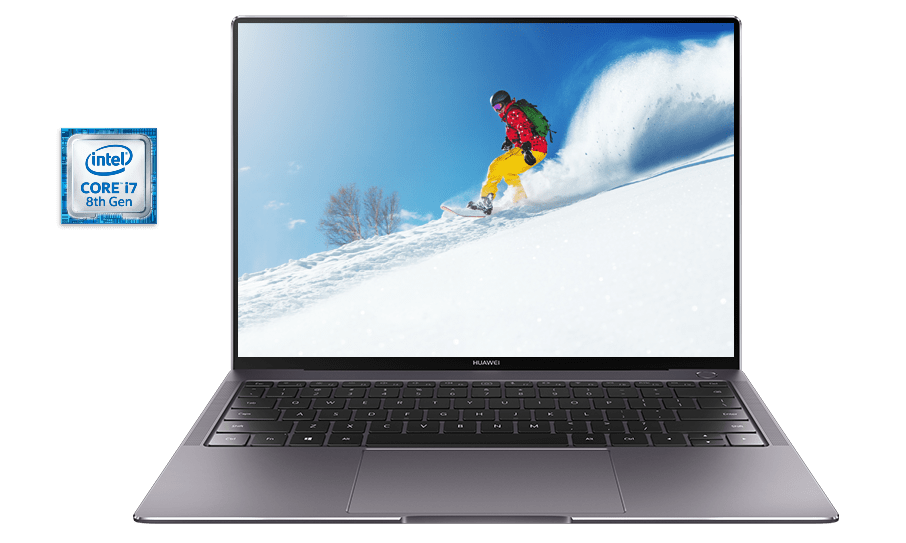 Conclusion
Overall, the Huawei Matebook X Pro is one of the best laptops I have ever reviewed, possibly because it fits my usage requirements perfectly. It is portable and powerful, being small enough for me to use casually use on my lap in the evening, light enough to carry around all day, while also being powerful enough to handle some gaming.
All this does come at a price though, £1,299+ is a massive investment for a laptop, but this is the price you pay for a premium machine. Even though it is a lot of money, it is either cheaper or competitively priced against its rivals, while offering superior hardware.
There are no obvious significant flaws with this laptop either, build quality is exceptional, there is no bloatware, and there were no performance issues with anything I used during the review process.
If you are looking for the best ultra-portable on the market, then the Huawei MateBook X Pro should be your first choice.