Acer Swift 5 Review
Product Name: Acer Swift 5
Offer price: 1099
Currency: GBP
Availability: InStock
Build and Design -

82%

Performance -

80%

Price -

90%
Having come away from the Acer Swift 7 review impressed, I have now moved to the more affordable Swift 5.
With this model Acer target the problem of portability again, but at a different angle. Rather than being ultra slim the Swift 5 is one of the lightest laptops in the world weighing just 970g making it around 20% lighter than the Dell XPS 13 and many other ultra-portables.
Priced at an RRP of £1,099.99 but with a current price of £934.99, this 14-inch laptop is both competitively specced and wallet-friendly.
[button link="https://www.acer.com/ac/en/GB/content/models/laptops/swift5″] Buy from Acer[/button]
Features & Specification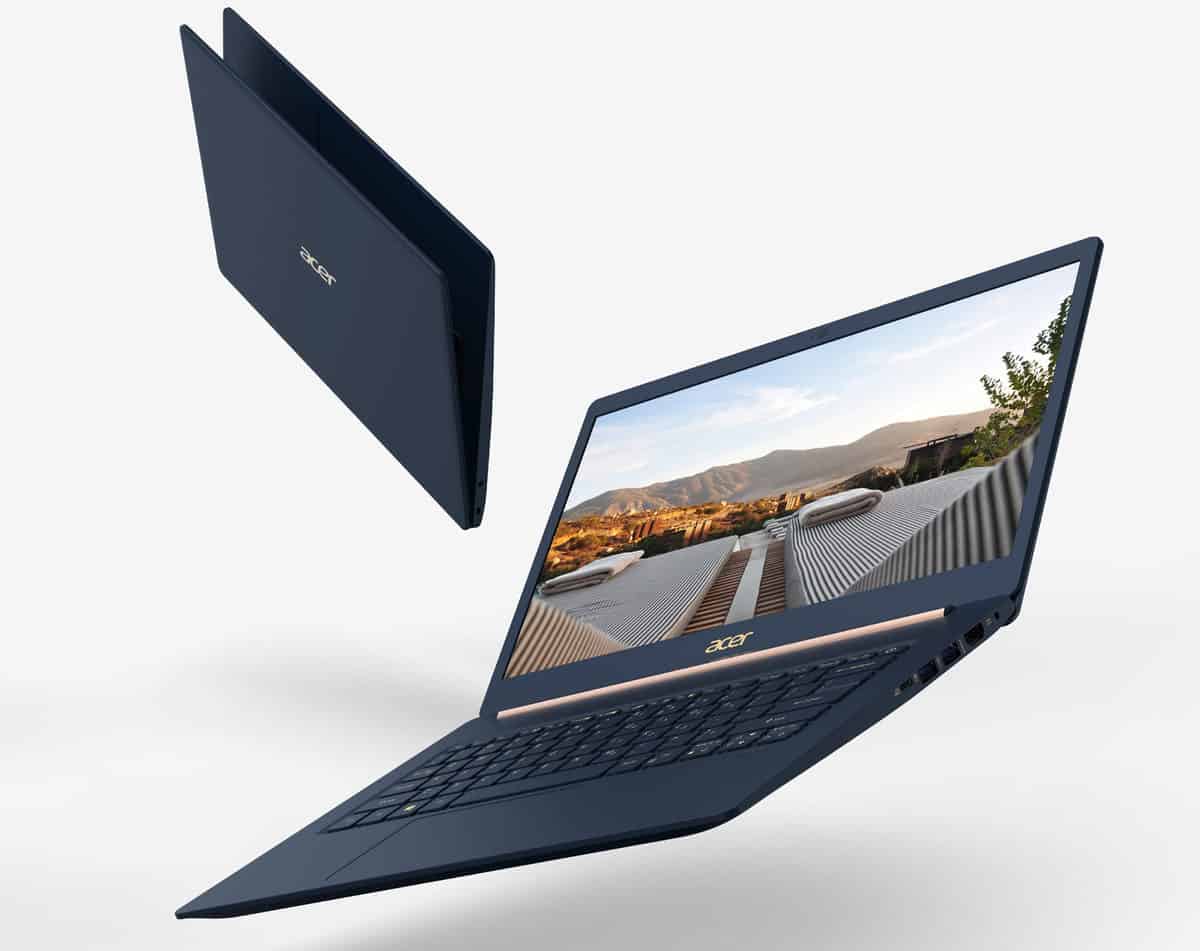 The Swift 5 doesn't have the immediate wow factor of its more expensive brother; in fact, it is a bit dull looking due to its larger form factor and light build which gives it a bit of a plastic feel. This changes when you pick it up out of the box though, it is astonishingly light, it almost feels like an empty shell.
The ultra-light design doesn't mean Acer has had to cut back on the specification; you get the latest Intel Core i7-8550U 1.8 GHz Quad-core CPU combined with 8 GB of ram and a 512GB SSD.
Due to its lower price point and thicker dimensions, Acer has used a standard SSD in this machine rather than the faster NVMe based drive you find on the Swift 7. It is rare that you will notice a performance difference in real world usage though.
The display is a decent sized 14″ Full HD Touchscreen with a resolution of 1920 x 1080.
The extra thickness has also allowed Acer to include two full-sized USB ports as well as a USB 3.1 type C port. You also get an HDMI port too.
Design & Build
Coming from the Swift 7 this feels and looks a more bland and low quality even though it is a reasonably good-looking laptop as far as they get.
The shell feels a bit plasticy but this is a consequence of its lightweight nature, and Acer have coloured it in an attractive royal blue with gold accents making it more aesthetic than a generic black laptop.
While it is the lightest laptop I have used, it is a larger footprint than some of my recent reviews. At around 5mm thicker than the Swift 7 it is positively chunky, but the other dimensions are quite similar at 329mm x 228m for this laptop and 328mm x 237mm of the Swift 7. The XPS 13 still wins here at just 302mm x 199mm
For me, I think I would prefer a lighter laptop that's a little bigger rather than the other way around. I can't say I would notice the difference of 20mm, but every gram counts if you are carrying a laptop around all day.
Most another aspects of the laptop is as you would expect. The display has noticeable bezels but not obtrusive; the keyboard is well proportioned as is the trackpad. Acer has also included a fingerprint scanner for easier logging in, this time the scanner is slimmer and located below the arrow keys.
Keyboard & Trackpad
The keyboard is well sized and laid out, with the keys in chiclet form. Travel and feedback are decent for a keyboard with these dimensions, and I was able to type comfortably and quickly on it for extended periods of time. I was happily able to work from the laptop on a 2-hour train journey without getting hand cramp.
One of my biggest issues with the Swift 7 was the lack of a clickable touchpad, thankfully this is not the case here, and you get a proper left and right click. The touchpad itself is well proportioned and responsive. As someone that uses drag and drop as well as right click frequently, having a proper left and right click is important to me.
The only thing that irks me about the keyboard is putting the power button as one of the keys in the top right corner. I much prefer a firmer button out of the way. It is hardly a serious issue though.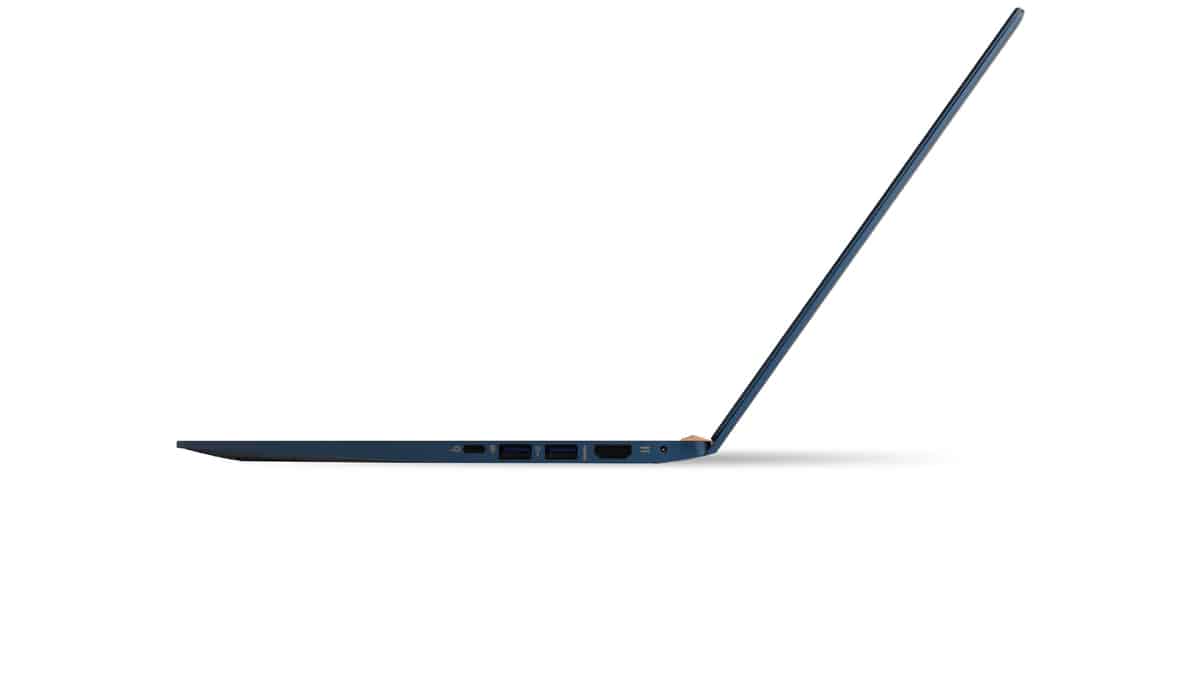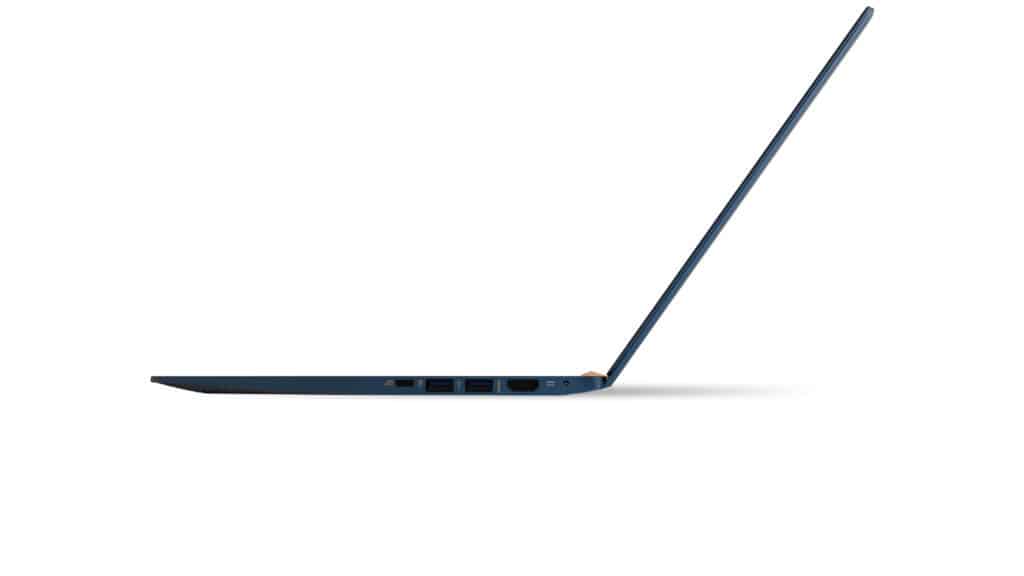 Screen
The 14-inch IPS display is just as good as many of the other more expensive laptops I have received recently. 1080p is the optimal resolution for laptops I think; you get a good amount of screen real estate without sacrificing performance or battery.
The IPS panel was capable of producing bright and vibrant colours that worked well with streaming services and the occasional bit of Photoshop I did on it.
Along with the quality display, Acer has included a touchscreen, I struggle to move away from using the touchpad, but I can see the appeal of touchscreen, and they are always a welcome addition. It works as you would expect it to, it is accurate and it does make drag&drop or scrolling a bit more natural.
Performance
The 8th generation Intel i7-8550U is more than enough for a laptop in this category, it will handle all office work, streaming, and media editing with ease.
In PC Mark 10 it scores 3208 giving it a fair bit more processing power than the Swift 7. It is worth noting that other laptops with the same processor can score higher, and there appears to be some thermal throttling going on here. You may not get the absolute best performance, but in real world usage, I doubt it will be noticeable.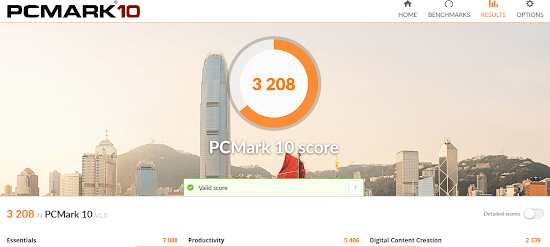 You obviously don't get a proper graphics card, and therefore you must rely on Intel UHD Graphics 620; it will handle light gaming OK but don't expect to be playing AAA titles at high settings.
You only get an SSD based M2 drive here, which is understandable considering the price. Read and write speeds are around 550MB/s and 262MB/s which is good for an SSD but not competitive the NVMe. Again, it is unlikely you would notice the difference between this and an NVMe drive in the real world.
The main issue with performance is the fan noise; I found the fans in this spun up under very light load, and the sound profile is not great, they are quite loud and high pitched. It was not so bad when watching TV or on a train, but when I was working in my quiet office in the morning, it was quite distracting.
Battery
Battery performance is adequate not class leading. These are all sacrifices you make for thin and light devices, similar to mobile phones.
That being said, it will be rare that you find yourself desperate to plug the laptop in if you start at a full battery. I was comfortably able to get around 6 hours of work done before I was getting anxious about my battery.
Everything Else
You get plenty of connectivity with two full-sized USB ports and a single USB-C port. This laptop still uses a proprietary charging port, so no charging via USB-C.
There is no ethernet port which is common now with laptops, but the wireless performance is good, and if you need the extra speed of ethernet a USB-C dongle is cheap nowadays.
The base of the laptop is removable, so basic upgrades should be possible. In particular, if you fancy upgrading the SSD at a later date, this should be a simple process. From what I am led to believe the RAM is soldered onto the board so no upgrades here.
For some reason fingerprint readers on PCs don't work as effectively as mobiles, and the Swift 5 suffers the same issues as the Swift 7 and the Dell Latitude, it works, but you regularly need to try more than once. I, therefore, find it quicker to use a pin.
Conclusion
Overall this is laptop comes with a decent specification for the price while also being the lightest option on the market. While there are a couple of issues, and performance is not class leading, it makes an appealing option for anyone that commutes a lot.
At around £300 cheaper than the Dell XPS 13 with a similar spec, or £500 less expensive than the Swift 7 this lightweight laptop is going to be the sensible buyer's choice.
[button link="https://www.acer.com/ac/en/GB/content/models/laptops/swift5″] Buy from Acer[/button]
The fan noise is something you should consider before buying this, but if you walk around with your laptop a lot as part of your work frequently, I think you will be hard pushed to find a better laptop.
It is also worth considering the i5 model which you can buy for just £799 on Amazon, this will be more than adequate for most office-based work and is a great price for an ultraportable.
[button link="https://amzn.to/2NgmbiL"] Buy from Amazon[/button]
This was a sponsored review, but all the opinions are my own and honest.