Devola Low Noise DC 12" Air Circulator Pedestal Fan Review Rating
Summary
This is a decent fan, it is better built and quieter than a lot of fans at this price point. It is not completely silent for sleep but I think most people will find it bearable. It works perfectly in the office or a living room
Pros
Well price
More features than average
Low noise
Cons
Not silent at the lowest setting
LEDs don't switch off
Temperatures are hotting up again, and I am still on the quest to find the perfect fan for both office use and sleeping.
As much as I would love an air conditioner, they are too big and expensive for me to justify the one or two weeks worth of warm weather we get up north each year. They are also very noisy with the quietest ones running at 38-48db on their quietest setting.
A fan, on the other hand, can operate and much lower noise levels. They will never come as close to the cooling performance you get from an air-con but they are significantly cheaper and can offer very low noise levels ideal for sleeping.
Typical Decibel Sound Levels
It is claimed the average room will be 50dB while a library will be 40dB and a bedroom at night will be 30dB or under. The hearing threshold is 0dB
This all depends on what is going on around you. Most basic sound meters can only go as low as 20dB, and the accuracy at low levels is questionable. In my office, in the morning with low traffic and windows close I generally have around 25dB.
Features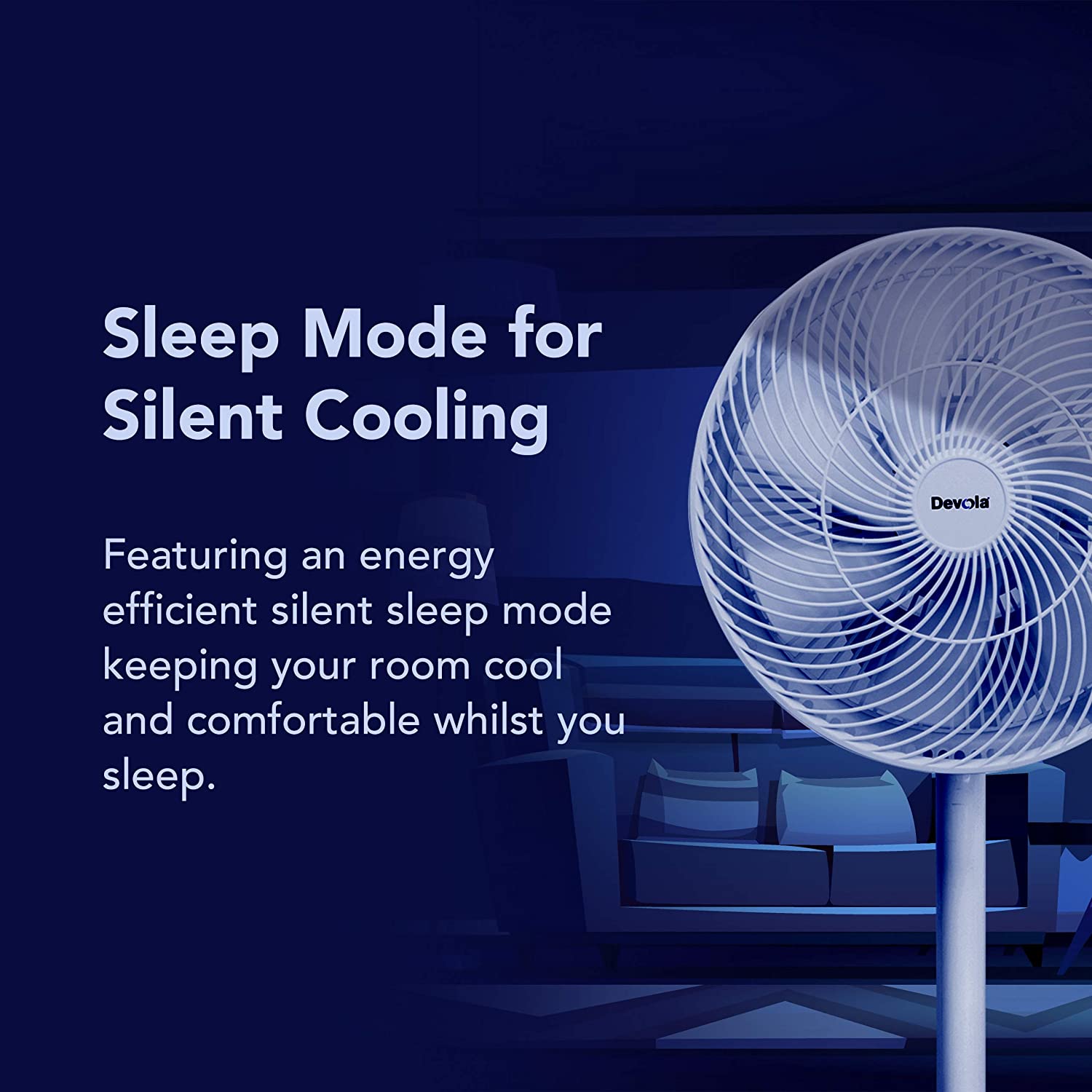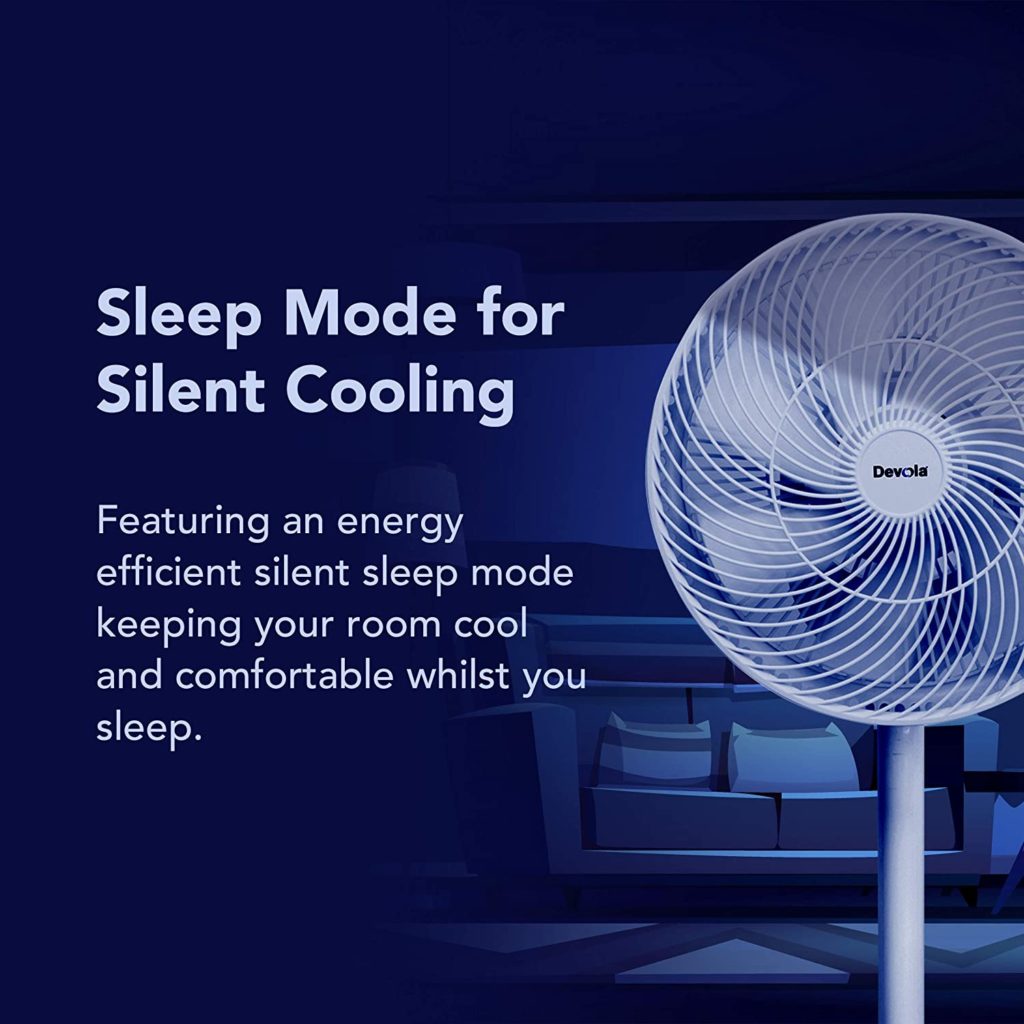 Smart display room temperature
Adjustable 12-level wind speed
Maximum 9 hours timing function
Vertical & Horizontal oscillation automatically
Display room temperature
7 fan blades design for strong wind power
Low noise without trouble your sleep
Maximum Height: 1030 (mm)
Oscillating Base
Set up
I have found most pedestal fans easy to put together; this is no different. Unlike other options, most of the electronics appear to be in the base of the unit, including the fan control, it also has a finger of eight power adaptor, so ti is easy to replace should you lose or damage it.
Sound Levels & Sound Profile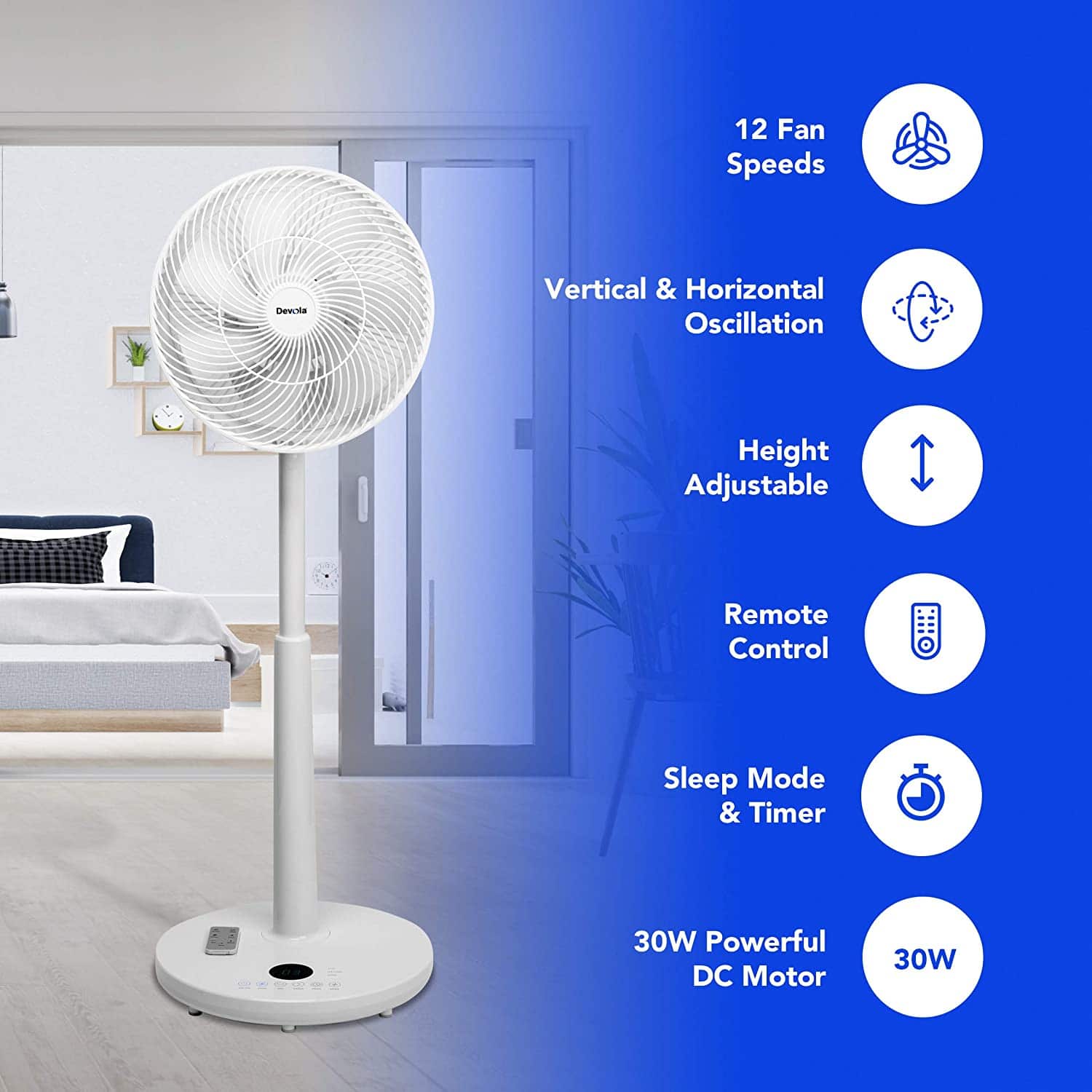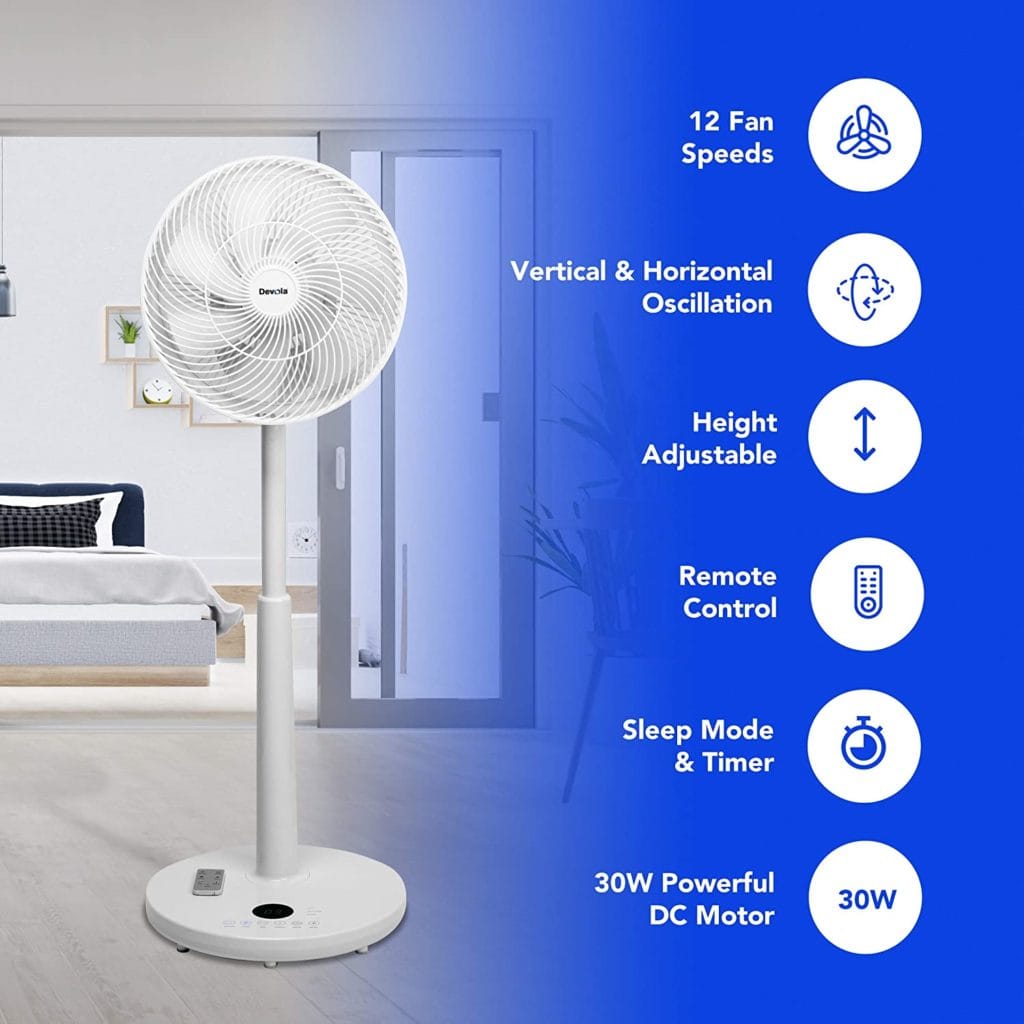 I tested this in both my office and bedroom, I don't have a highly accurate sound meter, so I find that my own hearing is a better judge of the performance in these scenarios.
This fan has a sound profile, the noise it makes is consistent, it is slightly more high pitched that large fans which is a given, because it is a smaller fan, but it is not an annoying pitch.
Office Use
In the office at the lowest level, I can't hear this over the faint hum from my PC (which is built to run as silently a possible, the pump noise from the radiator is the only thing I can hear) it provides enough breeze for me to feel it, but in a warm office, I need a little more. In this room in the morning at 5 am before the noise outside picks up my sound meter reads 30dB, and the lowest setting doesn't increase this.
Upping the setting to level 3, there is a more pleasant breeze, and the sound meter increases to 33dB. At this level, I can easily hear it, but it is quiet enough that it is not distracting in the slightest.
At level 5, if the fan is pointing on me it offers enough breeze to keep me cool in my hot office, but the fan is easily audible over all the other ambient noise, registering around 36dB.
Bedroom and sleeping
Performance at night is better than average but not the best. The 12" blades need to spin at higher speeds via a 16" fan, so even on the lowest setting, this is audible vs the Ansio I use. However, I have found that it generates less of a mechanical noise at the lower speeds so if you can cope with the slight hum of the spinning blades and air, then the overall sound can be less annoying.
This significantly outperforms the expensive GeoSmartPro AirGo smart fan which was given a Quiet Mark award.
Other Features
Like most decent fans this has a remote, can swing from side to side and has multiple speeds settings.
You get 12 speeds settings, far better than the 4 of the AirGo which is essential to get the noise down to an acceptable level for sleeping.
You then get a sleep mode with 4 settings and an eco mode.
This is the first fan I have reviewed that offers both left and right swing as well as up and down. You can have both enabled and once and is sort of swivels all around.
The fan also displays the temperature on the base, which is then used to adjust the speeds in eco mode. The one downside here is that you cant appear to switch the LEDs off, so when I used it in the bedroom I had to cover the base.
Price and Competition
At under £60 this is priced well, in my opinion.
There is the Jack Stonehouse 12 speed fan for around the same price. This appears to be the same white label hardware as Ansio. It uses 16" blades so, in theory, should be quieter but they claim 27 decibels vs 26dB of the Devola
The 16-inch 8-speed Ansio I have previously recommended is currently £65
Overall
Overall this is an excellent fan; there seems to be a noticeable difference in the quality compared to the white label fans that you find on Amazon from the likes of Jack Stonehouse, Ansio and others.
With this being a 12-inch fan the sound levels can't get quite as low as fans with larger blades, but these typically cost more. Even with the smaller blades, I would say the sound levels are acceptable for most people while sleeping, but very light and sensitive sleepers may need to invest in something a little more expensive.
This now lives in my office full time, it is a perfect fan for that, offering excellent air flow without being annoyingly loud.
Last update on 2022-05-19 / Affiliate links / Images from Amazon Product Advertising API