Ansio 9-blade 26-speed Pedestal Fan Review Rating
Summary
Some issues with a frictional noise from the motor, but this still outperforms any other fan I have tried.
I have had lifelong sleep problems, and I am a very light sleeper that also overheats very easily. So as soon as the weather heats up, my sleep quality reduces. Being in the north of the UK we don't have air-con so for hot nights we have to resort to a fan.
Unfortunately, fans can be noisy, the process of moving air generates noise, so a fan will never be silent. I recently reviewed the GeoSmartPro AirGo Smart Fan, which claims to be one of the quietest fans available. It was not.
Last year I bought the Ansio 8-speed fan, and that worked quite well for me, so after being disappointed with the AirGo I purchased the top of the range Ansio which ups the speed settings to 26 and uses a 9-blade fan.
Features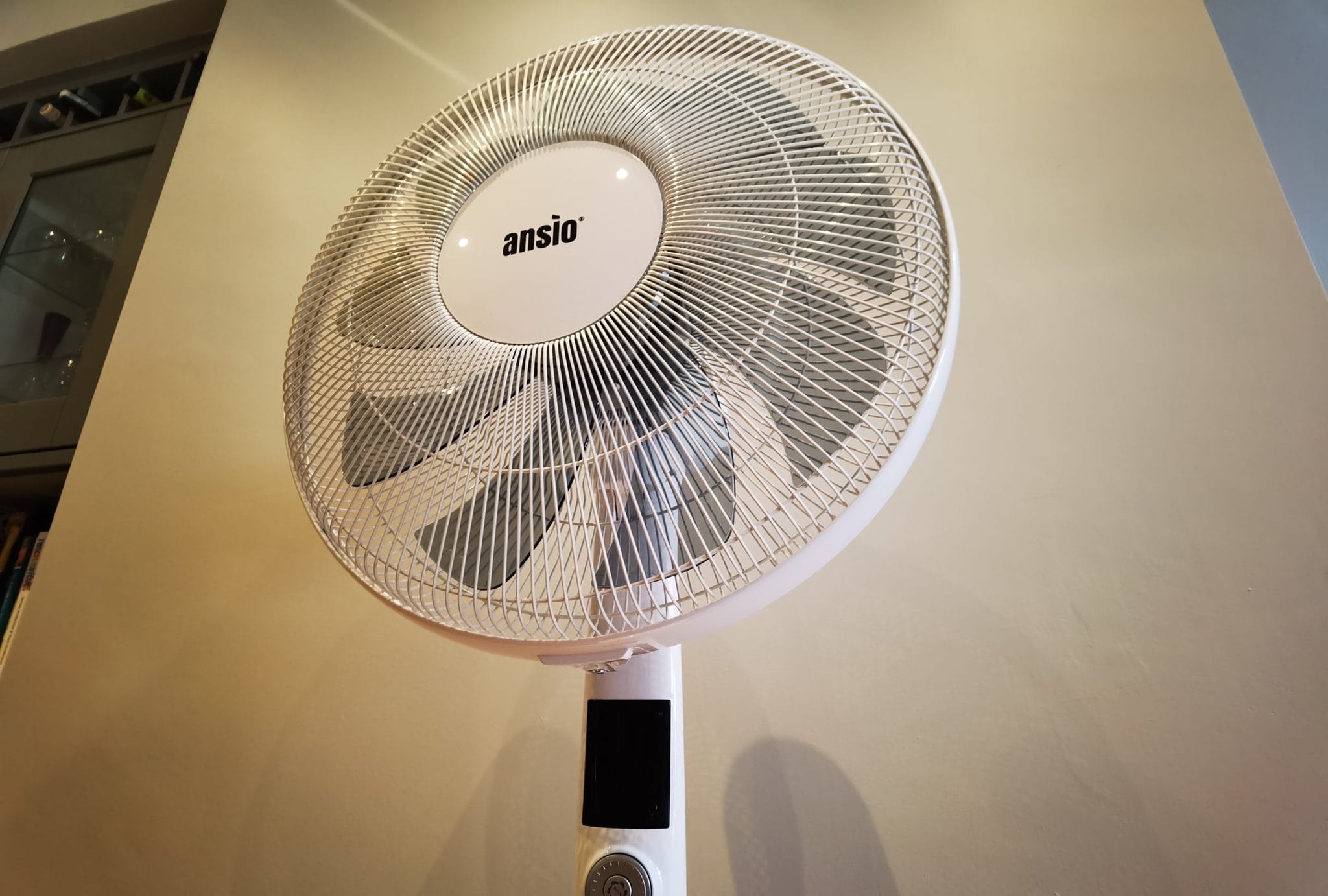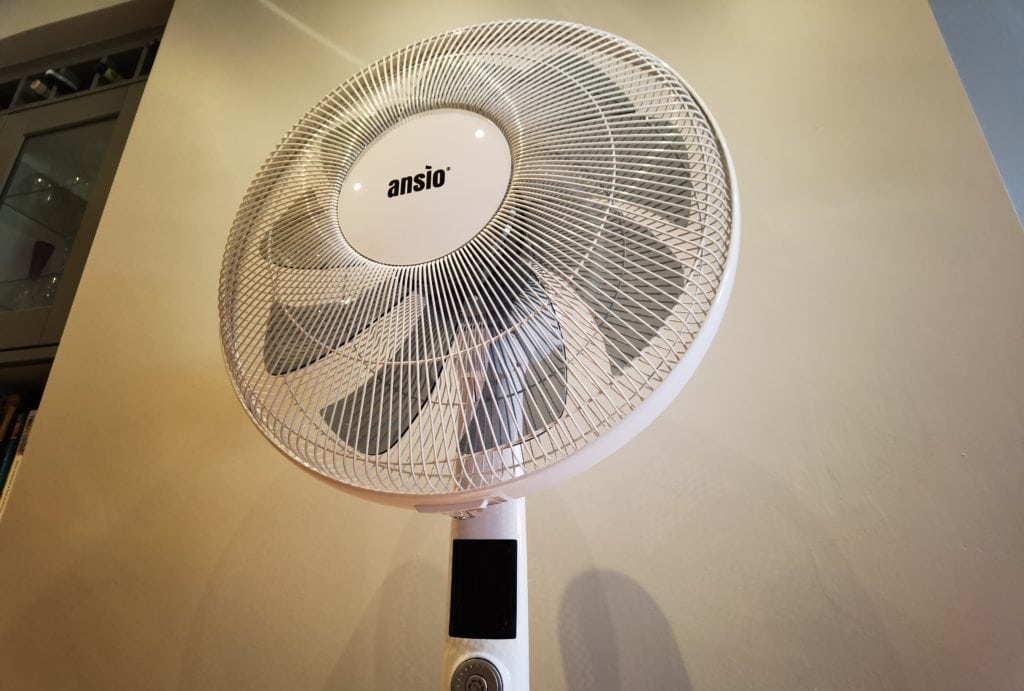 DESIGN: A unique 9 blade design with a blade size of 400mm provides you with wide air sweep. The 30-watt DC fan consumes significantly less energy to produce the same output as other AC fans. It comprises of a full copper motor for durability and for longer life. The pedestal fan provides jerk free and uniform oscillation.
26 SPEED SETTING & 5 WIND MODE: The DC Fan features 26 wind settings with a control wheel for speed regulation and 5 wind mode setting – Normal, Natural, Sleep, Comfort and Silent coupled with a 12-hour timer to suite every situation
MULTI-FUNCTION REMOTE: Featuring a multi-function remote control which enables you to control all the fan's power, with 5 operating modes and 26 wind settings for optimal comfort.
ADJUSTABLE: The pedestal standing floor fan with an adjustable knob can move the height up to 6 inches and a manual-head tilt mechanism for good air circulation inside the room. The metal round base provides you with stability and prevents tilting even on the strongest settings.
PEACE OF MIND: Ansio's Pedestal fan comes with 2 years warranty. We strive to ensure that our customers are completely satisfied with their purchase.
Set Up and Build quality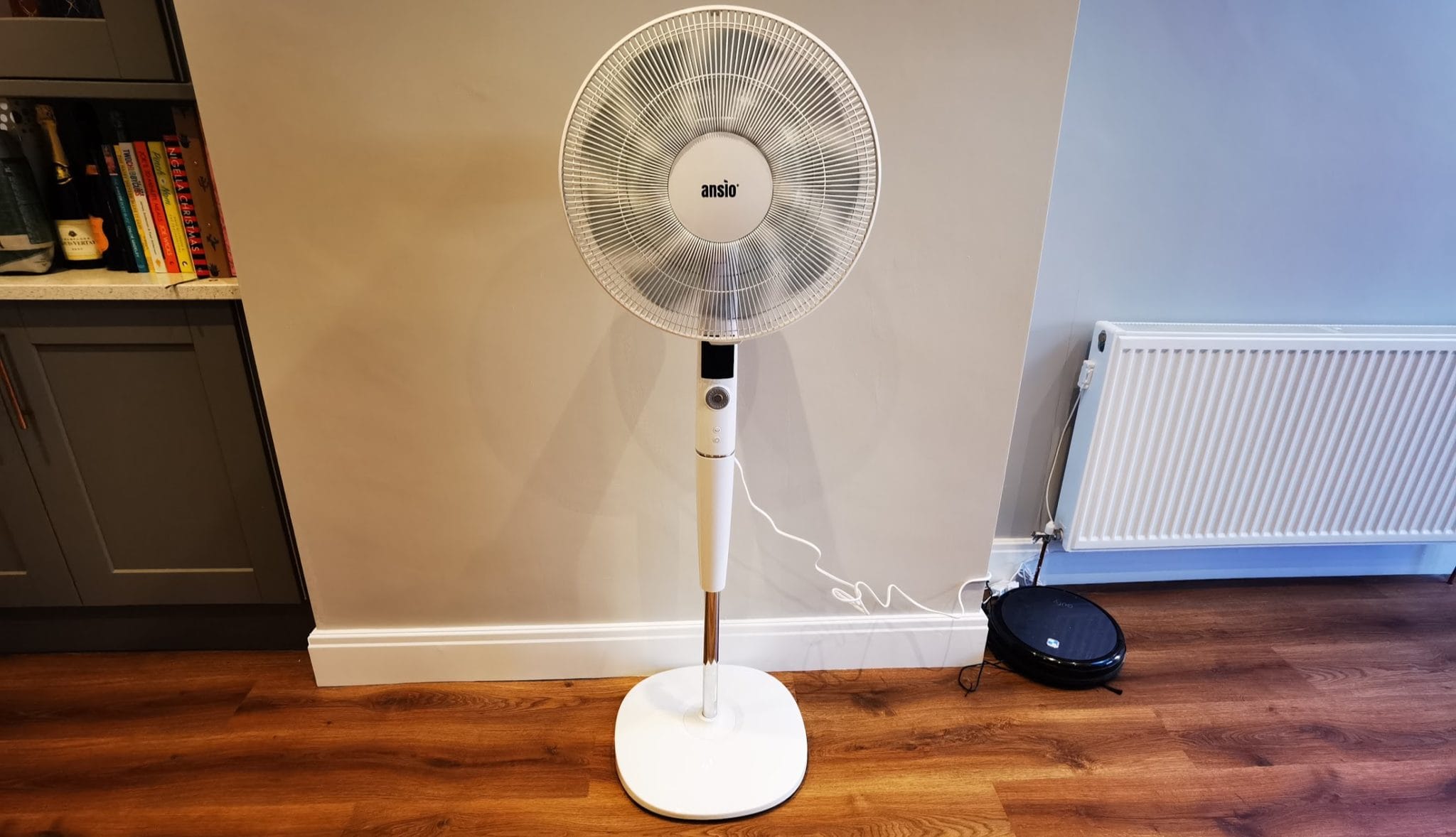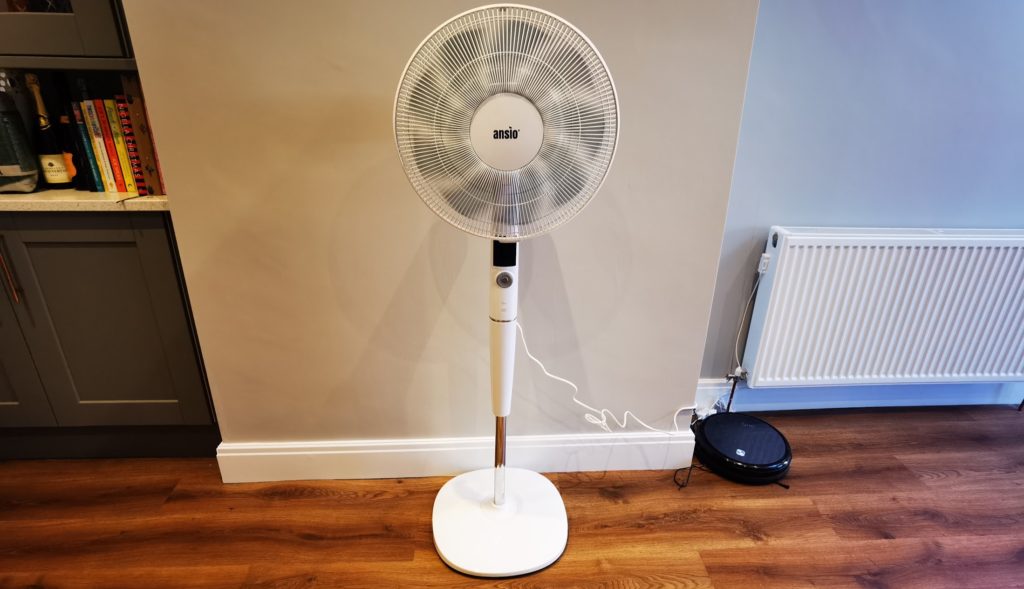 The original Ansio I bought is a little flimsy, with this costing double, the overall build quality has improved considerably, and it was very easy to put together. There is a nice weighty base, unlike the Airgo with multiple bolts, this is attached with one large bolt with a plastic cap end that you can tighten with your hand. This makes assembling it completely tool-free and very easy.
I had a nightmare getting the fan guard on the original Ansio, but this model seems much easier, and this is then locked on with a small latch and screw.
The remote is annoying. The battery compartment doesn't just slide off; you have to awkwardly push in a latch while sliding. Not a significant issue, but it is unnecessarily complex.
In Use & Noise Levels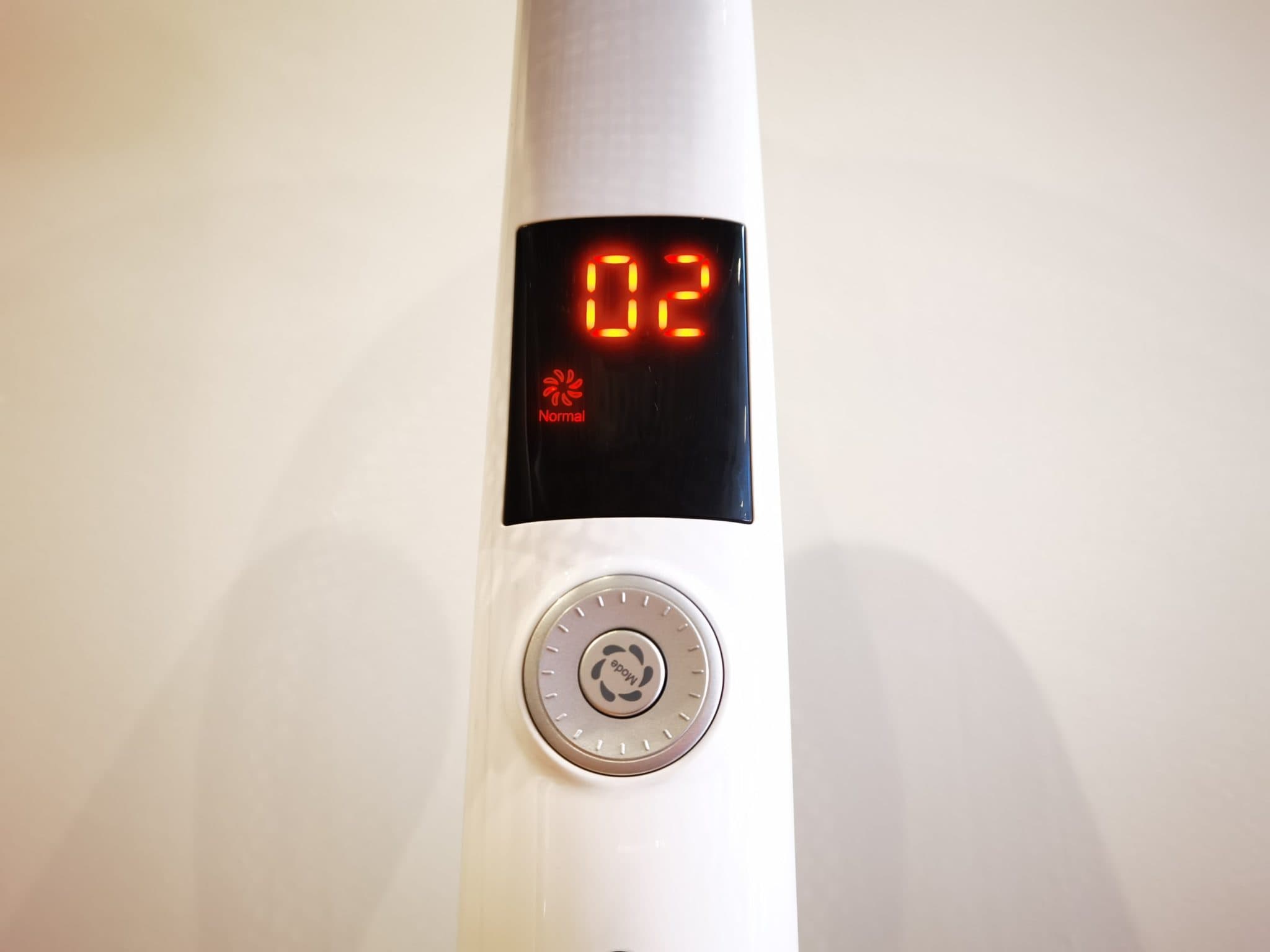 You get 26-speed settings and 5 operating modes all of which can be controlled via the remote, including enabling the swing setting.
The five modes include Normal, Natural, Sleep, Comfort and Silent. You then also have a timer which can go up to 12-hours.
The LED display lights up to show your settings, but after a few minutes it switches off, so it is not too distracting for sleep (unlike the Airgo).
While this isn't app controlled, it has everything you could need from a fan. With it using a digital controller, you can't use a smart plug to make this app-controlled either, because its default state is off.  
Generally, I don't bother with the different modes, I just find a speed setting I want and leave it at that. With 26-speed settings, this gives you much greater control of the airspeed and noise. I find that the settings from 1-5 are basically inaudible for fan noise.
However, there is some frictional noise from the motor turning. This is quite annoying. I have managed to reduce this by using a little bit of lubricating oil where the fan spindle enters the motor.
I did think this was a manufacturing default; however, when I went back to my older Ansio, it has a similar noise when you place you ear close enough to the fan. It is just that the lowest setting of that fan creates enough noise to mask the motor noise.
With the unit oiled the noise became less bothersome, and I find I can use the fan up to level 6 without the noise bothering me. Generally ambient noise is louder than the fan at this level.
I bought a cheap sound meter to test the fan; it starts off at 30db. On level 26 it hits 60dB slowly reducing down to 32dB at the lowest setting with the sound meter about 1m away from the fan.
The end result is that this fan is quieter than the 8-speed Ansio (which I was already happy with) and it puts the GeoSmartPro AirGo to shame being almost silent in comparison.
At the lower settings, this is not going to move very much air, so if you want a silent fan for day to day use, it is not going to meet your standards. Nor will any other fan, though I would probably say the AirGo is better for this scenario. The lower settings are great for generating a gentle breeze while in bed, cooling me down without being too annoying.
Overall
The frictional noise from the motor was bad enough that I nearly sent this back immediately. However, with a little bit of lubricant, it has dropped down enough to be acceptable.
Apart from that, the build quality is excellent, and I find the performance is better than any other fan I have tried, which admittedly is a small sample.
It is one of the more expensive fans on the market. However, the only other comparable one I can find is the NSAuk SFDC-4057RC Pedestal i-Fan with 24 speeds that have been awarded the Quiet Mark recommendation. That costs £154.94 making this much more reasonable. All pedestal fans are cheaper than the popular Dyson Airblade options.
If spending over £100 on a fan is madness to you, then Ansio also have a 12-s[peed model for £67.47
Last update on 2022-05-17 / Affiliate links / Images from Amazon Product Advertising API