Yesterday MediaTek announced the Helio G90 and G90T, their new flagship gaming orientated SoC.
In my previous post, I compared the SoC to the flagship chipsets from Qualcomm and Hisilicon, but this was perhaps unfair as the Helio G90 is unlikely to be priced at the same point.
New benchmarks have come out revealing how well the Helio G90 performance against the upper mid-range chips from the other brands, the Kirin 810 and Snapdragon 730.
AnTuTu benchmark
The Helio G90 may have just been benchmarked. AnTuTu claims it spotted a device with the model "k85v1_64" on its database. The specifications fit the Helio G90 which MediaTek just released. Details shared include Cortex A76 CPU core architecture, clocked at 2GHz. The GPU is given as Mali-G76.
The MediaTek Helio G90 chipset is touted to be the most powerful product MediaTek has at the moment with the total benchmark score put at 222,282 points. This is slightly higher than the score of the Snapdragon 730 chipset, which scored 210052. Though it is slightly lower than Huawei's Hisilicon Kirin 810 SoC's benchmark score of 237437.
The Helio G90 score breakdown is:
CPU – 83145
GPU – 67629
Memory – 14261
UX – 57247
In comparison the Kirin 810 scores:
CPU – 92771
GPU – 73380
Memory – 14888
UX – 56398
And finally the Snapdragon 730
CPU – 87316
GPU – 58149
Memory – 13844
UX – 50743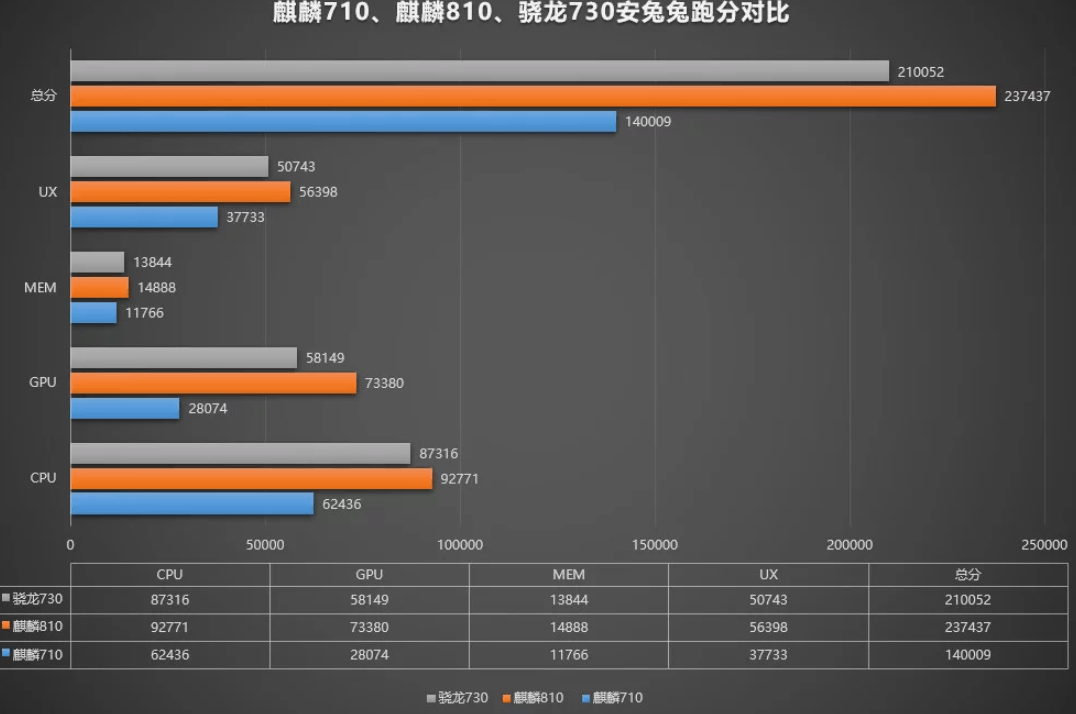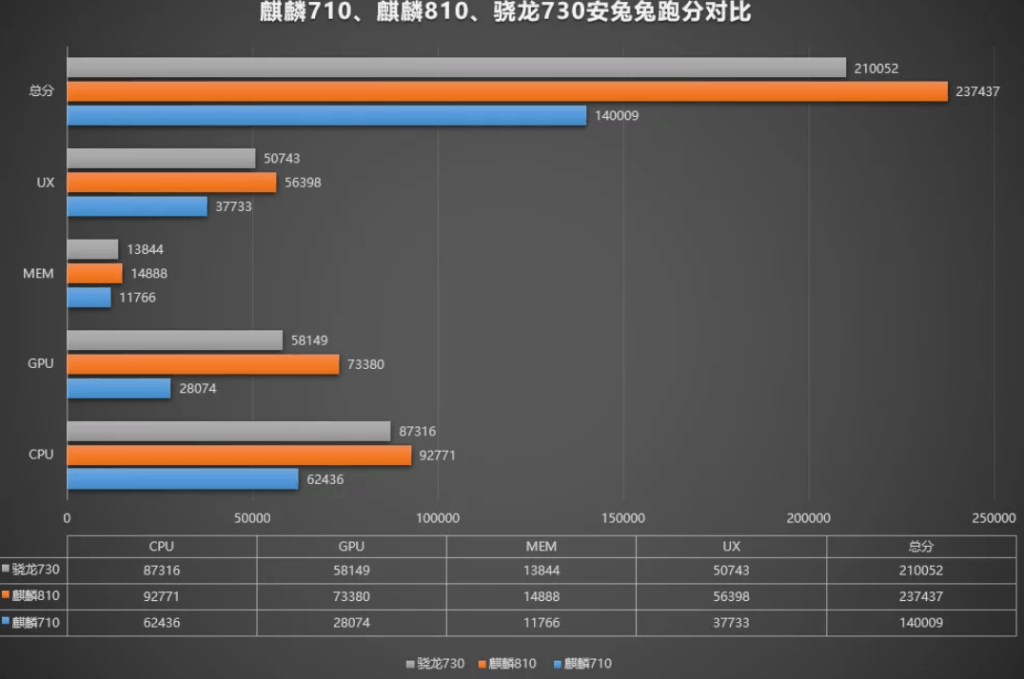 GeekBench Benchmark
Following on from the AnTuTu, the G90 has also popped up on Geekbench. The chipset was spotted onboard a device with model number alps k85v1_64. This is similar to the device we saw on AnTuTu benchmark earlier on.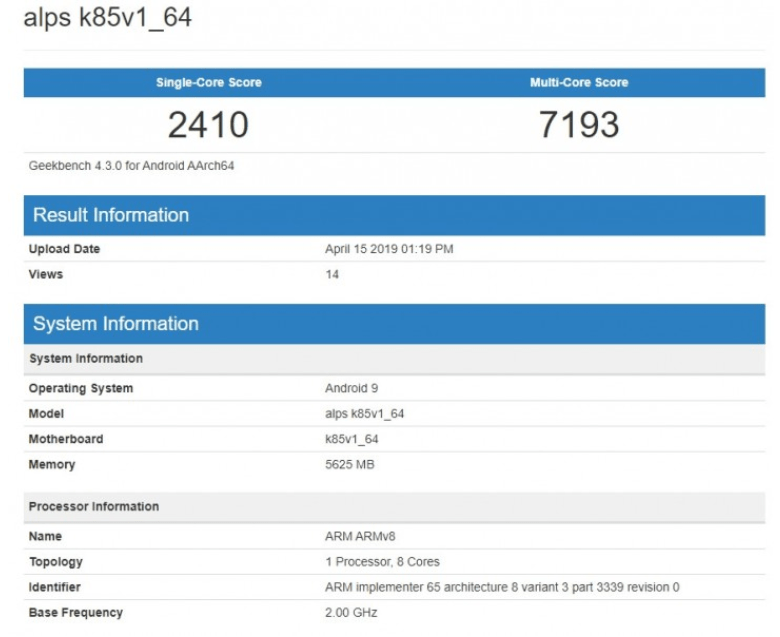 In this result, the Helio G90 scores 2410 which is slightly lower than the single-core score of the SD730 which has 2436. The Kirin 810 scores higher still with 2832.
In the multi-core, it pulls ahead against the SD730 with a score of 7193 vs 6826, but it is the Kirin 810 that leads the race with 7859.
Specification Comparison
Assuming the Helio G90 would stack up against flagship chipsets was way off the mark with my previous comparison, but things are much more level when we look at the new upper-midrange chips from Qualcomm and HiSilicon.
All the chips use a 2+6 layout with Cortex-A76 & Cortex-A55. The G90 doesn't quite compete with the clocks of the A76 cores but interestingly does clock higher for its power-efficient cores. With its 12nm FinFET fabrication process this makes me worry it may not be the best SoC for your battery.
It is interesting that they use a more modern GPU than the Kirin 810 however it has two fewer cores and in the case of AnTuTu this appears to make a large difference.
Helio G90T
Helio G90
SD730
Kirin 810
Manufacturing Process
12nm FinFET
12nm FinFET
8nm
7nm
CPU
2x Cortex A76 @ 2.05GHz
6x Cortex A55 @ 2.0GHz
2x Cortex A76 @ 2.0GHz
6x Cortex A55 @ 2.0GHz
2x Kryo 470 (CA76)
@ 2.2GHz

6x Kryo 470 (CA55)
@ 1.8GHz
2x Cortex-A76 @ 2.23 GHz
6x Cortex-A55 @ 1.88 GHz
GPU
Mali G76 MP4 @ 800MHz
Mali G76 MP4 @ 720MHz

Adreno 618
Mali G52MP6 @ 820MHz
RAM
LPDDR4x up to 10GB, 2133MHz
LPDDR4x up to 10GB, 2133MHz
2x 16-bit @ 1866MHz
LPDDR4X
14.9GB/s

1MB system cache
LPDDR4X @ 2133MHz
Canera
Single 64MP and 48MP
Dual 24MP + 16MP
Single 64MP and 48MP
Dual 24MP + 16MP
Spectra 350
36MP single / 22MP dual
Dual ISP
AI
2x APU

+1TOPs total perf
2x APU

+1TOPs total perf
Hexagon 688
Dual NPU