MediaTek is not really known for their high-end chipsets, you would typically find them on the more affordable phones on the market such as the Nokia 2.2 and Redmi 6A.
However, recently they have been making moves higher up in the market and the new Oppo Reno Z uses the MediaTek Helio P90 (MT6779) which offer near Snapdragon 710 performance and a lower price point.
MediaTek has today announced a new series in their lineup, the G90-Series, which are exclusively designed to be the core of an incredible smartphone gaming experience. By combining the latest CPU and GPU cores with ultra-fast memory and massive AI performance they deliver fast, fluid action.
For even more gaming power, the MediaTek Helio G90 Series is paired with MediaTek's exclusive HyperEngine gaming technology that tunes your entire smartphone for the greatest gaming experience possible.
With the recent launch of the Qualcomm Snapdragon 855 Plus which is an overclocked version of the original SD855 it is worth looking to see how the two gaming orientated chips stack up against each other. I have also included the Kirin 980 as HiSilicon has not yet released a gaming-specific chipset.
In the original post, the details were very thin on the ground with no information to differentiate between the two G90 chips. More information has now come out which has been included in the below.
More information has now come out that reveals the G90T ups the frequency on the CPU slightly higher by 50MHz at up to 2.05GHz.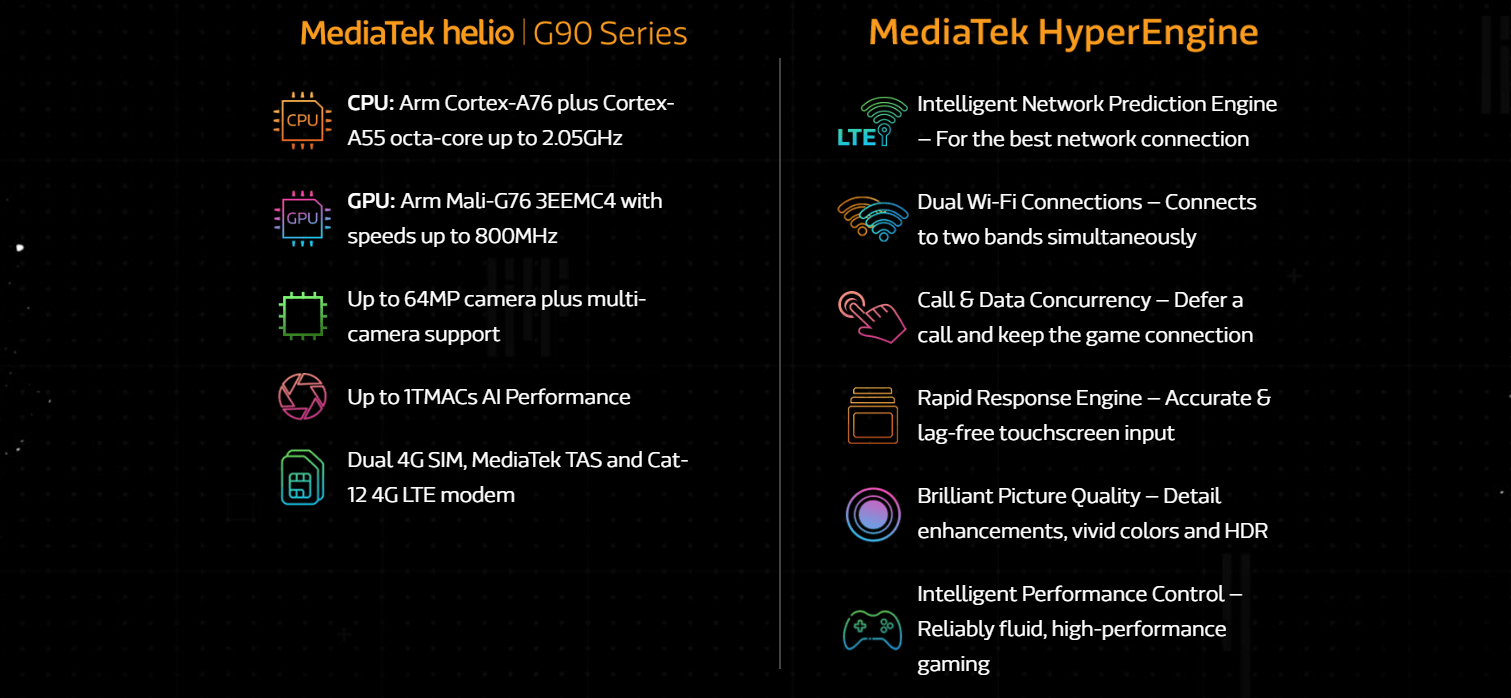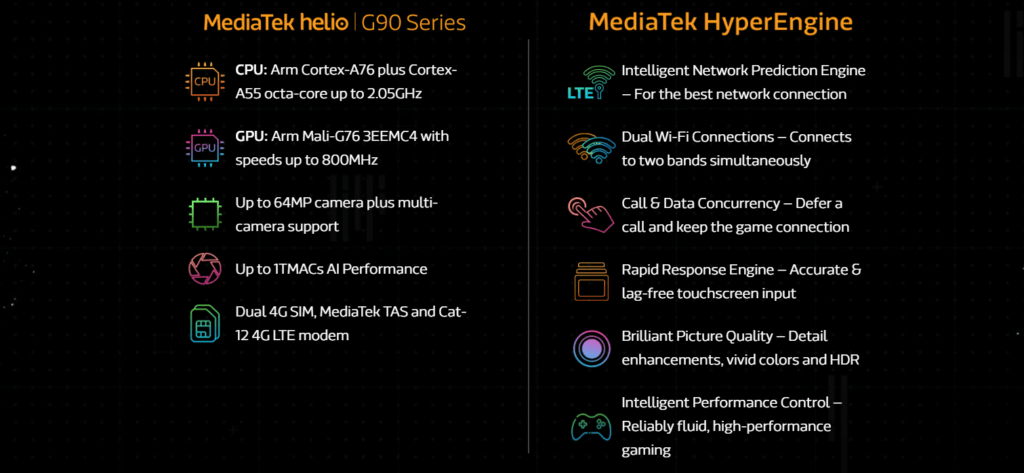 CPU
Built on the 12nm FinFET the chipset already starts off on a backfoot compared to the Snapdragon and Kirin which both use the superior 7nm fabrication process which will provide substantially better power efficiency.
The CPU spec is vague with them listing the parts as having Arm Cortex-A76 plus Cortex-A55 octa-core up to 2.05GHz. My best guess is this would be four A76 cores and six A55 cores which is a similar design to the P90 and also matches the other chipsets in terms of the number of A76 cores used.
The original spec was very vague, with nothing to differentiate the two chips or even the what the core layout was. My original guess was wrong the specification is actually and 2x Cortex A76 @ 2.0GHz and 6x Cortex A55 @ 2.0GHz for the G90.
The CPU specification makes this a closer chipset to the Kirin 810 and Snapdragon 730.
The G90T ups the frequency of the A76 slightly higher by 50MHz at up to 2.05GHz
At 2.05Ghz this is slower than both Qualcomm and HiSilicon, and obviously with less A76 cores in total.
The Qualcomm has one core running at 2.96Ghz then three at 2.42Ghz, the Kirin 90 has 2x Cortex-A76 @ 2.6GHz then 2x Cortex-A76 @ 1.92GHz.
This could be due to the fabrication process not being able to cope with the heat from higher clocks.
GPU
The Helio G90 uses an Arm Mali G76 MP4 GPU 800MHz on the G90T and 720Hz on the G90
At first glance, this is similar to the Krin 980 however that is using a Mali-G76 MP10 which has 10 cores vs the 4 on the Helio.
While the Helio G90 can't compete with either Qualcomm or HiSilicon, it does offer a substantial improvement compared to the old Mali-G72 found on the Helio P70, the G76 should offer twice the performance per cluster.
Other Features of the MediaTek Helio G90 series
MediaTek is hyping up their technology called HyperEngine, presumably, this is another AI like marketing term and it will affect various aspects of the phone including:
Intelligent Network Prediction Engine – For the best network connection
Dual Wi-Fi Connections – Connects to two bands simultaneously
Call & Data Concurrency – Defer a call and keep the game connection
Rapid Response Engine – Accurate & lag-free touchscreen input
Brilliant Picture Quality – Detail enhancements, vivid colours and HDR
Intelligent Performance Control – Reliably fluid, high-performance gaming
They make lots of claims about the AI performance being up to 1TMACs, but again, like for like stats are hard to find here.
AnTuTu benchmark
Early benchmarks of the MediaTek Helio G90 revealed it with a score of 222,282 points this was then broken down to:
CPU – 83145
GPU – 67629
Memory – 14261
UX – 57247
More recently the Redmi Note 8 Pro which features the G90T passed through AnTuTu with a total score of 282,443. The breakdown of this score included:
CPU – 96,805
GPU – 79,688
Memory – 59193
UX – 46757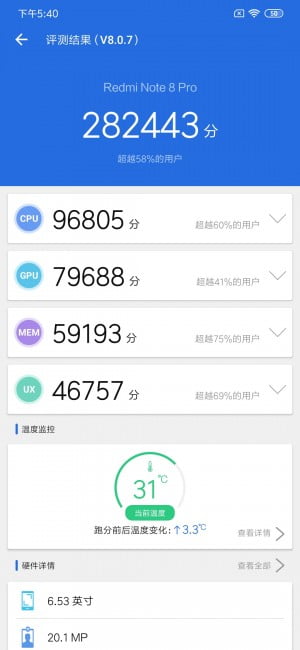 As previously mentioned, this makes the chipset more comparable to the Kirin 810 and Snapdragon 730.
Antuntu v8 test results from recent reviews
The results below are from recent reviews carried out by myself. The Black Shark 2 is currently having issues loading Antuntu so I have only used its total score, but it gives you a good idea of how each chipset performs.
Chipset
Total
CPU
GPU
MEM
UX
OnePlus 7T
Snapdragon 855+
487050
144155
199255
70043
73597
Realme X2 Pro
Snapdragon 855+
473329
142596
190964
799966
59803
Black Shark
Snapdragon 855
442971
Xiaomi Mi Mix 3 5G
Snapdragon 855
429859
144036
172351
56044
57428
Xiaomi Redmi K30 5G
(Leaked score)
Snapdragon 765G
302847
98651
87564
57985
58647
Xiaomi Redmi Note 8 Pro
Mediatek Helio G90T
281295
98263
79755
57285
45992
Realme X2
Snapdragon 730G
258311
98328
67574
47945
44464
Realme 5 Pro
Snapdragon 712
216501
73459
61872
42013
39157
Honor 9X
Kirin 710F
172710
64742
21250
50747
35971
Realme 5
Snapdragon 665
167866
71157
33489
36568
26652
Geekbench 5 Results
| | Chipset | Single-Core | Multi-Core |
| --- | --- | --- | --- |
| Realme X2 Pro | Snapdragon 855+ | 622 | 2660 |
| Black Shark | Snapdragon 855 | 535 | 2059 |
| Realme X2 | Snapdragon 730G | 546 | 1729 |
| Xiaomi Redmi Note 8 Pro | Mediatek Helio G90T | 504 | 1641 |
| Realme 5 Pro | Snapdragon 712 | 321 | 1481 |
| Honor 9X | Kirin 710F | 326 | 1346 |
| Realme 5 | Snapdragon 665 | 316 | 1363 |
Overall
This new chipset does not really compare against the Qualcomm Snapdragon 855 Plus or Kirin 980.
It does, however, compare well against the new upper mid-range chipsets from both Qualcomm and HiSilicon. in the form of the SD730 and Kirin 810.
The MediaTek Helio G90T will feature on the Redmi Note 8 Pro
Specification Table
Helio G90T
Helio G90
napdragon 855 Plus
Kirin 980
Manufacturing Process
12nm FinFET
12nm FinFET
7nm (N7)
7nm
CPU
2x Cortex A76 @ 2.05GHz
6x Cortex A55 @ 2.0GHz
2x Cortex A76 @ 2.0GHz
6x Cortex A55 @ 2.0GHz
1x Kryo 485 Gold (A76 derivative)
@ 2.96GHz 1x512KB pL2

3x Kryo 485 Gold (A76 derivative)
@ 2.42GHz 3x256KB pL2

4x Kryo 485 Silver (A55 derivative)
@ 1.80GHz 4x128KB pL2

2MB sL3
2x Cortex-A76 @ 2.6GHz
2x Cortex-A76 @ 1.92GHz
4x Cortex-A55 @ 1.8GHz
(4MB shared L3 cache)
GPU
Mali G76 MP4 @ 800MHz
Mali G76 MP4 @ 720MHz

Adreno 640 @ ~672MHz
Mali-G76 MP10 - 720 MHz
RAM
LPDDR4x up to 10GB, 2133MHz
LPDDR4x up to 10GB, 2133MHz
4x 16-bit CH @ 2133MHz
LPDDR4x
34.1GB/s

3MB system level cache
LPDDR4X @ 2133MHz
Canera
Single 64MP and 48MP
Dual 24MP + 16MP
Single 64MP and 48MP
Dual 24MP + 16MP
Dual 14-bit Spectra 380 ISP
1x 48MP or 2x 22MP
Dual ISP
AI
2x APU

+1TOPs total perf
2x APU

+1TOPs total perf
Hexagon 690 DSP
Dual NPU
Updates:
Updated on 31 July 2019 – with corrected and updated specs
Updated 31/08/2019 with benchmarks