[Updated 17-July-2021] This is an updated post from 2020. With the weather hotting up it has once again become unpleasant to sleep so I have been looking for the best aircon available to buy right now.
–
With warm weather comes warm nights and uncomfortable sleeping, and there is nothing worse than a bad nights sleep. For me, it has a significant impact on my mental health, not what I need right now.
Personally, I use a fan to help with sleep, if you buy one with a large number of speed settings you can normally get it running silently and helps keep you just cool enough to sleep. I use an Ansio 26-speed fan and it has been working well for me this year.
However, one day I may invest in an air conditioner, but they are a minefield of choices. There are a few issues with portable a/c units, there are different types of air-con, the more effective type is very expensive, and reviews of all the units tends to be mixed, they are also expensive to run.
Recommended Buys
Types of air conditioner
There are a few types of air conditioners on the market, ranging in price and ease of installation.
In order of worst to best, in my opinion:
Evaporative [Swamp Coolers] – These are the cheap options your find. They are basically a fan that blows air over cold water. They are not very effective and will significantly raise the room humidity, which itself can be unpleasant.
Portable Air Conditioners – The ones in this post and the option most UK buyers are likely to want. They are a proper air con unit that needs venting outside.
Single Unit Wall-Mounted – These work exactly the same as the portable options but are fixed in place. There will be installation costs as you need to bore holes through to the outside, but the overall outcome is more attractive than the portable variety.
Wall Split Air Conditioners – The best overall solution for most UK homes that is semi-practical to install in our homes. This has a wall unit similar to the previous option, but the main air conditioning unit is mounted outside the property. You can then have multiple of these wall units all running off the main unit. This will obviously have significant installation costs and may not be practical for a lot of homes, but you should be able to run the piping through your loft quite easily.
That list isn't exhaustive, window units are popular in the US but our windows are not really designed for it. Then there are various types of split systems such as a central air conditioning, this is a large unit for whole-home air con, but it is only practical if the house is designed around it, or maybe a whole home renovation.
The different types of portable air conditioner – evaporative, single hose, dual hose
If you go on Amazon, you will see a significant disparity between the prices some cost as low as £25 while many others cost £300+. The cheaper ones use evaporative cooling, so the fan blows warm air over a water-soaked filter which increases humidity, produces condensation and only slightly reduces the heat. Increased humidity is often associated with poor sleep as it reduces your bodies ability to evaporate sweat.
The expensive models are more effective but this is a minefield. Nearly all UK air conditioners are single host units that require you to feed the hose outside.
The single hose air conditioner pulls warm air from the room, sends it past coils cooled by the refrigerant, and then sends heated air and moisture through the hose and out of the house.
This creates a negative air pressure situation as air is pushed out of the room. The result is that any cracks around doors and windows will allow hot outside air to leak into the room
The other type of portable air conditioning unit is the dual hose unit. This style has an intake and an outtake hose. Through the intake, the air is drawn into the unit where it is cooled and then sent back into the living area. The machine heats up through the process and an intake hose pulls air from outside the home to cool the air conditioner down.
A second hose sends all of the warmed air outside of the home. With this efficient exchange of air, the dual hose system doesn't have to work nearly as hard as the single hose option.
A decent quality hosed air conditioner costs a lot of money but you can see by the reviews they perform far better than the generally poor quality evaporative options. This Delonghi PAC AN112 is comfortably the best-reviewed air-con on Amazon:
Sale
Considerations for a single hose air con?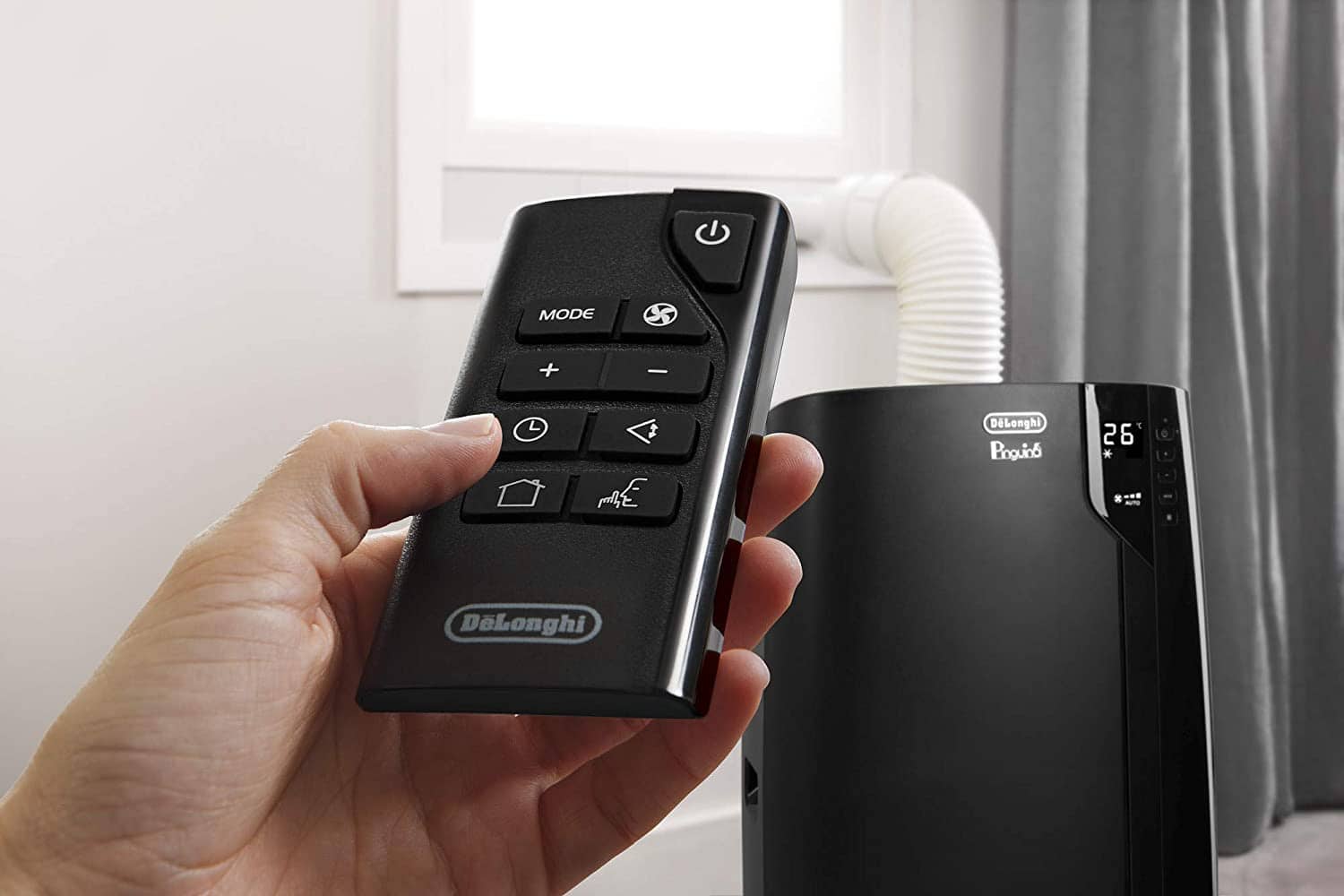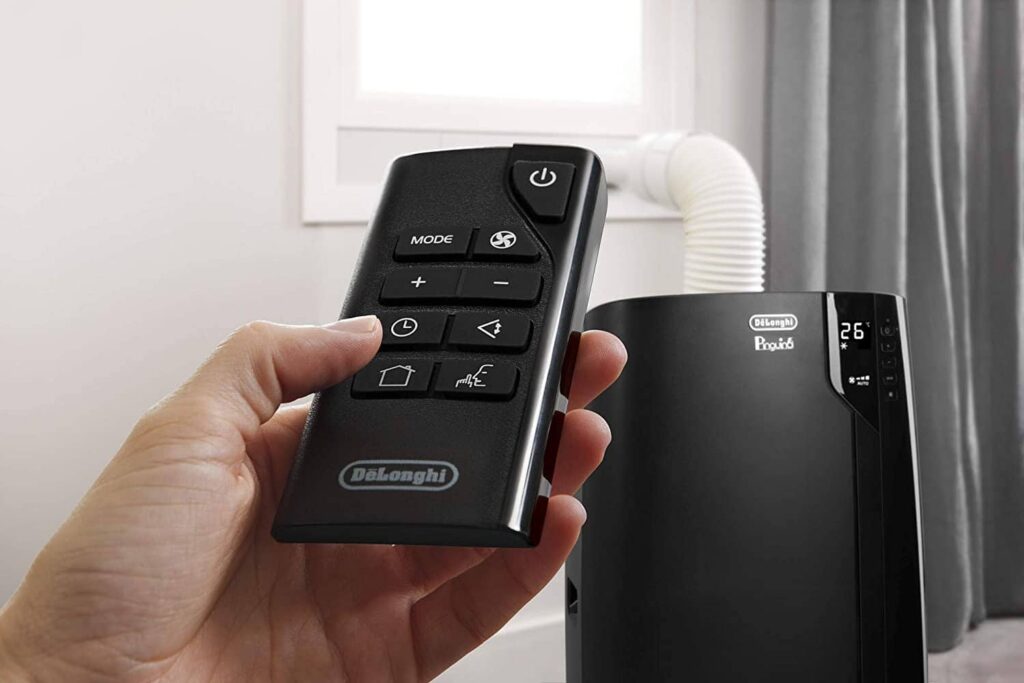 The single hose unit has some fundamental flaws that cause it to drawback in hot air, so when you use one of these units some considerations need to be taken into account.
As the unit pulls in the warm air from your room, it causes negative pressure, drawing in more warm air from any window cracks or through doors.
So with these units, if you want it to be effective, you need to use a proper window seal, which you can buy quite cheaply online. You will also need to keep the doors closed in your room.
Are they loud?
There is no way to sugarcoat this, yes they are very loud. Typically, they run at around 38-48db in the quiet modes for some of the quieter models and up to 65dB at max. 49dB-54dB for general usage is quite common. To put that into perspective, a washing machine normally runs at about 55dB or it is like someone in the room talking or the noise of light traffic while you are on the street.
The multi-split air conditioning systems I mentioned earlier, will be much quieter as the air con unit is outside.
Buy the right size
You need to be careful of is to buy the proper size air con for your room. Too small and it won't be able to cool the air down fast enough for it to make much or any difference.
They are typically measured in BTU or British thermal units, and due to the inefficiency of a single hose system, you are better off sizing up if possible.
There are plenty of air-con calculators online and this is the best place to start for a room of around 5m in length and 5m width you will find the recommendation to be around 9000BTU
Power consumption: How much does it cost to run?
The last thing to worry about is how much do they actually cost to run? Some more bad news I am afraid, they are quite expensive. It's a bit like an electric radiator but in reverse.
The higher the BTU, the higher the kW/h a 12000BTU air con which can cool a moderately large room will typically use around 1.35Kw per hour.
Based on the tariff rate from my current supplier, Bulb, that works out at around 18p per hour to run.
So, what are some good Portable Air Conditioning Units to buy?
I am not just an Amazon affiliate shill, but due to these being a bit hit or miss on how effective they will be or at least how good they are for the money, anything I buy will be via Amazon on Prime, so I can return it easily.
Filtering out the results down to 4 star and above leaves us some of the following options. I have included a few evaporative options, these will not be as effective, however, I appreciate most people don't have £300+ just lying around (me included).
Out of the ones listed I would be inclined to go for the Inventor Chilly 9000 BTU for small rooms, or the De'Longhi Pinguino PACEX100 Silent for medium rooms. You would also need the window seal for effective cooling.
Reviews: 4.4 / 5 from 858 ratings
Type: Hosed
Cooling Capacity: 9000 Btu/h
Features: 24h electronic timer and thermostat, Remote control
Noise: 52dB
Reviews: 4.1 / 5 from 293 ratings
Type: Hosed
Cooling Capacity: 10000 Btu/h
Features: Expandable exhaust hose that fits to any Standard Slider or Double Hung Window.
Remote Control with Led Display to switch between Modes, Set Temperature & View °F & °C.
Noise: 47-50dB
Reviews: 4.3 / 5 from 1176 ratings
Type: Hosed
Cooling Capacity: 9,400 Btu/h
Features: 3 speed fan: to select the maximum power or minimum noise.
Noise: 50-52dB
Reviews: 4.1 / 5 from 243 ratings
Type: Hosed
Cooling Capacity: 9000 Btu/h
Features: This portable air conditioning unit features 4 multi-purpose operating modes including auto, air cooling, dehumidifying, fan only and energy-saving sleep modes. Use the automatic oscillation mode to direct airflow across a wide area or in a precise direction.
Noise: Not stated
Reviews: 4.2 / 5 from 132 ratings
Type: Hosed
Cooling Capacity: 7000BTU
Features: This portable air conditioning unit features 4 multi-purpose operating modes including auto, air cooling, dehumidifying, fan only and energy-saving sleep modes. Use the automatic oscillation mode to direct airflow across a wide area or in a precise direction.
Noise: 65dB
Overall Recomendation
De'Longhi Pinguino PACEX100 Silent
Summary
While the Honeywell has the most overall reviews, it has a lower rating, higher noise level and lower cooling capacity than the De'Longhi Pinguino PACEX100 Silent while being about the same price. At close to £700 this is a massive investment to make but if you suffer from the heat it could well be worth it.
[Original Post: 22nd May 2020]
Last update on 2022-01-21 / Affiliate links / Images from Amazon Product Advertising API